Last summer we announced that Bar Centro would be opening at 804 E. Center St. in the former home of the Peoples Books Co-Op. In fact, the bar was initially expected to open in the fall. But good things take time. And, in the case of Bar Centro, it was worth the wait.
After months of hard work, the bar will open its doors to the public tonight at 4 p.m., offering a menu of wine, beer, cocktails, small bites and dessert.
The stand-alone bar, which will double as a congenial place for Centro Cafe guests to wait for their tables on busy nights, has been a labor of love for Peg Karpfinger and Patrick Moore, who also own and operate the popular Italian-inspired Riverwest eatery, Centro Cafe, at 808 E. Center St.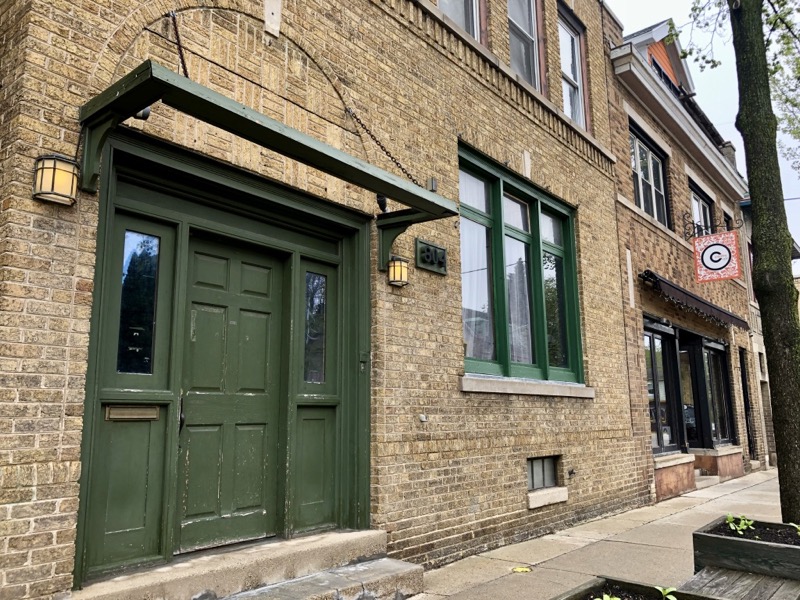 "We took a lot of time to really bring the space back to life," Karpfinger says, noting that she and Moore did much of the work themselves, including scraping, sanding and repainting the ornate ceilings a warm gold color.
"I want the space to be warm and cozy … and simple," she explained. "I love that old world feeling we have at Centro, and this space really has a lot going for it already. There's beautiful stucco on the walls that's just been done really well. There are hardwood floors and coved ceilings ... just really beautiful plasterwork."
And Bar Centro is all of those things. In fact, Riverwesters will have the opportunity to glimpse all those details – including the rich midnight blue walls, warm original hardwood flooring and more – beginning this evening, when Karpfinger will swing the doors open and welcome the bar's first guests.
Among the highlights of the space is the ornate bar, which Moore built by hand and decorated using salvaged tin panels, a marble bar top and shelving from Restoration Hardware. The horseshoe shaped bar seats 13 along with seating for four to six at adjacent high tops.
Meanwhile, low top tables line the midnight blue walls, decked in white table cloths with floral arrangements.
Meanwhile, a booth near the back of the bar (which will soon be flanked by beautiful blue curtains) provides a cozy spot for guests to visit.
There's also a piano near the bar, which Moore says he hopes might be used occasionally by local artists. Summer will bring outdoor seating on the sidewalk outside the restaurant, as well.
Eat and drink
Bar Centro will be operated by Centro manager Michelle Jones with the help of wine director Diane Reynolds, who has curated a wine list that includes not only Italian selections like Prosecco and sparkling Lambrusco, but also California Pinot Noir and Muscat, and Grenache and Chenin Blanc from France.
There's also a short list of beer and cider with bottled and canned selections from breweries and cideries like 3 Sheeps, Ayinger, Ommegang and Bosteels along with a growing selection of amari.
"We want to be THE place to come for amari in Milwaukee," notes Karpfinger, who says the Italian-style bitter liqueurs will be served in a variety of ways, from pre-dinner spritzers and cocktails to slow-sipping post-dinner digestivi.
Cocktails ($10 each) will include selections like the centro rye manhattan and sangria, along with selections like the Smoke & Seed featuring mezcal, montenegro, sfumato, pomegranate and orange juices, and cardamom sage simple syrup. A selection of dessert cocktails like espresso fernet, spirited gelato or tawny port will also be available ($6-11).
Non-alcoholic options will include French press coffee, espresso and tea along with Topo Chico and specialty sodas.
Any of the above can be enjoyed with Bar Centro's menu of snacks including cheese and charcuterie ($14/$19), spiced nuts ($6), house marinated olives ($6) and slightly heartier options like vegan kale and white bean soup served with bread ($8). Desserts will include selections like gelato and sorbetto, almond cake and a variety of housemade options.
Yes, there will be happy hour
Bar Centro's happy hour will take place on Wednesday and Thursday from 4 to 6 p.m. and will feature $3 3 Sheeps brews, $7 cocktails and half-off wine pours and food.
Guests can also look forward to future programming directed by Reynolds, who plans to host a variety of wine-related events in the coming months. The bar will also serve as a space for events, including small weddings, rehearsal dinners and parties, all of which have been held in the restaurant over the years.
"We've tried to do events and parties at Centro, and it just doesn't work as well as we'd like," says Karpfinger. "So this provides us the opportunity to really give guests something they've wanted for a long time."
Beginning today, Bar Centro will be open Wednesday through Saturday from 4 p.m. to close.
Lori Fredrich (Lo) is an eater, writer, wonderer, bon vivante, traveler, cook, gardener and girlwonder. Born and raised in the Milwaukee area, she has tried to leave many times, but seems to be drawn to this quirky city that smells of beer and alewives.
Some might say that she is a little obsessed with food. Lo would say she is A LOT obsessed with food. After all, she has been cooking, eating and enjoying food for decades and has no plans to retire anytime soon.
Lo's recipes and writing have been featured in a variety of publications including GO: Airtran Inflight Magazine, Cheese Connoisseur, Cooking Light, Edible Milwaukee, Milwaukee Magazine and the Milwaukee Journal Sentinel, as well as on the blog Go Bold with Butter, the web site Wisconsin Cheese Talk, and in the quarterly online magazine Grate. Pair. Share.