Over the past two and a half years Bass Bay Brewhouse, S79-W15851 Aud-Mar Drive in Muskego, has undergone a steady transformation – from a 1950s vintage supper club to a rustic-remodeled restaurant and events space.
And while there are still details that require attention, including signage, a repaved parking lot and completion of the on-site micro-brewery, the restaurant has made large strides in the past few weeks which bode well for the future of this increasingly popular eatery.
"It's unbelievable to think we started two and a half years ago, tore down two barns and moved the restaurant twice," says Ryan Oschmann, who co-owns the restaurant and event space with Laurie Oschmann, Andy Meinen and former SURG pastry chef Kurt Fogle. "Even though my grandparents, who owned the property years ago, have since passed, it's hard not to believe that they've been here right alongside us the whole time."
The restaurant, which originally opened in the upper level of the spacious 16,000-square foot venue, quietly moved into its permanent quarters on the lower level of the building just before Mother's Day.
The upstairs has been fully converted into an event space, which can accommodate up to 250, complete with a patio-side view of Big Muskego Lake's Bass Bay.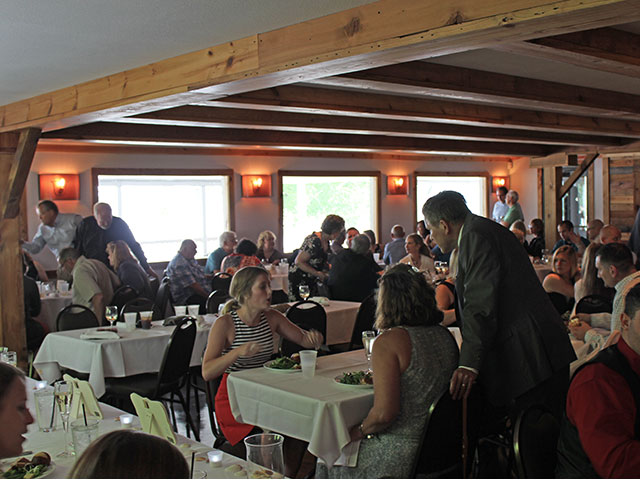 Meanwhile, a new lakeside entrance welcomes customers into the restaurant space, which boasts a ground view of the bay.
Inside, a spacious dining room, which seats up to 180, boasts rustic barn board paneling, wooden tables and new lighting.
A semi-private dining space is separated from the dining room by sliding barn doors, providing overflow for the dining room on busy nights as well as a semi-private area for gatherings up to 110 people.
Meanwhile, a large U-shaped bar offers additional seating, along with 20 taps. Currently, 10 are stocked with a rotating selection of Wisconsin beers (along with a list of 30 more in bottles); the remaining ten will accommodate Bass Bay Brewhouse brews once the work on the micro-brewery is completed. Sixteen flat-screen televisions provide customers with easy entertainment, including regular coverage of athletics.
A brewing room, near the bar and adjacent to the restaurant's pool table, contains copper-finished brewing tanks just waiting to be used. The brewery, which will be overseen by brewmaster Dan Sterling, will hopefully be up and running in the next few months, notes Oschmann.
As for the menu, it's stocked with simple items that are simply well executed. Some dishes pay homage to the Aud-Mar's supper club days, such as a delicious rendition of oysters Rockefeller with smoked bacon, wilted spinach, parmesan and perfect hollandaise ($12).
On Saturday nights you'll also find luscious prime rib available in 10-ounce, 14-ounce (pictured) and 20-ounce portions, alongside crisp tender green beans, twice baked potato and ciabatta (priced $23, $29 and $34, respectively).
Among other entrees, you'll also find an 8-ounce filet for $29, along with chicken fried chicken ($15), pot roast ($16) and pan seared salmon ($18). Pub fare, including burgers and other sandwiches ($9-13) comprise the remainder of the menu with items like pulled ham poutine with cheese curds, fried egg and black pepper gravy ($12).
A classic Wisconsin fish fry is available daily, including three filets of hand-breaded cod, served with tartar sauce, French fries, marbled rye and cole slaw ($13). The fish is crisp and well-prepared with breading that sticks to the fish and (bonus) and reheats like a charm in your home oven without going soggy.
On Friday evenings, the fish selection expands to include baked cod with drawn butter and lemon ($13), Cod Oscar with grilled asparagus and hollandaise ($17), rye-crusted Lake Superior walleye ($18) and fried cornmeal-breaded shrimp ($16).
And, like the breading on the fish, there are plenty of other details that don't miss the attention of Chef Kurt Fogle and Chef de Cuisine Joe McCormick. Meat for burgers is seasoned and ground daily in house. And weekend brunch includes house-made biscuits that are as light and fluffy as they can be.
Desserts rotate, but include items like tender bread pudding with maple anglaise and candied pecans ($7).
You'll also find delicious layered jar desserts, including a mousse cheesecake with a graham cracker crust, versus Door County cherries and cereal crisp, as well as the 100 Grand featuring layers of chocolate cake, chocolate ganache, white chocolate ganache, hot fudge, chocolate crisped rice and chocolate ice cream ($7).
The restaurant has added lunch service on Friday and Saturday, as well as dinner service on Sunday. New hours are Wednesday and Thursday from 4 to 9 p.m., Friday and Saturday from 11 a.m. to 10 p.m. (with bar open later), and Sunday from 10 a.m. to 9 p.m.
Lori Fredrich (Lo) is an eater, writer, wonderer, bon vivante, traveler, cook, gardener and girlwonder. Born and raised in the Milwaukee area, she has tried to leave many times, but seems to be drawn to this quirky city that smells of beer and alewives.
Some might say that she is a little obsessed with food. Lo would say she is A LOT obsessed with food. After all, she has been cooking, eating and enjoying food for decades and has no plans to retire anytime soon.
Lo's recipes and writing have been featured in a variety of publications including GO: Airtran Inflight Magazine, Cheese Connoisseur, Cooking Light, Edible Milwaukee, Milwaukee Magazine and the Milwaukee Journal Sentinel, as well as on the blog Go Bold with Butter, the web site Wisconsin Cheese Talk, and in the quarterly online magazine Grate. Pair. Share.