Milwaukeeans are in for a sweet treat just in time for Valentine's Day, as Batches bakery and cafe is slated to open at 401 E. Erie St. on Tuesday, Feb. 13 at 7 a.m.
Dandan pastry chef Jaceleen Latin Monagle will operate the bakery in collaboration with chefs Linda Thai, Chris Walker and Ashlee Millen and lead barista Sammi Krstic. And it holds the promise of delicious, well-executed pastries, pies, cakes and more.
"This is the best opportunity I've had so far in my career to really express myself," notes Latin Monagle, who will also continue making desserts for both Dandan and EsterEv. "I started as a home baker. And it was always something I loved. In a sense, it feels really good to get back to that. At Batches, there's no need to create desserts that maintain a certain aesthetic or are made in keeping with a specific restaurant theme. For the first time, it's a place where the offerings will really reflect my own personal taste … the aesthetic of me."
As for the aesthetic of the bakery itself, Latin Monagle says it's a combination of her vision for the space along with influences from everyone on her team.
"We're a small staff; there are only five of us and we encompass a variety of tastes," she says. "So there will be little things that represent each one of us. When the interior is complete, it will be colorful, funky and eclectically decorated."
The interior design orchestrated by 360 Design is built on a neutral palette of cool grey tones and warm wood accents brightened with splashes of pink. A long counter features a glass pastry case, grab-and-go cooler and a dipping cabinet for ice cream and sorbet. Meanwhile seating is available at two low tables, as well as bar-style accommodations along the front windows.
But it's the fun, personalized touches that convey Batches' carefree personality. Take for instance the hand-painted "funfetti" mural located just inside the door.
Among a variety of whimsical touches are knicknacks including brightly colored garden gnomes, myriad cookie jars and numerous plants, which Latin Monagle says they hope will eventually trail down from the shelving, giving the space a welcoming lively look.
There are also functional thrift shop finds like mismatched plates and ceramic coffee mugs, some of which embody the epitome of kitsch.
For those with a healthy sense of humor, there's several items likely to incite a chuckle. Take for instance the framed photograph of renowned rapper "Fun Fetty Wap." It's something to look for when you pay your first visit.
Ultimately, there will also be a pink neon "Batches" sign displayed in the western window of the shop. It's sure to cast a glow onto the street, serving as a beacon for those looking to sate their sweet teeth.
Sweet treats
As for the opening menu, it will feature a varied selection of baked goods including breakfast muffins (raisin bran, PB&J, banana walnut and cornmeal served with blackberry jalapeno jam) for $3 each; breads in flavors like lemon blueberry loaf, coffee cake and banana chocolate ($2.50 per slice); and both sweet (peach almond) and savory (cheddar scallion) scones ($3 each).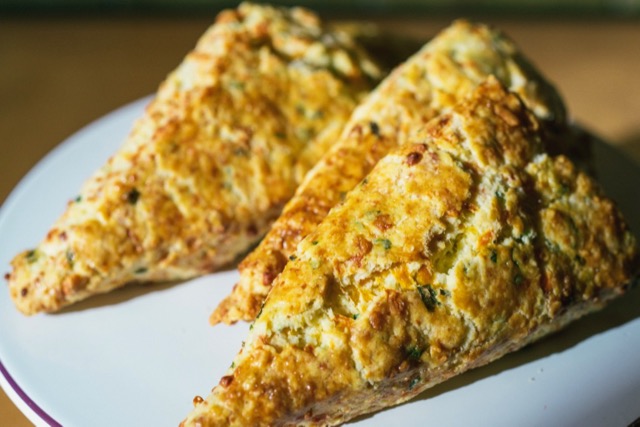 There will be cookies in flavors like vegan chocolate chip, confetti sugar, vegan oatmeal raisin, and iced old fashioned oatmeal ($2.50 each). And brownies will be available in both vegan and gluten-free varieties ($3 each).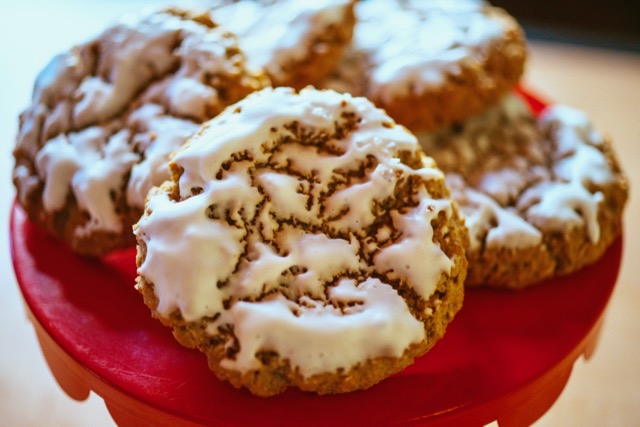 Other sweet treats will include O'Henry or Take Five candy bars ($6), maple walnut cheesecake (vegan, $6), confetti cake ($3 per slice or $20 for an 8-inch cake) and a variety of pies including speculoos pear, chocolate derby and honey apple cheddar ($3.50 per slice or $25 per pie).
And if you need a scoop of ice cream or sorbet with your pie, the dipping cabinet will be stocked with flavors like chocolate brownie, butter pecan and coconut strawberry swirl (vegan) at $3 for a single scoop and $5 for a double (get yours in a housemade waffle cones for $1 more).
Meanwhile, savory items will include pizza babka with marinara, pepperoni and mozzarella cheese ($3.50 each) and tater tot casserole with cheddar, sausage and egg ($3.50).
Saturday-only specials will include cinnamon rolls, baked doughnuts and housemade quiche.
"One of our goals is to eliminate as much food waste as possible," notes Latin Monagle, "so items will be made in limited quantity, and there will inevitably be items that sell out quickly."
In the case of extra bakery, she says they're likely to offer day-old items at discounted prices.
The bakery's offerings, Latin Monagle says, will be ever-evolving and new items are likely to show up on the menu all the time. Beginning sometime in March, she says they will add grab-and-go salads, sandwiches and soups.
For those hoping Batches might have something particularly sweet for Valentine's Day gifting, Latin Monagle says they will be selling a limited number of housemade truffles (white, milk and dark chocolate) priced at two for $3 or four for $6.
For additional information, visit batchesmke.com or follow the bakery on Facebook, Twitter and Instagram.
Beginning Feb. 13, Batches will be open Tuesday through Friday, 7 a.m. to 6 p.m., and Saturdays, from 8 a.m. to 7 p.m.
Lori Fredrich (Lo) is an eater, writer, wonderer, bon vivante, traveler, cook, gardener and girlwonder. Born and raised in the Milwaukee area, she has tried to leave many times, but seems to be drawn to this quirky city that smells of beer and alewives.
Some might say that she is a little obsessed with food. Lo would say she is A LOT obsessed with food. After all, she has been cooking, eating and enjoying food for decades and has no plans to retire anytime soon.
Lo's recipes and writing have been featured in a variety of publications including GO: Airtran Inflight Magazine, Cheese Connoisseur, Cooking Light, Edible Milwaukee, Milwaukee Magazine and the Milwaukee Journal Sentinel, as well as on the blog Go Bold with Butter, the web site Wisconsin Cheese Talk, and in the quarterly online magazine Grate. Pair. Share.