A mere two months ago, OnMilwaukee toured the heavily-under-construction Bavarian Bierhaus, which was the former Bavarian Inn, 700 W. Lexington Blvd. Yesterday, we visited again and were stunned by the transformation.
The massive indoor-outdoor German dining complex opens to the public on Tuesday, April 26 and will host soft openings this weekend. The building houses a large dining hall that seats 350 people "European style," meaning families and couples share long, rectangular tables.
"We're bringing people together in this room to have a good time," says Daniel Vanek, the Bavarian Bierhaus server manager. "We're confident that after a couple of beers, everyone will get to know each other."
Bavarian Bierhaus will produce 200,000 gallons of house-brewed beer every year, with eight of them available on draft along with four "guest beers" and a full bar. The brew tanks, and the brewmasters, are on an open second story that allows guests to observe the process.
A German-style live band will play every afternoon and evening, seven days a week, in the dining hall. A large mural of Munich serves as an attractive visual and provides soundproofing, so guests dining in the room next door, the Gambrinus room, can enjoy a mellower vibe. Gambrinus is a legendary, fictitious Patron Saint of Beer who represents beer, brewing and good times.
"This is where you might take grandma and grandpa for a nice German dinner," says Vanek. "It's a quieter dining experience, as opposed to the dining hall that's going to be like Oktoberfest every night."
There's also a tap room / bar with numerous flat screen TVs for game watching. The tap room will also serve as an overflow spot on busy nights. An outdoor patio and beer garden will provide full food and drink service and host a variety of festival-like events.
"Our beer garden is the largest in the country," says Vanek.
Soon, an illuminated, rotating, eight-foot beer stein will also be outside and visible from the freeway.
The Bavarian Bierhaus will be open for lunch and dinner, seven days a week. The hours are Sunday through Thursday from 11 a.m. to midnight and Friday and Saturday from 11 am. to 2:30 a.m. A full menu will be available every night until last call.
Here are 13 photos of the Bavarian Bierhaus. Prost, prost and more prost!
1. Get ready to make new friends who love beer as much as you do

2. This. Now.

3. Hello, Hefeweizen!

4. Can you already hear the chicken dance?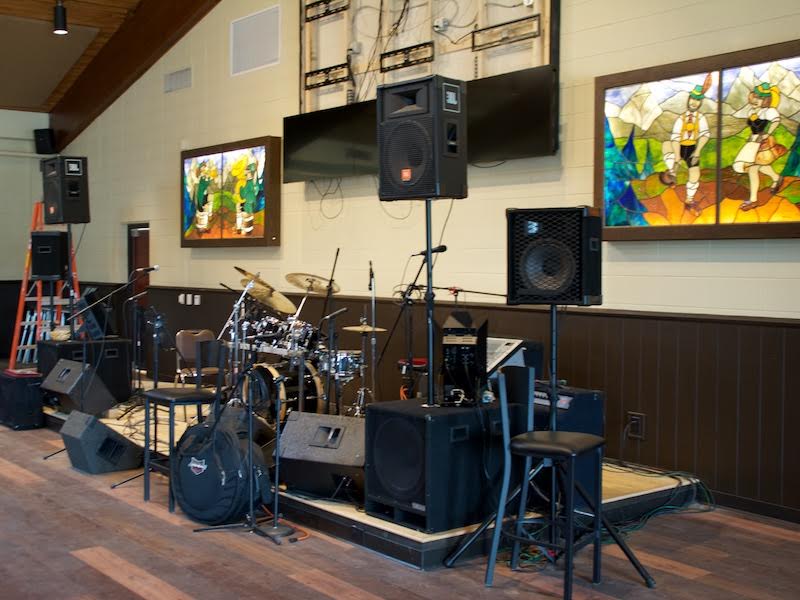 5. History in glass form
6. Munich mural

7. Bacon bits are for amateurs

8. 200,000 barrels a year!

9. These dragons breath wood, not fire

10. All toast the king!

11. Restored to grandeur
12. More dragon friends
13. A matter of perspective


Molly Snyder started writing and publishing her work at the age 10, when her community newspaper printed her poem, "The Unicorn." Since then, she's expanded beyond the subject of mythical creatures and written in many different mediums but, nearest and dearest to her heart, thousands of articles for OnMilwaukee.

Molly is a regular contributor to FOX6 News and numerous radio stations as well as the co-host of "Dandelions: A Podcast For Women." She's received five Milwaukee Press Club Awards, served as the Pfister Narrator and is the Wisconsin State Fair's Celebrity Cream Puff Eating Champion of 2019.