"Bar Month" at OnMilwaukee is brought to you by Miller Brewing Company, calling Milwaukee home since 1855. For the entire month of March, we're serving up fun articles on bars, clubs and beverages – including guides, the latest trends, bar reviews, the results of our Best of Bars poll and more. Grab a designated driver and dive in!
Researching the four-building complex on the northwest corner of Farwell and North Avenues – which most of us know as the former homes to G-Daddy's BBC and The Globe/Hotel Foster – is like untangling a complicated web.
That's because the buildings, although constructed separately, at different times and, in some cases, by different owners, have over time melted into a single entity – albeit one with at least two Farwell Avenue addresses and a range of addresses on East North Avenue, from 2012 through 2028. And records are not always clear about which businesses were at which specific address.
So, as I'm standing in the basement looking up at the spaghetti of wires and the complex maze of pipes of all shapes, sizes and materials, with current owner Josh Jeffers – who bought the complex earlier this month after it had been on the market for nearly a year – I totally sympathize when he says, "It's a bit of a tangled mess. Our plan is to basically slowly untangle it ... to do a top to bottom gut rehab of this whole building.
"It's been continuously occupied for 100-plus years," Jeffers says. "In some ways, it's almost better to have a building that just goes totally dark for some period of time and then has to be sort of refurbished, rebuilt.
"When it's continuously occupied like this, what happens is decades of just quick-fix solutions to what seemed like little problems, that turned into big problems. So what we need to do now is just strip all of this stuff out of here."
Let's take a moment to see a little of the untangling.
The oldest building in the bunch appears to be the second one in from the corner of Farwell, a two-story store and office building designed by John Menge and built for Dr. W.J. Nichols in 1906. Because of the angle of Farwell Avenue – and the former structure that stood on the corner – the building takes a sharp bend toward the east in its back half.
The building on the corner was demolished and the current three-story building erected in its place in 1913, it would seem, to plans by architect Anton Dohmen.
It's not exactly clear when the two buildings to the east went up, or who designed them, but they're both there by the 1920s, and they weren't shown as having been constructed yet on the 1910 Sanborn Fire Insurance Map.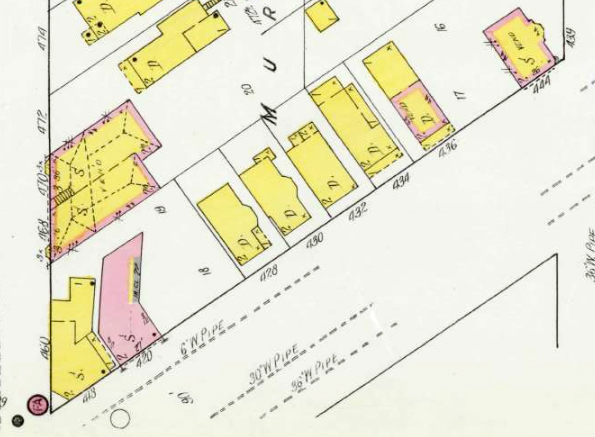 Among the tenants over the years?
On the Farwell side, where the main BBC bar area had once been a series of smaller storefronts, there was Ruggles Hardware Shop in the 1930s and the Kitchen Appliance Store in the 1940s and '50s. Henry Koegler ran his long-enduring flower shop there for a time, too, before moving east to 2034 E. North Ave.
Throughout the 1960s, a laundromat also occupied space on the Farwell side.
In the corner space, where we're used to seeing the entrance to BBC, which closed last year, there was the East Side Bank in the earliest days, then Spangler's Shoe Store had a long run there from the 1950s until the '70s, followed by the Phoenix Art Gallery and Old Master Print Gallery and a flower shop, before Monreal's El Matador expanded into it from its location next door.
By the '80s, the space was called Kiko's Lounge (see photo above, courtesy of Wisconsin Historical Society) and in 1990, the Bradford Beach Club (BBC) opened.
At 2016, you could find The Market Place, which sold Latin American handicrafts there throughout the 1970s before moving a few doors east.
On the top floor, at 2018, John Schaum ran his piano school and music publishing business from 1944 until his death in 1988.
Children's Outing Association and an orthodontist had stints upstairs, too.
In the two-story building next door, upstairs at 2020, Dr. Everett C. Hanson had a dental office for 40 years until his retirement in 1973.
Later, the suite served as offices for New Prospects Counseling Services and, then, as home to Paul Kneevers and Jeff Hamilton's Guerrilla Productions recording studio and Spit In Your Face Records. In the late '90s, there was also a tattoo parlor upstairs.
The East Side Library occupied 2022 from 1912 until 1968, when it merged with the Charles Allis Children's Library – which had been in the Allis mansion on Royall Place – in a new building a block west.

(PHOTO: Courtesy of Milwaukee Public Library)
Soon after, it became home to the East Side outpost of Monreal's El Matador restaurant, which, as mentioned earlier, later grew to encompass the building to the west, too. Over time, the BBC filled all of the ground floor spaces of the three westernmost buildings, and the second floor of the corner building.
The top floor of that building was long home to Marco Buelow, himself an East Side landmark, known for dancing at local concerts and gifting stones he pulled from Lake Michigan to performing musicians. Afterward, a local developer had an office up there.
The former Hotel Foster building, at 2028, which is the only one not connected internally to the other buildings, was a grocery store in the 1920s, a furniture shop in the '40s, Kern's Carpets in the '50s and, in more recent times, a bar called Barbary Coast, the Boardwalk – where groups like the BoDeans got their start – followed by The Globe, Live on North and the Hotel Foster, which closed in 2016.
Surely, there were more in these spaces over the years, but that's just a sampling to show you the diversity of uses the complex had over the years, something Jeffers thinks has been missed in the neighborhood and that he'd like to bring back.
"This is really the anchor property in my opinion for this whole North Avenue corridor," he says, "and I think it's very important to have multiple users over here. It has all been combined into one, but I think you want to have multiple users and potentially different owners."
As we stand in the main bar of the former BBC, Jeffers points to where there used to be windows
"I'll show you the biggest thing in terms of reconfiguration," he says. "These were all individual storefronts, and they were wide open, almost floor to ceiling windows. So there really should be a knee wall that's a few feet off the ground here. It goes all the way up. So if you can imagine these being open, just by exposing the full ceiling height, getting all these storefronts opened up."
Jeffers plans to open up all of the bricked-up windows facing North Avenue in the adjacent buildings to the east, too. He'd also like to replace the modern windows with more stylistically appropriate ones. And he plans to restore the cornices, some of which are in rough shape, and maybe even one that is completely missing.
Because the building isn't considered historic, it's not eligible for historic tax credits, says Jeffers, who typically invests in vintage buildings rather than new construction.
"That does give me some freedom," he says, "which is rare for me."
Keeping in mind his goal of multiple users, Jeffers plans to offer about 8,000 square feet of creative office space on the upper floors: exposed brick, hardwood floors and, in the case of the corner building, incredible views of one of the liveliest intersections in Milwaukee. He's also thinking of adding a roof deck.
To do this part, he needs to create a dedicated entrance and the second egress required by code. This he plans to create in the northwest corner of the complex, near where Farwell Avenue meets the small alley that runs behind the building.
"I want to put in a new entry," he says, "and then a small lobby, an elevator and a stairwell that would go upstairs. So, it would be off to the side, out of the way, and then the rest of this (floor) just becomes ... well, it could become a lot of different things."
Jeffers says the main floor space, which is about 5,500 square feet has already drawn interest from national retailers, and some folks from Chicago have come up for a peek.

The former recording studio.
"We really are pretty open to potential users," he says. "This (space) is probably one user, but it could be subdivided. I wouldn't rule out another bar or restaurant, but that's probably a little bit lower on the list. There are breweries that have expressed interest in this.
"We don't even have a sign on the building yet, and there are people that read about it and are coming from far and wide."
Jeffers says he views the former Hotel Foster building, the easternmost structure, as a separate building and one that requires less work than its neighbors.
"Hotel Foster is actually in great condition," he says. "This is a gut rehab in here, but Hotel Foster is actually a very nice space. They did a very good job. The kitchen is totally functional, and, generally speaking, updated. It just needs a little tweak, a little bit of TLC. So I think that one's almost definitely another bar or restaurant."
He thinks the renovation of that building could move more quickly than the transformation of the larger BBC complex.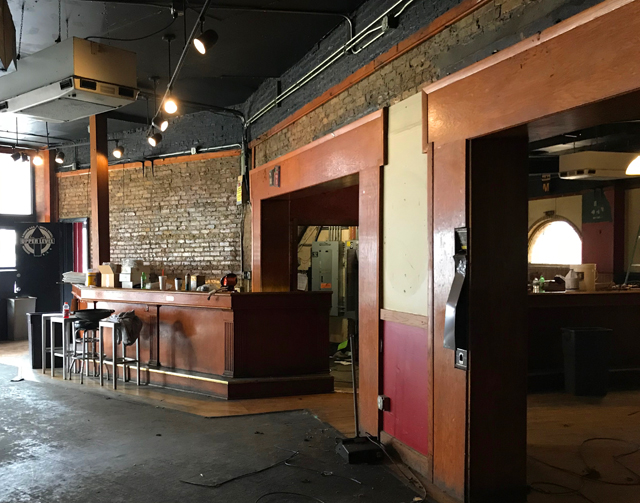 "It's just a smaller bite to chew," he says. "It's only about 3,000 square feet. For which, I think there are a lot of users, a lot of prospective interest and, actually, I would be open to even carving that building off and selling it. I like the idea of promoting it as totally separate."
On the day I visit, a crew is filling dumpsters with junk left in the building, and I ask Jeffers what sort of timetable he envisions for the project.
"I don't necessarily want to slam this through as soon as humanly possible," he says. "Time is money, right, so we don't want to waste time, but it's like The Diplomat before.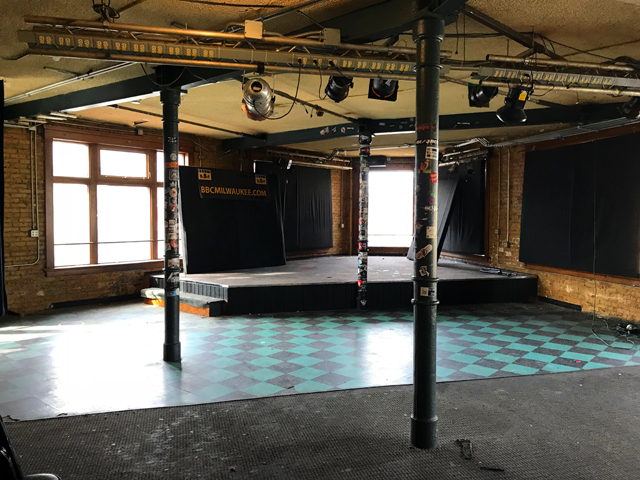 "When we bought that building, it needed to be re-concepted altogether. And when we put that out there that we've got this space, we probably had eight or nine credible restaurant operators that were interested, and Dane (Baldwin, who co-owns The Diplomat with his wife Anna) was definitely not at the top of the list in terms of being ready to go. He's an entrepreneur – an individual putting this together. But we liked his plan so much and thought that was the right thing to be in that building, we were willing to wait.
"There's a little bit of the same mentality here, too."
Jeffers' goal right now is to get leases signed by the end of 2018 and hopefully have the grand opening signs and bunting up by the following summer.
"We've got a ton of work to do," he says, "but even though there's a lot to do here, it's physically not that big of a building. But (look around), you can get a good sense of what this can become. You're in the center of the universe right here."
Born in Brooklyn, N.Y., where he lived until he was 17, Bobby received his BA-Mass Communications from UWM in 1989 and has lived in Walker's Point, Bay View, Enderis Park, South Milwaukee and on the East Side.
He has published three non-fiction books in Italy – including one about an event in Milwaukee history, which was published in the U.S. in autumn 2010. Four more books, all about Milwaukee, have been published by The History Press.
With his most recent band, The Yell Leaders, Bobby released four LPs and had a songs featured in episodes of TV's "Party of Five" and "Dawson's Creek," and films in Japan, South America and the U.S. The Yell Leaders were named the best unsigned band in their region by VH-1 as part of its Rock Across America 1998 Tour. Most recently, the band contributed tracks to a UK vinyl/CD tribute to the Redskins and collaborated on a track with Italian novelist Enrico Remmert.
He's produced three installments of the "OMCD" series of local music compilations for OnMilwaukee.com and in 2007 produced a CD of Italian music and poetry.
In 2005, he was awarded the City of Asti's (Italy) Journalism Prize for his work focusing on that area. He has also won awards from the Milwaukee Press Club.
He can be heard weekly on 88Nine Radio Milwaukee talking about his "Urban Spelunking" series of stories.