Buy local. Shop small.
This year, these aren't just slogans. They are actions that will make a huge difference for so many local businesses, from bars and restaurants to bakeries, local artists, retail shops and locally owned grocery stores. The list goes on and on…
They also represent the type of messaging that Gene Webb, local baker and owner of North Shore Boulangerie, 4401 N. Oakland Ave., would like to see spread far and wide as we head into the holiday shopping season.
"Even diverting the smallest fraction of sales that would ordinarily go to Walmart, Wendy's and other large companies would make such a difference for local, independent shops," says Webb. "The past eight months has been so hard on mom and pop shops like ours. A lot of us made it through the first dip, and now we've hit another. Some didn't make it. But even those that did are weaker than they were before."
"The government has supplied some aid. The philanthropy we've seen has been great," he adds. "We've had people walk in and just hand us checks because they want us to remain open. But truly, nothing beats daily commerce. A great day, a great week… beats all of that. And that's in terms of not only sales, but also a sense of accomplishment, pride. These are the things that keep us all going."
Webb is not alone in his perspective. He is also not alone in his feeling that now is the perfect time for the community to join together in a true effort to support local businesses and build the local economy.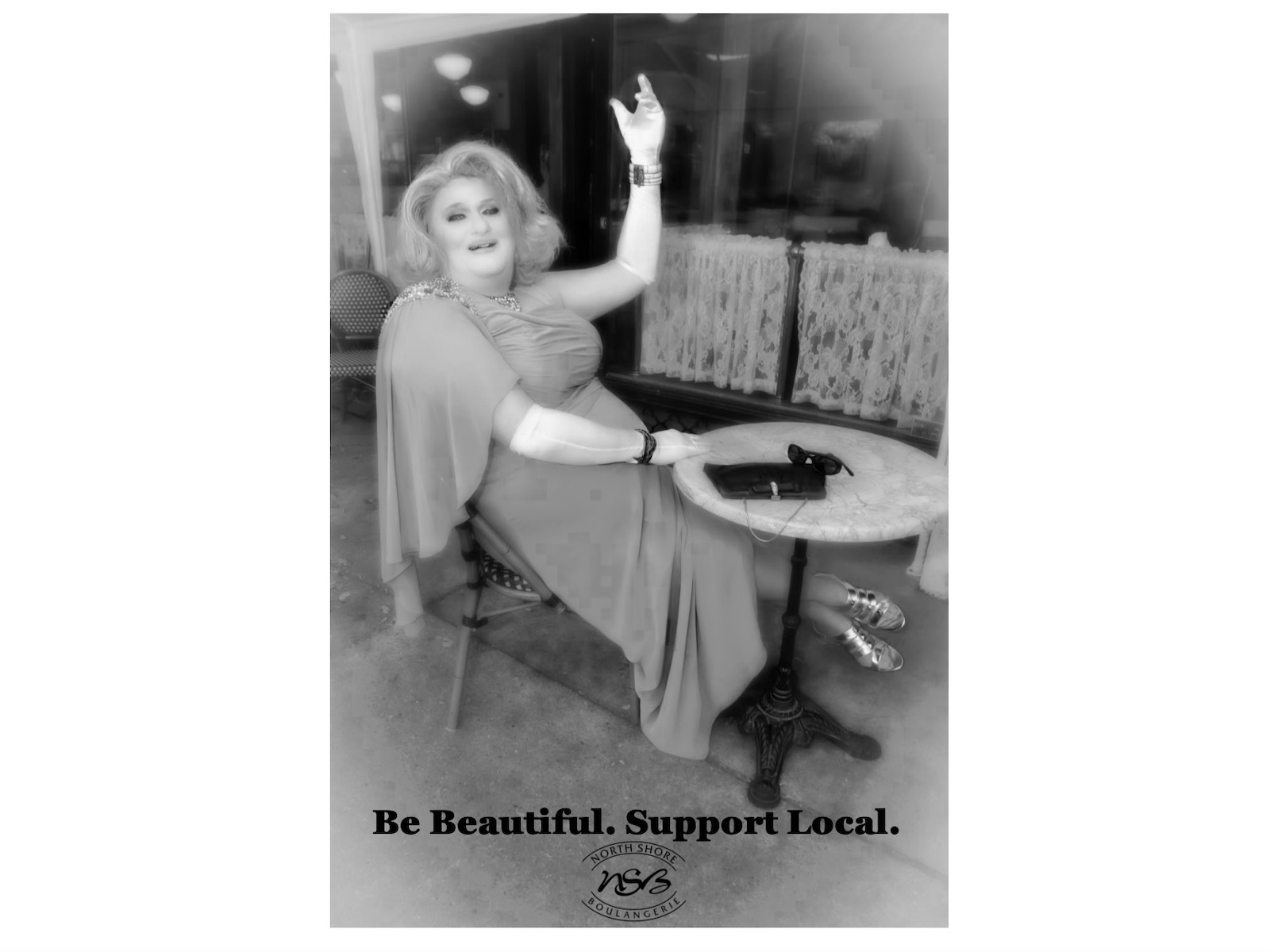 Be Beautiful. Support Local.
"My own opinion is that as a community we've all been under way too much pressure for way too long for our own sanity's sake. We are afraid of a virus, mad at responses (or lack thereof), ashamed of or shocked by long-standing racial injustices, mad at the responses (or lack thereof), worried about our health, our businesses, our elections, our country… This is so unhealthy, it defies words and comprehension."
In turn, Webb decided to launch a grassroots local buying campaign created in the spirit of lightheartedness, acceptance and community.
To do so, he partnered with Karen Valentine, a well-known local drag artist and John O'Hara, a Shorewood-based photographer to create a support local-themed image that he hopes folks will be compelled to share with others on social media.
Download the image & share
Two versions of the image, which bear the slogan "Be Beautiful. Support Local." are available to download for free here. Both individuals and businesses are encouraged to share the photo via social media. Businesses can even customize it (as North Shore Boulangerie did), by adding their business name or logo.
"My only requests would be that they not change the image other than adding a logo," says Webb. "And that they be respectful of Karen."
The action is simple. But it's also powerful. The more people share, the more everyone is reminded of the importance – and beauty – of supporting all the locally-owned businesses in the Milwaukee area.
In the end, if the image compels even one additional person to spend more locally this holiday season, it will be time and energy well spent.
Lori Fredrich (Lo) is an eater, writer, wonderer, bon vivante, traveler, cook, gardener and girlwonder. Born and raised in the Milwaukee area, she has tried to leave many times, but seems to be drawn to this quirky city that smells of beer and alewives.
Some might say that she is a little obsessed with food. Lo would say she is A LOT obsessed with food. After all, she has been cooking, eating and enjoying food for decades and has no plans to retire anytime soon.
Lo's recipes and writing have been featured in a variety of publications including GO: Airtran Inflight Magazine, Cheese Connoisseur, Cooking Light, Edible Milwaukee, Milwaukee Magazine and the Milwaukee Journal Sentinel, as well as on the blog Go Bold with Butter, the web site Wisconsin Cheese Talk, and in the quarterly online magazine Grate. Pair. Share.