A Milwaukee East Side staple, Beans & Barley, has been announced as the newest tenant for the Mequon Public Market at Spur 16, located at 6300 W. Mequon Rd.
It's a first-time expansion for the venue that launched in 1973 as a small health food store on Murray Avenue. It moved to its current North Avenue location and added a restaurant component in 1979.
Over the years, the business had a variety of owners, including Lyn Sbonik, who operated the retail grocer and restaurant for 40 years before retiring and turning the business over to current owners James Neumeyer and Polly Kaplan.
"Beans & Barley has always been about fresh food, made from scratch but it is really so much more," Kaplan says. "It is a community of customers and employees who are invested in seeing 'their place' thrive. We have survived fires, corporate competition and sink holes all because we care about the food we serve and the friends we make. We are really looking forward to working with the other vendors in the Market Place."
Beans & Barley will join a group of 10 tenants, including Purple Door Ice Cream and Anodyne Coffee Roasters, both of which were announced earlier this year.
"I was so happy to hear about the green building and amazing vendors heading into Spur 16," adds Neumeyer. "They are all businesses that complement each other and some that we are partners with already. Can't wait to team up with them at the Public Market and meet our new neighbors in Mequon."
The market, scheduled to open this fall, will be next door to a second location for St. Paul's Fish Market, which will establish a fish market, oyster bar and sit-down restaurant in one of the buildings on the property.
In addition, there will be 10 townhomes completed by January 2019, as well as 146 apartments in three buildings that will be finished in the spring and summer of next year.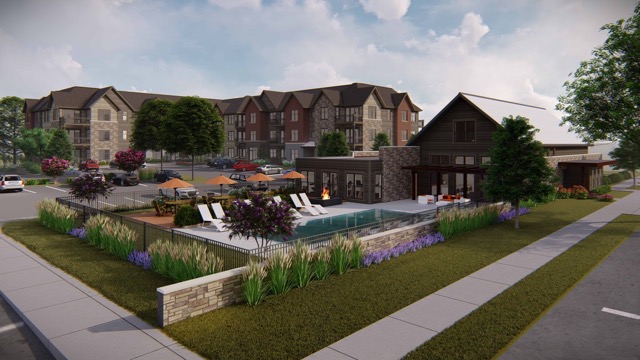 The development will offer trademarked "smart unit" features, which will enable tenants to control lights, temperature, music and emergency services in their living quarters.
Other amenities include a community kitchen and event space, along with community bikes that will allow residents and guests to take advantage of the development's proximity to the Ozaukee Interurban Trail. Tenants will also benefit from other services, such as meal delivery from the market, pet walking, package delivery, grocery shopping and cleaning services.
"We have had a great response from people who love the idea of living in such a walkable community with amenities that have not been available in this area before," notes Cindy Shaffer, owner of Shaffer Development, LLC, who says that the development is currently entertaining leases for the development.
Lori Fredrich (Lo) is an eater, writer, wonderer, bon vivante, traveler, cook, gardener and girlwonder. Born and raised in the Milwaukee area, she has tried to leave many times, but seems to be drawn to this quirky city that smells of beer and alewives.
Some might say that she is a little obsessed with food. Lo would say she is A LOT obsessed with food. After all, she has been cooking, eating and enjoying food for decades and has no plans to retire anytime soon.
Lo's recipes and writing have been featured in a variety of publications including GO: Airtran Inflight Magazine, Cheese Connoisseur, Cooking Light, Edible Milwaukee, Milwaukee Magazine and the Milwaukee Journal Sentinel, as well as on the blog Go Bold with Butter, the web site Wisconsin Cheese Talk, and in the quarterly online magazine Grate. Pair. Share.