Nearly three months after its 56th birthday, the Beatles' 1966 album 'Revolver' has been released in a stunning box set – on CD and vinyl – and it's the Beatles box this fan has long been waiting for.
Despite having been introduced to it as a 10-year-old via what's generally acknowledged as one of the worst releases of the Beatles' career – the butchered U.S. version, with its shoddy sound quality and missing songs – "Revolver" has always been my favorite.
When I later learned that the proper (that is U.K.) version also included three of my favorite songs from "Yesterday and Today" – speaking of butchery – it was a slam dunk.
Not only did "Revolver" arrive a month after I arrived, it was Beatles' leap off the precipice after pushing forward with "Rubber Soul," which while tinkering with the folk revival, also dipped a toe into Indian music and the art of the recording studio.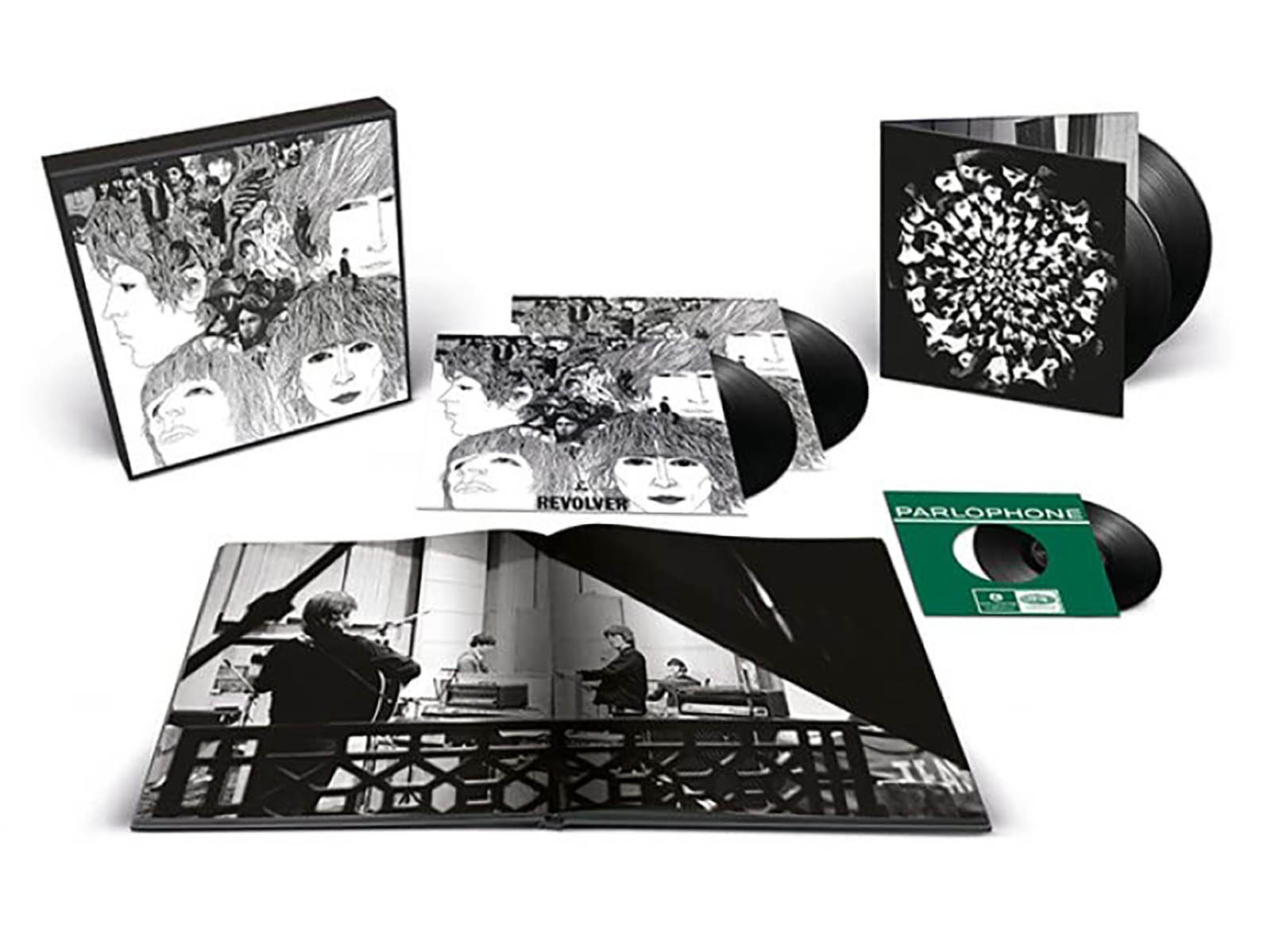 While many focus on the explosive psychedelia of "Sgt. Pepper's Lonely Hearts Club Band," that record wouldn't likely have existed without "Revolver" and its headfirst dive into sitars and backward guitars and looped effects.
And to my ears, the songwriting on "Revolver" is as strong as on its more celebrated successor. It's also the record on which George Harrison's songwriting contributions grew both in number and in maturity.
This box – packaged within the instantly recognizable sleeve design created by their Hamburg-era friend Klaus Voorman – includes five CDs (or four LPs and a 7-inch EP), plus 100-page hardcover book that is by itself worth the price of admission.
The first CD is a new Giles Martin and Sam Okell stereo remix from the original tapes and, to me, the idea of it was more exciting than the remixes of the "White Album" and "Abbey Road," because "Revolver" was recorded when stereo mixes were still an afterthought.
While some tracks sound do fresh, others are a bit different, which has polarized devoted fans, but I'd bet most relatively casual listeners won't notice a thing.
The second disc is great and it is here that I wish I had the vinyl set, as the LP is cut from the original mono analog tapes. Still, the mono CD – which, of course, is digital – sounds pretty vibrant to me.
The EP – in a facsimile Parlophone 45 sleeve – includes stereo and mono mixes of the "Paperback Writer" and "Rain" single that preceded "Revolver" and served as hints of the incredible guitar, bass and drum sounds to come on the LP. (Hat tip to the late Geoff Emerick, who engineered "Revolver" and this single as a 20-year-old.)
Two bonus discs of material are the real revelation here.
So canonical, so foundational and so ingrained is the Beatles' music in our culture, lives and minds that it's easy to believe that it arrived wholly formed. That's what made "Get Back" so exciting for so many: the realization that these carefully crafted works of musical art were just that.
They were not handed down on a mountaintop chiseled into four-track tablets of stone, but, instead, were carefully sculpted from ideas at various stages of formation into masterpieces by determined, hard work.
Consider "And Your Bird Can Sing," with its signature guitar riff energizing the entire track.
One early take here eschews that approach for a more jangly one that practically apes The Byrds. Another version is a bit slower – lumbering almost – straighter than the final, using that signature riff pretty much only as a guitar solo.
It took a few tries to get there.
Check out the four alternates of "Yellow Submarine," too.
The first two are songwriting work tapes and the first of those is almost astonishing in its lyrics, which are a stark opposite to the final track.
In it, John Lennon sings, "In the place where I was born, no one cared."
It might be tempting – especially in the year of the "bigger than Jesus" flap – to think it was a reference to Ezekiel 16:4's "on the day you were born, no one cared," but that translation dates only to 1996. Instead, the melancholia is palpable, and considering Lennon's early life – and the later lyrics they'd spawn, as on "Mother" – it's a revelation. And it's a version few, if any, even knew existed.
It's also an intriguing suggestion that Lennon may have helped pen a song that has long been believed to be solely a McCartney work.
There are other wonderful moments, too, like a quiet, understated take of "Here, There and Everywhere" that is starkly beautiful and simple, and an instrumental take of "For No One" that highlights the various parts that form its whole.
And listen to the first of two "Eleanor Rigby" extras in which producer George Martin discusses with the members of the string octet whether or not to use vibrato in one section of the song.
They play it once without and then once with vibrato and ask Paul for his opinion – who says he can't hear much difference – but they all chime in, too. Not only do we see the important musical knowledge and rapport that Martin brought to Abbey Road Studios, but it's interesting that even these hired guns felt comfortable speaking their minds at a Beatles session.
The new stereo mix and original mono mix CDs come in facsimile sleeves with facsimile labels and the two outtakes discs – called "Sessions" – are packaged in sleeves with the kaleidoscopic outtake sleeve design in black in one case and in white in the other.
As I said earlier, the 12x12 hardcover book is a real treasure, with glossy pages full of great photography, but also much more.
The Questlove essay and a brief foreword from Paul aren't earth-shattering. But there are some really great, in-depth and informative essays by Kevin Howlett, including "The Road to Revolver" and "Revolver Reception," detailing how the LP came to be and where the Beatles' were – physically, mentally and career-wise – during its creation, as well as how the record landed with the public.
Howlett also gives a comprehensive "track by track" analysis of the album's 14 tunes and takes a look at the creation of the iconic sleeve design.
That latter section is bolstered by Voorman's own recounting of how the cover came to be via an excerpt from a graphic novel called "Birth of An Icon: Revolver 50," which he published in 2016.
Priced at $192 for the vinyl and $108 for the CDs, this may be more "Revolver" than the casual fan wants, but passionate devotees of this groundbreaking record would eagerly take another four albums' worth.
Born in Brooklyn, N.Y., where he lived until he was 17, Bobby received his BA-Mass Communications from UWM in 1989 and has lived in Walker's Point, Bay View, Enderis Park, South Milwaukee and on the East Side.
He has published three non-fiction books in Italy – including one about an event in Milwaukee history, which was published in the U.S. in autumn 2010. Four more books, all about Milwaukee, have been published by The History Press.
With his most recent band, The Yell Leaders, Bobby released four LPs and had a songs featured in episodes of TV's "Party of Five" and "Dawson's Creek," and films in Japan, South America and the U.S. The Yell Leaders were named the best unsigned band in their region by VH-1 as part of its Rock Across America 1998 Tour. Most recently, the band contributed tracks to a UK vinyl/CD tribute to the Redskins and collaborated on a track with Italian novelist Enrico Remmert.
He's produced three installments of the "OMCD" series of local music compilations for OnMilwaukee.com and in 2007 produced a CD of Italian music and poetry.
In 2005, he was awarded the City of Asti's (Italy) Journalism Prize for his work focusing on that area. He has also won awards from the Milwaukee Press Club.
He can be heard weekly on 88Nine Radio Milwaukee talking about his "Urban Spelunking" series of stories.