Beer gardens are a mix of Milwaukee at its best: beautiful, lush parks, local music and free-flowing libations. There are five permanent beer gardens in the Milwaukee area (as well as traveling beer gardens), which can be found here. We recommend 'em all. Seriously. There isn't a bad one in the beery bunch.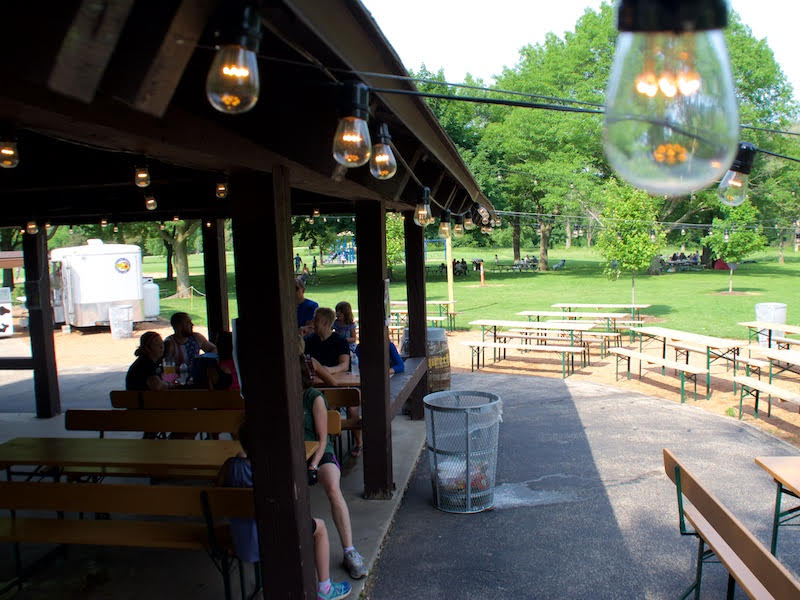 However, when beer garden-ing, it's important to remember the rules. None of Brew City's beer gardens permits smoking or vaping, grilling, unleashed dogs or outside beverages. Carry-in food is fine at Estabrook Park, The Landing at Hoyt Park, Whitnall Park and Hubbard Park, but not at South Shore Terrace. Luckily, South Shore has an extensive menu.
But to fully enjoy beer gardens – and to ensure those around you will, too – there are points of etiquette to observe that go beyond the hard-and-fast rules.
We chatted with a few beer garden employees to get some insider info. Here are seven lesser-publicized beer garden "rules":
1. Share your table
Beer gardens are meant to unite the community through food, drink and conversation. So be prepared to sit with strangers and, sometimes, make them into new pals. Don't place your purse or bag on the benches, instead put them on or under the table to encourage others to sit with you.
2. Keep it PG
Beer gardens are family-friendly, so refrain from f-bombs and the like during your visit. Limiting PDA is also highly encouraged. Beer gardens aren't the Sybaris. Keep it classy, Milwaukee.
"Sometimes people hit it hard and we have to remind them there are kids here," says Jeshea Montijo of the South Shore beer garden.
3. Take responsibility for glassware
Leaving glassware on the table means extra work for the employees, whether it's their glass or yours left behind. Thus, if you bought your glass, take it home with you; if you rented a returnable, drop it off with the workers on your way out (and pick up your refund).
4. Nice dogs only
Obviously, don't bring Bitey to the beer garden. Also, accept that people will want to talk about and pet your dog if you do bring them, so if you're not feeling the canine conversation, just bring humans with you.
5. Keep your shoes on
Beer gardens are not bars – nor are they beaches. Plus, feet are fragile and stinky. So keep 'em covered.
6. Teach the children
Don't let your kids throw gravel, pull up grass, etc. while at the beer garden or the nearby playground. Help them learn the Ways of the Beer Garden early on. It's their right and responsibility as mini-Milwaukeeans.
7. Service stops at 9 p.m.
Even though the gardens are open until 10 p.m., workers are unable to serve beer after 9. This means they cannot serve at 9:15 or even 9:03.
"It's not negotiable: we have to stop serving at 9. Sometimes people make a big stink about this," says Megan Pritzlaff, who serves at the Whitnall Park Beer Garden. "But it is what it is. We want everyone to be able to enjoy themselves here."

Molly Snyder started writing and publishing her work at the age 10, when her community newspaper printed her poem, "The Unicorn." Since then, she's expanded beyond the subject of mythical creatures and written in many different mediums but, nearest and dearest to her heart, thousands of articles for OnMilwaukee.

Molly is a regular contributor to FOX6 News and numerous radio stations as well as the co-host of "Dandelions: A Podcast For Women." She's received five Milwaukee Press Club Awards, served as the Pfister Narrator and is the Wisconsin State Fair's Celebrity Cream Puff Eating Champion of 2019.