In late 2019, Bela Suresh Roongta was one of 30 artists selected to be a part of an art show at Var Gallery in Milwaukee. The show challenged the artists to create art everyday during January 2020 and then in April display their month's work in the gallery.
By mid-January, Roongta, who was creating one pen-and-ink mandala – a drawing within a circle – with a correlating writing entry, decided to expand her commitment to the project for the entire year.
Roongta chose mandalas because the art form was one of the few ways she connected with her East Indian heritage. Roongta was born to East Indian parents in Africa who then moved to London and eventually the United States. It wasn't until years later, when she was in her 30s and working as a lawyer, that Roongta decided to quit her job and go to India for six months to discover her roots. Drawing mandalas and creating henna designs, which are intricate patterns and shapes drawn onto skin, were two of her most beloved learnings during that important time in her life.
The timing of the Var show was ideal for Roongta, who'd been searching for a daily art and writing practice for a while. Roongta, who served as the 2019 Pfister Narrator/writer-in-residence, identifies as much as a storyteller and writer as a visual artist.
"I'd never been very good at being structured that way, so I thought it would be really cool if I could draw and write every day for an entire year," says Roongta. "At the time, I had no idea what was about to happen in 2020."
The year was one of political and emotional strife for Roongta, as it was for many people, and her visual and written documentation of the pandemic, Black Lives Matter and her complex personal life created an unexpectedly poignant volume of work featuring 366 hand-drawn mandalas and 366 writing entries.
Josh Hinz, the owner of Var Gallery, offered her another show, this time a solo exhibition in 2021. Roongta accepted and also started to visualize her 366 mandalas and writings bound in a book.
"When you lose yourself in writing or a drawing, it's a very sacred experience. You go somewhere else. I wanted to share my journey from beginning to end," says Roongta.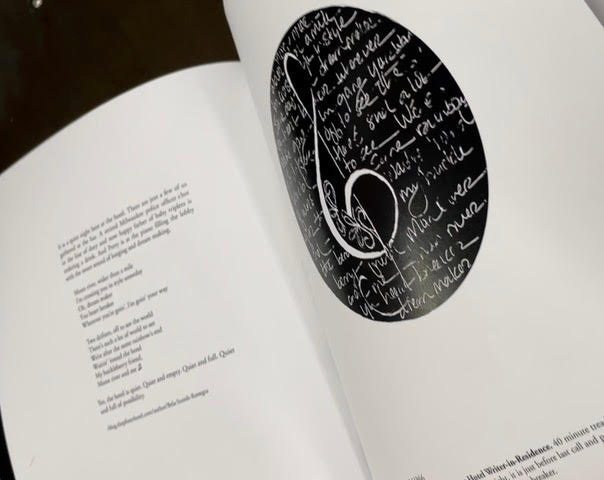 The gorgeous artist book, which is titled "366 winter, spring, summer, fall," is both a piece of art as well as an authentic narrative depicting a woman's life during one of the most challenging eras in recent American history.
"I am an immigrant, East Indian woman. An artist who is raising two kids, navigating my own day-to-day life, hopes and struggles, dating and grappling with everything that's happening in the world," says Roongta. "There aren't many stories like mine being told and so the more I thought about it, the more I knew that if I was going to share, it had to be my full story. All of the ups and downs, the ugly and the beauty. It had to be the truth of my experience."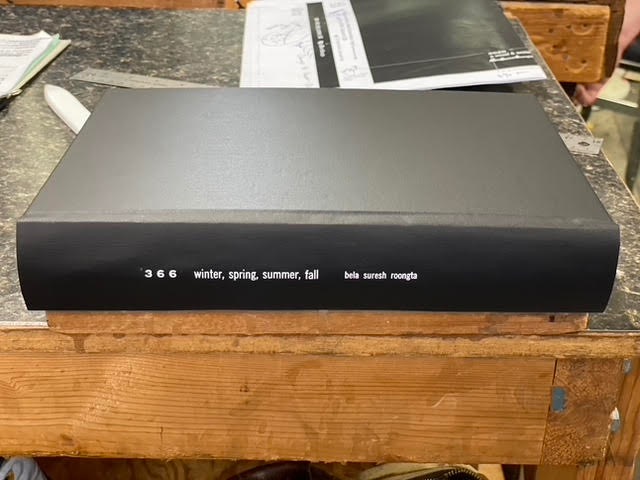 The 378-page artist book features Roongta's ornate mandalas that are primarily black-and-white. A few, however, are in color.
"I'm afraid of color, so the four or five that are in color represent me trying to push myself artistically," she says.
Her journal entries, which were originally handwritten, are now typed and presented next to a mandala. Sharing very personal writing took time for her to feel comfortable with.
"My journal is my best friend, and often the only place I share my most intimate thoughts," says Roongta. "Especially about my love life. I keep that particularly private."
But Roongta knew she had to let go of some of her privacy, just like she had to let go during the mandala drawing process, if she wanted anyone to relate to her book. And so she edited names to initials or first names only and edited out any details that might disclose someone's identity.
"I hoped that by sharing so much of myself at least one person would see themselves in my story and feel less alone. They would know that we are all in this together and if that happened it would be worth it," says Roongta.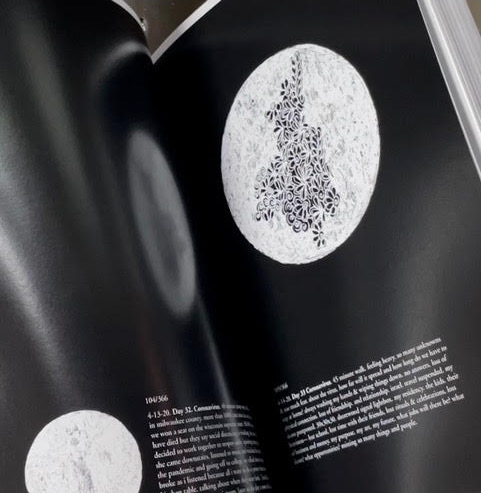 To learn more about Roongta's limited-edition book, her art and / or her line of henna-inspired clothing, go here.

Molly Snyder started writing and publishing her work at the age 10, when her community newspaper printed her poem, "The Unicorn." Since then, she's expanded beyond the subject of mythical creatures and written in many different mediums but, nearest and dearest to her heart, thousands of articles for OnMilwaukee.

Molly is a regular contributor to FOX6 News and numerous radio stations as well as the co-host of "Dandelions: A Podcast For Women." She's received five Milwaukee Press Club Awards, served as the Pfister Narrator and is the Wisconsin State Fair's Celebrity Cream Puff Eating Champion of 2019.