Get your Milwaukee history fix this summer with OnMilwaukee's Urban Spelunking, sponsored by DearMKE. Fall in love with Milwaukee and its stories on DearMKE.com, or go on your own urban exploration and share your photos and your stories of Milwaukee with #DearMKE on Instagram, Facebook and Twitter.
Lately, I've been nosing around old houses in Milwaukee. I mean, really old houses. Like the William Howard House in Walker's Point, built in 1854, and an Italianate home in Brewers Hill, built in 1859.
This, naturally, sparked the discussion about the oldest surviving Milwaukee house, a distinction that appears to go to the Benjamin Church House, begun in 1843 on 4th and Court Streets, across from where Golda Meir School now stands.

(PHOTO: Milwaukee County Historical Society)

(PHOTO: Milwaukee County Historical Society)
The caveat is that while the house was built in Milwaukee and was there for nearly a century, it – like numerous residents over the years – has long since decamped for the suburbs. Since 1938, the house has been located in Estabrook Park.
"The Milwaukee Historical Society has operated it as a historical house museum since 1938," says MCHS Executive Director Mame McCully. "And we've done so in partnership, really, with the county, in the sense that they own the land it's on and we own the building. Then the Colonial Dames of America is really the group that furnished the house and has seen it through, as far as decorative arts and its furnishings."
McCully, incidentally, says that the Lowell Damon House in Wauwatosa is the second-oldest remaining house in the area. It was begun in 1844.
"So we effectively own the two oldest in Milwaukee," she adds with pride.
Who was Benjamin Church?
A carpenter and home builder, Church was born in New York and moved to Chicago in 1834, when he was 27.

The next year he came north to Milwaukee, driving a herd of hogs along the way so he'd arrive with a bit of cash in hand, settling in Kilbourntown with James Church, likely a brother or other relative, according to MCHS information. (James returned to the East Coast in 1841).
Early on, Church worked as a carpenter for Samuel Brown, at which point he helped build the Washington House Hotel on 3rd and Vliet, but later moved south to Kilbourn and renamed the Republican House (famed as the birthplace, in 1900, of baseball's American League).
In 1836 Church bought a piece of land from Kilbourn on 4th and Court and lived there in a shack with James. Seven years later, he began building what has been called an "outstanding example" of the Greek Revival style.
"The fluted Doric columns and the finely proportioned moldings and window and door casings," wrote Russell Zimmermann in "The Heritage Guidebook," "give the house true distinction."
Church himself became a man of distinction, too.
By 1844, he was a trustee of Kilbourntown's West Ward, along with Byron Kilbourn and others. Soon after, the Juneau, Kilbourn and Walker settlements were merged into a single City of Milwaukee in 1846, and Church's neighborhood became the Second Ward in 1851. Church was elected as the district's school board representative, according to the in-depth information the Historical Society has compiled.
In 1852, he was made assessor, too, but just three years later, the city's wards were redrawn and new elections were held. Church's home now stood in the Sixth Ward and he was voted back into his positions in 1856-57.
Life was good for Church, who had assets of $30,000 in 1860 and described his occupation as "gentleman." But it wouldn't last. A decade later, his "fortune" was a mere $4,600 and he was back to calling himself a "builder."
Church and his wife Pamelia had six children and it appears that an unusually impressive five lived to adulthood.
The house that Church built
Church built his home out of hand-hewn oak and elm timber, and lined the walls on the inside with cream city brick to plans he likely purchased from a pattern book. He made the frame, roof tiles, exterior clapboard siding and interior plaster lath slats by hand.
Studs between the framing members didn't provide structural support but were installed to hold the bricks in place.
The brick served not only to add strength to the structure, but also as insulation from the elements. Check out the exposed brick in the kitchen and you can see they are dated 1844.
Note the initials J.A.M. on the bricks, which indicate the materials came from John Messenger's brickyard on 12th and Juneau.
The "fancy" interior woodwork, including door and window frames and moldings were purchased, pre-fabricated from a mill in Buffalo, New York, to which Church traveled in 1844.
The house after Church
Church mortgaged his house in 1879 for $400, according to MCHS, and Jung & Borchart Brewery bookkeeper George Binzel bought it in 1884 for $3,100. Binzel lived there with his wife Rosamund and their four children. He remained until his death in 1917 at age 75 and she, with her daughter Louise, until 1922.
But the Binzels didn't sell immediately. They held onto the home until 1926, renting it to a series of tenants – one of whom, Mrs. Clara Stewart, ran the People's Religious Social Center, an African-American church group out of the home in 1925-26 – and trying, unsuccessfully, to have the home declared a landmark and transformed into a museum.
Instead, they sold the home to an unknown absentee landlord, who rented it to a string of tenants over the years. The final resident of this period was Nora "Nanny" Hyman, an African-American social worker who lived there from 1936 to '38 and worked with Elsa E. Ulbricht of the Milwaukee State Teacher's College (now UWM) Art Department to return the ever-more dilapidated home to its early splendor, according to the MCHS.

(PHOTO: Milwaukee County Historical Society)
But the landlord had stopped paying taxes and the city took control in a tax foreclosure, selling the house to a demolition contractor from Elm Grove, who actually began demolition work on the Benjamin Church House. That is, until MCHS director Frederic Heath and architect Alexander Guth came to its rescue and moved it in May 1938 to Estabrook Park.
A new life for an old home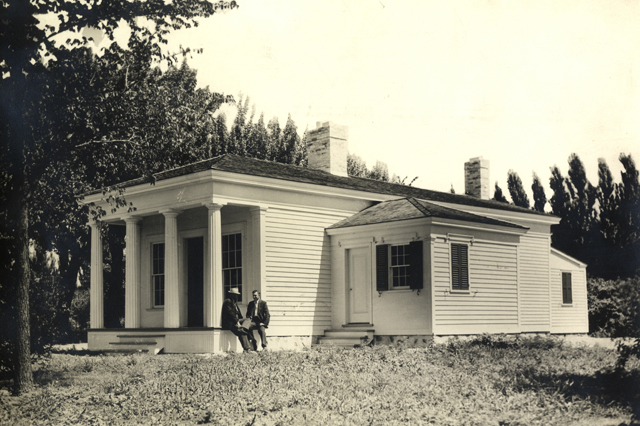 (PHOTO: Milwaukee County Historical Society)
"They really saved it from demolition, which is no different than what we do today," says McCully of Guth and Heath. "It's kind of amazing when you figure that the preservation movement is only about 55 years old. So the fact that this was done that much earlier is actually pretty amazing."
Nowadays the home feels somewhat rambling and some of the sections were indeed added over time. A room in the home has a selection of old photographs and floor plans that show when each part was erected in displays.
In the kitchen is a tight staircase, pictured above, up to the second floor bedrooms with their low ceilings. There is a doorway that leads into a crawlspace (pictured below) above the front section of the house.
At the top of the stairs is an exposed section of the lath, seen here below, to show how the house was constructed.
The second floor, however, is currently closed to the public. So, here's a picture for you:
But the home is open during the warmer months on weekends from noon until 3. Admission is free.
Step inside and just above the sofa are portraits of Church and his wife (pictured below). The house is decorated the way such a home would've appeared at the time.
Water and smoke damage inflicted by a 1970 fire forced the replacement of the interior items, McCully says.
"Last year we received a grant from the Shorewood Historical Society and the Shorewood Foundation and we decided to interpret the house in a different way," says McCully.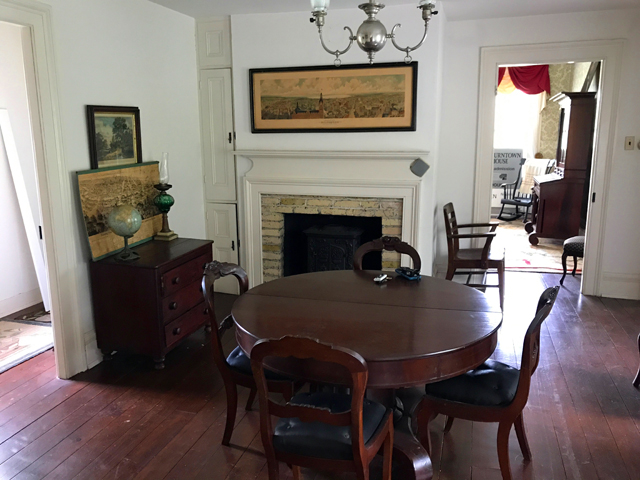 "In the living room, the stories you'd hear in here are going to be more about the way of life. The north room is more about Shorewood's history, and we interpret the park in there, as well. The room (to the south) is more about the way of life and you can touch the tapestries ... it's a little bit more of an interactive experience. In the kitchen what we saw is that we had all this stuff, but people didn't know what it was. One, essentially, cooks bacon. Once we put a sign there that said that, that became people's favorite thing in here. But they didn't know they were seeing it before."
Volunteers and students serve as docents to explain the home and its history to visitors and MCHS even involves interns, students and interested volunteers in restoration work.
"We get a lot of questions from people, 'how do I participate in the historic house,' right? Because we're finding that more people don't want to just come and just look at it, they would love to somehow be a part of it. And so the preservation program that we have pairs a bunch of volunteers with a preservation expert, and they carry out actual historic preservation projects while learning the techniques. It's been really neat."
Thanks to the popularity of Estabrook Park – and the success of the annual Doors Open Milwaukee event, during which the Church House is open – there seems to be more interest than ever in Milwaukee's oldest surviving home.
"We've also made more effort," says McCully. "We have education programs that come, and we try to involve the community in the weed out every summer. Different things like that.
"The traffic from the beer garden and just the park being really reinvigorated has really helped to bring more attention to the site."
Born in Brooklyn, N.Y., where he lived until he was 17, Bobby received his BA-Mass Communications from UWM in 1989 and has lived in Walker's Point, Bay View, Enderis Park, South Milwaukee and on the East Side.
He has published three non-fiction books in Italy – including one about an event in Milwaukee history, which was published in the U.S. in autumn 2010. Four more books, all about Milwaukee, have been published by The History Press.
With his most recent band, The Yell Leaders, Bobby released four LPs and had a songs featured in episodes of TV's "Party of Five" and "Dawson's Creek," and films in Japan, South America and the U.S. The Yell Leaders were named the best unsigned band in their region by VH-1 as part of its Rock Across America 1998 Tour. Most recently, the band contributed tracks to a UK vinyl/CD tribute to the Redskins and collaborated on a track with Italian novelist Enrico Remmert.
He's produced three installments of the "OMCD" series of local music compilations for OnMilwaukee.com and in 2007 produced a CD of Italian music and poetry.
In 2005, he was awarded the City of Asti's (Italy) Journalism Prize for his work focusing on that area. He has also won awards from the Milwaukee Press Club.
He can be heard weekly on 88Nine Radio Milwaukee talking about his "Urban Spelunking" series of stories.