Writing these past two weeks about disappeared Milwaukee rock clubs and Downtown in the 1980s has me a little bleary eyed with nostalgia. And my Milwaukee reminiscences almost always lead straight back to one building in Walker's Point.
I spent a few months trying to work out this town alone upon my arrival from New York City in 1983 before I met Mick Lexington, who back then was better known in Milwaukee music circles as Mike Layton.
Spending a lot of time Downtown, maybe it was a given I'd meet him. We rode the 20 bus at the same times and passed each other on the street, until one day he approached me, asked if I played an instrument and invited me down to meet his band The Laytons.
A poet and graffiti artist, Mick had a studio on the third floor of the Bern Boys building at 805 S. 5th St. – a gorgeous four-story furniture store and warehouse building on the corner of National Avenue.
I've never said this to him, but I admired Mick. He was a tornado of artistic energy, clapping out poems on his typewriter and creating explosions of Krylon-ic color, in addition to writing songs and walking nearly as quickly as I did. He played gigs, he did poetry readings and he entered his visual art in the Lakefront Festival of Arts.
When I entered the Bern Boys realm, I was introduced to a slew of Milwaukee artists of all stripes.
Renowned photographer Frank Ford had a loft studio that sprawled across the top floor, which in the late 1920s and into the mid-30s was home to Stumpf's Hall events space (the whole structure was called the Stumpfs Building at the time).
Down the hall from us was a large space occupied by actor John Kishline. I met Mike Hoffmann and the R&B Cadets while they recorded "Top Happy" in Kishline's big corner loft.
Smaller spaces were occupied by artist and, later gallery owner, Kent Mueller, and renegade veteran poet and bad boy John Jeske, who apparently also camped upstairs with Ford for a time.
Much like The Fortress now, the relatively cheap rent helped create a haven for creativity.
Mueller and Jeske – along with Jim Pattison and Nick Cippollone – were members of Goal Zero Poetry Group with Mick. Surely, plenty more history pre- and post-dated my time there, too.
At least a couple bands were always sharing space in the studio at 305. The Laytons practiced there. The Blowtorch was born there. I met Dean Schlabowske and Jim Warchol of Modern Values there. I got to know Ray Krahn and The Honest Disgrace there.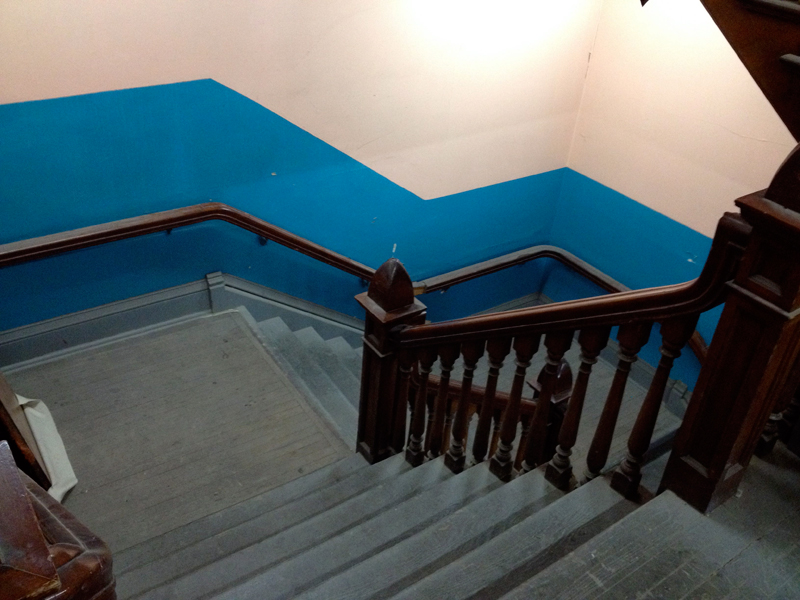 Later, The Blowtorch occupied a room (sublet from Mueller) across the hall with windows that afforded access to the roof. And later still, the band that would become Sometime Sweet Susan – fronted by Warchol – rehearsed in 305.
We played our first gigs together upstairs in the hall two floors above Tony Kodric's bar next door. We hung out in the alcove out front, watching the North Shore crowd inching nervously toward Chip & Py's bistro a couple doors down. Once, when a local TV news personality and his wife emerged from the place to find their parked car wouldn't start, we chatted with them. When at last they said goodbye, she told us, we were "the nicest gang members" she'd ever met.
The place was an organic hive of artistic energy of all kinds. There was passion, there was discussion, there was beer ... purchased, typically, one of the bodegas nearby. In summer, we'd sit out on the fire escape and admire the skyline or gaze up and down National Avenue, or later, out back on the roof.
I remember one night in 305, I think with Laytons bassist Len DacQuisto, watching a lightning storm shooting beams of energy down all along Downtown, poking the tops of the tallest buildings with its zig-zaggeds.
I earned my second jaywalking ticket right out front – Bern Boys was a real Milwaukee baptism.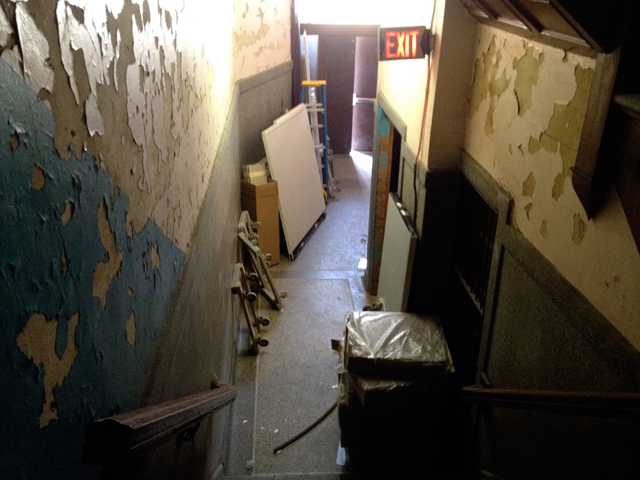 And the neighborhood – which back then felt a lot like Manhattan's Lower East Side at the time – served up plenty of inspiration, too. The fact that I lived within walking distance helped ensure I'd spend a lot of time at Bern Boys.
Last summer, visiting Walker's Point with Adam Carr, the door to Bern Boys was open, so I stepped inside and saw the freight elevator that we had always hoped was unlocked, or we'd have to carry a lot of heavy gear (that bass amp, Gerry!) up and down three flights of stairs.
I was amazed to see the Goal Zero Poets still on the mailbox (the blur of my hastily shot photo captures the freneticism of the era). I was happy to see the door to 305 was open, so I could peek inside. I could hear the music in my head; the smell – and the rattle and hiss – of Krylon encircled my head.
It occurred to me that I don't think I've ever been involved in a scene that concentrated, or that intense.
Born in Brooklyn, N.Y., where he lived until he was 17, Bobby received his BA-Mass Communications from UWM in 1989 and has lived in Walker's Point, Bay View, Enderis Park, South Milwaukee and on the East Side.
He has published three non-fiction books in Italy – including one about an event in Milwaukee history, which was published in the U.S. in autumn 2010. Four more books, all about Milwaukee, have been published by The History Press.
With his most recent band, The Yell Leaders, Bobby released four LPs and had a songs featured in episodes of TV's "Party of Five" and "Dawson's Creek," and films in Japan, South America and the U.S. The Yell Leaders were named the best unsigned band in their region by VH-1 as part of its Rock Across America 1998 Tour. Most recently, the band contributed tracks to a UK vinyl/CD tribute to the Redskins and collaborated on a track with Italian novelist Enrico Remmert.
He's produced three installments of the "OMCD" series of local music compilations for OnMilwaukee.com and in 2007 produced a CD of Italian music and poetry.
In 2005, he was awarded the City of Asti's (Italy) Journalism Prize for his work focusing on that area. He has also won awards from the Milwaukee Press Club.
He can be heard weekly on 88Nine Radio Milwaukee talking about his "Urban Spelunking" series of stories.