This article was originally published on Dec. 5, 2018. But in honor of National Chicken Wing Day, we've brought it back for your wing-loving enjoyment.
Wings. They're as ubiquitous to Milwaukee bar culture as a pint of ice cold beer. But who has the best Buffalo wings in town? We decided to find out.
The idea for a Buffalo wing challenge was prompted by the menu description of the wings at Explorium Brewpub, which reads: "A full pound of fresh jumbo wings brined then fried dark ... served with carrots, celery and choice of bleu cheese or ranch. The best wings in Milwaukee! Prove me wrong … "
It was that last sentence that started got us thinking. How could we determine if Explorium Brewpub wings were really the best? The answer, of course, was a blind taste test.
The process
Last week we gathered 10 random judges and hosted a blind tasting of Buffalo wings from five area restaurants: Explorium Brewpub, Fixture Pizza Pub, Jonny Hammers, O'Lydia's and Steny's. None of the restaurants were notified that its wings were part of a competition.
To ensure that the judging was conducted as fair as possible, we tried to eliminate as many variables as we could. First, we identified five of the best wing spots in the city and made sure they offered a similarly styled wing (fried with house buffalo sauce). All wings were pre-ordered by phone, and the pick-up times were staggered so each batch of wings could be picked up and delivered as quickly as possible. All wings were transported in unmarked bags and assigned numbers so that we could keep track of which was which. We also made it a point to host the blind tasting at a neutral venue: MobCraft Beer in Walker's Point.
During the tasting, we presented the wings in random order, giving each judge one flat and one drum to try. After tasting each wing, judges filled out a scorecard, ranking the wings on a scale of 1 to 10 (10 being the highest) in nine categories: appearance, aroma, sauce quantity, sauce consistency, sauce heat, skin consistency, meat, greasiness and overall taste. At the end of the tasting, we meticulously tallied all of the results.
Winner winner chicken wing dinner!
Who won? Here are the results!
Total score: 456
Total score: 529
Total score: 621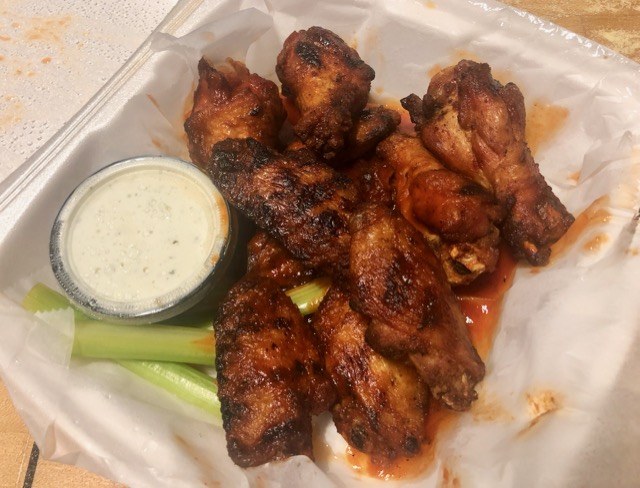 Total score: 695
Wing geek: numeric scores in each category
For the geeks among you, we're also including the tabulated scores in each category.
Appearance
Fixture: 77
O'Lydia's: 77
Jonny Hammers: 60
Explorium Brewpub: 61
Steny's: 56
Aroma
Fixture: 71
O'Lydia's: 61
Explorium Brewpub: 60
Jonny Hammers: 59
Steny's: 47
Sauce quantity
Fixture: 75
O'Lydia's: 75
Explorium Brewpub: 67
Jonny Hammers: 51
Steny's: 32
Sauce consistency
Fixture: 75
Explorium Brewpub: 74
O'Lydia's: 74
Jonny Hammers: 49
Steny's: 39
Sauce heat
Fixture: 80
O'Lydia's: 70
Explorium Brewpub: 70
Jonny Hammers: 52
Steny's: 35
Skin consistency
Fixture: 77
O'Lydia's: 77
Explorium Brewpub: 71
Jonny Hammers: 59
Steny's: 53
Meat
Jonny Hammers: 79
O'Lydia's: 78
Explorium Brewpub: 70
Fixture: 71
Steny's: 69
Greasiness
Fixture: 82
O'Lydia's: 79
Explorium Brewpub: 79
Steny's: 71
Jonny Hammers: 61
Overall taste
Fixture: 87
O'Lydia's: 77.5
Explorium Brewpub: 69
Jonny Hammers: 59
Steny's: 50
Thank you
Big thanks to MobCraft Beer for hosting and Tyler Bailey for helping us gather together our panel of stealthy wing judges. And thanks again to all of our great judges for their hard work!
Lori Fredrich (Lo) is an eater, writer, wonderer, bon vivante, traveler, cook, gardener and girlwonder. Born and raised in the Milwaukee area, she has tried to leave many times, but seems to be drawn to this quirky city that smells of beer and alewives.
Some might say that she is a little obsessed with food. Lo would say she is A LOT obsessed with food. After all, she has been cooking, eating and enjoying food for decades and has no plans to retire anytime soon.
Lo's recipes and writing have been featured in a variety of publications including GO: Airtran Inflight Magazine, Cheese Connoisseur, Cooking Light, Edible Milwaukee, Milwaukee Magazine and the Milwaukee Journal Sentinel, as well as on the blog Go Bold with Butter, the web site Wisconsin Cheese Talk, and in the quarterly online magazine Grate. Pair. Share.