It's time for Dining Month, presented by Deer District and its spooky Halloween-themed alter ego, Fear District. Throughout the month of October, we'll be serving up fun and fascinating content about all things food. The signature dish, however, is our 2019 Best of Dining poll, who's winners we will dish out all month long. Get hungry, Milwaukee!
Each year I compile a list of my top restaurant picks in 40+ categories, based on our annual Best of Dining Poll.
As you may have noted while taking the poll, choosing the "best" of any category is insanely difficult. In most cases, there are multiple restaurants which could qualify in any given category. As a result, these picks are based on my perceptions of excellence in terms of technique, innovation and flavor. They also reflect my desire to showcase worthy restaurants, which for any number of reasons, haven't been widely recognized.
At its very least, this collection of restaurants offers perspective on where my tastes lie. At its best, it provides a starting place for curious diners who'd like to explore more venues (and new dishes) in our ever changing scene. I hope it encourages you to challenge your own palate and compels you to discover new venues and support the work of some of Milwaukee's most creative and talented chefs.
Best African/Jamaican/Caribbean
Blue Star Cafe
1619 N. Farwell Ave., (414) 273-9744
It's a joy to eat in fancy, sit down places. But some of the best food I've eaten this year has been enjoyed at restaurants where the food -- rather than the atmosphere -- is the star. Blue Star Cafe is one of those restaurants. It's also a great spot to introduce yourself to the fantastically comforting fare of Somalia.
Among the remarkably affordable options you'll find nibble-worthy sambusas, pastries filled with well seasoned meats or veggies, and platters of lightly seasoned tender goat cooked with onions, raisins and potato and served over basmati rice that's heady with the aroma of spices … cinnamon, cumin, coriander and cardamom. Be sure to make liberal use of the bright, green chili-heavy basbaas cagaar, a sauce that I swear tastes good on just about anything. And don't neglect to order the hummus, which is among the best in town.
Best Asian Fusion, Vietnamese, Laotian and Korean
Char'd
222 E. Erie St., (414) 885-2611
chardmke.com
This is a tough category to narrow down, based on its breadth alone. But my pick this year highlights a restaurant that's done well in showcasing a cuisine that's been sparsely represented in the Cream City for years.
Char'd opened its doors in May of 2018 and has steadily built a following for its beautiful, well executed modern Korean fare. Stand-out dishes include the perilla avocado appetizer featuring grilled avocado with perilla salsa; beef galbi (marinated char-grilled bone-in shortribs) served with vegetables and leafy greens for making lettuce wraps; and yukgae jang, a spicy, warming soup with pulled beef, fernbrake, egg and scallions and I highly recommend visiting on a Sunday when you can indulge in a traditional Korean meal, complete with tasty banchan.
Best Bakery
Amaranth Bakery & Cafe
3329 W. Lisbon Ave., (414) 934-0587
Sweet or savory? It's a question that comes up when choosing a pick for this broad category. I'm definitely keeping my eyes on spots like the newly launched Odyssey Bakery (inside Char'd) and Greige, a Walker's Point patisserie, I like to remind people about one of my favorite spots in the city, Amaranth Bakery and Cafe, where the ever-changing menu always seems to present a delicious new surprises. You can always count on top notch flavor from their slow-fermented sourdoughs and delicious cinnamon rolls. Their housemade soups are some of the best in town, as are the sandwiches made with housemade bread. Come holiday season, their German stollen is the best I've found outside of my family's kitchen.
Best Bar Food
Camino
434 S. 2nd St., (414) 800-5641
caminomke.com
For me, a visit to Camino always brings with it a bit of nostalgia. I still remember the days when the venue was home to Chef Kevin Sloan's The Social, a restaurant which paved the way for the restaurant boom on South Second street. But, it's the delicious, inventive food that keeps me coming back. The beet Reuben is phenomenal, as is their Brussels sprouts grinder. And if you're looking for standards, both their burger and unique bread-crumb breaded deep-fried cheese curds rank among the best in the city.
Best BBQ
Heaven's Table BBQ
Crossroads Collective, 2238 N. Farwell Ave., (414) 732-7109
heavenstablebbq.com
It's been years since I've needed to lament the paucity of barbeque here in Milwaukee. Thanks to a mini explosion of new 'que joints over the past few years, there are multiple spots where I'm happy to get my fix. Most recently, I've become enamoured of the goods at Heaven's Table in the Crossroads Collective where Chef Jason Alston is smoking up the place with a menu of excellently prepared smoked meats. I'm a big fan of their brisket, which is consistently tender and flavorful and I've been pleasantly surprised by the juiciness of their smoked chicken. I'm also a huge fan of their firecracker corn bread. Don't miss the Texas cut beef ribs (Saturdays only).
Best Brunch
The Original
2498 N. Bartlett Ave., (414) 763-4811
theoriginalmke.com
When it comes to brunch, I'm looking for unique items with flavors that pop along with an excellent bloody mary that doesn't rely solely on a bouquet of garnishments. I found that this year at The Original, where the chilaquiles were just right, sporting tender, crisp pork belly, fresh avocado and a smoked jalapeno hot sauce that made the dish. The fried chicken and French toast was also stellar, as was the Red Snapper, a gin-based bloody mary with a Good City Pils chaser.
Best Burger
Foxfire
Hawthorne Coffee Roasters, 4177 S. Howell Ave., (414) 331-1382
Foxfiremke.com
Since its inception, The Burger Trail has taken me to over 100 venues (you can view the top scoring burgers here). Along the way, I've been taken in by myriad burgers that stood out from the crowd. Among them was the masterpiece at Foxfire, the food truck in residence at Hawthorne Coffee Roasters. Their double brisket burger showcases exactly how simple ingredients (a fluffy sweet bun, American cheese, thinly sliced onions and pickles) can be combined to create an ultra-solid burger with a flavor that far surpasses the sum of its parts. When I bite into a burger like this, I get nostalgic. My mouth waters. And I find myself wondering if I've ever eaten something quite this good. There's a little bit of magic here ... in this simply delicious burger that's as rare and lovely as foxfire itself.
Best Cafe
The National Cafe
839 W. National Ave., (414) 431-6551
nationaleats.com

The National Cafe is a repeat pick on my list of top spots. It's a pick that's as much about the cozy, welcoming vibe in the cafe as it is about the food, which showcases items from delicious breakfast sandwiches, the indulgent "Hot Mess" to classics like the turkey bacon and brie sandwich. And I still can't get enough of their silky tonkotsu ramen, some of the best in the city, and a perfect indulgence for lunch on a cold, blustery winter day. I'm also excited about the cafe's recent updates enacted by owners Angie Wierzbinski and Amy Plennes, including a few brand new cocktails like Irish coffee and a housemade bloody mary. If they keep this up, they're well on their way to making my best brunch list as well.
Best Central/South American
C-Viche
2165 S. Kinnickinnic Ave., (414) 800-7329
c-viche.com
When I need a place to escape on a spine-chilling January or February day, it sometimes helps to eat something fresh. That's where C-Viche comes in. Give me one of their excellent pisco sours or a Lima and a bit of ceviche and I'm happy as a clam. It's also the only place in the city where you'll find a menu of Nikkei sushi, a fusion of both Japanese and Peruvian flavors.
Best Chain: Shake Shack
Shake Shack
220 E, Buffalo St., (414) 509-1080
shakeshack.com
Give me the choice and I'll always opt to spend my money locally. But when it comes to chains, I'm content to spend it at Shake Shack, a national chain that still cares about the little details and makes a valiant effort to support local purveyors. The quality of their food is higher than most; they use well-sourced beef, and pay attention to the flavor profile and texture of their (cage-free) fried chicken, which is cooked sous-vide before being fried, giving it a beautiful moist texture. Their shakes are delicious (and I love how they look to local purveyors as a source for some of their concrete mix-ins). And have you tried the (secret menu) peanut butter bacon burger yet? You really should.
Best Chinese
Sze Chuan
11102 W. National Ave., (414) 885-0856
goszechuanrestaurant.com
I couldn't tell you the number of times I've eaten at Sze Chuan since they opened in late 2017; it's a restaurant that's become an absolute go-to for Chinese, including both dine-in or carry out. But there's something addictive about nearly every dish on their menu -- from traditional Szechuan ma po tofu to braised pork belly and fragrant dry pot cauliflower. I've been delighted and surprised by countless dishes (especially the cold pork belly, which is now a must-order), and trust me when I recommend the Szechuan pork dumplings. They're amazing.
Best Coffee
Vennture Brew Co.
5519 W. North Ave., (414) 856-4321
vennturebrewco.com
I'm a regular at a variety of cafes in the city. Some I patronize because they provide a great place to write or conduct interviews. Others (like last year's best-of pick, Pilcrow) I visit for the quality of their coffee, which has over time made me a more discerning coffee drinker. A spot that has managed to score with me in both camps this year is Vennture Brew Co., a relative newcomer to the coffee scene, but one which I've found to be well worth consideration. Exploring the coffees roasted by co-owner Jake Rohde is always a joy... and an adventure. I don't necessarily love them all (coffee is subjective, after all); but I'm always pleasantly surprised by the flavor profiles he coaxes from the beans.
Best Fine Dining
Bacchus
925 E. Wells St., (414) 765-1166
bartolottas.com/bacchus
I'm a big advocate for navigating fine dining restaurants without dropping an entire paycheck, and I gravitate towards places that are accessible in terms of that investment. That means perennial favorites like EsterEv (which offers an exquisite ten-course tasting menu for under $100) and Sanford where you can sample an ever-changing four-course menu on weekdays for just $49.
They've made the same possible more recently at Bacchus, which underwent a refresh this summer in honor of its 15th anniversary. The project, which was the last spearheaded by the late Joe Bartolotta, resulted in a beautiful restaurant that simultaneously feels opulant and accessible. The same is true for the menu, which showcases a flexibility that previous menus didn't exhibit.
I'll admit I haven't scoured the entire menu in the short time since the restaurant reopened after its refresh. But I've enjoyed a number of dishes that reminded me of the level of skill Chef Nick Wirth brings to the table -- dishes like charred Spanish octopus with Middle Eastern touches like hummus and preserved lemon; and (the creamiest) butternut squash risotto with applewood smoked bacon and Marieke gouda. Combine that with the pleasure of eating in a space now worthy of its new menu and you've got a truly winning combination.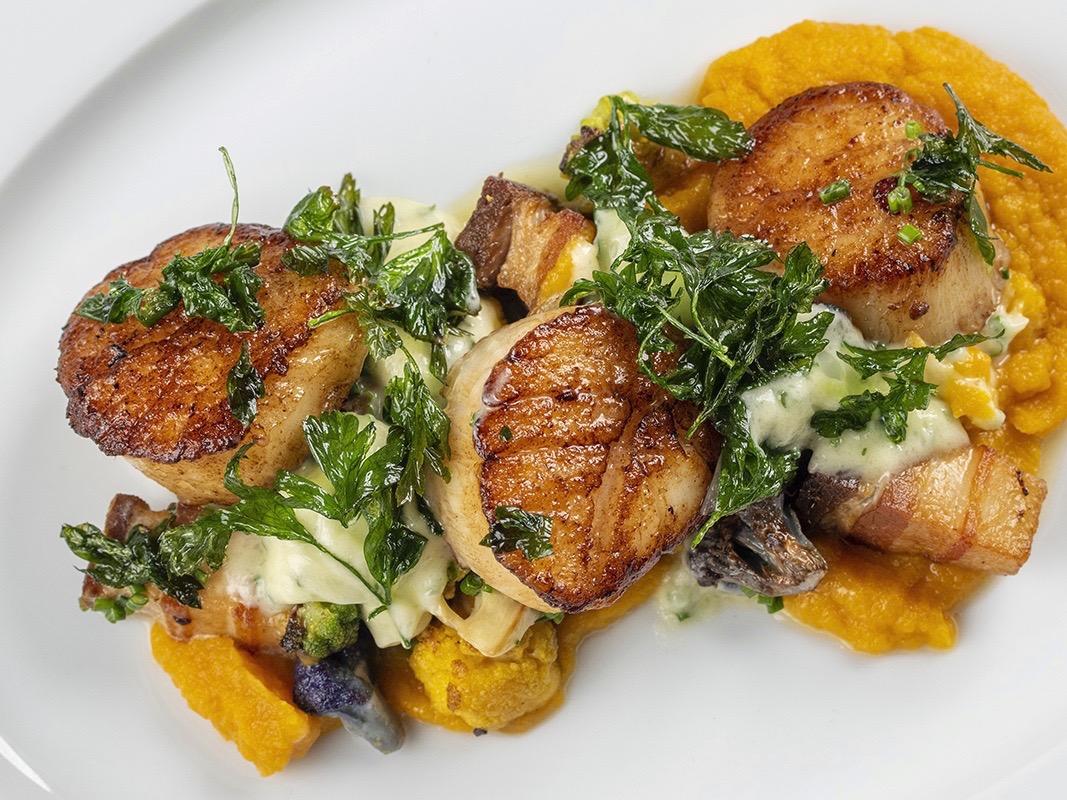 Best Fish Fry
Landmark Inn
10634 W. Freistadt Rd., (262) 242-9907
I've eaten a plethora of disappointing fish fries in the past few years, and I've sensed an increasing trend of shortcuts (from disappointing Sysco-sourced potato pancakes to pre-breaded frozen fish filets). But I'm encouraged by a few stolworts who continue to deliver on the promise of solidly prepared staples. Among them are spots like Mequon's Landmark Inn, an historic spot that pushes out plates upon plates of well-handled fish (like breaded perch and beer-battered haddock) along with solid housemade potato pancakes and a German potato salad that would rival any German grandmother's.
Best French/Cajun/Creole
Fauntleroy
316 N. Milwaukee St., (414) 269-9908
fauntleroymke.com
When you say French, I say delicious. And yes, that might have something to do with the butter and cream involved. But in the case of Fauntleroy, it also has to do with a refreshingly modern take on the cuisine that, while remaining true to French technique and philosophy, is frequently playful and consistently delicious. Consistent winners on the ever-changing menu include the Lyonnaise salad with its unctuous pork belly lardons, soft egg and sweet, crisp croutons; the astonishingly good (and vegetarian) French onion soup, and the Grande Royale burger… which you can argue isn't really French. But, really, why are you judging?
Best Frozen Treats
Scratch Ice Cream
Crossroads Collective, 2238 N. Farwell Ave., (414) 704-8874
Zócalo Food Park, 636 S. 6th St., (414) 433-9747
scratchicecream.com
I'm a sucker for Kopp's. Their custard formed an indelible part of my childhood and, even as an adult, I find myself appreciating their creativity with regard to custard flavors. But man, those folks at Scratch Ice Cream are giving the custard kings a run for their money with a collection of inventive flavors -- from salted caramel waffle cone to dump cake and toasted marshmallow -- that's just as smooth and creamy as it is delicious.
Best Global Eats
Amilinda
315 E. Wisconsin Ave., (414) 369-3683
amilinda.com
I was happy we launched the new global eats category this year, largely because there were a good number of restaurants which defied placement in any other slots. One of those restaurants is Amilinda, a venue whose small-but-ever-changing seasonal menu of Spanish and Portuguese fare is always packed with delectable finds.
This winter, they impressed equally with a series of brunch pop-ups that made dining out on a Sunday morning an absolute delight with items like piri piri fried chicken and waffles, savory pastries and housemade flavored milk served in adorable mini milk jugs. But Amilinda is more than just great food; it's also a place of warmth and beauty. Before opening in 2015, Chef Gregory Leon and partner Orry Leon introduced their restaurant concept through pop-up dinners; and in the years since they've paid it forward by allowing countless chefs to use their space to launch their own businesses. It's the sort of generosity I'd be delighted to see in more places.
Best Indian/Pakistani
Anmol
711 W. Historic Mitchell St., (414) 672-7878
eatanmol.com

Anmol has been one of my go-to Pakistani restaurants for years, and little has changed in 2019, except that I've discovered even more to love. Take for instance the mango habanero chicken, which gleans fruity and floral notes (and a bit of heat) from habanero peppers and Alphonso mango pulp. Chef Marco Lezameta and his team also create delicious goat and mutton curries; the meat is tender and my favorite sauces are rich with cardamom and ginger. Even the staples like palak paneer are consistently delicious, especially with a warm piece of na'an.
Best Italian
Egg & Flour Pasta Bar
Crossroads Collective, 2238 N. Farwell Ave.
greateffingpasta.com
When I want the long view of Italy, I still look to Ristorante Bartolotta, which best represents Italy and the diversity of its regions. But if I'm simply feeling indulgent, I've been more than pleased to take a trip to Egg & Flour, the pasta restaurant in Crossroads Collective, which will soon add its own new brick and mortar location in Bay View.
There's nothing like housemade pasta, and Chef Adam Pawlak executes his well, tossing out a variety of shapes from simple pappardelle to shells and handmade ravioli. There's consistency in favorites like creste di gallo with basil pesto and the fantastic, fresh-tasting burrata salad which makes a meal in and of itself. Oh, and if the squid ink bucatini with lobster and tomato cream makes it to the specials menu again, you should hightail it to the East Side to try it out.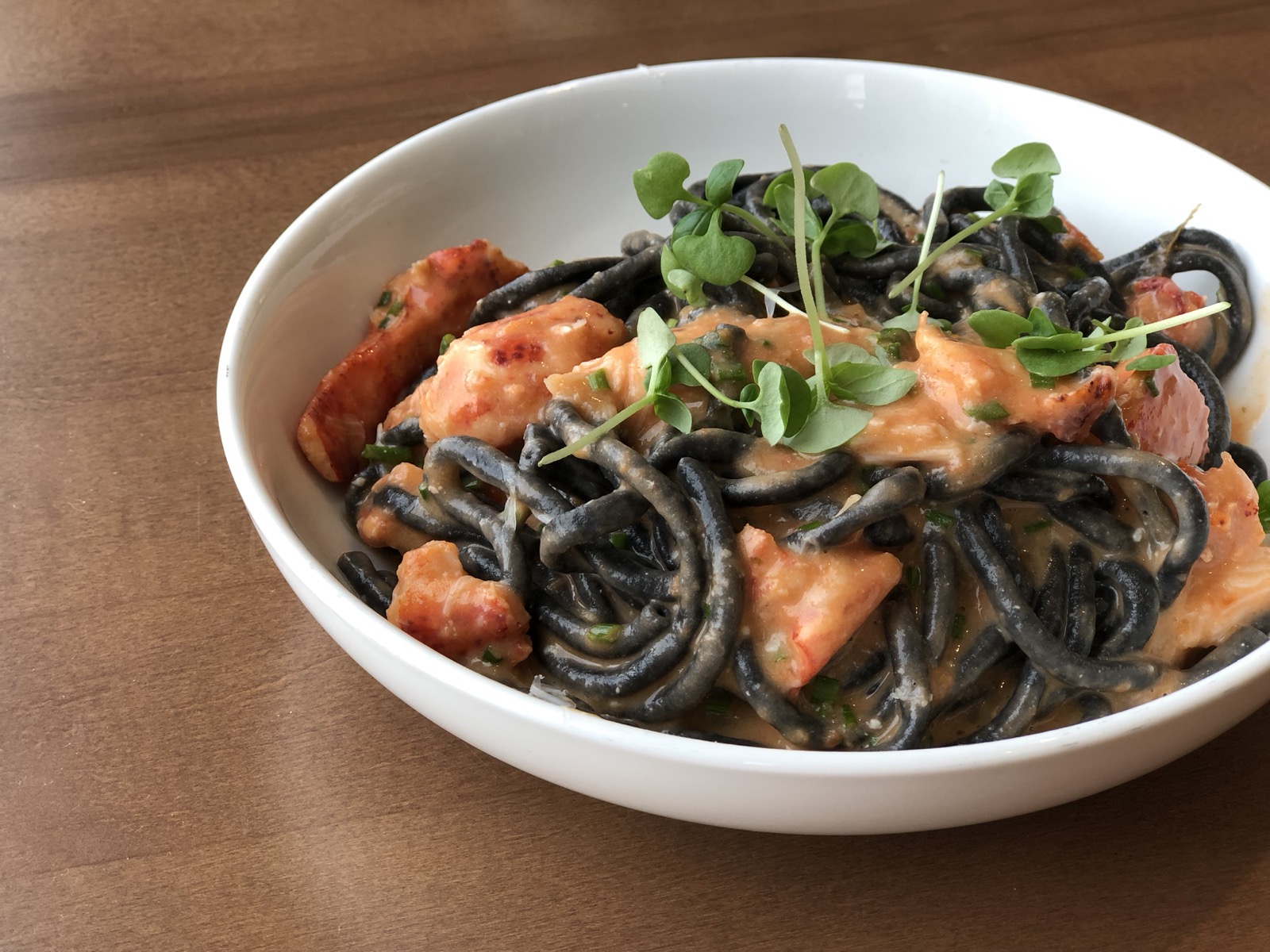 Best Japanese/Sushi
Kawa Ramen & Sushi
2321 N. Murray Ave., (414) 800-7979
kawaramensushi.com
I have a great deal of respect for sushi restaurants that aren't above purchasing great fish in small quantities, even if it means running out of it by the end of the day. It's a philosophy employed by Kawa Ramen & Sushi, a restaurant which has upped the ante for East Side sushi fans. Their dishes are beautiful and balanced, and their fish is fresh. I also respect their eye for quality, which is evident in numerous dishes right down to the tonkotsu ramen broth, which is made with sustainably sourced pork and perfected with the restaurant's adherence to Japanese techniques, including monitoring the broth for both salt and viscosity, ensuring a consistent bowl every time.
Best Late Night Eats
Goodkind
2457 S Wentworth Ave., (414) 763-4706
goodkindbayview.com
It's a rare night that I'm eating past 11 p.m., but it happens. And when it does, I've been known to make terribly delicious decisions. Take for instance ordering the spicy crab bucatini at Goodkind. It's a restaurant I love on the day to day, not only for its inventive menu, but also for its great cocktail list, which rarely (if ever) disappoints. But it's also a restaurant I've increasingly looked toward when all of my other favorite restaurants are closed and I'm looking for something truly well executed. Hungry at 1 a.m.? Why compromise. Regardless of where you live, Bay View is probably a scant 15 minutes away. It's Milwaukee, after all.
Best Mexican
Tavo's Signature Cuisine
5814 W. Bluemound Rd., (414) 239-8888
tavosignaturecuisine.com
I've eaten quite a bit of great Mexican food of late, and I'll have more to share with you as the months pass. But, one of the best surprises I've had this year was the food at Tavo's Signature Cuisine. This tiny (tiny!) family owned spot on the West Side is serving up some exceptional food that maintains a solid nod to tradition, but presents itself in a beautiful way.
From fragrant housemade mole and ultra fresh guacamole (I highly recommend the Azteca, topped with poblano peppers and corn and served with plantain chips) to comforting burritos and well executed tacos, the food is consistently fresh and well presented. I've also found the service to be top notch. Tavo's is a great example of the intersection of tradition and innovation; and that's exactly what makes it shine.
Best Middle Eastern
Damascus Gate
807 W. Historic Mitchell St., (414) 810-3561
damascusgatemilwaukee.com
Sometimes the mission of a restaurant draws you in. But I'm delighted when that's followed by food that consistently meets expectations while stretching my palate beyond its usual boundaries. It's something I've found at Damascus Gate, where Syrian fare is both showcased and celebrated. Staples like kefta are packed with flavor and crisp falafel is well prepared, complete with a flavorful, fluffy interior.
There's vibrant, lemony hummus and hand-rolled stuffed grape leaves which offer the memorable tang of pomegranate molasses. And don't miss the fatayer (handmade pies); the spinach is deliciously nuanced and the cheese pies are both tasty and beautiful, flecked with black sesame seeds. Foods are also presented as both individual dishes and platters, allowing you to sample your way through numerous dishes in a single trip. Trust me when I say that any way you approach the menu is absolutely the right way.
Best Milwaukee Institution
Kegel's Inn
5901 W. National Ave., (414) 257-9999
kegelsinn.com
Among the things gradually fading from the Milwaukee landscape is its German cuisine; it's the reason why my pick remains with Kegel's Inn, a 94-year-old staple which is being preserved and cared for by 4th generation owners Julian Kegel and his wife Stephanie. Thanks to staple elements like the restaurant's traditional fish fry, increased attention to freshness and execution in classic recipes and recent additions like a summer beer garden the long-time bar and restaurant is thriving, even as it inches closer to its centennial. It's a lovely thing.
Best Milwaukee Product
Rishi
185 S. 33rd Ct., (414) 747-4001
rishi-tea.com
When you think Milwaukee, you might not think "tea." But you should. We've got a real gem in Rishi, a tea purveyor that not only carefully sources remarkable teas and botanicals but which does so with an eye for sustainability. I've had the privilege of spending quite a bit of time with the folks at Rishi over the past couple of years, and I've grown increasingly impressed with -- not only their ability to produce delicious, healthful elixirs -- but also their mode of operation, which exhibits not only an eye for quality and flavor, but concern for the human beings with which they work, a respect for the land and a vision for a better planet.
Best New Restaurant
Ca'Lucchenzo
6030 W. North Ave., (414) 312-8968
calucchenzo.com
This year was another good year for restaurant openings; in fact I've already sung the accolades of a few in my picks. But in choosing the best of the bunch, I considered numerous factors: what does the restaurant brings to both its neighborhood and the city on the whole? Is the the quality of both their food and service notable? And do they demonstrate an overall commitment to a culture of excellence? In the end, the one that stands out to me the most is Ca'Lucchenzo, a restaurant owned by Bartolotta alums Sara and Zack Baker. From day one, these experienced professionals and their staff have offered diners both attentive service and a unique menu that pays homage to the regional dishes of Italy through antipasti, fresh, housemade pastas and seasonally appropriate entrees.
When you go, you can count on tasty starters like their oversized braised veal & pork meatball with tomato sugo and crisp, creamy fonduta arancino (risotto fritters filled with fontina fondue and served with seasonal salad). And, although the selections change relatively often, I feel confident that the execution of any singular pasta dish here would rival that of any restaurant in the city. Personally, I'll be waiting for the unique Sardinian gnocchi to return; it was absolutely fantastic served with lamb ragu, bitter greens, anchovy breadcrumbs and pecorino.
Best Pho
Pho Viet
5475 S. 27th St., (414) 282-8852
phovietmilwaukee.com
Pho is everywhere, and there are certainly a few that deserve recognition for the care with which they prepare this classic Vietnamese soup. But the value I've found at Pho Viet -- a simple, no frills spot in the strip mall which also houses Pacific Produce -- comes in two forms. First, you'll find an exceptional variety of options (nearly 20) from which to choose. Secondly, there's a great deal to be said for their beautifully nuanced broth. So often while eating pho I find myself reaching for Sriracha or fish sauce to boost the flavor; but at Pho Viet, there's no need. I'll admit I'm a fan of playing with the spice levels in my pho (often the spicier the better); but theirs is lovely and balanced with enough flavor that additions aren't necessary.
Best Pizza
Wy'East Pizza
5601 W. Vliet St., (414) 943-3278
wyeastpizza.com
Pizza. It has to be one of the most subjective foods in the canon. Like yours with a thin, crisp, crackery crust? Or maybe you prefer a chewier hand-tossed pie? It makes this category the most infuriating of them all, since it's virtually impossible to pit one type against the others. Personally, I relish a good many types of pie -- from deep dish with a crisp, buttery crust to Neapolitan-style pies their chewy edges and near-soggy middles. But I cannot get enough of the pizza at Wy'East, a pizzeria which (like their tasty, slow fermented dough) seems to get better and better with time. It's definitely about that crust with its subtle complexity, chewy texture, puffed edges and spotty, charred spots.
But it's also about the toppings, which are applied with a deft hand (not too much and not too little) and always with a sense of balance. The Hot Marmot is among my perennial favorites; but it's usually the seasonal specials I'm eager to try. They always showcase something new -- be it spring asparagus or a winter special of roasted onion, garlic and cheese. I'm doubly excited that the pizza spot has expanded their hours to include Tuesday nights… that means more pizza for me (and everyone else).
Best Ramen
Tochi Ramen
705 Village Green Way, West Bend, (262) 429-1515
tochiramen.com
Great ramen? It's created with time, care and energy from quality ingredients. And yes, I'm prepared to travel for that. In fact, I usually do to experience some of the best ramen in the area at Tochi Ramen, the punk rock ramen shop in West Bend. It's a place I'll visit on random weeknights when I'm in the mood for a drive or on my way back vacation (as I did this summer) when I enjoyed a great warm weather sangria special alongside my tonkotsu with its amazing crispy pork and tomago egg. That's a favorite of mine; but, there's plenty to try, so make a grand attempt not to get stuck in a rut. Some of the components -- including the smoked bone marrow on the beef mazeman ramen -- might just change your life.
Best Sandwiches
Oak + Oyster
724 N. Milwaukee St., (414) 323-7434
facebook.com/oakandoyster
Bavette has long been my pick for best sandwiches in the city… because they're just amazing. But a new kid on the block slowly captured my heart this year, offering up some of the most thoughtfully constructed, unbelievably delicious offerings for which I could ever ask. Oak + Oyster, the little speakeasy-esque oyster bar beneath Third Coast Provisions, always made a good sandwich, dealing largely in creatively topped po'boys. But ever since they launched their pop-up series last March, the restaurant has really upped their game in terms of their offerings (sandwiches included). And they're all the sweeter since they're only available on limited engagement.
First, it was the umami-bomb of a ramen po'boy featuring seasoned ramen noodles, slow-roasted miso pork belly, charred enoki mushrooms and soy eggs. Two months later, it was the Famous Bowl Po'Boy with pickle-brined fried chicken thighs, housemade tater tots, sweet corn aioli, cheddar cheese and chicken gravy (plus a take on the Taco Bell crunch wrap that made me swoon). And now, it's the star of their 50-Fifty Delicatessen pop-up, a housemade pastrami sandwich with slaw, fontina fondue, caraway beer jam, smoked paprika aioli and onion strings on housemade challah. You totally need to go and get it before it's gone.
Best Seafood
Third Coast Provisions
724 N. Milwaukee St., (414) 323-7434
thirdcoastprovisions.com
When it comes to seafood, I've been a bit ruined. For years, my husband managed sales accounts on both coasts. During that blissful four years, I took numerous trips to Seattle where I indulged in some of the freshest ocean catches of my life. And every spring, I always looked forward to the Copper River salmon run during which I'd be treated to a fish, fresh off the boat, brought home on dry ice.
Fresh, well-sourced fish is easier to come by in Milwaukee these days; but I'm still cautious about where I indulge. Thankfully, I always find something delightfully unexpected at Third Coast Provisions, where the seafood is as fresh as the inspiration behind the dishes. It's there that I never hesitate to order crudo, be it sea scallop, salmon or tuna. And I'm always assured to find an interesting entree like the current offering of Baja striped bass served alongside pumpkin gnocchi, Israelii salsa verde and black lime. When in doubt, there are always the lobster potholes which are far more than just a vehicle for the herbed butter.
Best Small Plates
Snack Boys
814 S. 2nd St., (414) 509-5975
facebook.com/snackboysmke
I'm a big fan of small plates, largely because I always want to try far more menu items than I can realistically eat myself; so sharing with a few other people always seems like the best laid plan. Of course, not all small plate spots are created equal, and each one presents its own unique experience. If you'd like your small plates with a dose of levity, you'll totally dig my 2019 pick. Because, if it's fun you desire, there's plenty to be had at the irresistibly 80s themed Snack Boys.
Yes folks, most of the plates are small; but they're also big on flavor. The selections change all the time, so I'm hard-pressed to give you hints on exactly what to eat at any given moment. But rest assured -- whether it's their rare-but-beautiful dilly wings, a creative little slider, a pasta special, a whacked-out take on pho, or a Thursday night pizza special -- it will be delicious. And things will get all the better when the boyz move into their new space on the East Side where they'll have a bigger kitchen (and a bigger, better menu).
Best Southern/Soul Food
The Tandem
1848 W. Fond Du Lac Ave., (414) 885-1919
tandemmke.com
Both Southern and soul food are filled with heart. And you can't find a bigger heart than at The Tandem. Not only is there sheer happiness to be found in their succulent fried chicken (I'm a sucker for the Memphis style myself); but I'd swear there's love cooked into those delectable greens often served on the side. There are countless wins -- from the braised oxtails to the daily specials (many of which are created by staff) -- but it's the restaurant's food combined with The Tandem's compelling mission that makes the restaurant my can't-miss pick for 2019… and maybe always.
Best Steak
Birch + Butcher
459 E. Pleasant St., (414) 323-7372
birchandbutcher.com
I'm ruined, I tell you, ruined for the average steaks at over-rated steakhouses. It's all because I've had the ribeye at Birch + Butcher where the high quality meat is aged 45-60 days and roasted to perfection over the coals of the restaurant's open hearth. It's caramelized on the exterior. It's slightly smokey. And it's rich and beautiful and filled with umami. It's always served with a seasonal vegetable and some of the best potatoes you'll ever eat (they're cracked and fried up in smoked lard). You won't find anything like it.
Best Street Food/Food Truck
Ruby's Bagels
Zócalo Food Park, 636 S. 6th St.
facebook.com/Rubys-Bagels
I love a good chewy bagel with just the right crust. It was hard to find one I loved until more recently when Ruby's Bagels rolled out some of the best in the city at Zocalo Food Park. The bagels are hand rolled from slow fermented dough before being boiled and baked, ensuring a proper crust. I'm a sucker for the rosemary sea salt bagels, which deliver on both texture and flavor. But you can't really go wrong. Splurge on a bagel sandwich if you want something more substantial.
Best Tacos
Mazorca
Zócalo Food Park, 636 S. 6th St., (414) 810-6603
mazorcatacos.com
I've got another favorite at Zocalo and that's Mazorca, the little retro taco trailer which used to be parked on the corner of Pittsburgh and Water. Their tacos begin with housemade corn tortillas (a must, in my book) and feature flavorful well-seasoned fillings including two of my favorites, the birria (braised pulled beef seasoned with ginger, chocolate and sesame seeds) and the deliciously cheesy vegetarian taco with Muenster cheese, guacamole, flavorful tomatillo salsa and cilantro.
Best Takeout
Ono Kine Grindz
7215 W. North Ave., (414) 778-0727
okgrindz.com
For years, I've been extolling the virtues of Mara's Grill, a humble West Side spot which serves up fantastic Mexican and Guatemalan takeout. Hopefully you've heard me and tried it out for yourself because this year, I'm going to give some love to another West Side spot that simply does something that no one else does: Hawaiian fare. Ono Kine Grindz is no secret; they've been serving up delicious island cuisine for years. Their char siu chicken is fragrant and redolent of five spice powder, and the smoked Kalua pig is succulently tender, so the combo plate is often my choice. They also have what I would argue is the absolute best Ahi poke in the city.
Best Thai
Kin by Rice N Roll
7484 W. State St., (414) 524-9056
kinbyricenroll.com
Thai food is fairly easy to find in Milwaukee; but unique takes are a bit more rare. It's why I love the folks at Kin by Rice N Roll; they're always cooking up something that defies expectations. Take the crispy pad thai with shrimp, a wild take on the popularized pad thai featuring traditional sauce tossed with crisp wontons, eggs, bean sprouts, shrimp and fried tofu. It's a textural feast. Pair those less common surprises with flavorful curries made from family recipes (and a creative sushi program, to boot) and you've got a winner every time.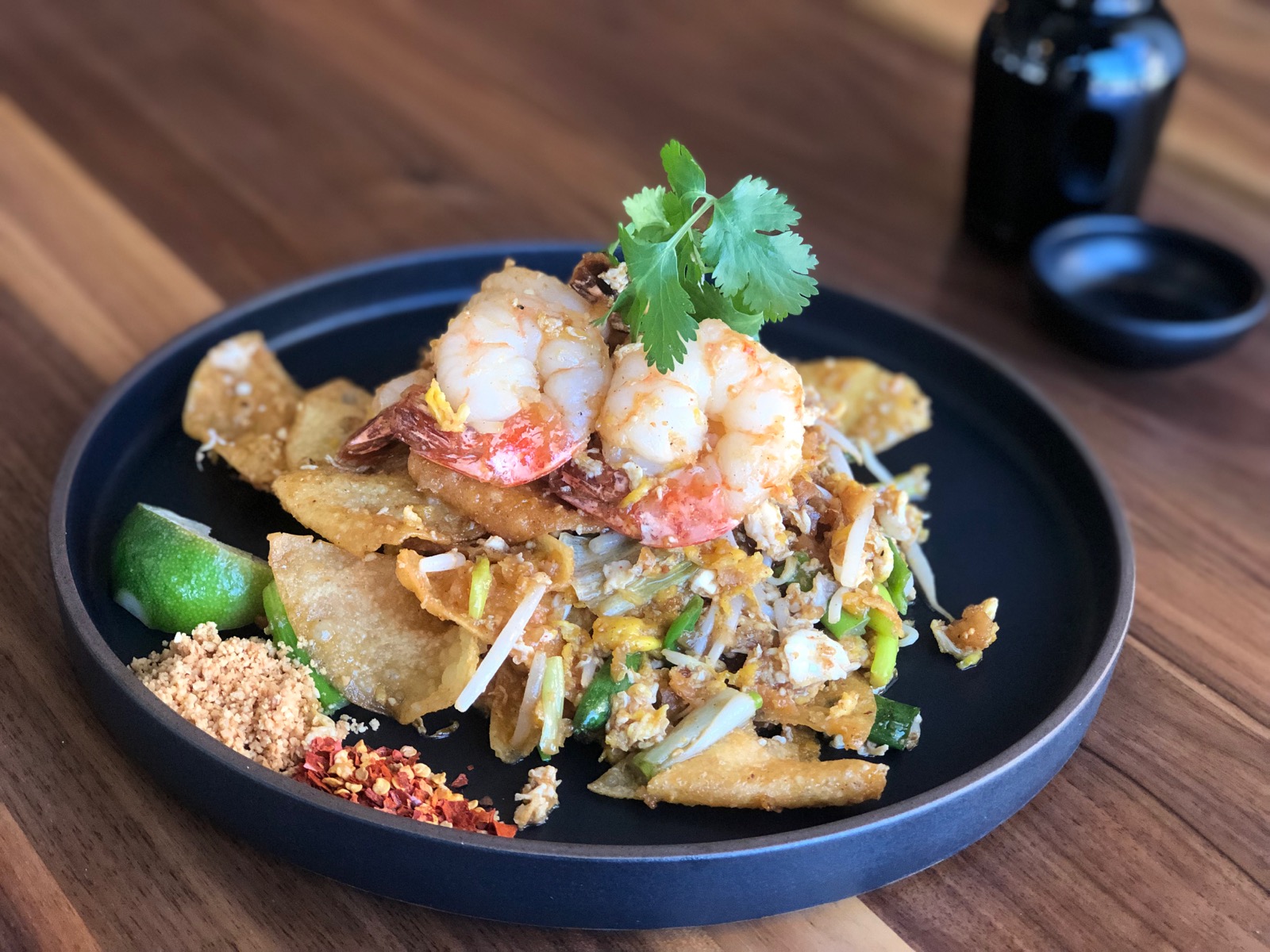 Best Vegetarian/Vegan
Strange Town
2101 N. Prospect Ave., (414) 885-0404
strangetownmke.com
Vegetables are delicious. And at Strange Town, they're celebrated in globally inspired dishes that are absent of meat, but big on flavor. That includes dishes like Indian inspired kale and sweet potato chaat served up with curried chickpeas and a combination of sweet and savory chutneys and pickled mango yogurt (made with coconut milk) and salads created with both texture and flavor in mind (one featured crisp pita shards and a beautiful and amazingly earthy beet tahini dressing).
Even the simplest of items are well prepared. Take the delightfully silky hummus, served up with a choice of bread, sometimes lovely roasted mushrooms and deliciously pickled vegetables. It's a dish that's perfect when enjoyed in the late afternoon as the sun is drifting to the west and the vinyl in the restaurant has just begun to play. Pair it with one of the amazing natural wines from Strange Town's beautifully curated list, and you've got a meatless happy hour that's near perfect.
Best View/Patio
Harbor House
550 N. Harbor Dr., (414) 395-4900
bartolottas.com/harbor-house
Seems Milwaukee patios get better and better every year. We've got more rooftops, more quaint, cozy respites. But there's something magical about Milwaukee's Lake Michigan shoreline. It's in the breeze that blows in over the lake and the brightness of the skies. It's in the sound of the water, lapping against sand and shore. And there's nothing quite like a seat on the patio at Harbor House where you can enjoy all of those things along with a glass of wine and a few freshly shucked oysters.
Best Wings
Merge
1932 E. Kenilworth Pl., (414) 226-5160
mergemke.com
I like wings. And I've eaten more of them in the past few years than ever before. While I love a minimally dressed, dry rubbed wing, I've also developed a keen appreciation for Korean fried wings, many thanks to the folks at Merge who make them so well they're tough to resist. Their Nashville dry rub is salty and savory; but I'm a sucker for the volcano sauced wings, which pack quite a cumulative punch.
Lori is an avid cook whose accrual of condiments and spices is rivaled only by her cookbook collection. Her passion for the culinary industry was birthed while balancing A&W root beer mugs as a teenage carhop, fed by insatiable curiosity and fueled by the people whose stories entwine with each and every dish. She's had the privilege of chronicling these tales via numerous media, including OnMilwaukee and in her book "Milwaukee Food." Her work has garnered journalism awards from entities including the Milwaukee Press Club.
When she's not eating, photographing food, writing or recording the FoodCrush podcast, you'll find Lori seeking out adventures with her husband Paul, traveling, cooking, reading, learning, snuggling with her cats and looking for ways to make a difference.