For the 10th straight year, October is Dining Month on OnMilwaukee, presented by the restaurants of Potawatomi Hotel & Casino. All month, we're stuffed with restaurant reviews, dining guides, delectable features, chef profiles and unique articles on everything food, as well as voting for your "Best of Dining 2016."
Over the last two years, Palermo's frozen pizza has dominated the best local food product category. But 2016 brings us a new winner – a sweet, tasty, frosty winner.
Yes, Purple Door Ice Cream came away the victor in this year's Best of Dining poll, claiming the first ever win for sweet over savory in this category's five-year history. It's hard to argue with the readers' selection; Purple Door Ice Cream is smooth and sweet, with a variety of flavors both comfortingly classic and deliciously unique (gotta have that Brandy Old Fashioned ice cream).
Usinger's sausage put up a good fight, landing in second place, while the famous Wisconsin State Fair cream puff came in about 100 voters behind scoring third place. El Rey chips and Klement's sausage closely followed behind in the top five.
Runners up:
2. Usinger's sausage
3. Wisconsin State Fair cream puff
4. El Rey chips
5. Klement's sausage
Lori Fredrich's pick: Milwaukee Pretzel Company
I have a special spot in my heart for anyone who starts up a local food business. But certain concepts just seem to make sense. Such is the case with Milwaukee Pretzel Company, a business that is such a good fit for Milwaukee that it almost hurts. If you haven't tried their crazy-good pretzels, here's a list of spots to get 'em.
This year we also asked a variety of prominent Milwaukeeans to weigh in on their pick for specific categories. For this category, we consulted Andy Nelson, PR guy for the Pabst/Riverside/Turner Hall venues and general Milwaukee expert.
Nelson's pick: That Salsa Lady salsa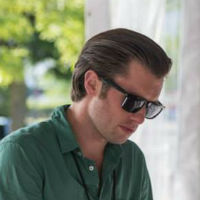 Salsa is so delicious that they made an entire genre of music and dance out of it. That's a fact. However, not all salsa is created equal. With big companies like Old El Paso, Tostitos and Chi-Chi's (WTF, do they actually still make salsa but not that weird fried ice cream?) you're missing out on all the flavor of fresh salsa.
If you live in Milwaukee, this doesn't have to be the case.
One of the most wonderful and powerful personalities I've met in Milwaukee is Angela Moragne of That Salsa Lady. TSL's variety of salsas, all crafted by Angela and her daughter, make me dance every time I try a new flavor (seriously, ask her). The salsas are made from produce grown right in Angela's massive urban garden in the backyard of her home, affectionately called "That Hood Ranch." I suggest diving right into the queso (on chips or your hand), urban garden (alone or on eggs) and the avocado blend (try it on fish or rice), but you really can't go wrong. And don't forget to pick up a bag of their homemade chips! Perfectly crisp and they come in a variety of flavors. For your next party, set out her salsa and be a hero with your friends.