Note: The Wisconsin theater season generally begins in early summer when The American Players Theatre opens in Spring Green, shortly after the previous Milwaukee season comes to an end in spring. The 2015-16 season is now over, and it's time for Dave Begel's annual list of the best plays of the season.
When the theater season ends each year and I get ready to select the top plays that I've seen in the state, it's always a problem.
There is so much good theater in Wisconsin, and picking the best is a challenge. I find it hard to define what the word "best" means.
Certainly production values, acting and directing are a big part of it. But I am also impressed by taking risks and the presentation of plays that bring something unique to the stages around us.
I love Tennessee Williams and August Wilson, but their plays have been performed so frequently that I find myself looking around for those that have a certain je ne sais quoi. As a result, here's the 19 best plays I saw during this past season.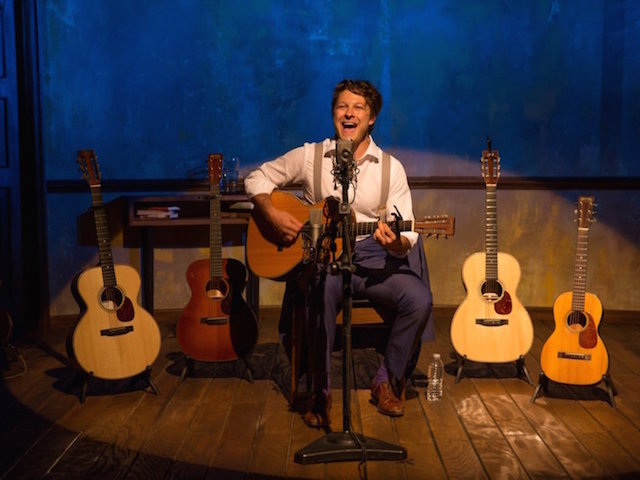 If at some point in your life, you decide that you want to write your autobiography, there are a couple of very important items to consider. One is if you can write. The other is that your life better have something interesting about it. And if you are Benjamin Scheuer, you can set it to music, share the stage with seven guitars and sing songs an audience has never heard before but falls in love with almost instantly. "The Lion" was an unusual production for the Stiemke Studio space, but it was an intimate look at the sorrows, trials and joys of one man's life.
Director Erin Nicole Eggers took the famous Harold Pinter play and didn't mess with it at all. It was played as it was written, and it doesn't come any better than that. It certainly helps that a couple of actors, David Sapiro and Claudio Perrone, Jr., clearly found the truth in both of these complex characters. Perrone is a relatively new face in Milwaukee, and he's got a dark brooding about him that meshes well with his obvious talent.
Take four twenty-somethings, throw them into the maelstrom that is life in New York and get them to sing songs about their lives, and you have "Ordinary Days." The young folks behind All In continue to do challenging and unusual theater. "Days" featured four singers and not a single word of dialogue. It was funny, sad and full of emotional sympathy for these four kids who aren't quite sure where life is going to lead them.
A humorous look at important ethical issues. My review of this production captured everything about it: "We have marriage, infidelity, murder, forgiveness, tolerance, 'Schindler's List,' Rolling Rock beer, more Rolling Rock beer, an empty pizza box, a .32 caliber handgun, racism, a cocaine pipe, an S550 Mercedes luxury sedan, a subway platform, suicide, parent-teacher conferences, Philadelphia's Main Line, philosophy, an aggrandizing self-portrait over a fireplace, MBAs, the holocaust, 'To Kill a Mockingbird,' friendship, lust, potent screwdrivers and a single purple suitcase on wheels." It was quite a ride.
Next Act has three plays in my top 20, the first of which is this daring production about what it means to be a mother. There may well never have been a show on stage in Milwaukee that is more important in helping the rest of us unravel the Mystery of the Mother, nor a show that more vividly holds up a mirror to mothers in the audience so they can clear their own heads about all the stuff that has to move through their huge brains. This is a simple run of scenes created by 14 different playwrights. The night comes alive and belongs to the mothers, played by three of the most outstanding actors in this city: Michelle Lopez-Rios, Deborah Staples and Tami Workentin.
"Elizabeth," written by Sarah Rule, was an intellectual production designed to challenge and exercise the mind of the audience. It's a love story between two Pulitzer Prize-winning poets, Robert Lowell and Elizabeth Bishop, a love affair of letters with the real-life couple of Norman Moses and Carrie Hitchcock as the lovers. There is always room for a play that goes for intellectual stimulation over emotional tug. This was two actors at the top of their craft delivering performances that created a kind of magic in the theater.
I love it when those little, homeless theater companies take a big swing at success and hit it right on the sweet spot of the bat. I give you "Bachelorette" from Theater Red, the story of three young women gathered on the eve of an old friend's wedding. It was a play that I'm certain was familiar to the women in the audience. The men, I'd guess, were likely shocked into thinking, "Holy crap! They're just as gross as we are." Still, told with blunt sweetness, it was a great ride through the intimate moments in the lives of these three women.
Emmett Till is a name that stands along with Rosa Parks in the long and turbulent history of the fight for civil rights in this country. The story of the 14-year-old boy who was murdered in Mississippi in 1955 comes magnificently alive in "The Ballad of Emmett Till," which opened last fall at Renaissance Theaterworks. The excitement in this production, directed by Marti Gobel, came from the surprising and breakout performance by Marques Causey as the young boy who was killed exactly 100 days before Rosa Parks refused to give up her seat on a bus.
Playwright Ayad Akhtar has a Pulitzer Prize, and the Rep's production of "The Invisible Hand" shows the wonderful depth to his work. The secrets to a great play – and make no mistake, this is a great play – are easy to identify, but hard to achieve. You need characters that the audience can care about. You need a story that rings genuine. And you need courage to tell the story without compromise. All of those elements were there in Akhtar's play and in this production, under the blistering direction of Lucie Tiberghien.
One of two great plays this season about the profiling of Arab-Americans in this age of terror over terror and the act of patriots, or the Patriot Act. Edward Morgan directed a powerful tale about a young Arab-American, Khaled, played by Christopher Tramantana. Among other things, it brought the talented Andrew Voss back to Milwaukee stages after a year in Utah. He and Jonathan Wainwright played a pair of agents that threw an awful scare into both a young man and anybody who loves America.
9. "Crowns," Skylight Music Theatre
An Indian guy put a half-dozen black women with fancy hats on a stage and turned them loose. What we were lucky enough to get out of that was a delightful and thought-provoking play about the strength and power of black women in the lives of families in our country. The risk taking of Skylight artistic director Viswa Subbaraman was rewarded with a pioneer production that told a story rarely told and one that is a part of the life of every black person in the country. The talented Sheri Williams-Pannell, who actually is one of the women who wears a crown, led a marvelous cast through this journey of discovery. On a side note, there are going to be attractive offers placed in front of Subbaraman, and we have to hope the Skylight board finds a way to keep him in Milwaukee.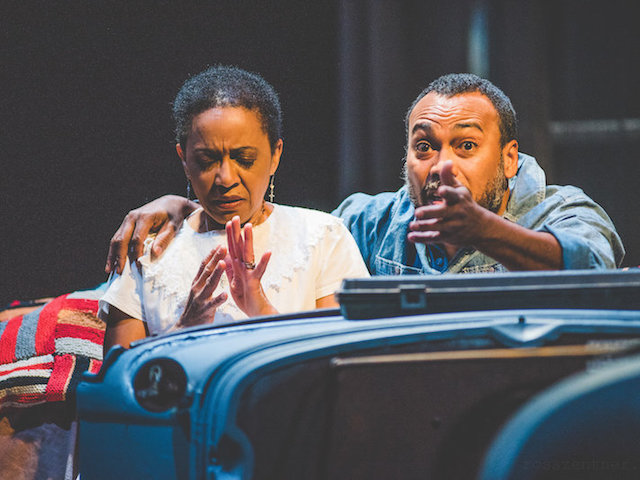 The Milwaukee Rep offered a stage and support for the Bronzeville Arts Ensemble; what it got in return was a marvelous look at a family and what happens when the absolute worst thing you could imagine takes place. Co-produced with Madison's Theater Lila, "The Mojo and the Sayso" managed to be both timely and timeless. The Rep deserves major credit for its support and helping this wonderful production see the light of day. If theater is ever going to become more diverse, the big kids just have to find a way to help the little kids.
7. "The Island," American Players Theatre
The play takes place on an island – clearly Robben Island, the South African prison where Nelson Mandela was held along with many other black leaders who had fallen under the brutal thumb of apartheid. Chike Johnson and La Shawn Banks star and deliver powerful performances, combining incredible physicality with nuanced intellect. This was a probing examination of a part of world history most of us would like to forget.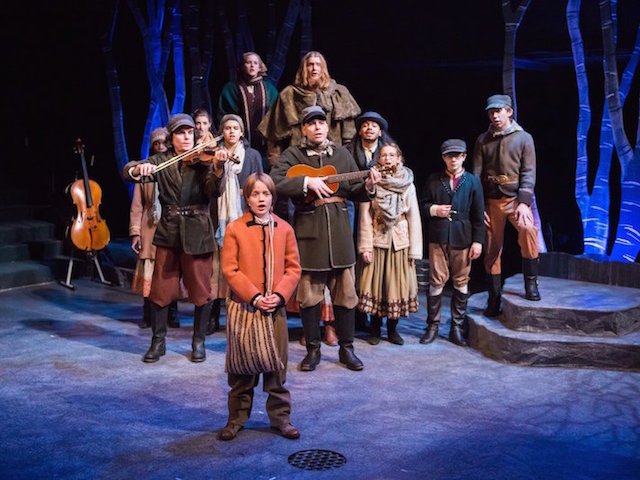 Nobody weaves a magic spell in Milwaukee theater quite like First Stage, a company designed for children but that tells universal stories as meaningful for an old man as they are for a young girl. They did it again with "The Snow," a world premiere by Finegan Kruckemeyer, commissioned and developed by First Stage, Oregon Children's Theatre and Magik Theatre. The secret to the success of First Stage is plain for almost anyone to see: It is always – always – the story. There may be music or laughs or tears or high drama or tension or deep and thoughtful morals. But at First Stage, it always gets back to the story. And "The Snow," directed by Jeff Frank, is a delightful one, telling of a child who shows the world of adults that heroes come in all shapes, sizes and ages.
Next Act's David Cecsarini has built a reputation for top flight productions that often address issues of social justice. "Twilight," originally conceived and performed as a one-person play, enhanced his reputation. Based on interviews after the Rodney King beating, the dialogue comes from those interviews. Angela Iannone and Marti Gobel lead a cast of younger men in a moving and riveting production. The drama and importance of that moment in time was made even more engrossing with the little stories that surrounded the people who were there.
4. "Bug," Splinter Group
Tracy Letts' play about a slow descent into hell was the kind of production that Splinter Group has done so well. Niffer Clarke and Max Williamson led a sterling cast as the audience gasped and groaned at the inability of these two to stop their world so that they could get off. Jim Farrell and his wife, Clarke, are taking a hiatus from producing for a year, including searching for a new space. I hope they get back soon because they have proven they can produce reliably interesting and high standard theater.
The response to life's stresses is at the heart of "A Streetcar Named Desire," the Pulitzer Prize-winning play by Tennessee Williams that received a stunning production at APT. Tracy Michelle Arnold created a Blanche unlike any I have ever seen before. She was a woman of incredible desires and is most often played broadly, with her every moment of lust on full and constant display. Arnold kept a tight rein on Blanche so that when her moments of honesty came they were in stark contrast to the woman we had been looking at just moments earlier.
There is something to be said for great spaces to perform theater and then there is something to be said for an East Side bookstore with a random array of folding chairs and beat up easy chairs surrounding a space between the bookshelves. That's the Milwaukee Opera Theatre and its adventurous artistic director Jill Anna Ponasik. "Story" tells the tale of Alvin and Thomas, best friends since childhood, and it begins with Thomas struggling to write the eulogy for his friend, who jumped or fell off a bridge where they had played as children. It was a brave and imaginative production that cast a musical spell.
This was just the kind of thing the Rep, as the leading theater organization in the city, does better than anyone else. Artistic director Mark Clements had America's climate of violence on his mind and commissioned Australian playwright Janna Murray-Smith to write a play. And then the Rep took "American Song" to a community ultra-sensitive to the issue of random and unexpected violence. It was the most mesmerizing evening of theater all season long.
With a history in Milwaukee stretching back decades, Dave tries to bring a unique perspective to his writing, whether it's sports, politics, theater or any other issue.
He's seen Milwaukee grow, suffer pangs of growth, strive for success and has been involved in many efforts to both shape and re-shape the city. He's a happy man, now that he's quit playing golf, and enjoys music, his children and grandchildren and the myriad of sports in this state. He loves great food and hates bullies and people who think they are smarter than everyone else.
This whole Internet thing continues to baffle him, but he's willing to play the game as long as OnMilwaukee.com keeps lending him a helping hand. He is constantly amazed that just a few dedicated people can provide so much news and information to a hungry public.
Despite some opinions to the contrary, Dave likes most stuff. But he is a skeptic who constantly wonders about the world around him. So many questions, so few answers.