Much like the city it calls home, the Milwaukee hip-hop scene is on the rise despite its unseen borders, diverse sounds and styles sectioned off in different groups – some thriving, others struggling for airtime. But for a decade, the Miltown Beat Down was one of the rare places where that wasn't the case.
Created by current 88Nine program director Jordan Lee in 2005, the Miltown Beat Down was an annual hip-hop battle pitting local producers against one another while also bringing the entire scene into the same room – including people like Allen Halas, a high school and college student low-key producing local hip-hop music at the time, who loved the "fun community" that came together for the weekly beat combat during its heyday.
Unfortunately, in 2015, the Miltown Beat Down celebrated its last show, bringing together all of its past winners for one final battle. But Halas, now the creator of the popular local music blog Breaking & Entering, hopes to bring the beat back with a spiritual successor to Lee's hip-hop showcase: the inaugural Big Beat MKE, beginning tonight at 9 p.m. at the Jackalope Lounj.
"There's an entire generation that missed out on that, and it was always something I wanted to bring back but never really had the leverage to do. But I ultimately called Jordan this year and said, 'I'd love to bring the format back; is there a way we could do that?' and he was all about it," Halas said. "He was very supportive – and wanted somebody to carry the torch anyway, so I'm glad we're in a position to do that now."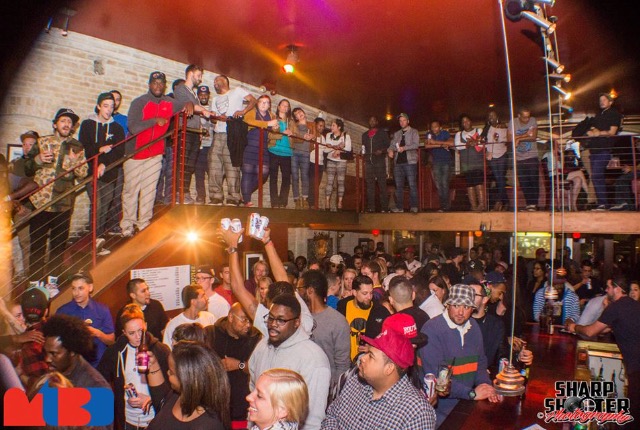 The Miltown Beat Down in 2014 (PHOTO: Sharp Shooter Photography)
Much like its predecessor, Big Beat MKE brings producers from across the city into a big bracket, facing off in one-on-one matchups and dropping beats back and forth during three one-minute rounds in the hopes of moving the event's guest judges, moving onto the next round – and moving closer to the title of champion.
Tonight's free, 21-and-over duo of duels marks the start of the first round, with TStreetz_Beatz taking on Poohbrezzy and Just A Human duking it out against Mikeaknight_Beatz. From there, Big Beat MKE will continue working its way through the bracket, with two battles hosted every Thursday night at Jackalope Lounj, dropping beats and dropping contestants until it's down to the final match on June 21.
This inaugural edition features 16 local producers, culled down from more than 30 original applicants, ranging from all across the city and across the style spectrum, from expected names to complete unknowns.
"As a former producer, something I always appreciated was seeing people's different sounds and different techniques on display like that," Halas said. "Of the more than 30 producers that submitted, I only knew six of them. And a lot of the prominent hip-hop artists I sent this to as a part of the selection committee also only knew a couple of them. So with all these new names, it's going to be interesting to see an entirely new crop of talent on display."
While the producers fight it out, Big Beat MKE will also showcase several Milwaukee rappers and hip-hop artists on the stage. Thursday night's debut show, for instance, will feature Alexzander and Renz Young in between the beat battles.
Combine those two elements together – the concerts and the friendly audio combat – and Halas hopes Big Beat MKE can fill the hole left behind by the Miltown Beat Down, as well as the holes still plaguing Milwaukee's music scene.
"Milwaukee has a great, very talented group of hip-hop artists right now, but I think the biggest issue is that they don't get to come together. It's in pockets everywhere. There was a group with a more backpack style hip-hop, there was the North Side with more trap hip-hop, scenes on the East and South Side. All of these different sounds were coming out of the same city – but with the talent we've booked, I think we're bringing a little bit of everything to the table. We even have one night that's just all female MCs: Rockz and Shle Berry, who are from two different parts of the city.
"My main goal is not even about the competition, but I want to see the artists come out because I want to see that collaboration. I want to see people mix with one another and find new talent to work with from some other part of the city they wouldn't have otherwise heard."
As much as it is a gigantic cliché to say that one has always had a passion for film, Matt Mueller has always had a passion for film. Whether it was bringing in the latest movie reviews for his first grade show-and-tell or writing film reviews for the St. Norbert College Times as a high school student, Matt is way too obsessed with movies for his own good.
When he's not writing about the latest blockbuster or talking much too glowingly about "Piranha 3D," Matt can probably be found watching literally any sport (minus cricket) or working at - get this - a local movie theater. Or watching a movie. Yeah, he's probably watching a movie.