Earlier this summer, Paul Hackbarth of Camp Bar announced plans for expansion of the East Tosa location to include a new events venue.
Plans for the expansion and renovation, which will utilize both the building and parking lot adjacent to Camp Bar at 6606 W. North Ave., were approved unanimously by the Wauwatosa Plan Commission in June (read more here).
Since then, the concept has evolved and plans for the space have been rendered by Tosa's Galbraith Carnahan Architecture, depicting the full extent of the new venue, which Hackbarth says will be called Birch.
"Birch is derived from a concept I came up with a number of years ago," he notes, "And this was just the perfect time to put it into place."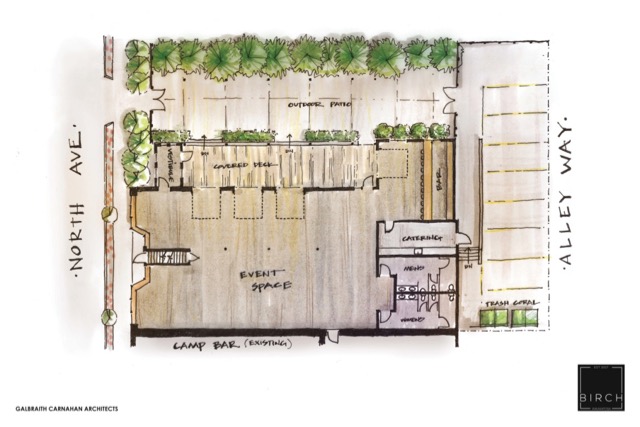 The new events venue will consist of both an indoor and outdoor event space with indoor square footage of about 3500 square feet, accommodating about 200 guests for weddings and parties. The venue will sport a "rustic industrial" look and will feature a wrap-around porch and a garden-like patio area.
In addition to summer weddings and parties, the space will serve double duty for special Camp events including a proposed Summer Camp, similar to the one offered at The Atrium, during which the outdoor space will be transformed into a beer garden.
Inside, an accent wall comprised entirely of birch logs will hearken back to the name of the venue, providing a focal point for the room as well as a keen backdrop for photo ops. Meanwhile, a series of garage doors in the space will allow it to be opened up to the outside. And, like the Atrium in Shorewood, the space will also be decked out with high end lighting and sound capabilities.
"We've seen the demand for really cool, unique indoor outdoor venues," says Hackbarth. "And one of the reasons for the addition was to really give Wauwatosa the same access to a great events venue that you have in other parts of town."
As a result, Hackbarth worked with the city, including Ald. Joel Tilleson, to create a design for the space that would set it apart.
"Joel [Tilleson] was really helpful in a number of ways," he explains. "He helped us to really codify the concept. He also really assisted us with the expansion and getting approval to transform the parking lot into a garden-like space."
Hackbarth says they're taking their time with the build-out, but he expects Birch to be complete by early summer.
"We have 20 years of event experience behind us with Sound by Design," remarks Hackbarth. "And we've learned a great deal through the success of The Atrium, which is is pretty much sold out with the exception of a few dates from April through November 2018. It makes us feel really confident and excited about what's to come."
Birch is currently accepting reservations for events beginning in June 2018.
Lori Fredrich (Lo) is an eater, writer, wonderer, bon vivante, traveler, cook, gardener and girlwonder. Born and raised in the Milwaukee area, she has tried to leave many times, but seems to be drawn to this quirky city that smells of beer and alewives.
Some might say that she is a little obsessed with food. Lo would say she is A LOT obsessed with food. After all, she has been cooking, eating and enjoying food for decades and has no plans to retire anytime soon.
Lo's recipes and writing have been featured in a variety of publications including GO: Airtran Inflight Magazine, Cheese Connoisseur, Cooking Light, Edible Milwaukee, Milwaukee Magazine and the Milwaukee Journal Sentinel, as well as on the blog Go Bold with Butter, the web site Wisconsin Cheese Talk, and in the quarterly online magazine Grate. Pair. Share.