Wonder no more when those loved/hated motorized scooters will return, Brew City. They're now back on the City of Milwaukee's streets.
As a part of yet another pilot program dedicated to the pesky/handy transportation devices, motorized scooters have returned to City streets with Lime recently deploying a small fleet of the scooters (with more to come) and the app's map pinpointing service locations once more.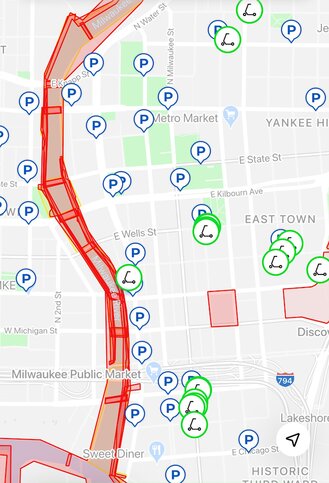 The City of Milwaukee and the Department of Public Works will officially announce the scooters' return with a special launch event on Friday afternoon at 12:30 p.m. at Zillman Park, 2168 S. Kinnickinnic Ave., complete with Mayor Cavalier Johnson and representatives from the three dockless scooter companies selected for this latest study.
And lo, another chapter in Milwaukee's tortured history with motorized scooters begins. The monstrous/magnificent devices first made their debut in Milwaukee during the summer of 2018, introduced by Bird without notice and technically illegal to ride before getting soft-banned. The following summer, the City of Milwaukee allowed their return as a part of a pilot study on the dockless scooters ... only to disappear once more by the end of 2019. But that wouldn't be the end of the scooters, as they reappeared for a second pilot study in 2021. During THAT study, though, the City banned scooter trips in Downtown "zones" due to riders venturing excessively on sidewalks, and at the end of of the year, the devices went away once more.
BUT WAIT – because earlier this summer, Milwaukee announced the scooters were coming back as a part of a third study, complete with new sidewalk-riding deterrents, beginning in July at the earliest. Which apparently means late August/early September, as the scooters are now back ... until Dec. 31, 2023, unless the City establishes a licensing program with any permitted companies before the study wraps up.
What scooter users need to know, though, is that riding on sidewalks and parking on the Riverwalk is prohibited. So don't do those things – or they might just go away again before returning once more for a fourth study.
For more information on the current pilot program, as well as additional rules and regulations for the scooters, click here.
As much as it is a gigantic cliché to say that one has always had a passion for film, Matt Mueller has always had a passion for film. Whether it was bringing in the latest movie reviews for his first grade show-and-tell or writing film reviews for the St. Norbert College Times as a high school student, Matt is way too obsessed with movies for his own good.
When he's not writing about the latest blockbuster or talking much too glowingly about "Piranha 3D," Matt can probably be found watching literally any sport (minus cricket) or working at - get this - a local movie theater. Or watching a movie. Yeah, he's probably watching a movie.