Every year, Black Friday has become one of the most anticipated days on the beer calendar, with a slew of interesting – and often barrel-aged, boozy or both – brews on tap.
Here's what area breweries are doing on Black Friday this year. Remember to check back as we will continue to update this guide as information is released by local brewers.
Click the brewery name for a link to its website with address, phone and other information.
Note, too, that the Riverwest Brewery Syndicate's free Five Three Brew One Two shuttle will be running between that neighborhood's five breweries from 10 a.m. to 3 p.m. on Black Friday.
Bay View's 1840 Brewing Company is bringing back its annual Black Friday release, Plumpy – Black.
"It's a fruited oat cream ale with black cherry, blackberry, black currant and milk sugar," says brewer Kyle Vetter. "In addition, we will also be releasing a bourbon barrel-aged version of Hawaiian Drinking Chocolate.
"BAHDC is our drinking chocolate base aged in bourbon barrels and later conditioned on toasted coconut, toasted macadamia nuts, cacao nibs and vanilla beans."
Open from noon until 10 p.m., 1840 will also be selling 16-ounce blac Hydro Flask water bottles with its logo laser-engraved.
The Sheboygan powerhouse plans 12-ounce can releases of two Wolf variants at select retail and in the taproom for Black Friday, at $9 per can. They are, with descriptions from 3 Sheeps:
The Wolf with Hard Maple Staves and Cocoa Nibs: "This is our usual Wolf, a bourbon barrel aged imperial stout, that we added hard maple staves to the barrel to introduce flavors of maple syrup, vanilla, caramel, and pecan, along with Haitian Cocoa nibs for chocolate notes with undertones of brown sugar and raisin."
The Wolf – Weller Barrels: "The Wolf, a bourbon barrel aged imperial stout, aged in Cabernet Sauvignon barrels that last finished 15-year Weller Bourbon. These are very special, rare, barrels that add flavors from a highly sought-after bourbon, as well as subtle hints of red wine, which come across as almost fruity, thanks to the sweetness of The Wolf and the vanilla and toffee notes that are present in the bourbon."
Riverwest's Amorphic will release its first bourbon barrel-aged beer for Black Friday. It's called Major Particles, in reference to Amorphic's Czech dark lager, Weakly Interacting Minor Particles.
"We made (it) about a year ago when we opened," says brewer Ron Hockersmith. "This beer has little to do with the lager except for its color. It spent about a year in Heaven Hill barrels, and then was blended with a bit of the batch we recently brewed to add layers of depth and complexity.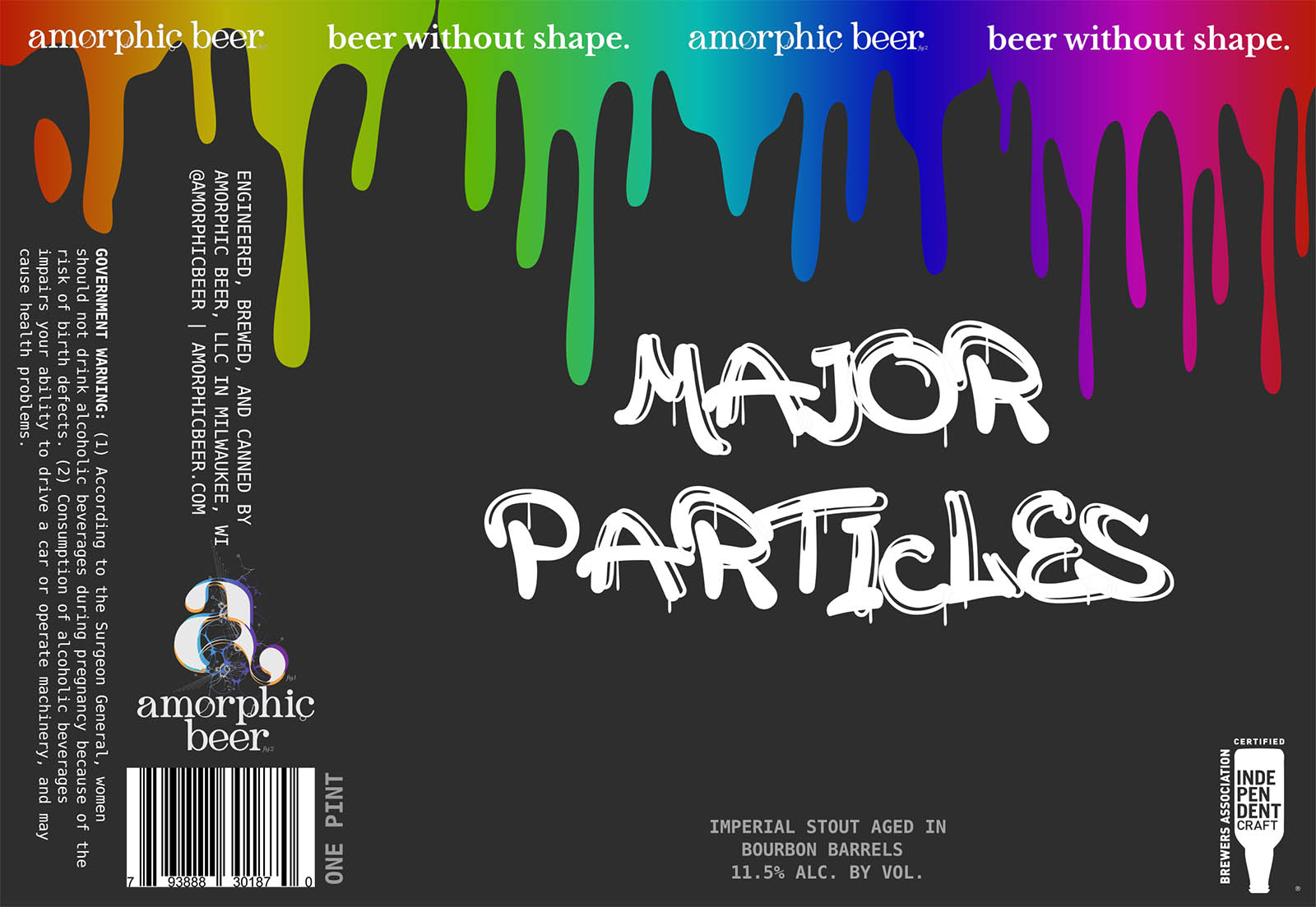 "It clocks in at 11.5 percent ABV. As we had our soft opening just prior to Black Friday last year, this beer also represents a birthday celebration for Amorphic, and the label is designed as such."
In addition, says Hockersmith, Amorphic plans to offer the beer first to our Amorphic INSIDER program members, which is free to join. The rest will go on sale in cans and on tap at 9 a.m. when the taproom opens on Black Friday. They'll also have some donuts to pair with the beer.
"We will also have our first production batch of hard seltzer on tap," Hockersmith adds. "(It's) a 10% ABV decadent concoction with oranges, vanilla and coconut that will make you think you are back at the food court in the mall drinking Orange Julius, except with booze.
Brookfield's Biloba will be open 1-9 p.m. on Black Friday, offering these specials:
Night Out Boubon Barrel Stout, $5 per 12-ounce bottle, $50 per case.
Old John Barley Corn Barley Wine, aged for three years in a 14-year-old Old Fitzgerald barrel, $6 per 12-ounce bottle, $20 per four-pack.
Strawberry Rhubarb Lambic, Cherry Lambic and Raspberry Lambic, $12 per 750ml bottle or $30 for one of each of the three.
Impossible American Stronger Ale, aged three years in a 14-year-old Old Fitzgerald Bourbon barrel, $30 on Black Friday, prices rises to $40 after.
Owner Toni Eichinger says, "We do our 'Ahead of the Pack' release on Wednesday, the day before Thanksgiving, so Nov. 23. We will be releasing 2021 Sparkly Eyes aged in Maplewood Gin barrels. Friday for us is what is called F***ed Up Friday, where (brewer) Tim (Eichinger) goes to the back of the cooler and finds old, vintage or forgotten beers and we release those. Beers (are) 5-9 years old. On Saturday we're having our Small Business Saturday Maker's Market in the brewery. Still working on those details."
Central Waters will release "at least" three beers on Black Friday at 10 a.m. and it's first come, first serve. Watch the brewery's social media for bottle limits, which have yet to be determined. Here are the three that co-owner Anello Mollica shared with us, with his descriptions...
Peach Brandy Barrel Aged English-Style Barleywine with Honey: This English-style barleywine from the Milwaukee brewery has only seen an array of oak so far. It's first release being featured for Black Friday is coming out of Peach Brandy Casks, this barleywine has a stone fruit aroma that bounces out of the glass, a deep mahogany color, and a malty nectar body with notes of dark caramel, toffee and dried fruit.
Windy Treat Partial Barrel Aged Burnt Marshmallow S'more Stout: This Imperial Stout is blended with 48-month-old Buffalo Trace and Wild Turkey barrels and layered with graham cracker, roasted cocoa nibs, toasted marshmallows and conditioned on vanilla beans. These well-aged casks blended with the young imperial stout base bolster and enrich the toasted marshmallow character and chocolate notes, while adding a smooth body and barrel character.
Central Waters 2022 Black Gold: The most recent release of our annual Black Gold affair, this imperial stout, aged three years in oak consistently ranks as Wisconsin's top beer, and we save some to release in Milwaukee on Black Friday.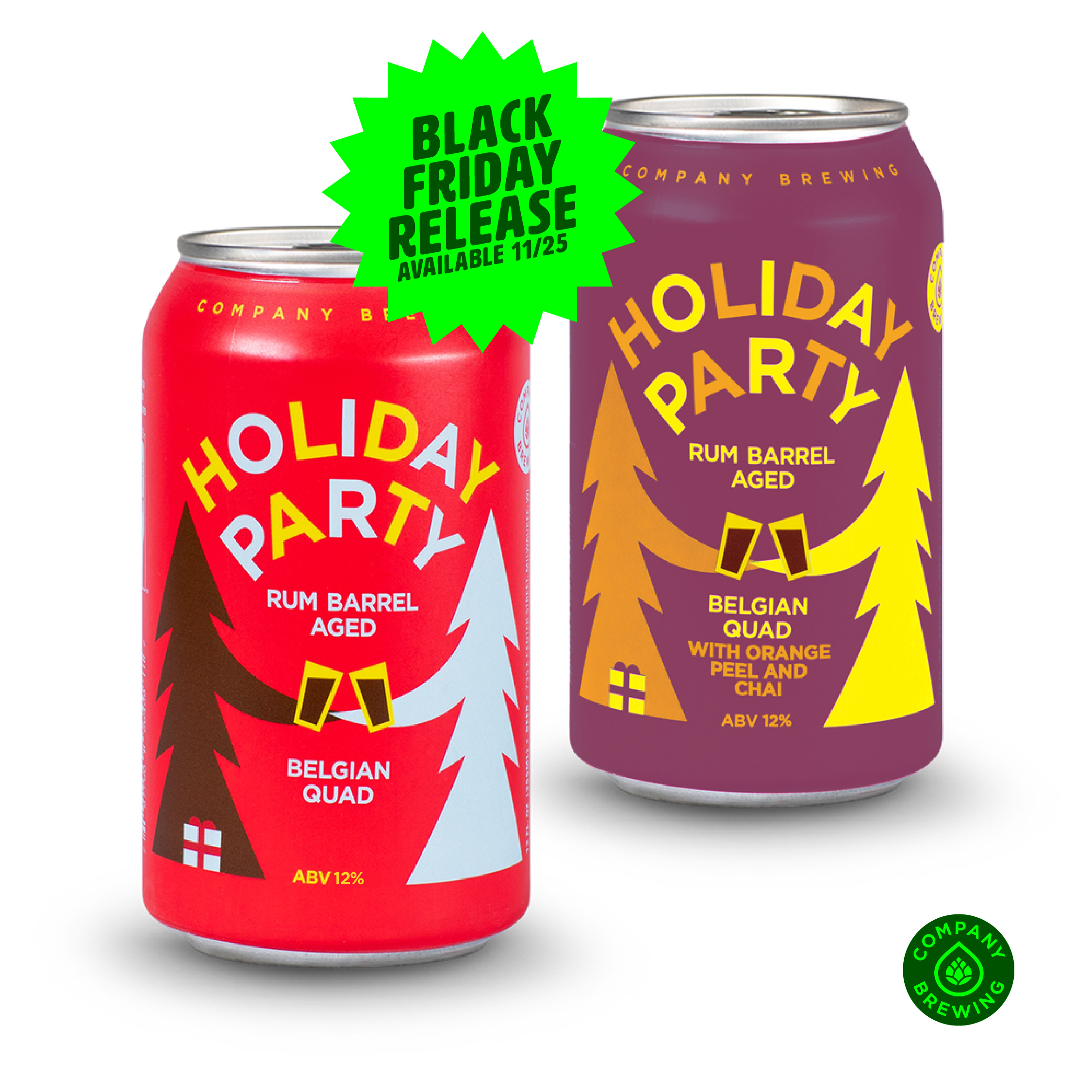 Company releases its annual Black Friday beers at 10 a.m. on the big day, and the Saturday RW beer shuttle will also run that day. Here are the releases, with descriptions from Company's Chris Geick:
Holiday Party Rum Barrel-Aged Belgian Quad (12 percent ABV) – Aged in Barbadian rum barrels, this year's batch is loaded with aromas of rum-raisin, toffee and vanilla, while the warming sensation from the substantial alcohol content emphasizes flavors of bananas foster, nutmeg and molasses.
Holiday Party Rum Barrel-Aged Belgian Quad with Orange Peel and Chai (12 percent) – Aged in Barbadian rum barrels, this year's variant sits with orange peel and chai. Loaded with aromas of rum-raisin, toffee, vanilla, sweet orange, baking spice and chai while the warming sensation from the substantial alcohol content emphasizes flavors of bananas foster, nutmeg and molasses.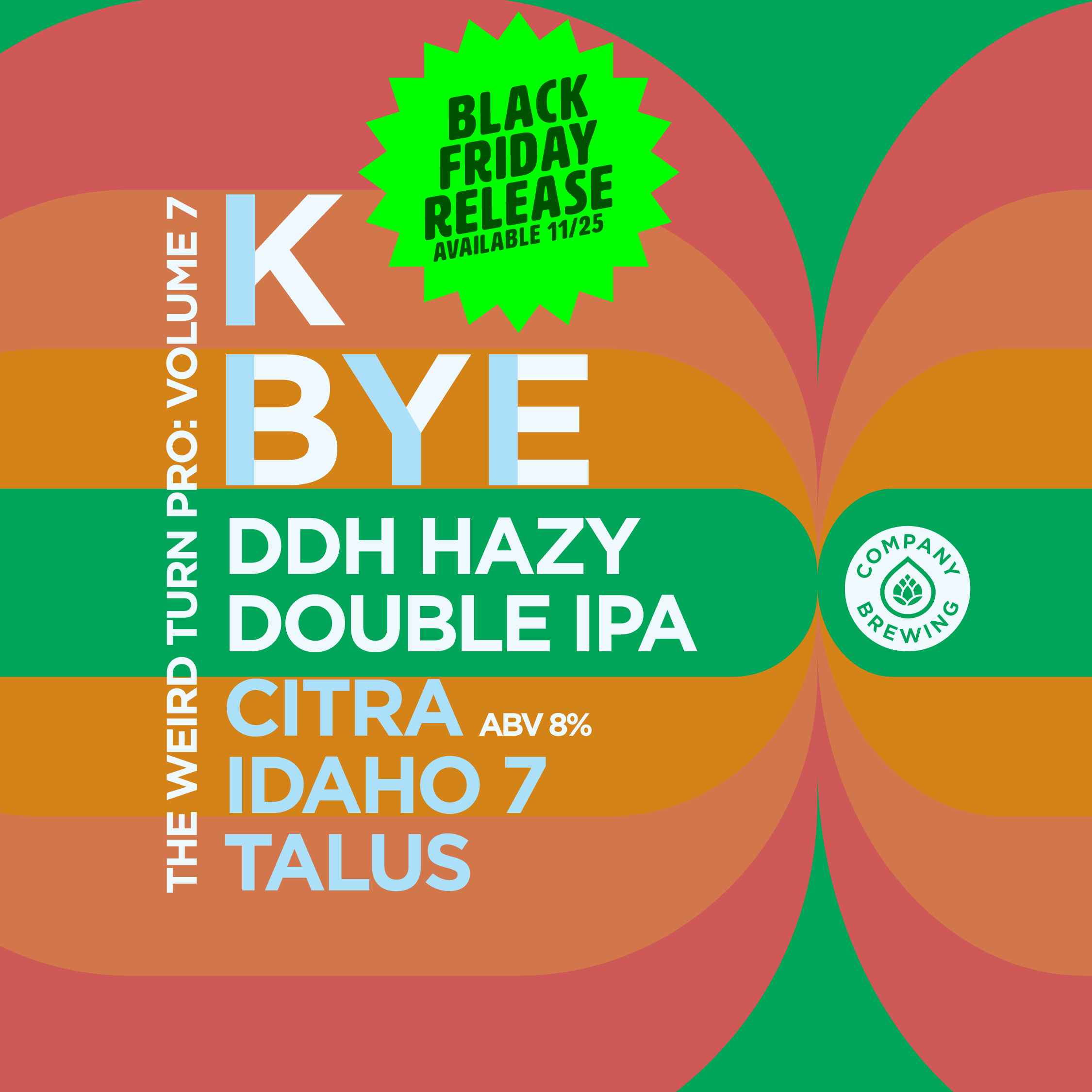 K BYE - The Weird Turn Pro: Volume 7 DDH Hazy Double IPA (8 percent) with Citra, Idaho 7 and Talus hops – Volume 7 in our The Weird Turn Pro series brings big, bright, tropical and stone fruit, black tea and pine from the addition of Idaho 7 hops. Talus hops play nice alongside the added Citra hops, with light suggestions of floral wood and coconut, with a massive citrus punch. We bid farewell to The Weird Turn Pro series with K BYE.
Bay View's Component Brewing will release three beers at noon, with Rot's Hots food truck on site to provide a base.
The three beers are the annual Black Friday release of Stampede - Black Currant fruited kettle sour; Ho Ho Hold My Beer Christmas Ale spiced ale; and a barrel-aged batch of Ho Ho Hold My Beer that rested in Heaven Hill barrels.
Dead Bird will be open from noon until 5 p.m. (no kitchen) and will release a barrel-aged gingerbread brown. The 9 percent ABV is aged in whiskey barrels and finished with ginger, cinnamon, nutmeg, allspice, and a hint of vanilla.
"It's back-sweetened with a non-fermentable sugar called allulose –similar to lactose but maple derived – says Nick Kocis. "Probably on tap only since we only have a barrel of it. We'll also have some other barrel aged options on tap, as well."
Kocis says that Dead Bird is reviving its Black Friday shuttle service, too. "We have three cruisers and a bus full-time and we're adding a second bus at 3 p.m.," he says.
Stops on the route will include Dead Bird, Component, New Barons, Eagle Park, Good City (Deer District and Farwell Avenue), Pilot Project Brewery, Indeed, Wizard Works, The Explorium (Downtown), Broken Bat, 1840 and Torzala.
" We are releasing Nutty Skeet's Imperial Peanut Butter and Jelly Porter, an imperial version of our Nutty Bill's Peanut butter porter, with added real fruit to give it the PB&J taste," says brewmaster Ben Johnson, of the the 7.5 percent ABVbrew.
"We are also releasing a Cherry Cheescake Sour (4.8 percent), made with real sweet cherries finished with graham cracker and notes of cheesecake."
Duesterbeck's is closed on Thanksgiving, but customers can place crowler orders online for pickup on Black Friday starting at noon.
Eagle Park's Jake Schinker says there will be a trio of Black Friday releases at Eagle Park's two locations.
Bourbon Barrel Aged Koko Kleiber is 24-month-old bourbon barrel-aged imperial stout with maple syrup and over a pound of coconut per gallon of beer.
Double Barrel Fly by Night is a 19-month-old imperial stout aged in Willet Bourbon barrels and then finished in Eagle Park Bourbon barrels and aged on Madagascar vanilla beans.
Finally, DDH Bowie's Spacesuit is a Cashmere-, Citra- and Galaxy-hopped double hazy IPA with an extra dry hop of Cashmere.
Plus, a late addition: Last Christmas Belgian Quadrupel with dark Belgian candi sugar and orange peel. A portion of last year's batch of "This Christmas" aged in bourbon barrels for a full year. Available in four-pack 12-ounce cans, on tap and in crowlers. 14.1 percent ABV.
Just like last year, The Explorium is going wild for Black Friday relasing 12 – yes, 12! – variants of its Milwaukee County Stout on Nov. 25. That's up 5o percent over last year's eight.
"Four (variants) will be exclusively in-house releases on Black Friday," says Nick Scheeler, "and the other eight will be released by our MCS Barrel partners (including Aman's Beer + Wine, the Bottle Shop of Grafton, Consumer Beverage, the Stillery, Timer's Beverage Center in Racine, and Total Wine & More)."
"Most of them will be releasing on Black Friday, but some have made the decision to release later in the weekend for Small Business Saturday or even into the first week of December.
"The four varieties slated for exclusive Explorium release will be Blanton's, Buffalo Trace, J. Henry & Sons, and a blend of Maple-Bourbon with J.Henry."
After having been released previously in bottles, some of the stouts arrived in 16-ounce cans last year and that will expand this year, with all being released in cans, which are $12 each.
There is a two-can limit per variety of the cans on sale at The Explorium, and both locations will have all four variants. Greendale will also have a very limited amount of Proprietor's Blend MCS on draft.
"Only about 700 of each Explorium variety will be available whereas the barrel partners will be seeing single barrel releases totaling between 250-300 cans," says Scheeler.
The Greendale location at Southridge Mall opens at 6 a.m. for breakfast and the beer release and the Downtown location in the Pritzlaff Building opens at 11.
Brewer Nate Fakler says St. Francis-based Faklandia will release Mantaycore, a 14 percent ABV Russian imperial stout flavored with hazelnut, cinnamon and toasted coconut in 22-ounce bomber bottles on Black Friday.
The Fermentorium will release its annual Sweater Weather imperial milk stout and variants on Wednesday, Nov. 23 at both locations: Cedarburg and Tosa.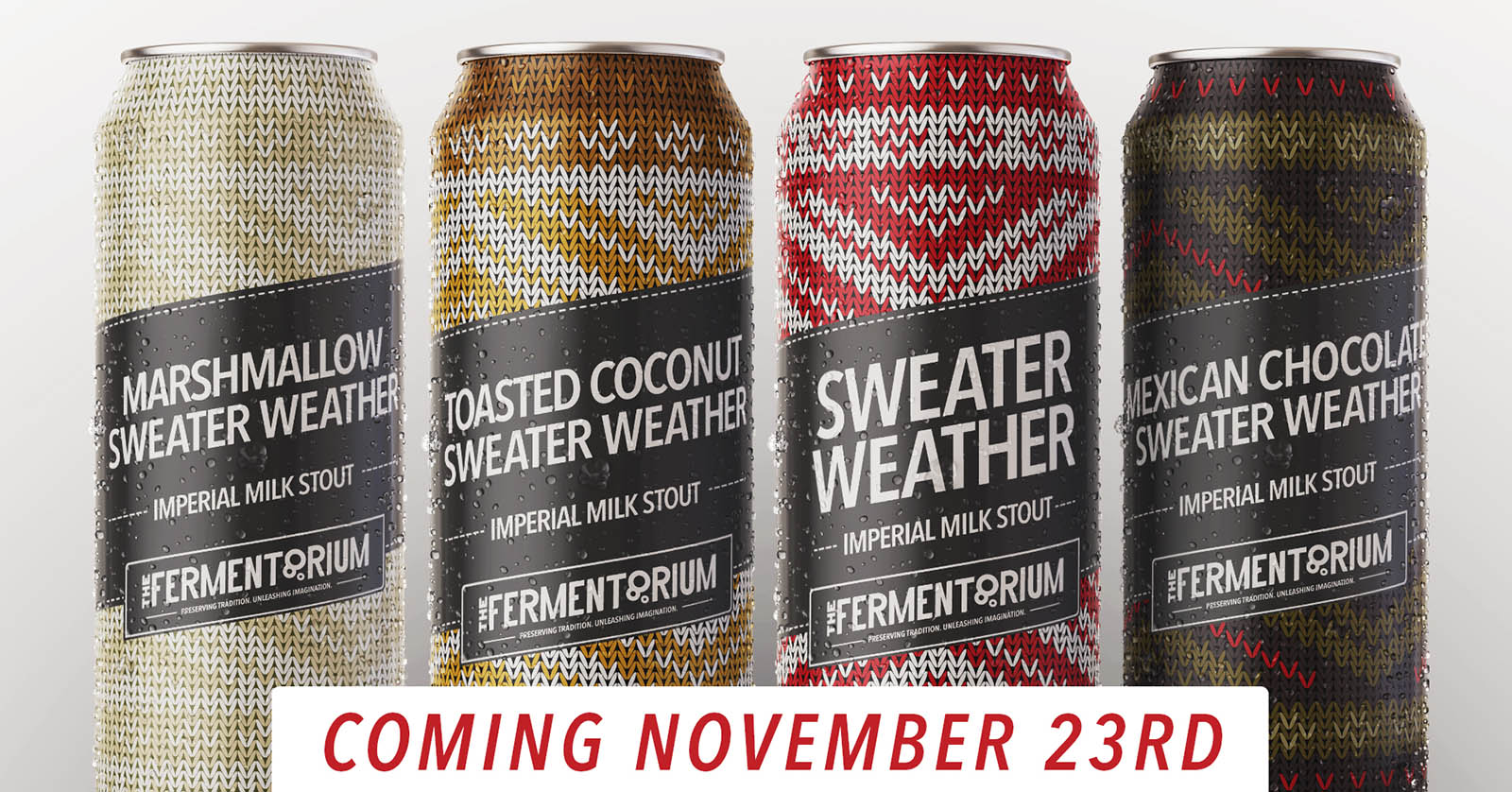 The variants are toasted coconut, marshmallow and Mexican chocolate. All are available in 16-ounce cans.
On Black Friday there will be DJs performing from 7 to 11 p.m. in the Vinyl Lounge at the Tosa location.
The Mequon brewery that recently announced a Downtown taproom, will release a collab with The Bottle Shop in Grafton. Double-Barrel Imperial Rye Stout (13 percent ABV) was aged continuously for two years, starting in a Rittenhouse Rye barrel and finishing in a single barrel of cask-strength Wilderness Trail rye provided by The Bottle Shop's Hertej Singh.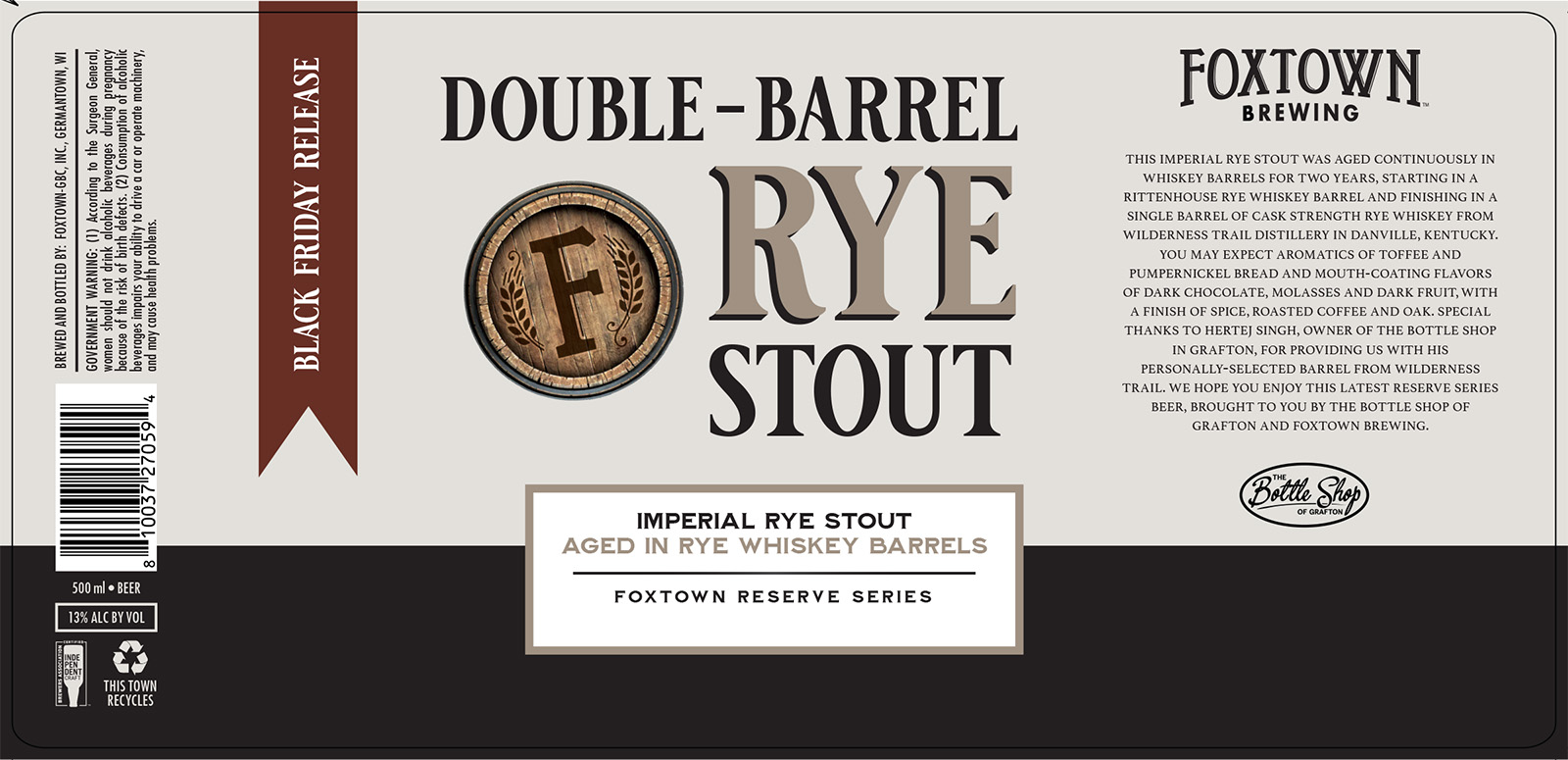 According to Foxtown's Kyle Smith, "expect aromatics of toffee and pumpernickel bread and mouth-coating flavors of dark chocolate, molasses and dark fruit, with a finish of spice, roasted coffee and oak."
The beer will be released at 11:30 a.m. on tap at Foxtown and in 16.9-ounce bottles that are $15 each.
Two bottled beers that riff on classic Wisconsin cocktails are releasing at Gathering Place Brewing on Black Friday. Online presale for bottles begins Wednesday, Nov. 16. (UPDATE: Bottles are now sold out, but both beers will be on tap in the two tap rooms on Friday.)
Grasshopper and Brandy Alexander both use an imperial blonde milk stout (9 percent ABV, 18 IBU) as their starting point. Grasshopper is brewed with mint, vanilla, and chocolate and the Brandy Alexander is brewed with brandy-soaked oak chips and cacao nibs.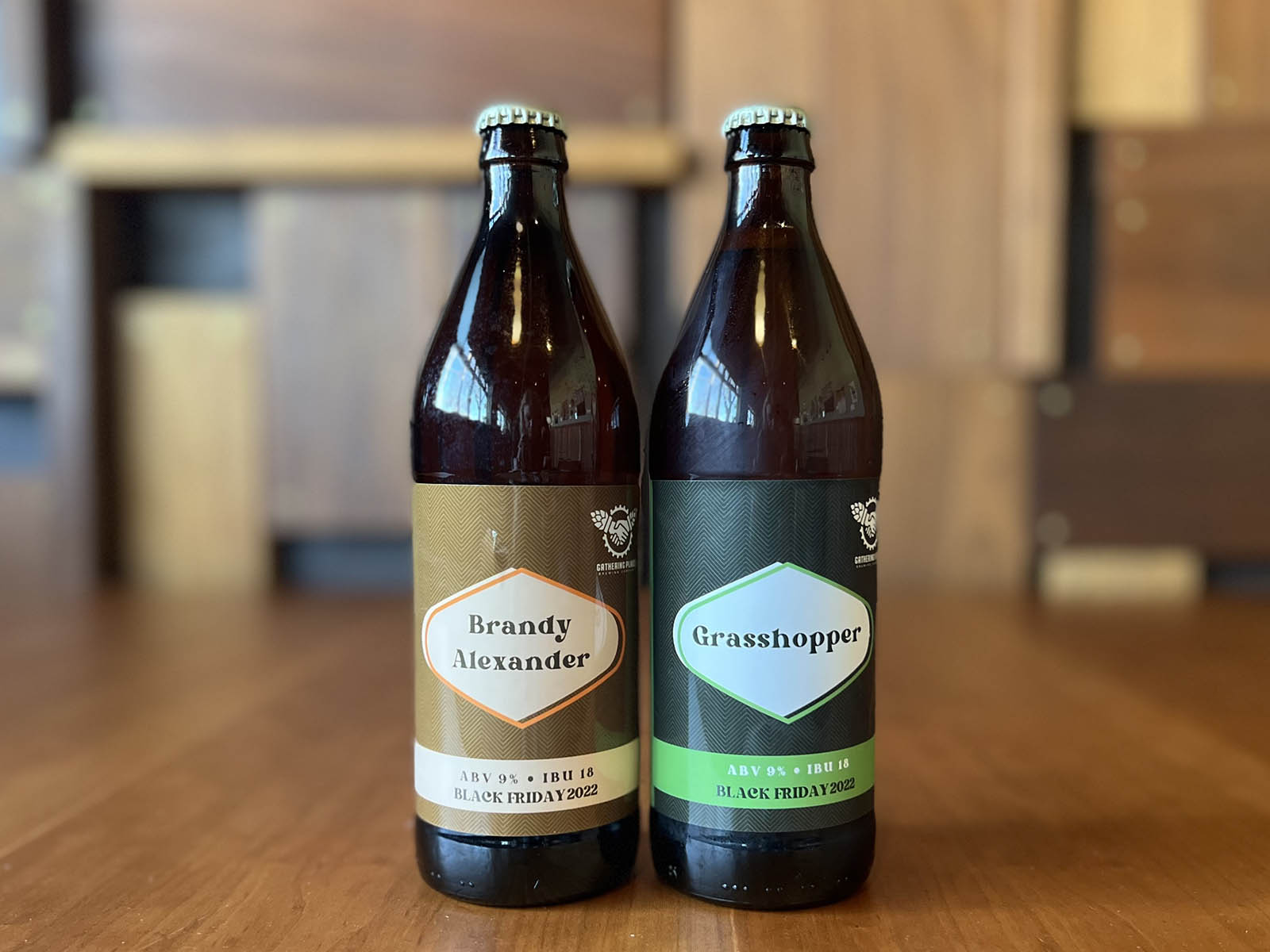 "Wisconsin loves their winter cocktails and I created these beers while thinking about drinks served at supper clubs," said head brewer Corey Blodgett. "Blonde stouts don't use the darker roasted barley traditionally used for stouts, which gives a lighter color and sweeter taste perfect for these cocktail-based beers."
Like past Black Friday releases, the beer bundle comes with a playlist, which this year includes classic hits of the 1950s and '60s.
"We always enjoy experimenting and innovating for Black Friday," said Gathering Place Brewing founder Joe Yeado. "There are only 100 bottles of each beer and our Black Friday releases sell out each year, so we anticipate these will disappear quickly."
Good City's David Dupee says, "We're going to roll with a 'Black RyeDay,' releasing the following rye based beers:
"Barrel Aged Rye Stout: Blend of rye stouts aged in 13-year Sazerac and Great Lakes Distilling rye barrels. Barrel forward, with aromas of cherries and berries.
"Rye DIPA: Rye Hazy Double IPA featuring Cashmere, Azacca, and Michigan-grown Chinook. Targeting 8.5-9 percent.
"Rye Milk Stout: Dense pastry stout with lactose, mango, cardamom, and lime. Makes use of several varieties of rye; malted rye, crystal rye, chocolate rye and flaked rye."
The beers will be released at 11 a.m. on Black Friday at all Good City locations, but Good Citizen loyalty members will be able to pre-order and get their beers on Wednesday so they can enjoy them with turkey and stuffing. Dupee says there will also be a merch blowout at all the taprooms on Friday, Nov. 25.
"Our taprooms will be open normal hours on Black Friday, and we are hosting a pre-sale for all of (the) beers (below) ... one week prior to Black Friday," says Director of Brewing Operations Matt Sampson.
"Velvet Bulldozer 2022 (is) our recurring imperial stout that changes slightly each year," says Sampson. "This year's version is a big, lush 12 percent stout full of oats, dextrinous malts and dark specialty malts to achieve a bunch of thick, dark chocolate flavor up front. We conditioned this year's version on Madagascar and Ugandan vanilla beans, Ecuadorian cacao nibs and espresso from Isely Coffee. It's chewy and super decadent. Available on draft and in two-packs on Black Friday.
"BBA Velvet Bulldozer 2022: Following last year's release of our first bourbon barrel aged version of Velvet Bulldozer, we also put a good amount of last year's Velvet Bulldozer base recipe into freshly dumped rye-heavy bourbon casks from Hatch Distilling in Egg Harbor. We learned a lot from last year's version of this beer – and significantly altered the base recipe to be thicker and more decadent to withstand the barrel aging conditions really well.
"Over the past year, this beer has matured beautifully with thick chocolate character and hints of vanilla, cinnamon, and nutmeg. We are releasing the BBA version on its own, as well as a special variant. Available on draft and in two-packs on Black Friday.
"BBA Velvet Bulldozer: Coconut + Vanilla (is) a special variant of the BBA Velvet Bulldozer that we'll be releasing in cans for our Hacienda Hundred Members only, but draft will be available to everyone starting on Black Friday.
"We took a couple of the Hatch bourbon barrels that had been maturing over the past year and paired them with Ugandan vanilla beans and shredded and toasted coconut. These barrels had their own unique notes of caramel and raisin – along with thick chocolate, vanilla and spice notes – that we thought would pair great with these adjuncts. This one's going to be very limited. Available in two-packs for Members only and draft for everyone.
"Entitled To Mingle: We always like to throw in a special oak-fermented mixed culture beer to pair with our Velvet Bulldozer releases. Entitled To Mingle is a blend of fairly young 6-month-old mixed culture saison and much more mature 2-plus-year-old saison that we conditioned on a bunch of Wisconsin basswood honey and dry hopped with Lotus. Available in 500ml bottles and on draft.
"We may even throw in one of our crowd-favorite, big Hazy Double IPAs for Black Friday, as well."
Indeed brings back its Milwaukee Honey Barleywine Ale for its third annual iteration, brewed with honey from Milwaukee's Kallas Honey Farm.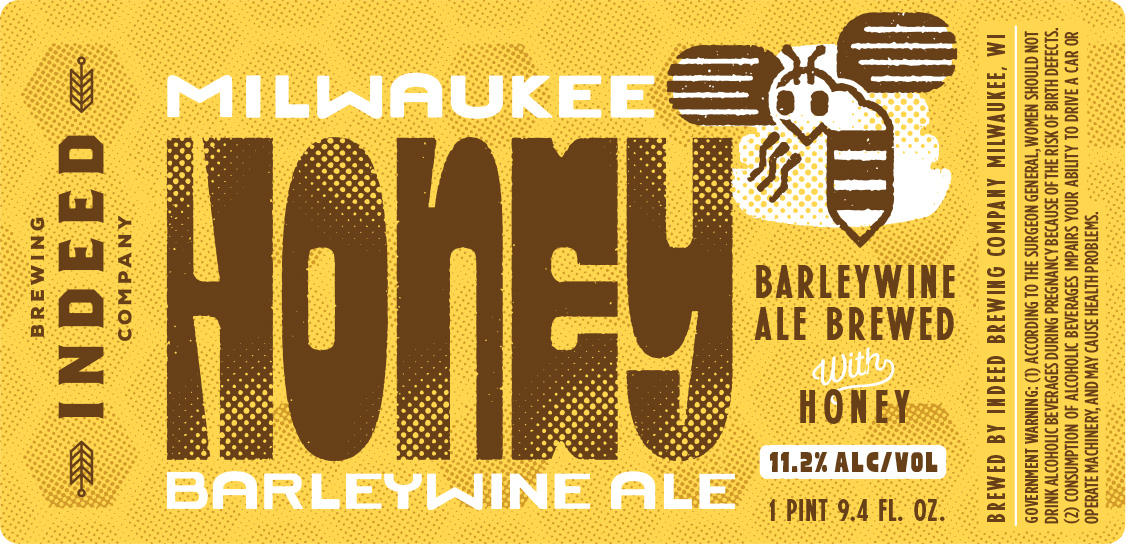 This 11.2 percent ABV ale balances a late hop addition (CTZ, Willamette) with sweetness from the Briess Ashburne Mild malt and Kallas honey.
There are only 180 bottles this year and they'll sell for $15. Pick-up pre-orders at the Walker's Point taproom on Friday, Nov. 25 between 11 a.m. and 11 p.m. The World Cup will be on the TVs and buy the barleywine and get 20 percent off full-priced Indeed merchandise.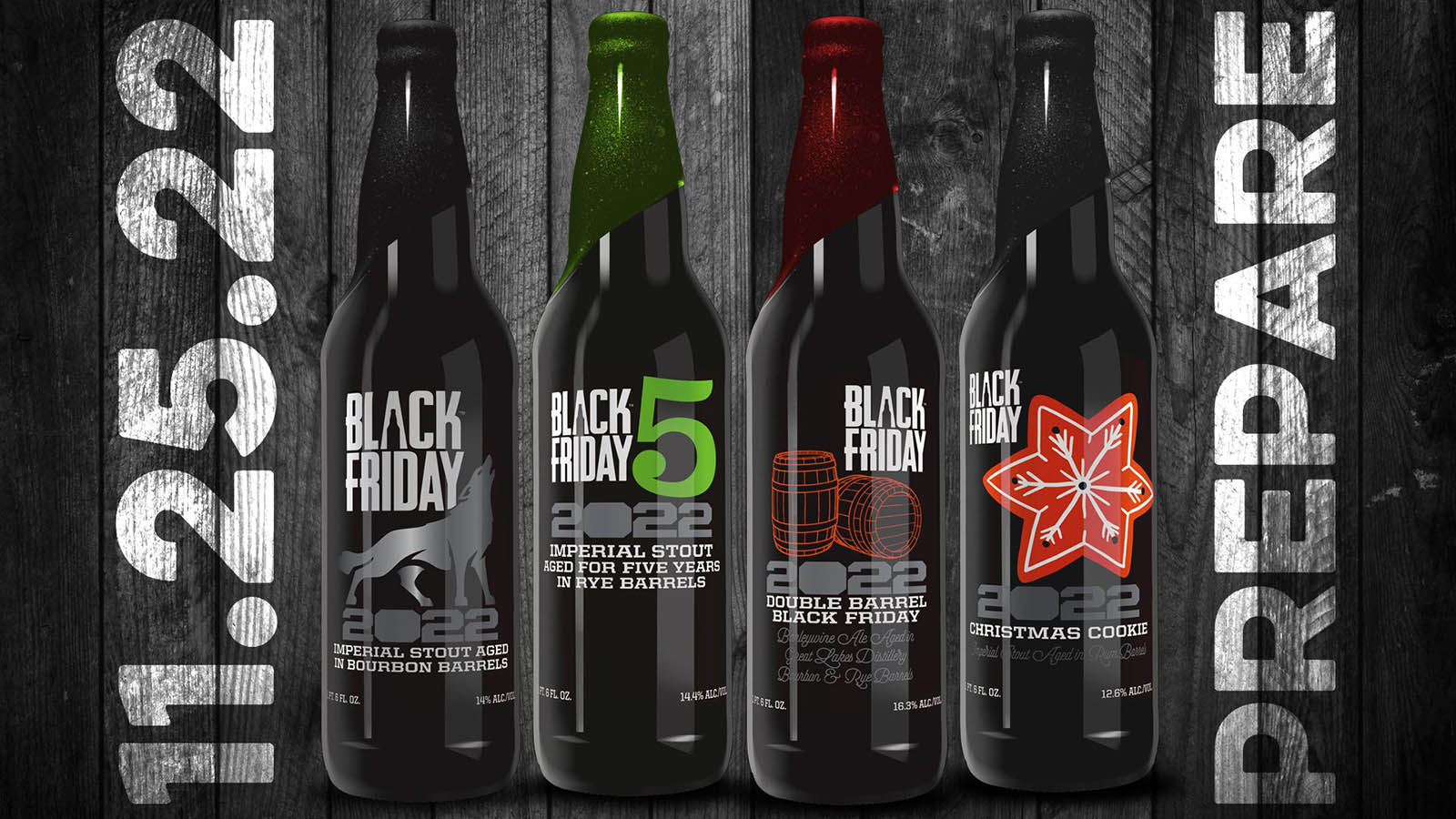 Lakefront's Black Friday 2022 variants will be available at 8 a.m. only at brewery. There will be an imperial stout aged in bourbon barrels; an imperial stout aged five years in rye barrels; Double Barrel barleywine ale aged in Great Lakes bourbon and rye barrels; and Christmas Cookie imperial stout aged in rum barrels.
Head brewer Luther Paul talks about the beers here.
According to VP of Operations and Marketing Nick Leak, Lion's Tail will release for Black Friday brews, at both Neenah and Tosa taprooms. They are:
Bourbon Trail 01: Willet Single Barrel-aged stout aged 12 months, 11 percent ABV, with flavors of coffee, caramel and vanilla.
Bourbon Trail 02: Buffalo Trace Single Barrel-aged stout aged 12 months, 10.7 percent, with vanilla, sweet brandy, and Belgian candi sugar notes.
Peanut Butter Porter - Deep brown 5.6 percent porter with chocolate malt and peanut butter and a touch of vanilla.
Big Mama's Imperial Cherry Pie 8 percent imperial sour dessert beer with cherry, vanilla and graham cracker flavors to create a cherry pie-like experience.
Down in Burlington, brewer Tim Sullivan says Low Daily, "will be releasing our first pilsner in 16-ounce four-packs, as well as releasing bottles of our first bourbon barrel-aged imperial stout!"
On that day, the taproom will host a World Cup watch party as Team USA faces England.
"We will once again be holding our annual holiday market on Saturday the 26th," Sullivan adds, "with around 20 different local vendors set up."
MobCraft's Ryan Doolan gets in just under the wire with the return of the annual Black Friday release from the Walker's Point brewery ... Kringle Monster.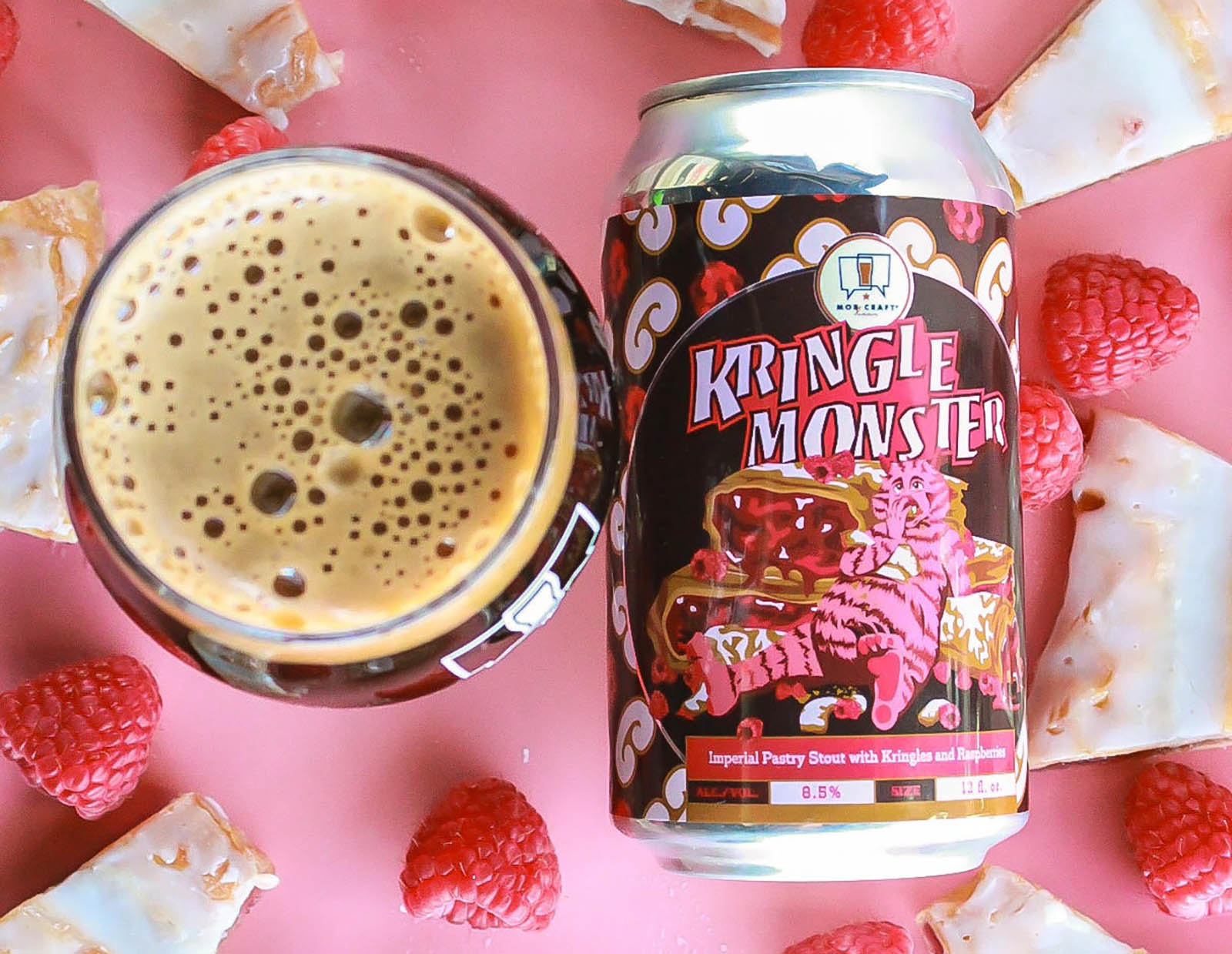 The 8.5 percent pastry stout is loaded with raspberries and Uncle Mike's Bake Shoppe's raspberry kringle.
Quantities are extremely limited, says Doolan, but you can nab four-packs for $15 each and Kringle Monster 2021 and 2022 will be on draft in the taproom, too.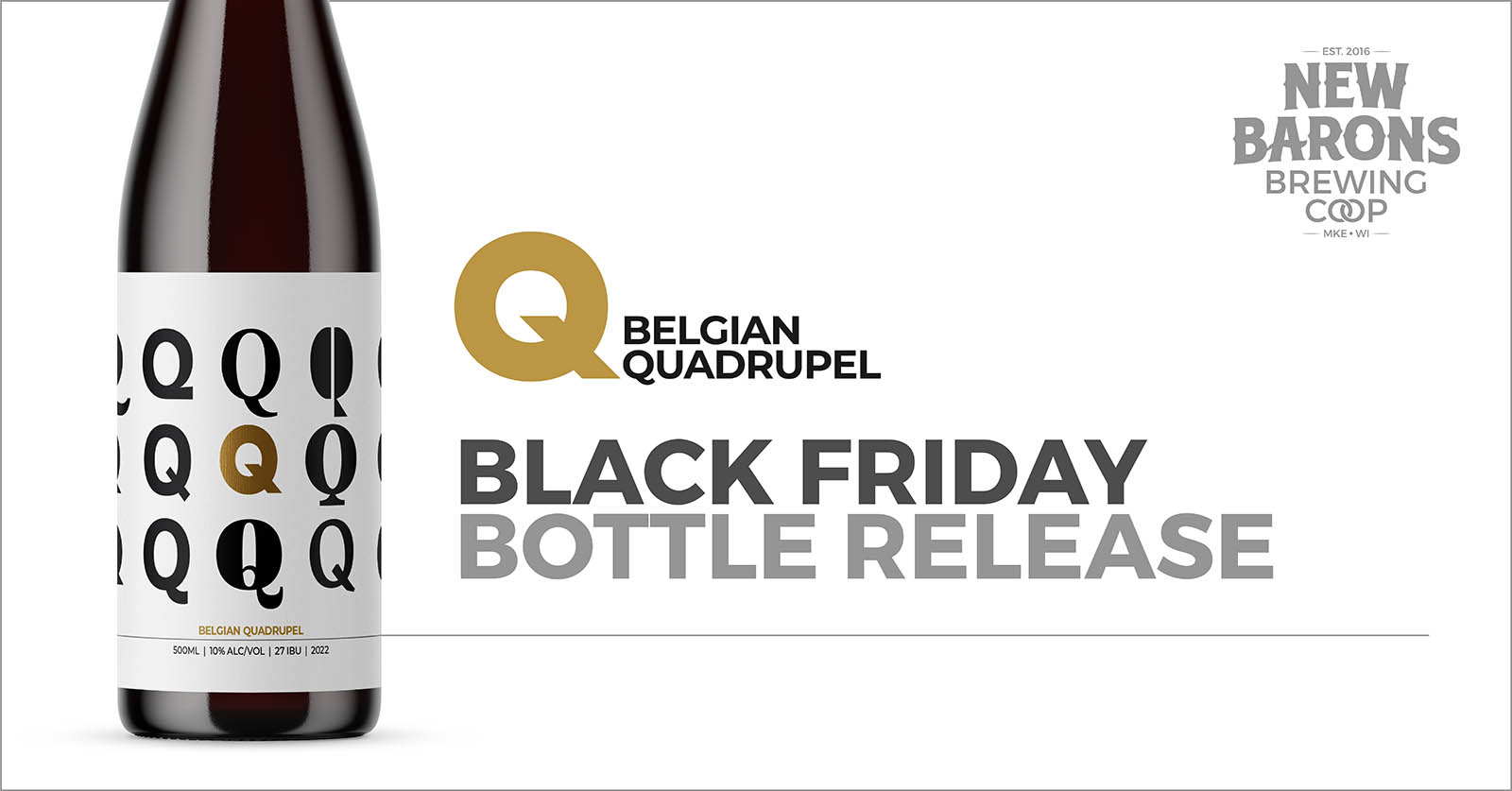 New Barons will release "Q – Belgian Quadruple," aged in rum barrels. It's a full-bodied Belgian ale with dark caramel and fruit flavors mixed with spicy phenolics and esters reminiscent of vanilla and plum. It's named for the character in the James Bond series, says CEO John Degroote.
"Q is meant to be the perfect handy and complex addition to your beer cellar," he says. "With our small capacity, a barrel aging program here is next to non existent, so when we get to do one we like to have some fun with it. This year, that meant creating a fun brand behind it, as well."
Q is New Barons' second barrel-aged brew, says Degroote.
"After the success of last year's release on Black Friday, we decided to do it again with some expanded entertainment," he says. "In addition to opening up early at 9 a.m., we'll be showing James Bond movies all day.
"From Sean Connery to Pierce Bronson, old and new – we'll be showing all the cheesiest and the most action-packed films. More importantly, we'll also have live music. Local musician Jon Hintz from The Rumskis will be providing a live acoustic set from 10 a.m. to 1 p.m."
Cake Bandit will be onsite selling vegan doughnuts and baked goods starting at 9 a.m. until supplies run out.
Pre-ordering is now available and closes at 6 p.m. on Thanksgiving, with bottles available for pickup on Black Friday.
Adam Anders at the West Allis brewery says Ope! will celebrate its first Black Friday with barrel-aged Full Send Blend 1 barleywine aged in three store-pick barrels (Castle & Key rye, and bourbon and rye from Driftless Glen) from The Bottle Shop of Grafton.
"Expect big notes of vanilla, caramel, toffee, leather and tobacco, a hint of warming spice and a long semi-sweet finish," says Anders.
There's a limit of two 500ml bottles, which are $15 each. Ope! will open at 9 a.m. and members have access to a pre-sale at which they can get two additional bottles. Check the website (linked above) for pre-sale and other Black Friday details. The beer will also be available at The Bottle Shop.
The new West Allis brewery will tap its apple cinnamon sour firkin at 10 a.m. on Black Friday and will then release a Russian imperial stout, both on tap and to-go.
Plymouth Brewing will celebrate Black Friday and Small Brewery Sunday with a "black out," featuring dark beers like the Bishop BBA Imperial Stout, ahed in J. Henry Private Reserve and Small Batch barrels.
According to brewer Trevor Thurston, there are notes of coffee, vanilla, dark chocolate and toffee.
The beer will available in 12-ounce bottles, as well as on draught alongside Shadows Imperial Porter, rum-aged Shadows, Dairyland Dark Milk Stout, Shmello marshmallow stout, Stafford Coffee Stout, Ichabod Pumpkin Spice Latte Stout and PB Magnum Imperial peanut butter and chocolate stout.
Waukesha's Raised Grain will be open from 11 until 11 on Black Friday with full kitchen menu all day long, says Nick Reistad, who says they'll release three beers, both on tap and to-go.
"Forgotten Barrel #3 in bombers ... three barrels of our 2020 Anniversary Stout forgotten for an additional two years. Quantity is extremely limited," Reistad says. "And Brandy barrel-aged Old Fashioned Red Ale, a red ale reminiscent of a Brandy Old Fashioned aged in brandy barrels for 2 years."
This one will be in 16-ounce four-packs.
Lastly, promises Reisted, there's, "Santa's Sack Christmas Ale, our annual release of our spiced Christmas ale brewed with cinnamon, nutmeg, star anise and fresh ginger."
"We are releasing two beers," says Kiel McGuinness. "Cuvee De Chariot Farmhouse Ale aged in rare 18-year-old Elijah Craig barrels with cherries and almonds. This is a beefed up version of popular beer chariot – 8.1 percent light tart cherry, bourbon and just a hint of almond in the back end.
"And Crows Nest Imperial Stout with cocoa, vanilla beans, cinnamon and dried cherries. This beer comes in at 11.4 percent. This is in collaboration with Sabbatical brewing in Manitowoc and is our first commercial stout we made."
Available in 16-ounce two-packs at Draft and Vessel in Tosa with pre-orders opening Thursday, Nov. 3 at rookerybrewing.bevv.com.
Grafton's Sahale Ale Works will again release a triple IPA on the Wednesday before Thanksgiving, and it will also be available on Black Friday.
"This year we are doing a 10-plus percent ABV version of our Sky Breaker Hazy IPA," says brewer Matthew Hofmann.
"On Black Friday, we'll release Edge Of The Edge. This double barrel-aged imperial fruited sour ale pushes the style to the edge," Hofmann adds. "Starting with an Imperial Brown Ale aged in a bourbon barrel for 12 months, the beer was then moved to a neutral wine barrel where a mixed culture and cherries were added. After conditioning for another 12 months, it was deemed ready."
It clocks in at a heady 11.5 percent, and ... it won a silver medal at this year's Festival of Wood and Barrel-Aged Beer!
The Oconomowoc brewery, co-owned by Disturbed drummer Mike Wengren, will have a barrel-aged amber on tap.
Black Friday will be the release day for the second Deconstructed Dessert: Mudslide series brew. The brewery will open at noon to release variants No. 3 and No. 4: The Chocolate and The
Vanilla Ice Cream. On the same day, Third Space will also release an extremely limited new two-year bourbon barrel-aged Russian imperial stout called Cellar Stash in single 16-ounce cans.
The first two Deconstructed Dessert beers – The Beer and The Peanut Butter – were released on Saturday, Oct. 29 and the final two – The Coffee and The Mudslide – will come out on Dec. 17.
On Black Friday Urban Harvest in Walker's Point will release cans of six of its 2020 special release beers. You can pre-order the extremely limited brews at 9 a.m. and pickup after 11 on Friday or Saturday.
The beers are 2020 WhiScotchsin Whiskey Scotch Ale; 2020 Big Ring Bourbon Red; 2020 Brown Mumbler Bourbon Brown Ale; 2020 Whiskey Porter; 2020 Two Naught Naught Chocolate Bourbon Espresso Amber; and 2020 The Purple Crown Imperial Chocolate Whiskey Stout.
"We will also be putting another beer on tap for taproom sales only," says Steve Pribek. The taproom-only beer will be our Deux Stappen, a Belgian Dark Strong with an addition of French cognac infused oak."
Vennture's releasing its special beers in cans and on tap at 3 p.m. on Gray Wednesday, Nov. 23, so you can enjoy them at Thanksgiving.
There are four brews, including The Heights table saison with cranberry and orange zest; Barrel Aged Quad collab with Indeed using Cascara and date powder and aged in J. Henry Bourbon barrels; Second Helping dark saison with Brett and Chambourcin grape juice from Wollersheim Winery aged in second use Doughnut Don Barrels; and Leg Work with Citra, Idaho 7 and Amarillo hops.
Water Street Brewery and its newly reopened Downtown outpost, called simply The Brewery, will release an imperial Black Forest Cake pastry stout on Black Friday, according to brewer George Bluvas.
"We've brewed a huge dark stout and are currently aging it on chocolate and cherries," he says. "It should end up about 11 percent alcohol and be rich in flavors of dark chocolate and tart cherries, like the pastry Black Forest Cake.
"This will be a stronger variation of our Black Forest Cake that we serve at Germanfest every year."
One keg will go on tap at each of the three Water Street Locations (Oak Creek, Grafton, Delafield) and at The Brewery and will remain on tap until it's gone.
"We are releasing an aged weizenbock for Black Friday," says co-owner Kim Dorfner. "It's smooth, strong (9.25 percent ABV) and malty!"
Chris Ragaisis, owner/brewer at the Third Ward brewery and taproom, says, "We will be releasing a very limited run of Driftless Glen bourbon barrel-aged porter for Black Friday – Kentucky Rabbit."
Born in Brooklyn, N.Y., where he lived until he was 17, Bobby received his BA-Mass Communications from UWM in 1989 and has lived in Walker's Point, Bay View, Enderis Park, South Milwaukee and on the East Side.
He has published three non-fiction books in Italy – including one about an event in Milwaukee history, which was published in the U.S. in autumn 2010. Four more books, all about Milwaukee, have been published by The History Press.
With his most recent band, The Yell Leaders, Bobby released four LPs and had a songs featured in episodes of TV's "Party of Five" and "Dawson's Creek," and films in Japan, South America and the U.S. The Yell Leaders were named the best unsigned band in their region by VH-1 as part of its Rock Across America 1998 Tour. Most recently, the band contributed tracks to a UK vinyl/CD tribute to the Redskins and collaborated on a track with Italian novelist Enrico Remmert.
He's produced three installments of the "OMCD" series of local music compilations for OnMilwaukee.com and in 2007 produced a CD of Italian music and poetry.
In 2005, he was awarded the City of Asti's (Italy) Journalism Prize for his work focusing on that area. He has also won awards from the Milwaukee Press Club.
He can be heard weekly on 88Nine Radio Milwaukee talking about his "Urban Spelunking" series of stories.