Black Is Beautiful is a series of interviews with interesting, intelligent and immersed-in-their-passion local African American women.
Attempting to accurately describe a powerhouse like Dasha Kelley Hamilton is a challenge. She can be assigned many words, all of which are truths: writer, Poet Laureate, educator, performance artist, dialogue facilitator, mother, wife, friend. And yet, she was able to metaphorically drop each word into a mug of tea, stir it up, pour out the liquid and read "creative change agent" in the leaves at the bottom of the mug.
After spending an afternoon chatting with Hamilton, it quickly became crystal clear that "creative change agent" is the perfect way to describe all she has done and all she is capable of doing. It's also the first three words one sees when visiting her professional website.
After living most of her life steeped in creativity, entrepreneurialism, education and communication of all kinds, she was able to identify her talents, label them and monetize them. This can be a challenge for many creatives, but Hamilton had translated her strengths and experiences and is hired to moderate panels, conduct idea-sourcing sessions, head up events through project managing, provide keynote speaking with customized messaging, perform spoken word poetry and storytelling and teache workshops and retreats on writing, symposiums on cultural organizing, in-service for educators and implicit bias training for leadership teams.
As a creative, Hamilton has written for national magazines, produced three collections of poetry, recorded four spoken word CDs, published two novels and performed in the last season of HBO's Def Poetry Jam.
Her 20-year-old nonprofit, Still Waters Collective, initiates literary arts programming and creates platforms for voices that would otherwise go unheard.
Hamilton has been an adjunct professor at Mount Mary University, Alverno College, Bryant & Stratton and University of Wisconsin-Milwaukee. She holds an MFA in Creative Writing from Antioch University and an MA in Marketing Communications from Roosevelt University. She is currently the Wisconsin Poet Laureate and the Milwaukee Poet Laureate. She is the first African American woman to hold both positions simultaneously.
"Creative Change Agent?" Absolutely. But "Fierce, Peaceful Warrior of Corporate Communication and Creative Badassery" also works. But regardless of her title, Hamilton is putting positive, important and inspired work into the world. And that's why she's the ideal first interview for this new series.
OnMilwaukee: How are you good at so many different things that are usually conflicting skills for other people? You clearly dip into the left and right sides of your brain as a gifted writer - which is a very introverted task - but are also such a successful oral communicator and performer. Tell us more!
Dasha Kelly Hamilton: Stubbornness? Incessant curiosity? It's been how I am since I was 5, according to my mother. And I'm a self-described "high-functioning introvert." So much plays out in my head and it's true: I do enjoy both sides of my brain. I am very comfortable in my imagination – something we are often taught to let go of as adults – and writing stories comes very naturally to me. But at the same time, I've always been the organizer too. I was the one trying to corral the cousins to do a talent show.
Is there anything you're not good at but you wish you were?
Today, I wish I would have been more patient with things I wasn't good at right away, like chess, math, tennis. I've stuck solely with the things I'm naturally good at: stories, words, collaboration, ideas.
You are the first Black woman to simultaneously hold both poet laureate positions available in the state: Poet Laureate of Milwaukee and Poet Laureate of Wisconsin. That's incredible. What kind of work do you do in these roles?
Being the Poet Laureate just makes me smile. I'm happy that it's really a thing. Basically, I'm the city and state ambassador for poetry. Each Poet Laureate has their own focus. Mine is about spoken word – performance poetry as opposed to poetry in books. The stage vs. the page. My mission as a Black female poet is to work against the elitism in the poetry world. I pose questions like "Why is Emily Dickinson in the canon, but not Gwendolyn Brooks?"
It's about showing up and holding the space as a Black woman in poetry and that's powerful. I'm a contradiction to what poetry can and should be because of where we live. And to be a Black poet, I don't have to write about double dutch or greens or police brutality. I mean, I will most likely write about these things, but I don't have to.
Beyond everything else, my job is to get people in the habit of sharing our truths.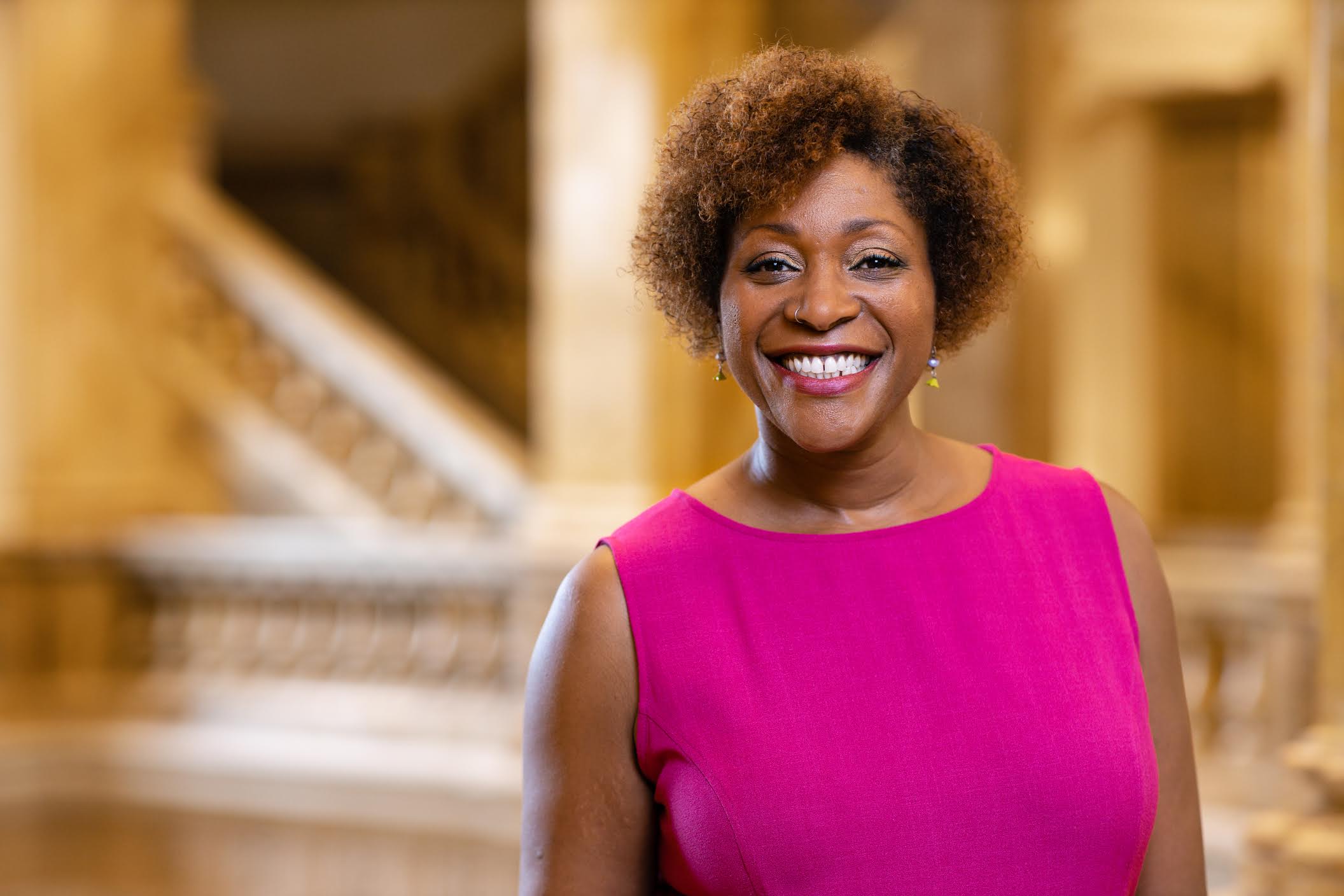 On your website, you call yourself a "creative change agent." I love it. But what does it mean to you?
Currently, I'm working on a pilot project to activate conversations in specific neighborhoods. I coach people on communication skills and social media and how to turn creative work into invoices through community engagements.
It's a culmination of all the things I've already done. It came together very organically. It took me a while, though, to figure out exactly what I do and how I do it and what I bring to the table. Everyone knew me as a writer – a poet – and I am both of these things at my core, but I wanted to make my full range of abilities clearer. I'm also a writing facilitator, an educator and a performer and finally I put all of these talents under the umbrella of "creative change agent." I heard that somewhere and it really resonated with me.
Once I realized I am a creative thinker and can share in ways that I think solved problems, people see that as a value in me. Then the big question, "OK, so how do I turn that into an invoice?"
Exactly! How did you figure out all the things you were good at and, to be blunt, could charge money for? I struggle with this all the time because some of my skills are ambiguous and therefore difficult to monetize. Show us the way, Dasha!
2016-2017 gave me the language I needed. It was a mix of age, time, experience and literally being "paid" as a keynote with carrot cake. I stopped understanding that a lot of people thought they were doing me a favor by letting me speak or perform. Some even believed they were "paying me" by allowing me to "get exposure." I don't know a single performer who can eat exposure. And they would never make the same offering to a band or photographer – so why a poet?
Asking for validation through money with something you've poured your soul into is tough. One of the things I recommend to people just starting out or struggling to make enough income through their art is to "diversify their hustle." String together all the things you love and create different income streams. It's still hustling and working to make ends meet, but if the work is that important to you, it beats putting most of your time and energy into your job as a forklift operator.
I also had to come to terms with the fact that to make money at my passion, I was going to have to travel. I accepted that. If I wanted an honorarium slightly above a gift card, then I had to be willing to create a market for myself beyond Milwaukee. And it's not just a problem for writers and poets, it's most creatives – dancers, actors – there's a limit to what's available and how the arts are valued here.
I've learned to be very clear with what I am worth. And it's OK if someone doesn't see the value of what I am able to do, but I'll just move along. But no one is going to pay me in carrot cake.
So why do you stay living in Milwaukee?
I made a promise to me that I wouldn't go scouting another place to move just because I can. I didn't want my daughter and her dad to have to get on airplanes to see one another. And because I am able to travel and perform all over the world, I get to come back with new perspectives and share them with Milwaukee. Basically, Milwaukee and I have an open relationship, and that works for us.
So this segues swimmingly into talking about your husband, Kima Hamilton, who is a native of Anchorage, Alaska and lives between there and Milwaukee. Plus it almost Valentine's Day, so I'm gonna get nosy about your relationship now. Where did you guys meet?
We met in San Francisco at a Brave New Voice International Poetry Festival for teenagers. He had brought a team from Anchorage. The first time we met, we just had a conversation amongst our students. The second time we met, the sparks flew and we fell in love.
We dated between the two cities for three years before getting married in Alaska and then moving here. We've just always been committed to figuring it out and making it work.
This is a second marriage for you. Do you feel like you're getting a chance at a "second life" and if so, what does that mean to you?
I absolutely feel like I'm living a second life. And in this life, I am able to prioritize what I feel in my gut and stand behind it – even if I can't completely explain it. To be with someone who truly understands that it took me all weekend to write a poem and it didn't make him angry or jealous or as a reflection on our relationship in any way is refreshing. He knows I am in my craft and it has to happen. And he can figure out how to feed himself just fine. In this relationship, I know how to fight effectively. I feel safe enough to share my dreams and then watch goofy movies. Most of all, I can't let anyone's feelings come before mine. We are stand right next to each other, holding hands, but both of us need to have one of our toes in front of the line.
Follow Dasha Kelly Hamilton on Facebook here and on Instgram here.

Molly Snyder started writing and publishing her work at the age 10, when her community newspaper printed her poem, "The Unicorn." Since then, she's expanded beyond the subject of mythical creatures and written in many different mediums but, nearest and dearest to her heart, thousands of articles for OnMilwaukee.

Molly is a regular contributor to FOX6 News and numerous radio stations as well as the co-host of "Dandelions: A Podcast For Women." She's received five Milwaukee Press Club Awards, served as the Pfister Narrator and is the Wisconsin State Fair's Celebrity Cream Puff Eating Champion of 2019.