A new pop-up called Blackbear Children's Boutique took over the space that formerly housed Roots, 2622 N. Downer Ave. The shop is a brick and mortar extension of an online kids' clothing business that's owned by Shorewood's Emma Carollo.
The shop is open Friday, June 14 through the end of August. Blackbear will also host events this summer, starting with a free music class on Saturday, June 15 from 10:30 to 11 a.m. with Ms. Kristen of Music Together North Shore. Sign up here.
Blackbear offers clothing and accessories for children in sizes 0-6 from local and international vendors.
"I only buy sustainable and ethically-made items from small, independent designers," says Carollo.
Carollo also sells clothing that is primarily unisex and in colors that adults would wear rather then typical pink-and-blue attire for littles. She is also aware that sustainable, handmade clothing is more expensive than slow-fashion clothing from places like Target or Walmart, so quality is a top priority for her merchandise.
"Because it's more of an investment, I only carry stuff that you can pass down to your next kid or to friends or cousins," says Carollo.
Carollo chose the name because she enjoys traveling "Up North." Her mom came up with the idea for – and designed – the logo to look like a cuddly Teddy bear rather than a potentially scary-looking grizzly bear. Other family members and friends have been instrumental in Carollo's creation of the pop-up shop, including her nephew who contributes chalk drawings to the sidewalk in front of the store.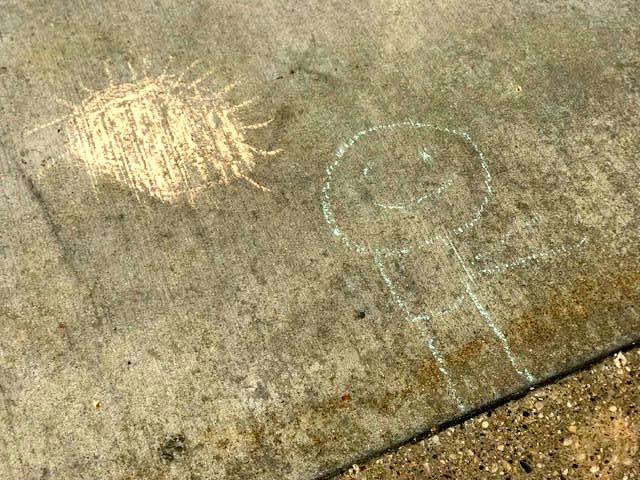 Although not officially open until Friday, Carollo has had her door open for a few weeks while getting the shop ready. Numerous passers-by have stopped in and told her how happy they are to have a kids' clothing shop on Downer Avenue again. Boutique Bebe was a longtime tenant on the block before it closed in 2016.
Carollo graduated from Shorewood High School and the University of Vermont before starting Blackbear's online shop in 2017. She became interested in kids clothing when her sister became pregnant a decade ago with her first child.
"Whenever I travel, I love to shop in unique kids' boutiques and bring home gifts for my nieces and nephews," says Carollo. "It's more fun to shop for kids."
Blackbear Children's Boutique is open through August on Wednesdays, Thursdays and Fridays from 10 a.m. to 6 p.m.; Saturdays from 10 a.m. to 5 p.m. and Sundays from 10 a.m. to 2 p.m.
Molly Snyder grew up on Milwaukee's East Side and today, she lives in the Walker's Point neighborhood with her partner and two sons.
As a full time senior writer, editorial manager and self-described experience junkie, Molly has written thousands of articles about Milwaukee (and a few about New Orleans, Detroit, Indianapolis, Boston and various vacation spots in Wisconsin) that range in subject from where to get the best cup of coffee to an in-depth profile on the survivors of the iconic Norman apartment building that burned down in the '90s.
She also once got a colonic just to report on it, but that's enough on that.
Always told she had a "radio voice," Molly found herself as a regular contributor on FM102, 97WMYX and 1130WISN with her childhood radio favorite, Gene Mueller.
Molly's poetry, essays and articles appeared in many publications including USA Today, The Writer, The Sun Magazine and more. She has a collection of poetry, "Topless," and is slowly writing a memoir.
In 2009, Molly won a Milwaukee Press Club Award. She served as the Narrator / writer-in-residence at the Pfister Hotel from 2013-2014. She is also a story slam-winning storyteller who has performed with The Moth, Ex Fabula and Risk!
When she's not writing, interviewing or mom-ing, Molly teaches tarot card classes, gardens, sits in bars drinking Miller products and dreams of being in a punk band again.