The OnMilwaukee Summer Festivals Guide is presented by Potawatomi Hotel & Casino. Create your summer story by participating in casino wide promotions with the chance to win big. This summer I will own it! Click here for more details.
Sure, he played the exact same encore as he did the last time he was in Milwaukee. But on this near perfect Summerfest night, Blake Shelton was different.
Different in that he's now a much bigger star. Different in that now he's also the most liked coach on "The Voice" and – for the youngsters and parents in the crowd – the host of the Nickelodeon Kids' Choice Awards. Different in that now he's with Gwen, not Miranda. And different in that he's now a headliner and not just an opener for George Strait as he was at Sunmerfest 2009.
Yet Blake Shelton was the same consummate entertainer he's always been, working the sold out and happily singing-along crowd while also working hard to win the competitive artist race that he conjured up to in part showcase his knowledge of Milwaukee's 11-day music party.
Party? Yes, indeed. The newly minted 40 year-old Shelton brought it big time on Friday with a two-hour set that kicked off with a rocking version of "Neon Light."
The guy's an entertainer, so "Light" led straight into "All About Tonight" before Shelton took to the mic for his well-known banter, style, swagger and silk that all seemed wonderfully genuine and only somewhat produced – produced because it didn't take long to endear himself to the hometown crowd with a hearty "Go Packers!" Everyone does it, but Shelton's between-song banter is some of the best in the business, and he used it well and often on Friday night, following up his Packers shout-out with, "You say that sh*t up front."
Mr. Stefani quenched any thoughts that his girlfriend would join him on stage, saying "no guest appearances tonight" to the crowd early in his set. Oh well. No Gwen, but Blake's got talent by himself as he ripped through hit after hit while sipping on a drink of supposedly some type of alcohol (most likely his Smithworks Vodka) from a black BS-embossed cup.
"Some Beach" led into "Ol Red" by George Jones before Shelton began talking to the guys in the audience about how not to use that Jones tune to win over their women. Then "Who Are You When I'm Not Looking" was the next tune up.
Like all great performers, Shelton played to the crowd, getting them to shine their phones like "Taylor does at her shows" and sing along on duet songs like "Gonna" and "My Eyes."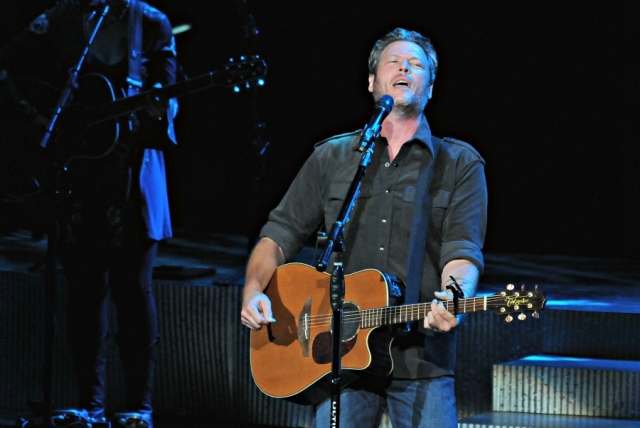 Shelton might be the biggest star to grace the Summerfest grounds this year. The dude is everywhere and probably has the most wide reaching fan base – one that spans generations with TV ratings and social numbers that are hard to match. 17-plus million on Twitter, alone.
Appeal and numbers aside, Shelton's stayed true to his country roots. As he recently told Rolling Stone, "Some people are just so stupid. If I've gone Hollywood, then AC/DC has gone country. It's that stupid of a statement. I feel like I'm doing this guy a favor by pointing it out to him."
Shelton proved it Friday by cranking out a huge version of "Hillbilly Bone" and a full band knock out version of "Austin," a song he did acoustic at his last Milwaukee show.
Again, as entertainers do, Shelton closed his set with three of best and most solid hits, "Home" (by Michael Bublé), "Honeybee" and the red neck anthem "Boys 'Round Here." The crowd loved it and sang and danced through all three.
As I mentioned, Shelton closed his Summerfest show the same way he did his last Milwaukee show with "Footloose" and "God Gave Me You." That's OK, though, because that's what great entertainers do. They showcase. They entertain. And they keep us wanting just a bit more.
Until next time, thanks Blake for taking another step up the Summerfest ladder and giving us all a wonderfully entertaining show.
Blake Shelton Set List
Summerfest – July 1, 2016
"Neon Light"
"All About Tonight"
"Doin' What She Likes"
"Kiss My Country Ass"
"Mine Would Be You"
"Some Beach"
"Ol' Red"
"Who Are You"
"Came Here To Forget"
"Gonna"
"My Eyes"
"Lonely Tonight"
"Hillbilly Bone"
"Sure Be Cool If You Did"
"Austin"
"She Got A Way With Words"
"Drink On It"
"Sangria"
"Home"
"Honeybee"
"Boys Round Here"
Encore:
"Footloose"
"God Gave Me You"
A life-long and passionate community leader and Milwaukeean, Jeff Sherman is a co-founder of OnMilwaukee.
He grew up in Wauwatosa and graduated from Marquette University, as a Warrior. He holds an MBA from Cardinal Stritch University, and is the founding president of Young Professionals of Milwaukee (YPM)/Fuel Milwaukee.
Early in his career, Sherman was one of youngest members of the Greater Milwaukee Committee, and currently is involved in numerous civic and community groups - including board positions at The Wisconsin Center District, Wisconsin Club and Marcus Center for the Performing Arts. He's honored to have been named to The Business Journal's "30 under 30" and Milwaukee Magazine's "35 under 35" lists.
He owns a condo in Downtown and lives in greater Milwaukee with his wife Stephanie, his son, Jake, and daughter Pierce. He's a political, music, sports and news junkie and thinks, for what it's worth, that all new movies should be released in theaters, on demand, online and on DVD simultaneously.
He also thinks you should read OnMilwaukee each and every day.