It's been five years since Blue on Greenfield opened in West Allis. The smoke-and-gift shop, located at 7223 W. Greenfield Ave., underwent a couple of big changes since firing up sales on Black Friday in 2009.
Owners Stephanie and Cody Pyfer started the business after living in China for a year during which time Cody studied Mandarin and Stephanie taught English. During their year abroad, they lived in Hong Kong and experienced both the excitement of the Olympics and the tragedy of a nearby earthquake that killed 50,000 people.
"It was a really intense year," says Cody.
The couple moved back to Milwaukee and decided to open an adult-oriented shop that was unlike anything else in the area. For the first year, Blue offered erotic products including films and "toys," but in late 2011, the couple decided to discontinue carrying such items.
"We were getting a bigger response to everything else we sold – the smoking accessories and the gifts – so we decided to focus on expanding our gift section instead," says Stephanie. "Plus, there is an adult shop nearby so it seemed like the right transition at the time."
Blue also expanded its glassware / smoking accessories and now advertises as having a "100-foot wall of waterpipes."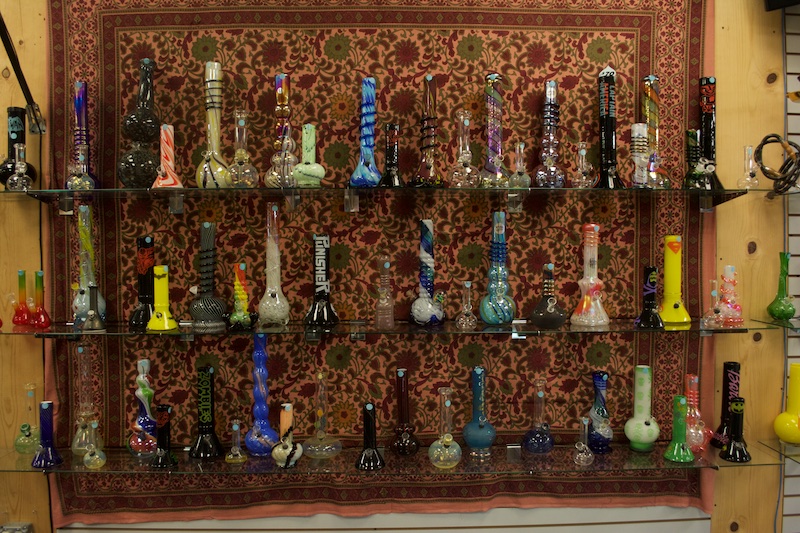 "We've made a lot of connections with glass blowers over the past five years," says Stephanie. "It's crazy how many people are starting to blow glass in Wisconsin. There's so much talent here, not just in California like people tend to think. The scene has erupted."
Blue also offers clothing, jewelry, incense, posters, tapestries, art and a few musical instruments. The couple purchases as much as they can locally and travels about once a year to trade shows in Madison, Las Vegas, Denver and / or New York City to further refresh Blue's offerings. Other items are imported from Central and South America.
Travel has always been important to the couple and is one of the reasons why they love owning a shop with imported items. In addition to living in China, they traveled to India and Nepal on their honeymoon after they were married in 2012. They also went to Costa Rica and Peru.
The couple now has six employees which free up a little more of their time.
"You work more hours when you own your own business, but it's also more flexible," says Cody. "Being your own boss is awesome and it's a lot more work."
When the couple first opened the shop, they lived around the corner from Blue, but recently moved further away to the West Side.
"We were literally 400 steps away from the shop," says Cody. "It's nice to have a little more distance, but close enough that we can still bike to work if we want to."
Currently, Blue does not have an online shop, but the couple says it's a possibility for the future. They continue to work on incentives to bring customers into the shop, including free tote bags or T-shirts for customers who spend $50 or a free sweatshirt for anyone who spends $150.
Cody's family owns Satori Imports, an Oshkosh-based smoke / imported gift shop that's similar to Blue and has been in business since 1969. His father originally opened it and his sister runs it today.
"Basically, we branched off from Satori in 2009 which means we're 40 years behind them," says Cody.
Unlike Satori, Blue is not in a college town – it's in West Allis. So where do their customers come from? 

"People have often said they're surprised we're not located on the East Side, but this location has been great for us," says Stephanie. "People travel from all over to shop here and we've found that it's not a certain demographic that comes in."
Greenfield Avenue has welcomed numerous new shops to the block in the last five years which has been good for Blue's business.
"It's more stroll-able for pedestrians. There's more to look at and check out," says Stephanie.
The couple says the last five years have been a huge growing experience for both of them. They learned a lot and found that the most important things they learned are to know their audience, to always be nice, that every sale matters, to never underestimate the power of list making and to appreciate expertise.
"Shops like ours tend to have a reputation of not being very welcoming, so we really strive to make everyone who walks in feel comfortable no matter what they're coming in for," says Cody. "No one has to walk through our doors, we're not the DMV. People choose to come in, which is something we really appreciate. No matter what industry you're in, there's someone there who's been doing it longer than you have. Listen to them. This doesn't mean you can't have new ideas and innovations, but don't forget to listen."
Molly Snyder grew up on Milwaukee's East Side and today, she lives in the Walker's Point neighborhood with her partner and two sons.
As a full time senior writer, editorial manager and self-described experience junkie, Molly has written thousands of articles about Milwaukee (and a few about New Orleans, Detroit, Indianapolis, Boston and various vacation spots in Wisconsin) that range in subject from where to get the best cup of coffee to an in-depth profile on the survivors of the iconic Norman apartment building that burned down in the '90s.
She also once got a colonic just to report on it, but that's enough on that.
Always told she had a "radio voice," Molly found herself as a regular contributor on FM102, 97WMYX and 1130WISN with her childhood radio favorite, Gene Mueller.
Molly's poetry, essays and articles appeared in many publications including USA Today, The Writer, The Sun Magazine and more. She has a collection of poetry, "Topless," and is slowly writing a memoir.
In 2009, Molly won a Milwaukee Press Club Award. She served as the Narrator / writer-in-residence at the Pfister Hotel from 2013-2014. She is also a story slam-winning storyteller who has performed with The Moth, Ex Fabula and Risk!
When she's not writing, interviewing or mom-ing, Molly teaches tarot card classes, gardens, sits in bars drinking Miller products and dreams of being in a punk band again.