Alfred L. Boerner – who was born in Cedarburg in 1900 and appointed Milwaukee County's Landscape Architect in 1927 – believed a park should be aesthetically pleasing as well as provide educational gratification.
Hence, when he later became the general manager of the Milwaukee County Parks System, he designed the botanical gardens in Whitnall Park to accomplish both these goals. The annual, perennial, rock, rose and peony gardens were constructed in the 1930s and the trial, herb, lily and shrub rose gardens came later.
Today, more than 100,000 people walk through the peaceful, colorful gardens every year. The Boerner Botanical Gardens is open from late April to early November, and closes for the winter. The gardens have programming all year in the Education and Visitor Center.
Recently, we took a tour of the gardens with Botanical Gardens director, Shirley Dommer Walczak. During our visit, we took in thousands of lilies in bloom, found out we were two weeks early for the second blooming of the roses, walked across a bog, snapped photos in front of a waterfall, checked out the collection of local public art and even rolled down a hill.
"People tell me all the time they remember rolling down this hill as children," says Walczak.
Best of all, we did not receive a single mosquito bite, learned a lot about flowers and realized what an incredible chunk of nature is available just 15 minutes outside of Milwaukee.
Here are 14 photos from our lovely visit.
1. Blooming lilies
2. An old, blue fish
3. A giving tree
4. A flower for a hat
5. A rose is a rose
6. A sundial made with railroad ties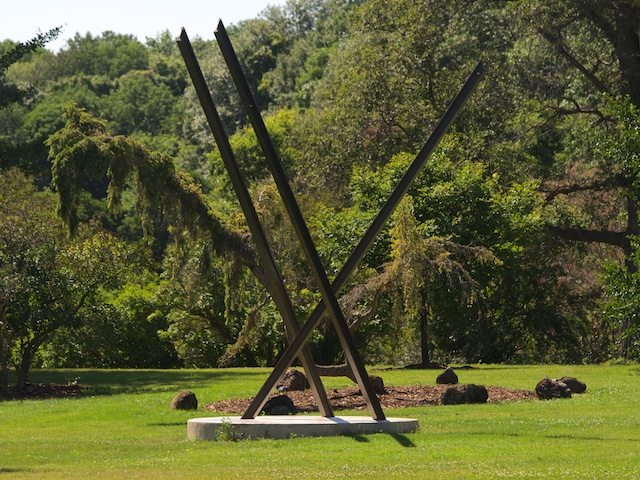 7. A shady bog bridge
8. A bunch of banana plants
9. Ten thousand yellow petals
10. A whimsical butterfly
11. A peaceful gazebo
12. A snippet of serenity
13. A trapezoid-shaped lawn (trust us on this)
14. A new Rotary Circle (not a trapezoid)
A bonus video (hopefully you don't have to pee):

Molly Snyder started writing and publishing her work at the age 10, when her community newspaper printed her poem, "The Unicorn." Since then, she's expanded beyond the subject of mythical creatures and written in many different mediums but, nearest and dearest to her heart, thousands of articles for OnMilwaukee.

Molly is a regular contributor to FOX6 News and numerous radio stations as well as the co-host of "Dandelions: A Podcast For Women." She's received five Milwaukee Press Club Awards, served as the Pfister Narrator and is the Wisconsin State Fair's Celebrity Cream Puff Eating Champion of 2019.