Alfred L. Boerner – who was born in Cedarburg in 1900 and appointed Milwaukee County's Landscape Architect in 1927 – believed a park should be aesthetically pleasing as well as provide educational gratification.
Hence, when he later became the general manager of the Milwaukee County Parks System, he designed the botanical gardens in Whitnall Park to accomplish both these goals. The annual, perennial, rock, rose and peony gardens were constructed in the 1930s and the trial, herb, lily and shrub rose gardens came later.
Today, more than 100,000 people walk through the peaceful, colorful gardens every year. The Boerner Botanical Gardens is open from late April to early November, and closes for the winter. The gardens have programming all year in the Education and Visitor Center.
Recently, we took a tour of the gardens with Botanical Gardens director, Shirley Dommer Walczak. During our visit, we took in thousands of lilies in bloom, found out we were two weeks early for the second blooming of the roses, walked across a bog, snapped photos in front of a waterfall, checked out the collection of local public art and even rolled down a hill.
"People tell me all the time they remember rolling down this hill as children," says Walczak.
Best of all, we did not receive a single mosquito bite, learned a lot about flowers and realized what an incredible chunk of nature is available just 15 minutes outside of Milwaukee.
Here are 14 photos from our lovely visit.
1. Blooming lilies
2. An old, blue fish
3. A giving tree
4. A flower for a hat
5. A rose is a rose
6. A sundial made with railroad ties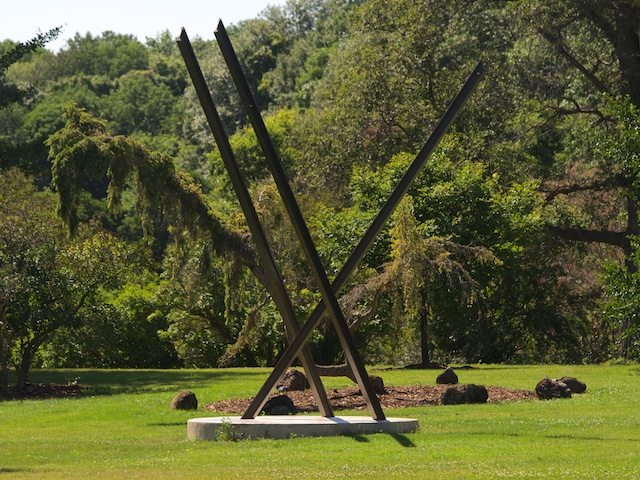 7. A shady bog bridge
8. A bunch of banana plants
9. Ten thousand yellow petals
10. A whimsical butterfly
11. A peaceful gazebo
12. A snippet of serenity
13. A trapezoid-shaped lawn (trust us on this)
14. A new Rotary Circle (not a trapezoid)
A bonus video (hopefully you don't have to pee):
Molly Snyder grew up on Milwaukee's East Side and today, she lives in the Walker's Point neighborhood with her partner and two sons.
As a full time senior writer, editorial manager and self-described experience junkie, Molly has written thousands of articles about Milwaukee (and a few about New Orleans, Detroit, Indianapolis, Boston and various vacation spots in Wisconsin) that range in subject from where to get the best cup of coffee to an in-depth profile on the survivors of the iconic Norman apartment building that burned down in the '90s.
She also once got a colonic just to report on it, but that's enough on that.
Always told she had a "radio voice," Molly found herself as a regular contributor on FM102, 97WMYX and 1130WISN with her childhood radio favorite, Gene Mueller.
Molly's poetry, essays and articles appeared in many publications including USA Today, The Writer, The Sun Magazine and more. She has a collection of poetry, "Topless," and is slowly writing a memoir.
In 2009, Molly won a Milwaukee Press Club Award. She served as the Narrator / writer-in-residence at the Pfister Hotel from 2013-2014. She is also a story slam-winning storyteller who has performed with The Moth, Ex Fabula and Risk!
When she's not writing, interviewing or mom-ing, Molly teaches tarot card classes, gardens, sits in bars drinking Miller products and dreams of being in a punk band again.