Bon Jovi performed for a sold-out crowd at the BMO Harris Bradley Center Sunday night, marking the arena's last ever concert before the 30-year-old venue is demolished and replaced by the city's brand new state of the art arena next door.
Although more than 17,000 of you filled the arena for the historic performance, with greater Milwaukee's population of 1.5 million, that puts our calculations at approximately 98.87 percent of you that missed out.
Whether fans attended to say farewell to the Downtown staple or whether they simply came to sing along to the New Jersey rocker's catalog of hits, there is no shortage of reasons why anyone who stayed home missed out on a memorable night. But we'll just give you 10.
1. A bittersweet ending to the BMO Harris Bradley Center
It's hard to imagine a better act to headline the last concert at the Bradley Center than Bon Jovi.
Not only has Bon Jovi performed at the arena more times than anyone not named Bruce Springsteen, but Bon Jovi was the first band to ever sell out the arena, with a 1989 performance during the arena's first concert season.
It all came full circle last night as the band that delivered so many great performances at the Bradley Center was able to give the building and its fans one last night of great live music – as well as the last entertainment event for the building, period, since the Milwaukee Bucks failed to advance into the second round of the NBA playoffs.
"Welcome to the last bash at the Bradley Center," Jon Bon Jovi said, addressing the historic night, adding, "I ain't leaving here until I see a bulldozer come through the back door," as his fans screamed. From there, Jon Bon Jovi kept the banter at a minimum and let the music do the talking for two hours straight.
2. They're Hall of Famers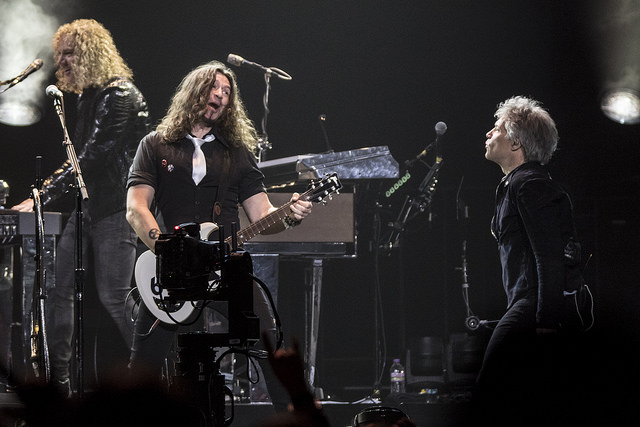 The timing of last night was also special for fans because Bon Jovi is just a couple weeks removed from their long-awaited induction into the Rock and Roll Hall of Fame.
If you caught the first month of dates for the current leg of Bon Jovi's This House Is Not For Sale tour, you would have simply enjoyed a night with a group of rock legends, but fans in Milwaukee were able to witness a group of rock and roll hall of famers.
Although many would argue that Bon Jovi should have been in the HOF even before the band's last Milwaukee visit, seven years ago, the timing of last night's performance and the band's recent induction was perfect. Bon Jovi's rode their Hall of Fame wave in Milwaukee, performing tracks new and old, never letting energy levels drop and reminding fans why they deserve their spot in Cleveland.
3. The show was for a good cause
To celebrate the Bradley Center's 30-year history of live entertainment, a portion of the concert's proceeds were donated to charity, including Camp Hometown Heroes, a local charity that provides support to children of fallen U.S. heroes. If you needed any other reason to witness Bon Jovi shut down the Bradley Center, helping support a good cause was an added bonus.
4. Jon Bon Jovi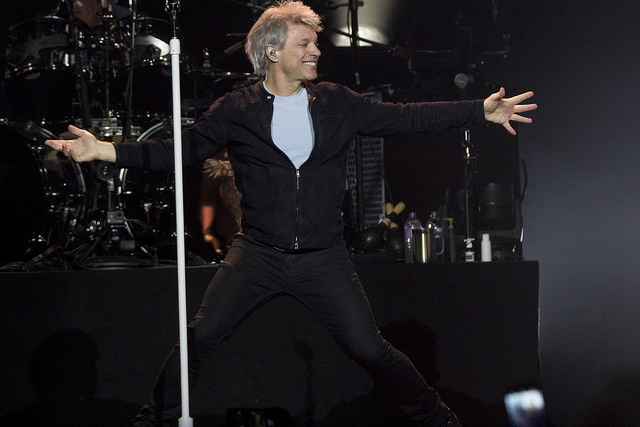 Bon Jovi quite literally is Jon Bon Jovi. Although the singer-songwriter surrounds himself with an immensely talented cast of musicians, including Phil X (guitar), David Bryan (keyboard), Tico Torres (drums) and Hugh McDonald (bass), the band would have more than naming rights problems if they were to ever move on without him.
From his infectious smile to his limitless supply of energy that he brings to his live shows, there is plenty to love about Jon Bon Jovi. Everything that makes the music legend so great was on display last night.
Three-and-a-half decades later, Jon Bovi Jovi's love affair with live performances is still as strong as ever. Sunday night was a party and Jon Bon Jovi was the perfect host.
5. They performed the classics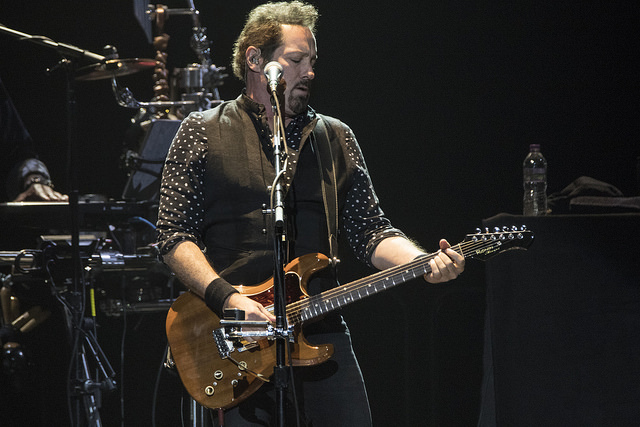 Although the band switches up their setlist every night, Bon Jovi always finds time to fit in the classics, and last night was no exception. While a significant portion of the setlist was dedicated to the 2016 album that gave this tour its name, Bon Jovi performed hit singles from the '80s and beyond.
An exceptional setlist was a must too, as the tour's production value was relatively basic for an arena concert. But once the music started, fans could have cared less about explosive pyrotechnics and an elaborate stage design. Kicking off the hits early with "You Give Love a Bad Name" and closing things out with encore performances of "Wanted Dead or Alive" and "Livin' on a Prayer," Bon Jovi kept the hits going from start to finish.
6. Tickets began at just $29.50
Although premium tickets went for as high as $549.50, a large number of tickets for last night's performance were available for a great price. Tickets began at just $29.50, as the band helped keep prices affordable by opening up seats behind the stage to fit in as many fans as possible. Whether you were front row center or in the nosebleeds, you witnessed a great performance on Sunday night.
7. Stereo Satellite
Due to a scheduling conflict for The Steepwater Band, the newly formed Stereo Satellite got the crowd warmed up in Milwaukee before Bon Jovi hit the stage.
Comprised of members of Disturbed (John Moyer), Adrenaline Mob (Mike Orlando/Jordan Cannata) and Rock Star Supernova winner Lukas Rossi, the band was more than excited to open up for Jon Bon Jovi and company. Speaking to fans, guitarist Orlando expressed that "the band could not be more excited to share the stage with such an iconic and legendary band as Bon Jovi. We cannot thank Bon Jovi enough for this amazing opportunity to perform to all their incredible fans at the BMO Harris Bradley Center in Milwaukee, WI."
Fans who got to the arena early were treated to an opening set from Stereo Satellite which gave those in attendance a taste of what to expect from their forthcoming debut album, including tracks like "A Beautiful Disaster" and "Live For Today." Speaking to the crowd, lead singer Rossi described the moment as "something we'll remember for the rest of our lives."
8. You could have got a high five from Jon Bon Jovi
To close out the main portion of their set, Jon Bon Jovi went into the crowd to perform tracks like "Amen" and the 1992 power ballad, "Bed of Roses." Jon Bon Jovi hugged fans and gave high fives throughout the crowd as he became one with the audience. If only you were there, that might have been you!
9. The show was (almost) record breaking
As mentioned before, Bon Jovi has blessed the stage at the Bradley Center more than anyone except Bruce Springsteen.
Historically, New Jersey artists have found a second home at the Bradley Center. Although Bon Jovi will finish in second place, performing at the Milwaukee arena a total of six times from 1989 to 2018, The Boss's record eight performances will hold as the arena is demolished this summer. Second place isn't too shabby, though!
10. Farewell tours are overrated
Although music fans said farewell to the Bradley Center last night, there is no need to say goodbye to Bon Jovi. "So many bands, they're in their 14th farewell tour," keyboardist David Bryan explained in a teleconference to promote the tour. "We're just going to keep doing it and having fun. The future has yet to happen and until then we're just going to keep having fun and making records and go play in front of the people and have a great time."
So while we can't wait for Elton John's Milwaukee stop on his 300-plus date farewell tour at the new arena, you shouldn't feel too bad if you couldn't make it to Bon Jovi's show last night. Because if what the band says is true, Bon Jovi will be performing for years to come. And it's just a matter of time until Milwaukee fans have the chance to see Bon Jovi live at the new arena.
Set list
"This House Is Not for Sale"
"Raise Your Hands"
"You Give Love a Bad Name"
"Whole Lot of Leavin'"
"Lost Highway"
"Roller Coaster"
"Born to Be My Baby"
"Who Says You Can't Go Home"
"It's My Life"
"We Weren't Born to Follow"
"Runaway"
"We Got It Goin' On"
"Keep the Faith"
"Amen"
"Bed of Roses"
"Lay Your Hands on Me"
"God Bless This Mess"
"I'll Sleep When I'm Dead"
"Bad Medicine"
Encore
"I'd Die for You"
"Wanted Dead or Alive"
"Livin' on a Prayer"