If you like this article, read more about Milwaukee-area history and architecture in the hundreds of other similar articles in the Urban Spelunking series here.
When Milwaukee County tapped McKim, Mead & White architect Albert Randolph Ross – who designed many civic buildings, especially libraries – to draw a monumental new courthouse for a site high above Kilbourn Avenue, it wanted some adorn the inside of its new Classical Revival palace with art.
For this, it tapped a Wisconsin artist to create 25 canvases, 24 of which would be installed behind the benches of courtrooms and one larger one that would adorn the County Boardroom.
As seems to always be the case when it comes to art – and especially public art which many will see – there was no shortage of drama.
Honor (above) and Justice (below).
With the installation this year of some large, colorful new murals in the corridors of the courthouse it seemed a perfect time to look back at the two dozen murals painted by Appleton-born Francis Scott Bradford in 1932.
Thanks to reader Kristine Kampa for sending me on the journey.
Born in Appleton in 1898, Bradford was the son and grandson of lawyers, who likely pushed the young man toward law and though he'd end up leaving his mark in the courtroom, it wasn't exactly how his father likely had intended, thanks to World War I.
"I grew up in an atmosphere not very conducive to the bringing out of any artistic taste," Bradford told the Sentinel in 1923. "I would no doubt have studied law and entered my father's firm but for the war."
Logic (above) and Mercy (below).
By 1917 he was in the army, where he became a Second Lieutenant after attending the first officers training camp in Fort Sheridan, Illinois. He was sent to France with the 41st Infantry Division, nicknamed the Sunset Division back then, where, he told the Sentinel, he visited cathedrals and galleries.
In between those visits, he was twice wounded, including once when he was left for dead on the battlefield with bullets lodged in his head.
Later, he was sent to Germany as a member of "Pershing's Own," the U.S. Army band.
While awaiting demobilization at Fort Dodge, Iowa, Bradford saw an advertisement for Cummings Arts School in Des Moines and signed up, focusing on portraiture and murals. In autumn 1920, he moved on to the National Academy of Design in New York.
He also attended Lawrence College (now University) in Appleton, which later bestowed an honorary degree.
In 1923, still in New York City, Bradford earned the prestigious Prix de Rome in painting, allowing him three years' free residence at the American Academy in Rome and the opportunity to explore more cathedrals and galleries on the continent.
The same year he also nabbed the Mooney Scholarship to study for three summer months at France's Fontainbleau School. After a quick visit home to Appleton, he was to sail for Paris on June 29.
Yet, said Bradford – whom the Sentinel described as, "tall and boyish, a marked contrast to the popular idea of the penniless artist starving in his attic" – "There is really nothing very remarkable to tell you about myself. I happened by the merest chance to take up the study of art, have worked night and day at it for the last three years, and that's about all."
By 1928, he was back in the States and exhibiting his work, working out of a studio at 1947 Broadway in New York. That year, a show included a copy he'd made of Sandro Botticelli's "Pallas and the Centaur" during his stay in Rome and six other oil paintings.
The New York Herald Tribune art critic Royal Cortissoz called the Botticelli copy, "one of the finest copies of an old master ever made."
In 1930, Bradford was hired to paint a mural, "The Descent from the Cross," which was installed at St. Dunstan's Chapel of the Resurrection of Christ Church Cranbrook, in Bloomington Hills, Michigan.
Bradford, with a studio now at 308 E. 51st St. in Manhattan, was clearly a talented, Badger State-born and bred artist. The perfect choice for the weighty new Milwaukee County Courthouse.
In early 1931 a panel comprising architect Albert Randolph Ross, Circuit Judge Charles L. Aarons, County Board representative Fred C. Heath, artist Francesco Spicuzza and Alfred G. Pelikan, director of the Art Institute and long a force in art education at Milwaukee Public Schools, selected Bradford's sketches for the proposed murals over sketches submitted by another 15 hopeful artists.
Having won the Milwaukee commission, Bradford would create 3x7-foot panels of allegorical figures for each of the courtrooms and a large historical panel for the boardroom. He would be paid $250 for each of the courtroom panels and $1,000 for the large painting.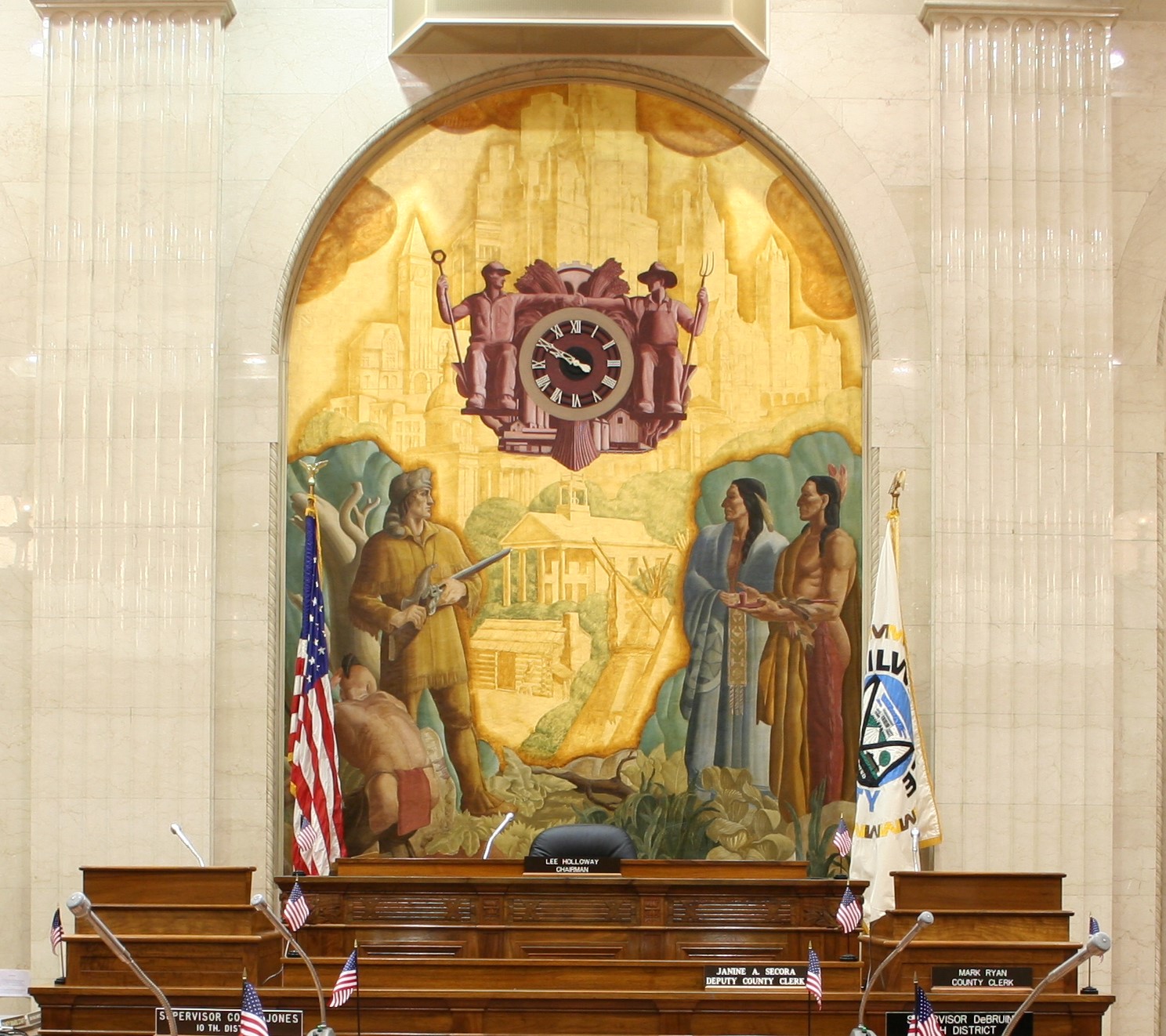 The historical mural. (PHOTO: Milwaukee County Board)
By early June, Bradford was in New York, working on a commission to create 10 panels tracing the history of chemistry for the Hooker Electrochemical Co., as well as on the courthouse works.
Although an unnamed "artist who viewed the preliminary sketches" told the Journal, "Mr. Bradford's pictures would stand up in any competition," not everyone agreed.
Surely sore at his loss, artist Frank Beatty – who also attempted, but failed to secure the commission – told the Journal that Bradford's works were, "not worthy."
The public itself could decide in late July, when Bradford's preliminary watercolor sketches for the works went on public view at Pelikan's Art Institute.
As the progress on the courthouse moved ahead, so did Bradford's work, which was traced across the year by the newspapers.
On Sept. 20, the Journal printed a photo of Bradford at work in his studio painting the 14-foot historical mural for the County Boardroom.
"He built scaffolding to be able to paint it," the paper noted. "He has been working 12 hours a day since March. They will be ready late in December or early January."
On New Year's Eve, the Journal said he'd still not finished. The same was true on Jan. 10, 1923, though they were to be installed in February.
On Feb. 6, the works were reportedly going to be ready for installation on March 10, though some were already complete.
Nine days later, the paper carried a photo of Ross and Bradford in Milwaukee discussing the installation.
On Feb. 17, the Journal chimed in on the artist's fee, taking the side you might not expect in a well-known penny-pinching town of "sewer socialists" like then-Mayor Daniel Hoan.
"Mr. Bradford's wage is higher than that of the common, or barn, painter. But not very much higher," it wrote. "It is a pertinent commentary on the esthetic condition of the fathers of the people that they ungrudgingly spent thousands of dollars on gaudy fixtures for the opulent lavatories but could spare only $7,000 for the mural adornments of their $10 million (sic) castello."
Some of the allegorical works were named "Perception," "Duty," "Security," "Mercy," "Law," "Order," "Wisdom," "Ethics," "Probation," "Knowledge," "Honor," "Logic" and "Judgment." The name of each was painted at the foot of the mural in a shaded box just below Bradford's signature.
In one courtroom – 206 – there is a family with a typewriter; a tribute to Christopher Latham Sholes, who invented the prototype of the modern typewriter a few blocks east of the courthouse.
As the works went up on the walls, the ire of some judges and other staff also elevated.
Allow me to share with you a section of the 1932 Journal article headlined, "Strength in this art too strong for some:"
"Behind the bench in the new courthouse in the courtroom Judge Walter Schinz will soon occupy, hangs a mural depicting 'strength.' At least two of the attaches to Schinz's court ... have shown a singular lack of appreciation of what the county board members term art. The two attaches, who admit that they 'don't know much about art,' commented feelingly on the mural.
"Strength is symbolized by the figure of a man, naked from the waist up, wearing a flowing gown and grasping a huge, blue snake. The snake is shown to be gasping, its fangs darting forth from its cavernous mouth.
"'Isn't that a hell of a thing to put in a courtroom,' queried bailiff John McManus. 'I'm not a student of art but I've got to look at that picture every day and if you asked me I'd say it's l----y. In fact, I think it's the lousiest picture of the whole lot. What kind of snake is that anyway? Who ever heard of a blue snake? Look at those fangs pointed right at the witness chair. Just imagine what some of these women witnesses will think when they step into the witness chair and suddenly see that wide open mouth. It'll probably scare them out of their wits and I've got the job of keeping order in the court'."
Clerk Theodore Kraschinsky? Also not a fan.
"I always thought snakes belonged in a zoo. Personally, I'd like to see a nice American flag behind the bench, just like we've had in the old courthouse."
Judge Schinz himself was deemed, "noncommittal."
"It's pretty nice, isn't it," he said.
However, the paper added, "It was learned that the other judges are happy that they did not get 'Strength' for their courtroom."
The team that chose Bradford struck back. Pelikan called the comments ridiculous, while other members of the committee were middling in their comments, saying things like, "Personally I'd prefer something historical but I think the murals will improve the more people look at them. The coloring is wonderful. We relied pretty much on the artists on the committee, Alfred G. Pelikan and Frank Spicuzza.'"
While Judge Charles Aarons suggested Pelikan, "prepare a pamphlet explaining the meanings of the artistry," Judge A.J. Hedding, "as a joke," covered the labor mural – which depicts a barefoot woman working in a field – with a curtain and a portrait of George Washington.
By the end of March, the County Board declared it was "satisfied" with the works and based partly on the murals, Bradford was elected to the National Academy of Design.
But the fury continued, with Dudley Crafts Watson, described by the Journal as, "the well known champion of the arts here and in Chicago," was reported to have, "shook his head sadly Friday night over the mural paintings in the new Milwaukee County Courthouse.
'They are misapplied art," he said. "All 25 of them should be somewhere else, I don't care where.'"
In early May, Art Digest alerted the world to the controversy, while tsk-tsking Judge Hedding for his curtain "joke."
Later that month Arthur Becher, an expat Milwaukee artist, said the works were in "disharmony" with the architecture – a building, it should be noted, called out for special derison by Frank Lloyd Wright – and called them, "Bad art, bad in color, bad in drawing and bad in their approach to the subject."
Notably silent during the drama, Bradford had returned to New York where he received more honors and more commissions. Later in the year, all he would say was that, "each must judge all art according to his own abilities."
In summer, humidity caused three of the murals to buckle and it was thought they they would "tighten up" when the heat was turned on upon the arrival of cooler weather. It appears that was the case, because the murals remain in place today.
That fall, when the heat was turned on, the Art Institute again displayed Bradford's sketches for the murals, perhaps in an attempt to quell the backlash.
Despite his so called "bad art" for the courthouse, Bradford went on to a long and distinguished career. In 1938 he painted 10 murals for the New York World's Fair, and came home in 1941 to paint a dozen more for the Outagamie County Courthouse.
Bradford, later in life, in front of a mural he was working on.
(PHOTO: Courtesy of Great Thoughts Treasury/Cornwall Historical Society)
In 1935, Bradford married Manhattan-born Art Deco ceramicist Thelma Saxe, who also taught crafts at Henry Street Settlement House and Manhattan's City and Country School.
He served as president of the American Academy in Rome for five years during the 1940s, and also returned to active duty as a captain in the chemical warfare division during World War II, later earning a medal for designing training equipment.
In 1953, he did a mosaic ceiling and apse depicting angels and aircraft for a U.S. military cemetery in Cambridge, England. That same year marked his final visit to Wisconsin, for a hunting trip.
In 1961, while living in Cornwall, Connecticut, Bradford suffered a heart attack at home and died at the age of 63.
At the time of his death he was a trustee of the Academy in Rome that helped give him his start in the world of art.
The blue snake of "Strength" is now in the courtroom of Judge Jean Kies, who has sat before it daily for 18 months.
"I talk about the painting in my speech to jurors," she tells me. "I talk about the painting being created by Francis Bradford, that he attended Lawrence University, that Bradford later moved to New York where he was a pretty prolific artist, and that most of the courts on the second, third, fourth and fifth floors of the courthouse have these paintings.
"Sometimes, I throw in the fact that our federal courthouse used to be filled with many artworks that are now in storage. I am very interested in art and history. I also talk to juries about the architecture of the courthouse."
But, Judge Kies admits, "I have other paintings that I like better than 'Strength.' The one in the County Boardroom is the best of the bunch.
"We jest and call him Brutus and the snake Slytherin."
Born in Brooklyn, N.Y., where he lived until he was 17, Bobby received his BA-Mass Communications from UWM in 1989 and has lived in Walker's Point, Bay View, Enderis Park, South Milwaukee and on the East Side.
He has published three non-fiction books in Italy – including one about an event in Milwaukee history, which was published in the U.S. in autumn 2010. Four more books, all about Milwaukee, have been published by The History Press.
With his most recent band, The Yell Leaders, Bobby released four LPs and had a songs featured in episodes of TV's "Party of Five" and "Dawson's Creek," and films in Japan, South America and the U.S. The Yell Leaders were named the best unsigned band in their region by VH-1 as part of its Rock Across America 1998 Tour. Most recently, the band contributed tracks to a UK vinyl/CD tribute to the Redskins and collaborated on a track with Italian novelist Enrico Remmert.
He's produced three installments of the "OMCD" series of local music compilations for OnMilwaukee.com and in 2007 produced a CD of Italian music and poetry.
In 2005, he was awarded the City of Asti's (Italy) Journalism Prize for his work focusing on that area. He has also won awards from the Milwaukee Press Club.
He can be heard weekly on 88Nine Radio Milwaukee talking about his "Urban Spelunking" series of stories.