Alan Gaulke was a trumpet player, music teacher and conductor who enjoyed, on his own time, helping people find the perfect – and most affordable – instrument. In 1971, he combined his passions and opened the first Brass Bell Music Store in Hales Corners.
He later moved the business to Port Washington Road, next door to Pier 1, and then a couple of blocks to the south into a space next to Ace Hardware. In 1984, fire destroyed the business and so Gaulke moved Brass Bell again, this time to the Bayshore Mall.
Brass Bell spent two decades in the mall, in two different spaces. When the mall made the decision to convert to the town center, Gaulke learned that his space would be demolished in the remodel. And so, he made one final move: to the current location, 210 E. Silver Spring Dr.
At one time, Gaulke had five Brass Bell locations – including one in Northridge Mall, Southridge Mall, Mayfair Mall and Regency Mall. Today, the Silver Spring store is the only location but, last month, the shop launched an online store.
Gaulke passed away a couple of years ago, but his daughter, Tristann Rieck, runs the business. Rieck is one of Gaulke's five children and has worked for the music store since the early '90s. She owned the business until 2006 with her brother, Todd, but is currently the sole owner.
Rieck graduated from Nicolet High School and the University of Wisconsin-Milwaukee.
"I thought I was going to be a math major," she says. "But I ended up graduating with a degree in Business and Finance with an economics minor. I aced accounting, which is the 'weed out class' for a lot of business majors, but I almost failed marketing and yet here I am, marketing every day."
Brass Bell rents, sells and repairs instruments. Currently, more than 2,500 instruments are out on loan. The most popular rentals, according to Rieck, are the stringed instruments, which is unusual.
"If you look nationwide, most music stores rent mostly band instruments – flutes, clarinets, trumpets, trombones – but we have some really great string programs in this area, so more than 50 percent of our rentals are strings, which is almost unheard of," she says.
The 8,000-square foot store also provides lessons on band instruments, strings, ukelele, guitar, banjo, (sometimes) mandolin and piano. Brass Bell has 16 studios and 1,100 students every week. The majority of the students are kids, specifically in fourth and fifth grade, but not exclusively.
"We have a lot of adult students, too," says Rieck. "People who played when they were younger or always wanted to play and decided to give it a try. This is why rental is such a great opportunity – people can try it out and if they like it, the rental cost applies toward the purchase price."
All of the employees, from the instrument teachers to the counter workers, are active musicians.
"It's important that everyone who works here loves and understands music," says Rieck. "For me, the most fascinating moments of my life have happened while I was playing or listening to music. Music is extremely nurturing and it connects people around the world. It doesn't matter what language you speak, music is universal."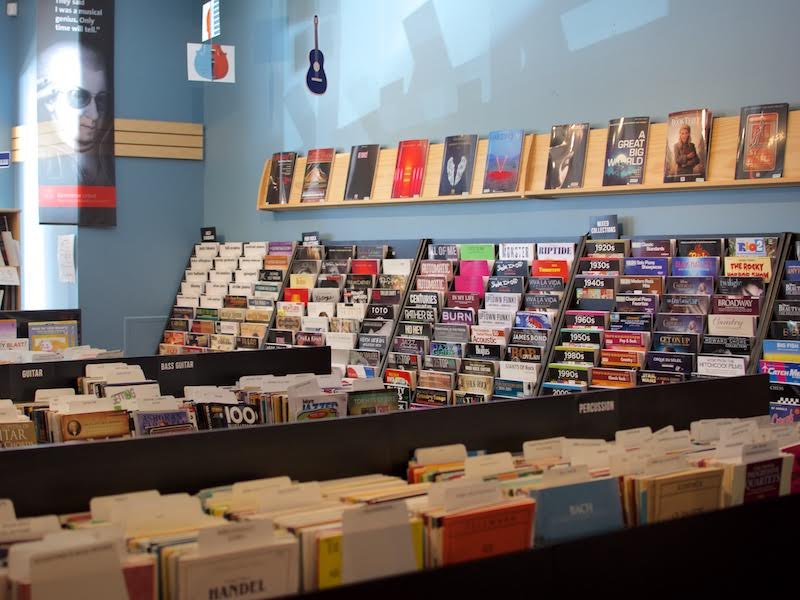 Molly Snyder started writing and publishing her work at the age 10, when her community newspaper printed her poem, "The Unicorn." Since then, she's expanded beyond the subject of mythical creatures and written in many different mediums but, nearest and dearest to her heart, thousands of articles for OnMilwaukee.

Molly is a regular contributor to FOX6 News and numerous radio stations as well as the co-host of "Dandelions: A Podcast For Women." She's received five Milwaukee Press Club Awards, served as the Pfister Narrator and is the Wisconsin State Fair's Celebrity Cream Puff Eating Champion of 2019.