The 2022 Brewers campaign is looking a little grim – so let's look ahead to next year as Milwaukee released its 2023 regular season schedule, complete with some intriguing surprises.
The Brew Crew's 2023 season will throw out its first pitch on the road, starting on Thursday, March 30 at Wrigley Field with a three-game series against the Chicago Cubs. After that trip, the 2023 Brewers will take Am Fam Field for the first time on Monday, April 3, for a 1:10 p.m. home opener against the New York Mets. Months later, the season will wrap up in Milwaukee with two high-profile (and hopefully very meaningful) three-game series against the divisional rivals St. Louis Cardinals and Chicago Cubs.
In addition to the usual familiar faces, however, the Crew's schedule features some surprising foes for 2023.
Thanks to Major League Baseball's new scheduling approach, rather than playing all the National League teams plus just a few American League squads in interleague play, the Brewers will actually play all 29 other MLB ball clubs next year – which means the 2023 slate includes visits from the Boston Red Sox, Los Angeles Angels, Baltimore Orioles, Oakland A's, Houston Astros, Kansas City Royals and Detroit Tigers, all in one season. As for the AL squads that aren't coming to Milwaukee – the Seattle Mariners, Cleveland Guardians, New York Yankees, Toronto Blue Jays, Texas Rangers, Tampa Bay Rays and Chicago White Sox – the Brewers will play them on the road in 2023, switching locales every other year. And when it comes to their former AL Central rival Minnesota Twins, the Brewers will continue the tradition and play them both at home and on the road next year.
Anyways, with no further ado, here's the full 2023 slate for the Milwaukee Brewers – complete with every MLB team on the schedule:
🚨The 2023 schedule has arrived🚨

Check out next year's matchups and plan a trip to the ballpark: https://t.co/ZP3BKiY8cO pic.twitter.com/4H0khaMbh3 — Milwaukee Brewers (@Brewers) August 24, 2022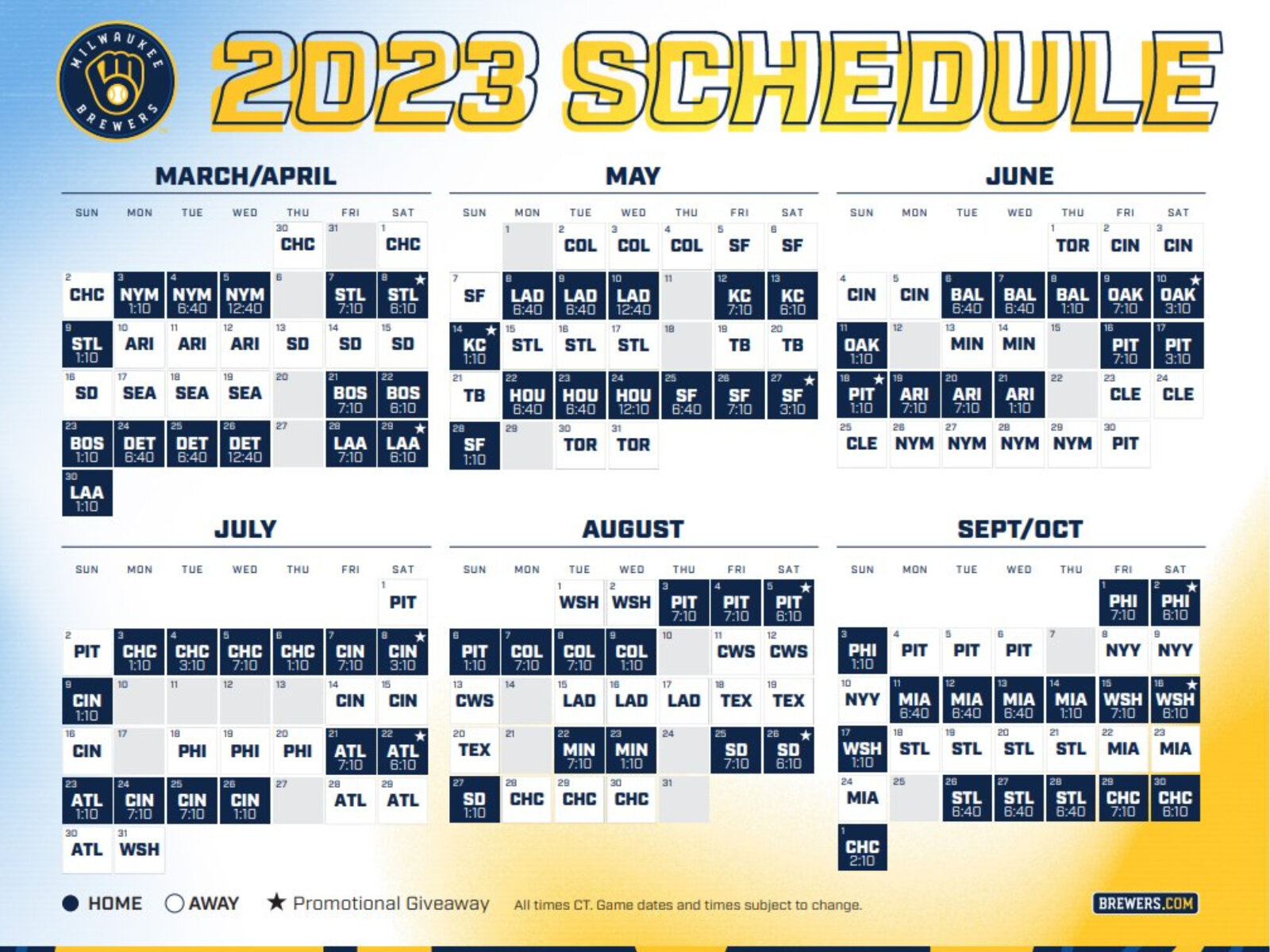 For more information on the Brewers schedule, click here.
As for the current season, thanks to their recent scuffles, Milwaukee is 5.5 games out of first place in the NL Central – but also just a game and a half back of claiming a Wild Card spot with more than a month left to go. So it's not that grim! We've seen the Brewers in worse position before – so let's cheer for a strong finish for the Crew and hopefully yet another postseason appearance, where anything can happen.
For more Brewers updates, stay tuned to OnMilwaukee.
As much as it is a gigantic cliché to say that one has always had a passion for film, Matt Mueller has always had a passion for film. Whether it was bringing in the latest movie reviews for his first grade show-and-tell or writing film reviews for the St. Norbert College Times as a high school student, Matt is way too obsessed with movies for his own good.
When he's not writing about the latest blockbuster or talking much too glowingly about "Piranha 3D," Matt can probably be found watching literally any sport (minus cricket) or working at - get this - a local movie theater. Or watching a movie. Yeah, he's probably watching a movie.