Of the seven-player contingent that the Brewers sent to the just-completed Arizona Fall League (AFL), two are among MLBPipeline.com's Top 100 prospects: Brett Phillips (#66) and Isan Diaz (#97).
That each of these players is still a couple years away from playing at Miller Park should not shake Brewer fans' enthusiasm, nor cause them to doubt the "rebuild."
The 2016 season marks the 25th for the AFL, long considered professional baseball's finishing school. Each organization sends six to eight prospects to play six games a week for six weeks. This past season, the Brewers were joined by players and coaches from Detroit, Atlanta, Colorado and Arizona on the Salt River Rafters.
Pitching coach David Chavarria said of four pitchers Jeff Uhen, Javier Salas, Tyler Spurling and Tayler Scott, "Brewer fans can feel excited about these pitchers because all of them are competitors. Some are velo (short for velocity) guys, and others are more feel guys. It's going to be fun watching these guys compete."
Chavarria is also the pitching coach for the Brewers' High-A Brevard County minor-league team, and all but Scott have pitched for him there.
Here's a brief recap of how the Brewers pitchers fared in the AFL:
Javier Salas
Selected by the Brewers in the 10th round of the 2014 draft out of the University of Miami, the 6-foot-4, 24-year-old right-handed starting pitcher was 0-2 in six AFL appearances, five of which were starts. He was tagged for 16 hits and 13 earned runs in 15.1 innings and had control issues, walking 11 and only striking out 10.
Tayler Scott
The 24-year-old righty put up the best AFL numbers of all the Brewers pitchers. He was 0-1 with a 1.88 ERA in nine relief appearances covering 14.1 innings. He struck out 11 and walked six, holding batters to a .226 average. The Brewers signed him to a free-agent minor-league contract in 2016.
Tyler Spurlin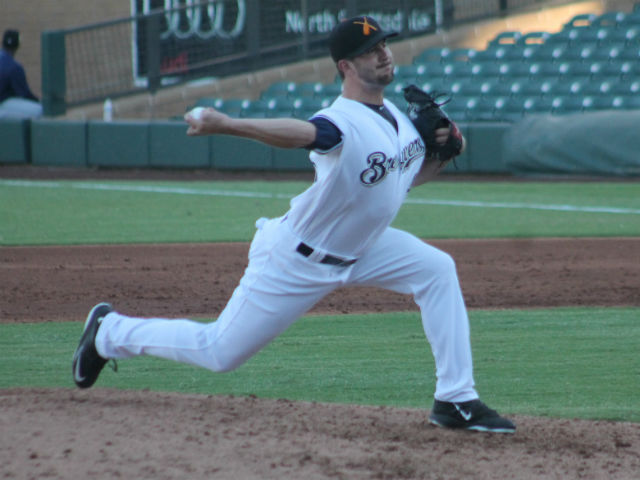 The Brewers signed the 25-year-old as an undrafted free agent out of Rice University in 2013. The right-handed reliever logged 16 AFL innings, going 1-0 with a 2.81 ERA and one save. He struck out 14 batters and held opposing hitters to a .158 average.
Jeff Uhen
The product of the University of Wisconsin-Milwaukee had a rough time in Arizona, posting a 6.39 ERA in 12.2 innings (nine appearances).
"Uhen is the biggest velo guy, the local kid from Oshkosh; he can get it up to 97 mph, and everyone likes the velo guy that can bring it," said Chavarria.
When asked about ground-ball pitchers, Chavarria said, "We've got a couple guys; one is Spurlin because he's a sidearm guy, and he just started that a year ago. He's impressive development-wise, how quickly he has come along. He's one of those guys that when he's throwing down there his velocity picks up, and we got him at 93-94 at times. You don't see that with Brewers development often, so that's something to get excited about."
With 17 of the Brewers' top prospects being position players, it's logical that the three playing in the AFL this year would be among that crop, and while none of them had especially spectacular AFL seasons, there is room for hope – especially since each of the players came over in recent trades as part of the rebuild.
The 20-year-old middle infielder Isan Diaz (No. 7 within the Brewers organization) had the most productive regular season and AFL season of the three position players. In his first season with the Brewers, Diaz led the Midwest League in homers (20) and total bases (238), while posting a .264/.358/.469 slash. That he earned postseason all-star honors despite being among the younger players in the league is no surprise. He also made the midseason switch from short to second base and settled in quite nicely.
Diaz was selected by the Diamondbacks with a compensatory pick in the 2014 draft out of high school. He came to the Brewers this winter in the trade that brought Aaron Hill and Chase Anderson to Milwaukee in exchange for Jean Segura and Tyler Wagner.
Not one to rest on his laurels, he wanted to use the extra seasoning to his advantage. He said, "I wanted to continue to play the game I know how to play it, but also to learn from the older players and coaches who have been in the game longer."
In 17 AFL games, he batted .239 with one home run and five RBI, but impressed coaches nonetheless. Count Salt River hitting coach Phil Clark among those in his camp. "We're all excited about him, with Isan, it's his age and where he's at with his development," he said. "He's gotten himself acclimated, and he's comfortable with the guys."
Fitting in has never been a problem for the affable kid from Puerto Rico, by way of Massachusetts. He is very close to his family and friends, and while he is likely a couple years away, everyone is excited about his future.
"Isan goes out there like he's been playing for a long time, " Clark said. "That's what really stands out about him. Obviously you can see he's going to be a really good ballplayer one day, and he is really easy to coach."
It's very difficult to project young prospects, no matter how highly they are rated, but one common thread connecting these three position players is their eagerness to listen and learn.
Brewers GM David Stearns is very familiar with the other two players as they came from the Houston Astros.
Jacob Nottingham, the twice-traded 21-year-old catcher, might have the clearest path of the three to the big leagues, but he might be the last to arrive. With the midseason trade of Jonathan Lucroy to the Rangers, there is not a real catching prospect blocking Nottingham.
Having been selected by the Astros in the 6th round of the 2013 draft directly out of high school, Nottingham has a higher hill to climb. Chavarria said, "Jacob's working hard at it. It's a slow process, and he's a young kid and has gone through some changes, trades lately. He's trying to feel his way. There are times when he is very good and times when he needs to improve, and that's why he is here."
In 2015, Nottingham (ranked No. 14 in the system) was traded to Oakland by the Astros (for Scott Kazmir) and, this past February, was acquired by the Brewers in the trade for Khris Davis. He's shown great maturity considering all the recent changes.
"I think it's great that it happened early this year so I haven't really thought about it. I'm just trying to do my best with the Brewers," he said.
Nottingham is a work in progress both offensively and defensively. In 19 AFL games, he batted .203 with one home run, eight RBI, five errors and five passed balls while striking out 32 percent of the time.
He does possess a strong arm, and the ball jumps off his bat when he makes contact. It's obvious that he was a pretty good high-school football player as he looks like a former linebacker.
Count Chavarria among the believers: "He's swinging the bat and is learning more about the mental side of catching. He's going to be a real good one."
Astros prospect and former teammate Nick Tanielu said, "Jacob's a big goofy guy that puts in the work and has incredible talent with really big upside. He's a great clubhouse guy off the field. On the field, you're going to want him at bat in the late innings so he can run one out of the house."
Salt River hitting coach Phil Clark said, "He's a strong kid, and he's got a lot of questions every day and has a lot of potential. We like where he's at too. A lot of his questions are general; he'll show up and have a good game, and we'll go over that. He's researching and definitely on the path of trying to figure out what it's going to take to be consistent both offensively and defensively."
Nottingham was the starting catcher for the East squad in the prestigious Fall Stars Game. He batted seventh, went 1-for-2 and scored a run after driving in the first run with a rocket off the top of the left field wall.
Brett Phillips' route from the Astros to the Brewers was more direct than Nottingham's. The 22-year-old outfielder came to the Brewers with pitchers Josh Hader, Adrian Hauser and outfielder Domingo Santana in exchange for Carlos Gomez and Mike Fiers, and is the No. 8 prospect in the system.
In his first full season with the Brewers, Phillips batted a career-low .229 after hitting over .300 in 2014 and '15. He hit 16 homers and drove in 62 runs but struck out a career-high 154 times.
When asked about the drop in average, he said, "I was batting in the three hole and trying to do too much, and that's going to happen when you press."
If hard work, talent and enthusiasm count for anything, the drop in productivity is temporary. The high-energy outfielder is the type of player that can drive a team and excite fans. The Brewers faithful will love Phillips' attitude.
Phil Clark said, "Brett is our energizer, and hitting-wise, we've covered a lot of ground. Brett's come to me, and we've had some conversations. The good thing is that I've been able to make a couple comments he's catching on real quick, and he's moving forward right now. He's doing a lot of good things, his staying focused on a daily basis to be consistent."
In 19 fall league games, he batted .210 with nine RBI and 14 runs scored. Despite his average, he showed great plate discipline with a .383 OBP.
Phillips also started for the East team in the Fall Stars Game going 0-for-2 from the two spot. He also made a rare error in right field.
Brett's favorite player is Mike Trout but sees himself as a Brett Gardner or Jacoby Ellsbury type of player and, like Nottingham, views the trade that brought him to Milwaukee as a great opportunity. He might have the more difficult path to the majors, but the payoff may be the greatest too.
While there is no guarantee that all of any of the seven AFL participants will ever reach or succeed at the major league level, management's approach to the rebuild is sound.