So much for that lack of momentum going into the postseason.
The NL Central champion Brewers got back to their winning ways to start the NLDS, scoring just enough to take Game 1 of their five-game series against the Atlanta Braves, 2-1. As that score would imply, the game was mostly a pitcher's duel between Corbin Burnes and Braves ace Charlie Morton, sitting down batter after batter until the seventh inning arrived and the Brewers got rowdy with Rowdy. And gratefully that was all the Crew would need to claim Game 1.
Now it's on to Game 2 on early Saturday evening back at American Family Field – but before we throw out the first pitch on hopefully another win, let's take a look back at a hard-earned playoff-opening victory for the Crew.
1. Pregame party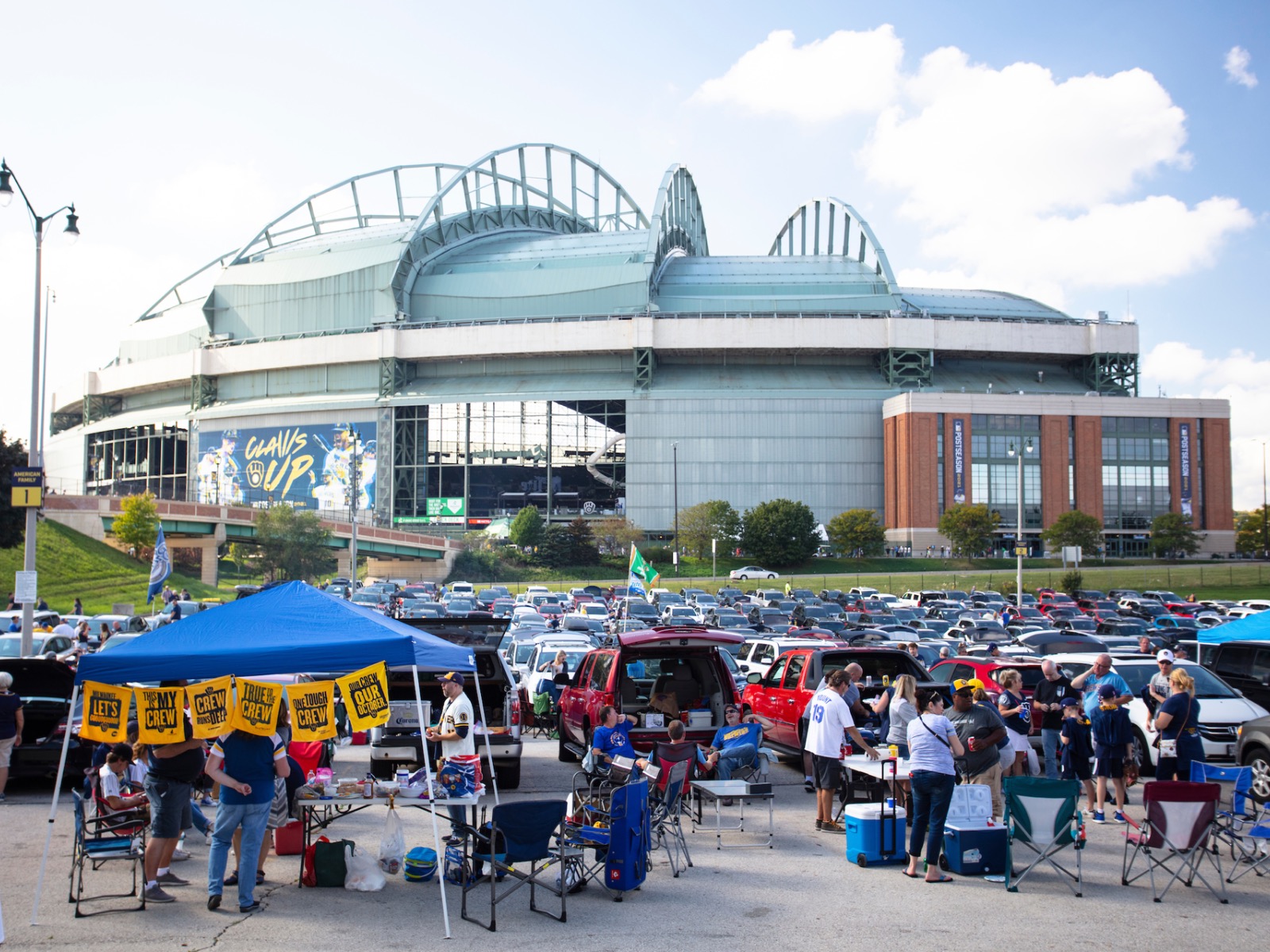 It wouldn't be a proper Brewers game without that almighty Wisconsin tradition: the tailgate. And indeed, the fans – a dang-near close-to-sellout crowd – came out in droves to celebrate the Brewers' postseason in the parking lot before moving into American Family Field and bringing the party inside.
2. Claws up!
This is pregame good luck, right? ⁦@DimTillard⁩ #Brewers #ThisIsMyCrew pic.twitter.com/ubprPwaHAD — Laura from the 608 (@hemming_hawing) October 8, 2021
The Brewers' official rallying cry of the playoffs is all over Downtown Milwaukee, on the field, outside the stadium and, now, inside the stadium too with this new ferocious photo op for fans in section 106 in the right field corner.
3. Lookin' good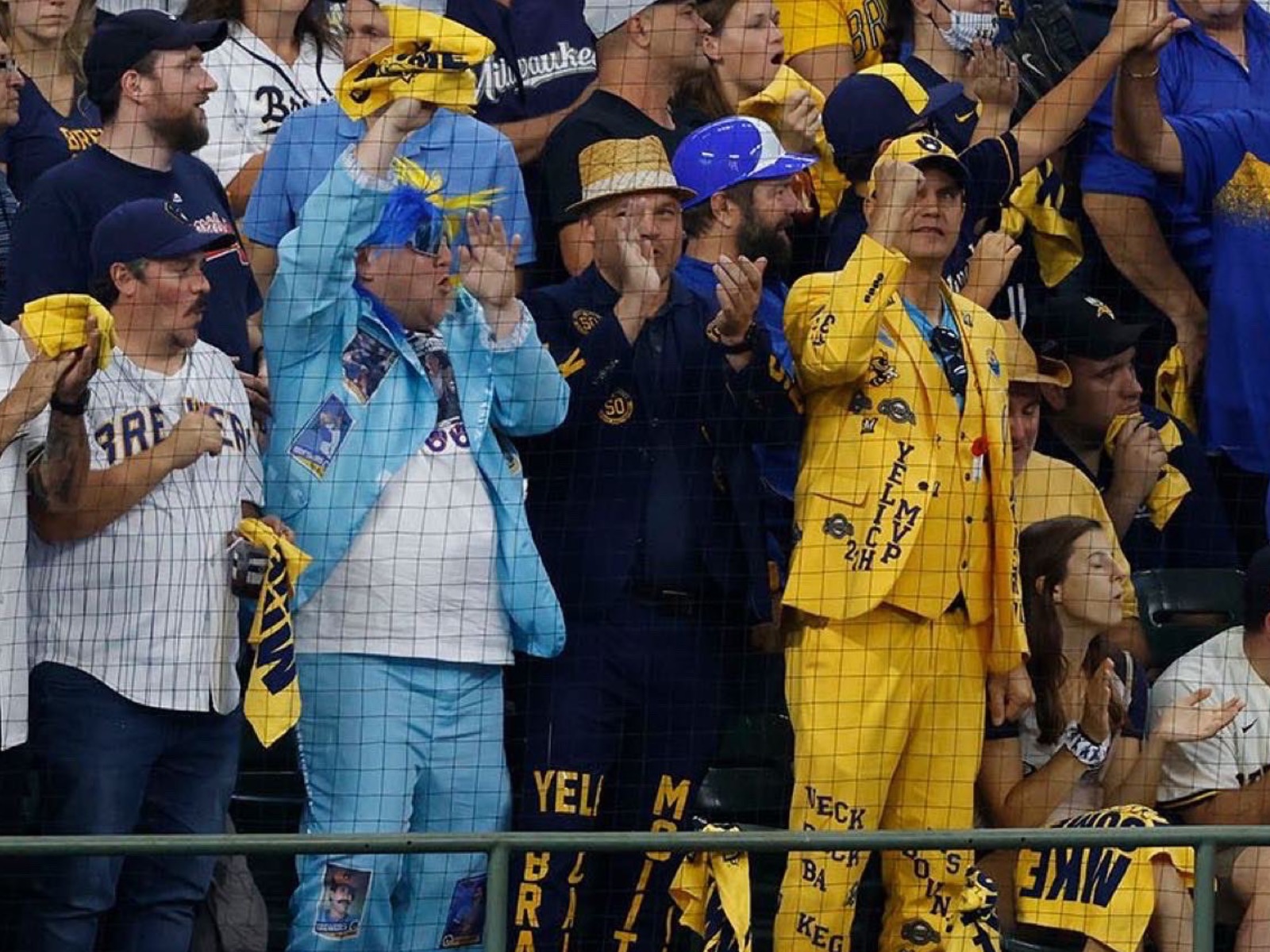 While the Brewers made a statement on the field on Friday night by beating the Braves, some Brew Crew fanatics made a different kind of statement: a fashion statement. It's hard to decide which of these custom Brew suits is best ...
I found the most fashionable man at today's @Brewers game pic.twitter.com/80i6cyYapo — Matthew Mueller (@aManAboutFilm) October 8, 2021
Oh, I choose that one.
4. Diamond icons
Bud Selig and Bob Uecker getting this party started at @AmFamField! Let's go
Milwaukee!! Game 1!! #clawsupmke #NLDS #brewers #ThisIsMyCrew

Vid: @aManAboutFilm 🙌 pic.twitter.com/lnMeQw2vK6 — OnMilwaukee (@onmilwaukee) October 8, 2021
A history-making trip to the postseason deserves some history-making icons throwing out the first pitch – so to start this fourth consecutive postseason trip, the Brewers brought out a duo of Hall of Famers: radio voice Bob Uecker and former MLB commissioner (not to mention man who helped keep the Brewers in Milwaukee) Bud Selig.
5. A salvaged start
BIG TIME DEFENSE 🔒#ClawsUpMKE pic.twitter.com/UqyANBc7A7 — Milwaukee Brewers (@Brewers) October 8, 2021
Ace Corbin Burnes and the Brewers didn't quite get off to the start he wanted, really efforting his way through the first inning. Burnes struggled to find the strike zone consistently, walking his first two batters – and, to add insult to injury, catcher Omar Narvaez gave up a passed ball to top off the second walk, letting Braves leadoff man Jorge Soler get to third. It was not great ... until thankfully Burnes got a ground ball out of Ozzie Albies that turned into a close double play at home plate due to Rowdy Tellez's quick thinking at first base.
They took the long way to a clean inning, but a zero on the board after a long inning is still a zero – and Burnes would put up several more after the first, in far less dramatic fashion.
6. Burnes-ing up the Braves
🎨 pic.twitter.com/QU7T2ZjX10 — MLB (@MLB) October 8, 2021
After that not-exactly-soothing start, Burnes settled down quite nicely – and in turn setttled down the Braves, no-hitting Atlanta into the fifth inning and striking out six along the way. Thankfully, the Brewers wouldn't waste his overpowering performance and would eventually take the lead in particularly rowdy fashion ...
7. Let's get rowdy
ROW-DY! ROW-DY! ROW-DY!#ClawsUpMKE pic.twitter.com/mXkMqzcMa6 — Milwaukee Brewers (@Brewers) October 8, 2021
After inning upon inning of smothering pitching for both teams, things finally got rowdy on the scoreboard – quite literally, as first baseman Rowdy Tellez blasted the Brewers onto the scoreboard with this seventh-inning two-run homer. In case we couldn't love a guy named Rowdy even more ...
8. Scary, but saved
The #Brewers win Game 1 of the NLDS, 2-1.

Corbin Burnes pitches 6 scoreless, Josh Hader closes the door in his 22nd straight appearance without allowing a run, and this place got Rowdy. pic.twitter.com/9q5HQOqjrb — Stephen Watson (@WISN_Watson) October 8, 2021
Because nothing with Milwaukee sports teams can come easy, things got tense in the final frame as Josh Hader walked Freddie Freeman and gave up a hit to Austin Riley to put the winning run on base. Thanks to a ground ball, Freeman would stand 90 feet from tying the game – but thankfully Hader brought the heat and got former Brewer Orlando Arcia to ground out to end the game and give the Crew the 1-0 series lead. Two more to go ...
As much as it is a gigantic cliché to say that one has always had a passion for film, Matt Mueller has always had a passion for film. Whether it was bringing in the latest movie reviews for his first grade show-and-tell or writing film reviews for the St. Norbert College Times as a high school student, Matt is way too obsessed with movies for his own good.
When he's not writing about the latest blockbuster or talking much too glowingly about "Piranha 3D," Matt can probably be found watching literally any sport (minus cricket) or working at - get this - a local movie theater. Or watching a movie. Yeah, he's probably watching a movie.