Like a kid in a candy store – or, a more apt simile, a 30-year-old beer-lover in a brewery – Eric Thames ambled through the MillerCoors facility Monday, wide-eyed, grinning and snapping photos, listening intently to tour guides and speaking enthusiastically to brew masters, eager to learn about the beer-making process and to gain insight that will inform the unique brew he and a couple of teammates are creating, which will be released during a special theme night later this summer at Miller Park.
Thames, along with relievers Corey Knebel and Oliver Drake, visited the MillerCoors pilot brewery today, getting into the science of beer and officially beginning the production phase. It continued the evolution of an idea that started organically enough – Thames talking last month about his love of beer and how Milwaukee has great beer – and is just about the most intuitive, and marketable, connection imaginable for the Brewers, MillerCoors, Thames and fans.
After a tour of the production plant, the trio of players got down to business in the Flying Hippo innovation room at MillerCoors' Technical College, where they met and worked with the Master Brewers there, selecting an experimental hops – grower number 438, which they picked largely based on smell – and starting the brewing process. Thames had already earlier submitted his "wish list" for style, taste, appearance and aroma to the experts, and the final product, along with its name, will be revealed at a later date.
But comments from the players gave some indication of what fans can expect from the new Miller Park brew, and it doesn't sound like they're making a Milwaukee's Best.
"A good, heavy beer with some flavor that will help fans cheer on the Brewers a little louder," said Thames, a professed fan of IPAs and Belgians. "I like heavy beers. I feel like, with one or two, you can enjoy the taste, you feel good a little bit and that's it; you're not going to drink 15 or 20 beers, like you're drinking light nasty beers."
Added Knebel (below, second from left), a home-brewer the last few years who said he doesn't like making light beers and won't drink a fruity one: "It'll be special, different, something that no one's ever had. We're using different hops. This is a dream come true to get to brew my own beer at MillerCoors."
Drake (above, third from right), who was acquired by Milwaukee via trade a month ago, said the players picked the hops "that smelled the best, so hopefully that translates to it tasting the best," and he's hoping for something that fans can easily enjoy while watching a game at the ballpark. The 30-year-old righty admitted he doesn't know a lot about brewing yet – "I'm standing here just like, 'Oh, yeah, that's a good beer" – but said it's going to be "awesome; a really cool experience" to learn and be involved.
According to one of the brew masters, based on the taste preferences, the beer probably will be an IPA and is not likely to exceed 7 percent ABV.
While Thames' fondness for beer was the impetus for this whole thing, he's new to brewing. As Knebel said, "He's big into drinking it; he doesn't know too much about making it, but he really likes to drink it." Even as a consumer, Thames said he's not a connoisseur yet – you know, on account of being a professional athlete – though, perhaps, eventually.
"I can't drink as much as I want just because I have to play and stuff like that, but when I'm retired hopefully I can start really enjoying it a little more," Thames said. "The different notes and certain hops, all the smells, it makes me respect the brewmasters – those guys train for years and years to really get their taste buds and get that perfect mixture of beer. I respect it. One day I'll learn."
Seeing the inner workings of MillerCoors, the brawny, bearded slugger also appreciated the history and production process.
"It's pretty cool how back, like, 50 years ago, people were doing this all by hand, shoulder to shoulder, working together, and now there's all this machinery," he said. "It's crazy, when you buy a 12-pack of whatever at the store, you don't really realize all that went into it – all the machinery, the computers and sensors. It's pretty overwhelming but it's cool."
Given' Thames comments and popularity – he's fast become a fan favorite for his appearance, personality and production – and the city's relationship to beer, Brewers COO Rick Schlesinger said "it didn't take a rocket scientist" to see a "natural fit" with MillerCoors, the team's longtime sponsor and naming rights partner.
He said it was also an opportunity to introduce Milwaukee's players to the hometown brewery, allowing them the chance to create a craft beer for their fans to enjoy.
"The best ideas really are organic, and if you try to get too corporate or too structured, it doesn't feel authentic and your fan base instantly knows when something's authentic and something's not," Schlesinger said. "So we reached out to the folks at MillerCoors and said let's do something fun, let's design a beer, let's make it an event and make it special and authentic, and they jumped at it.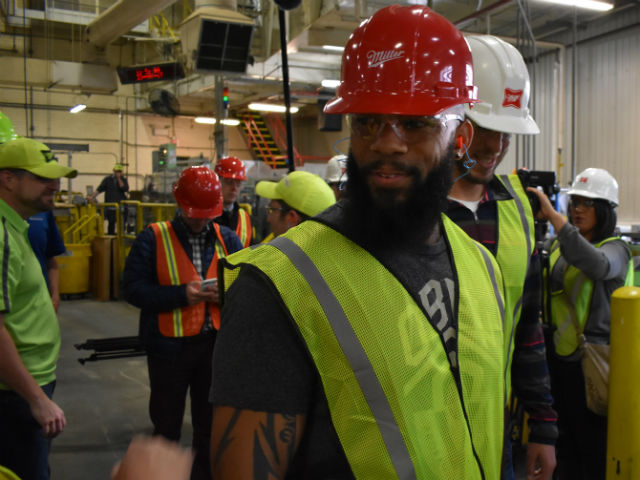 "MillerCoors is known obviously for Miller Lite and High Life, but they're nimble and they're able to move fast. They enjoyed this too because it's also showcasing the beer-making process and these guys are pretty proud of it, as you can imagine. It's a nice little window into something that people drink every day but maybe don't know how it gets made."
Noting the name of the team and its ballpark, Drake said, "I think it's the perfect connection. We're definitely the right ones to do it."
Because the production run is going to be quite small and short-lived, Schlesinger said the name is still to be determined, as well as the details of the special theme night at which the beer will make its "very limited" release at Miller Park later in the summer.
"That'll be the only time it's offered, so we expect that it will be very popular," he said. "I expect nothing less than perfection on the taste, but we've got to go through the process, making sure the name clears, trademark laws, how much beer is produced. Just have to get the logistics down."
Already with his own "Revere the Beerd" T-shirt night on June 19, Thames said there's a long list of possible choices for the concoction's name and he doesn't know yet what it will be, but suggested "probably something with the beard."
Thames said this was a great opportunity to embrace Milwaukee. When asked if he had thought about Brew City's beer tradition when he signed a three-year contract with the club in the offseason, Thames replied enthusiastically in the affirmative.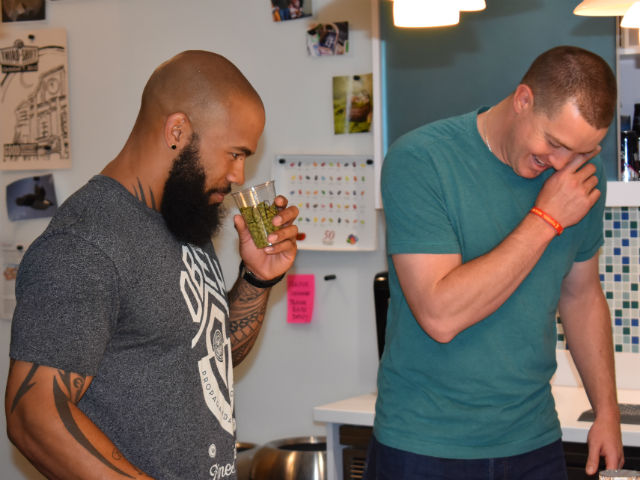 "Oh yeah, of course! Come on, now," he said laughing. "This whole thing happened so fast, I had no idea I'd actually be making a beer. I thought it was just a tour. But actually making a beer, trying stuff, I'm thrilled."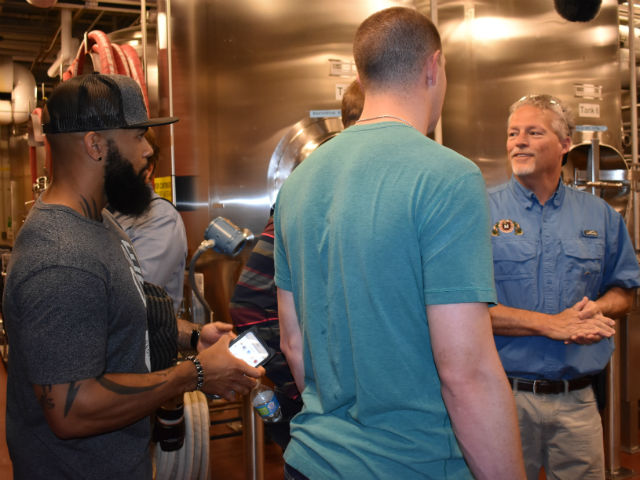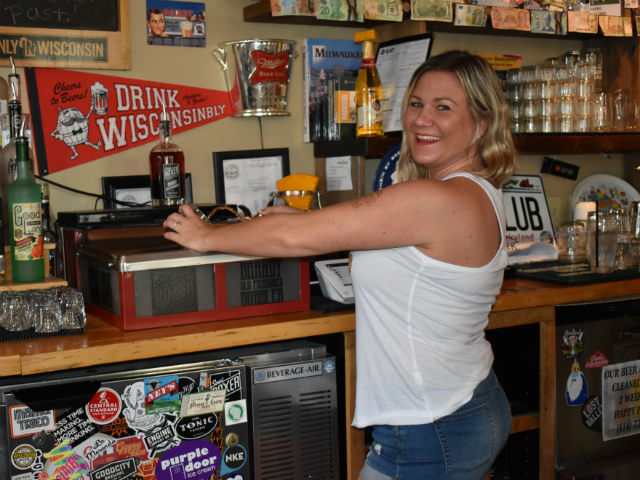 Born in Milwaukee but a product of Shorewood High School (go 'Hounds!) and Northwestern University (go 'Cats!), Jimmy never knew the schoolboy bliss of cheering for a winning football, basketball or baseball team. So he ditched being a fan in order to cover sports professionally - occasionally objectively, always passionately. He's lived in Chicago, New York and Dallas, but now resides again in his beloved Brew City and is an ardent attacker of the notorious Milwaukee Inferiority Complex.
After interning at print publications like Birds and Blooms (official motto: "America's #1 backyard birding and gardening magazine!"), Sports Illustrated (unofficial motto: "Subscribe and save up to 90% off the cover price!") and The Dallas Morning News (a newspaper!), Jimmy worked for web outlets like CBSSports.com, where he was a Packers beat reporter, and FOX Sports Wisconsin, where he managed digital content. He's a proponent and frequent user of em dashes, parenthetical asides, descriptive appositives and, really, anything that makes his sentences longer and more needlessly complex.
Jimmy appreciates references to late '90s Brewers and Bucks players and is the curator of the unofficial John Jaha Hall of Fame. He also enjoys running, biking and soccer, but isn't too annoying about them. He writes about sports - both mainstream and unconventional - and non-sports, including history, music, food, art and even golf (just kidding!), and welcomes reader suggestions for off-the-beaten-path story ideas.