The good news just doesn't stop rolling for the most well-liked man in Milwaukee. Giannis Antetokounmpo, NBA and NBA Finals MVP, announced this afternoon that he's joining the Brewers ownership group in a 3 p.m. news conference at American Family Field.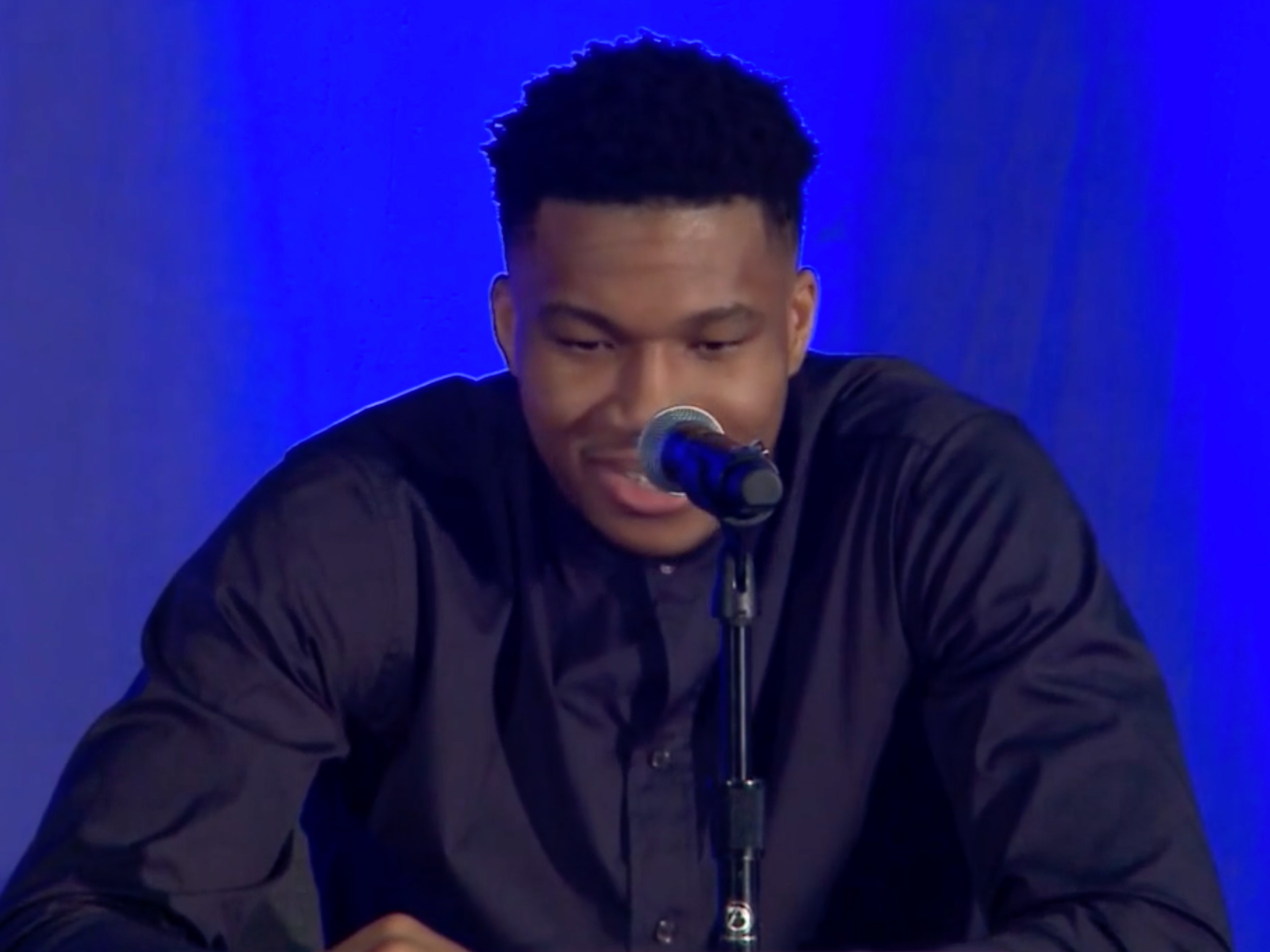 Speculation on the reason for the press conference ran rampant. Were they signing Ryan Braun? Requiring proof of vaccination for the run to the playoffs?
It was neither of these things, but Antetokounmpo investing in the Crew is an announcement akin to Aaron Rodgers buying into the ownership of the Bucks. Except that unlike Rodgers, Giannis would probably show up for the World Series … should the Brewers go that far.
Antetokounmpo and Brewers principal owners delivered the news from a desk at the SKYY Lounge.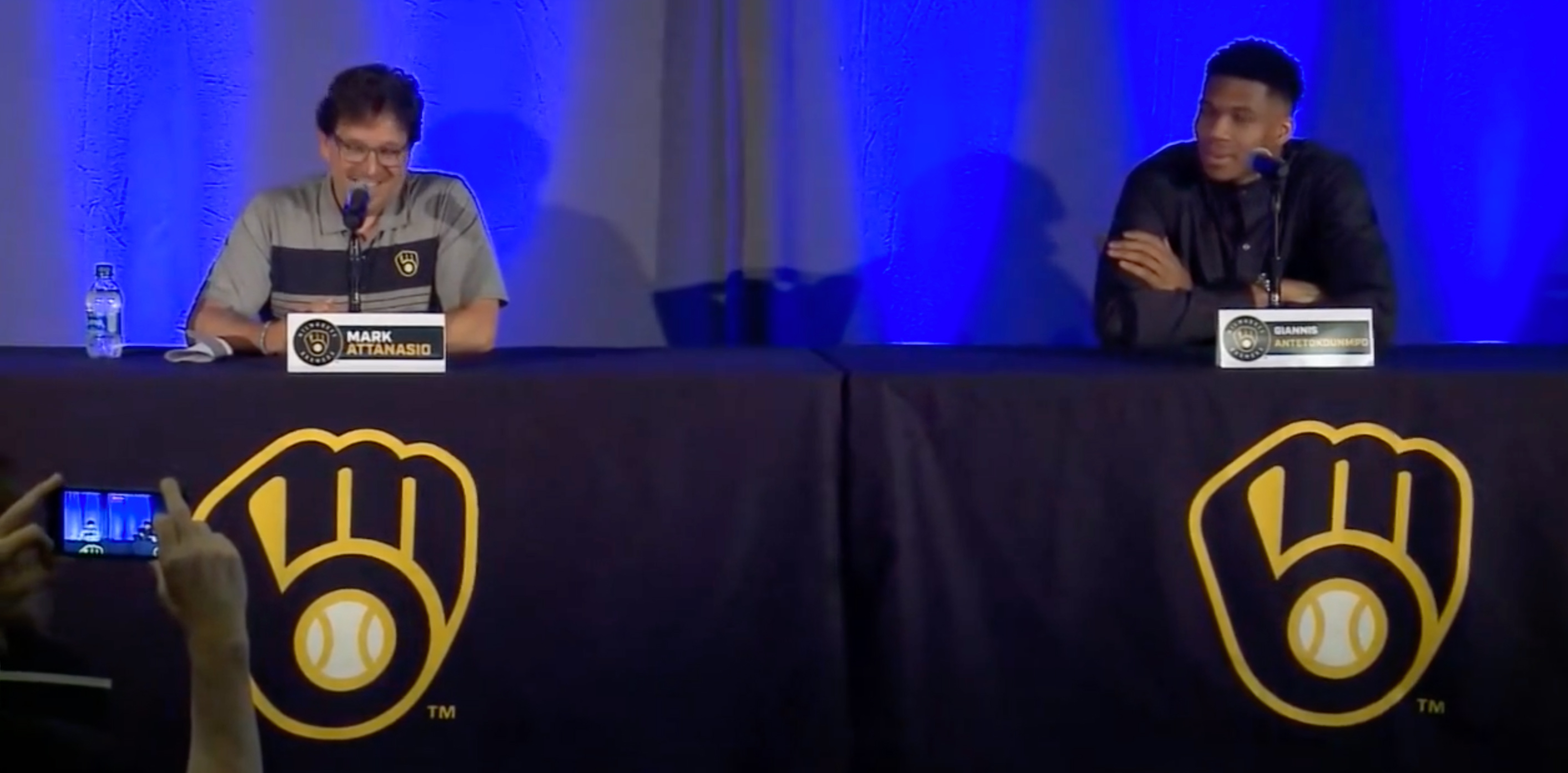 "One of the reasons we haven't added an owner in 17 years, is because we all work cohesively together," said Attanasio. "I haven't wanted to disrupt that chemistry we have in this group."
Attanasio said Giannis reached out to the team over a year ago, and the decision came together organically. Attanasio said the paperwork was finalized and approved by MLB in May. "Privately, we all knew he'd be joining our group."
Antetokounmpo thanked Attanasio for the opportunity and said he's here to learn. "Sometimes on the road, you have to think about what's next."
"I want to be involved in the community, and there's no better way to do that than to be involved with the Milwaukee Brewers," he said.
Brewers President of Operations David Stearns presented Giannis with a #34 jersey … which was technically retired by Rollie Fingers, but no one seemed to mind. "I look good," said a smiling but understated Antetokounmpo.
"I defintiely wasn't thinking about this when I was 10-years-old. I don't know much baseball," he admitted. Antetokounmpo said he went to a Brewers game on the first day he came to Milwaukee.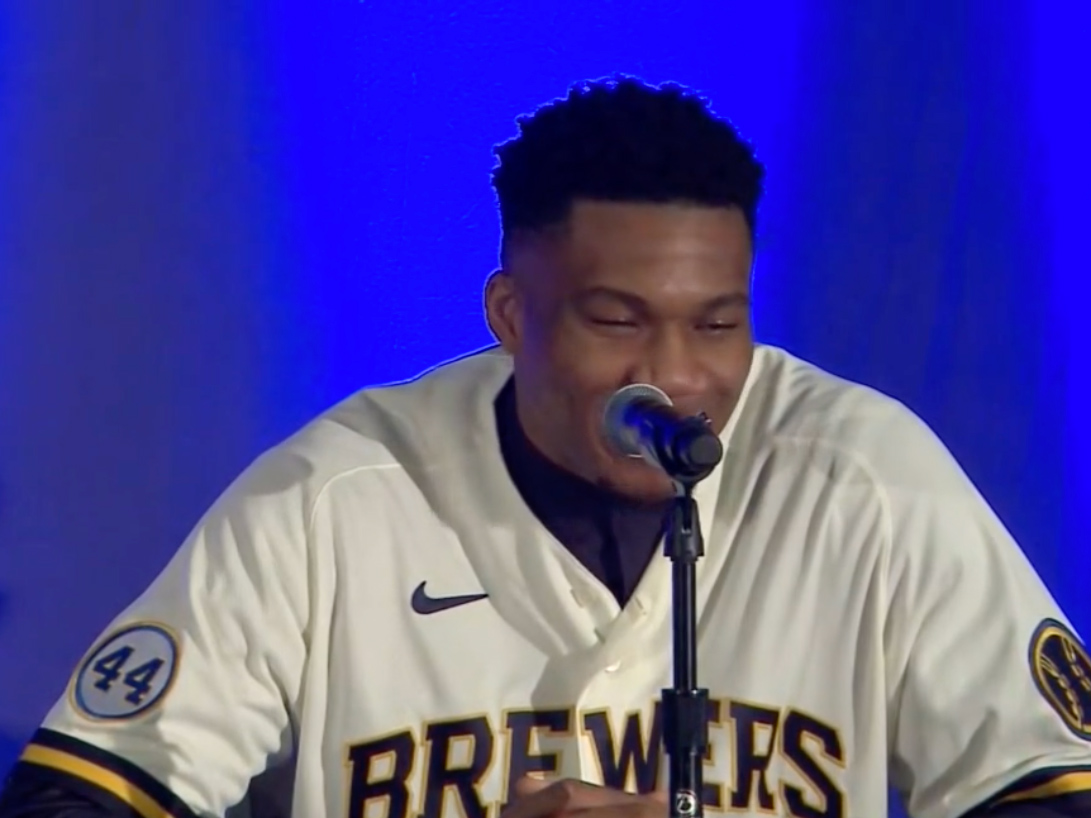 The 26-year-old superstar said he knew he hoped to own a team, and he considered being part of a soccer franchise, but he ultimately choose to invest in Milwaukee. He said he decided not to release the news during the Bucks playoff run, so it would not detract from the Bucks' momentum.
"I know Milwaukee invested a lot in me, and I wanted to invest in Milwaukee."
He said that while baseball isn't popular in Europe, he hopes his participation can help grow that.
Antetokounmpo said he didn't even notice that the Brewers were in attendance at the Bucks' playoff games, but when Attanasio told him they were, he appreciated it. His goal now?
"I want to learn," he said.
Attanasio pointed out that owning a part of a baseball team doensn't mean becoming an expert. As an owner, you can't "hit or pitch," said Attanasio. "We just do better when we stay out of the way."
But, he pointed out the Giannis is provides a good window into player economics.
"We'll be able to advance on that. We're all smiling with him today. He knows how to win on the field. I think he can generally help us with leadership. I'm particularly struck with how mature he is. It will be a good symbiotic relationship."
Attanasio said the existing owners had unimanimous support for joining the group.
"Milwaukee is who has made me who am I today. It's made me a better person and a better man. I want to raise my family in Milwaukee," said Antetokounmpo. "There's more to life than basketball. I want to use my platform to help people in need."
He added, "I just love Milwaukee."
For example, as he watched from the NBA Finals championship parade bus, he said he was extremely quiet, awed by the 200,000 people who came out to support him. It was a time for reflection. But winning more championships, both with the Bucks and the Brewers, is what will make him happy, he said.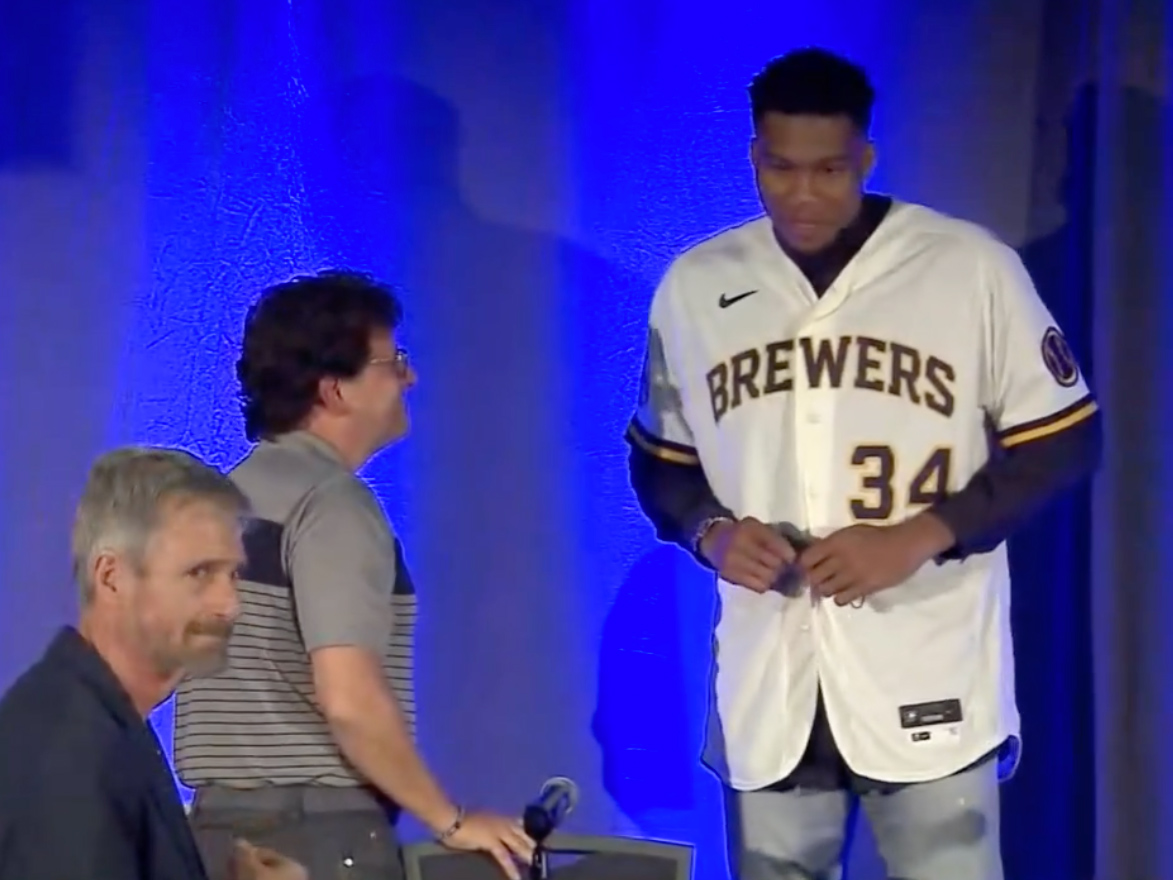 Giannis Antetokounmpo has joined the Crew!

The two-time MVP is officially part of the Milwaukee Brewers ownership team. Thank you, Giannis, for your commitment to our team and Milwaukee!
@Giannis_An34 | #ThisIsMyCrew pic.twitter.com/3xRk2yNHrp — Milwaukee Brewers (@Brewers) August 20, 2021
Andy is the president, publisher and founder of OnMilwaukee. He returned to Milwaukee in 1996 after living on the East Coast for nine years, where he wrote for The Dallas Morning News Washington Bureau and worked in the White House Office of Communications. He was also Associate Editor of The GW Hatchet, his college newspaper at The George Washington University.
Before launching OnMilwaukee.com in 1998 at age 23, he worked in public relations for two Milwaukee firms, most of the time daydreaming about starting his own publication.
Hobbies include running when he finds the time, fixing the rust on his '75 MGB, mowing the lawn at his cottage in the Northwoods, and making an annual pilgrimage to Phoenix for Brewers Spring Training.