The Milwaukee Brewers on Wednesday released renderings and a detailed description of the renovation project for Maryvale Baseball Park, their spring training home in Phoenix since 1998.
Last November, the Phoenix City Council voted in favor of a plan to renovate the ballpark – one of Arizona's older spring-training venues, though far from being in disrepair – and keep the Brewers in Maryvale through at least the year 2042, which is the second-longest commitment in the Cactus League.
According to the Brewers, construction is scheduled to begin after they leave in late March and be mostly completed by the start of 2019 spring training. The club said it will invest $56-60 million in the construction phase of the program and will assume operation, maintenance and related costs of the facility. The city of Phoenix will apportion $2 million each year for the next five years for renovations, with the Arizona Sports and Tourism Authority contributing approximately $5.7 million.
"This is an exciting time for the Milwaukee Brewers as we build a world-class, year-round facility in Arizona for our operations," said Brewers Chief Operating Officer Rick Schlesinger. "We are grateful for the support of all stakeholders of this project, including the city of Phoenix, civic and community leaders and private sector partners. It is through this collaboration that we are able to bring the plan to life."
Added Tom Sadler, President and CEO of the Arizona Sports and Tourism Authority, "We are very pleased to be able to partner in this project without making changes to funds directed toward other Cactus League facilities, assuring that the league remains strong."
As part of the plan, the Brewers will partner with Grand Canyon University on a "Learning Lounge" at Maryvale Baseball Park, where local students will have access to free tutoring. Additionally, the team has relocated a front office position to Maryvale to implement and manage club-funded events with community schools and local groups. Besides spring training baseball, the facility – opened in 1998 and built on more than 60 acres of donated land – will host community activities throughout the year, including the city's annual Independence Day celebration.
That commitment to utilizing the ballpark even after the Brewers leave each year is a subtly significant aspect of the agreement for the community, as Maryvale has endured one of the country's highest crime rates and, anecdotally – particularly among visiting Brewers fans or tourists who've been to other spring training ballparks – it suffers from a reputation for being a bad neighborhood.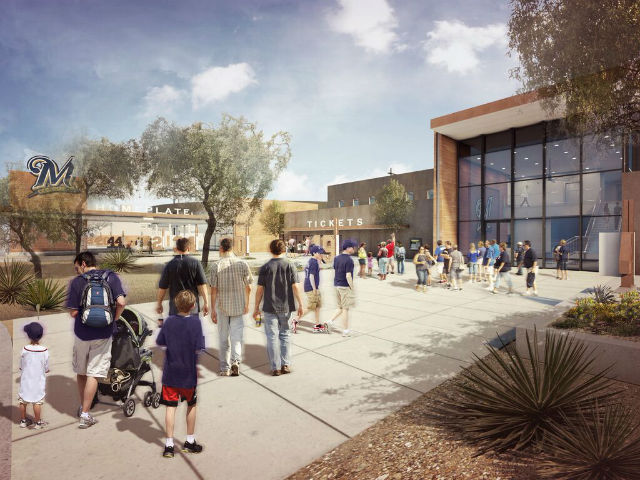 "The plans to renovate Maryvale Baseball Park mean so much more than setting a new example of financing sports venues in a financially responsible way," said Phoenix City Councilman Daniel Valenzuela. "Equally important is the profound impact these renovations will have on our local businesses, neighborhoods and youth.
"Students from the surrounding communities will now have access to free tutoring and residents who access the park for a number of community celebrations will continue to take pride in this Maryvale landmark."
To read OnMilwaukee's story on the familiarly unique tailgating scene at Maryvale Baseball Park, click here.
Mortenson is serving as the Construction Manager for the renovation project, a full description – provided by the Brewers – of which is below:
New clubhouse building with locker rooms, concessions/restrooms, retail, ticketing and support areas
A new stand-alone, two-story building will be constructed, running the length of the area from the updated home plate gate plaza to a connection with the existing Major League clubhouse building. This building will house new locker rooms, training spaces and support functions for the Major and Minor League teams, a new flagship retail sales store and a new primary ticket office at the new home plate gate. The north side of this building will be home to new concession stands and restrooms as the first base concourse will be widened to accommodate better pedestrian traffic. A second floor will be constructed to house new offices for Baseball Operations, and will feature a walkout patio with views of training facilities to the south.
The existing Minor League building will be demolished, as will the structure that ran along the first base side of the stadium that housed the various game-day services offices, commissary, restrooms, maintenance and concession stands. The existing shade structures will remain on both the first and third base concourses.
NOTE: The existing Major and Minor League buildings total approximately 41,000 square feet. The comparable space allocated in the new construction and renovation will be approximately double that at 82,000 square feet.
New entry plaza
A new entry plaza will be created behind home plate, and will feature the primary ticket office and gates to the stadium. It is expected that the majority of fans will enter the facility through this new plaza. The east side of the plaza area will include the lobby entrance to the new clubhouse building. In addition, there will be the entry to the new retail store from outside of the home plate gate, allowing fans access to the store during non-game times.
Renovated Major League clubhouse
The existing Major League clubhouse will be renovated to include facilities for psychological services, sports science, maintenance, grounds, a new right field gate, ticket office and vendor commissary. The existing upper level will become business operations offices and will have new finishes. New building services include new lighting and phone/data low voltage systems.
New Major League batting tunnels
A new eight-lane, Major League batting tunnel will be constructed immediately south of the renovated major league clubhouse. Two of the tunnels will be fully enclosed and air conditioned.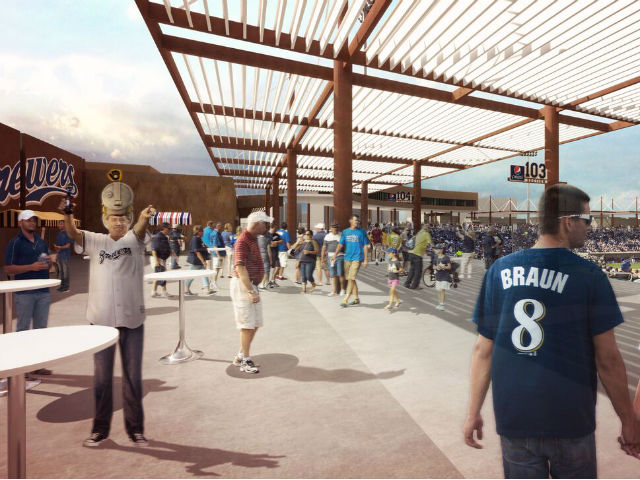 New agility field
A new high-performance agility field will be constructed south of the new clubhouse structure. The surface will be primarily natural grass.
New covered Major League practice mounds
New pitching and catching mounds will be provided to accommodate eight pairs of players. The mounds and home plate areas will be partially covered (plates and mounds) to provide shade for the players.
NOTE: The gang mounds, agility field and batting tunnels will all now be located in the space that is between the Minor League fields and the stadium. It is expected that most fans will circulate through these areas as they walk from parking lots into the stadium. This will allow patrons the opportunity to interact with and watch players as they prepare for games.
New Major League practice field
A new high performance natural turf practice field will be constructed at the site of the existing half field to the east. The new field will have dimensions and layout matching Miller Park in Milwaukee.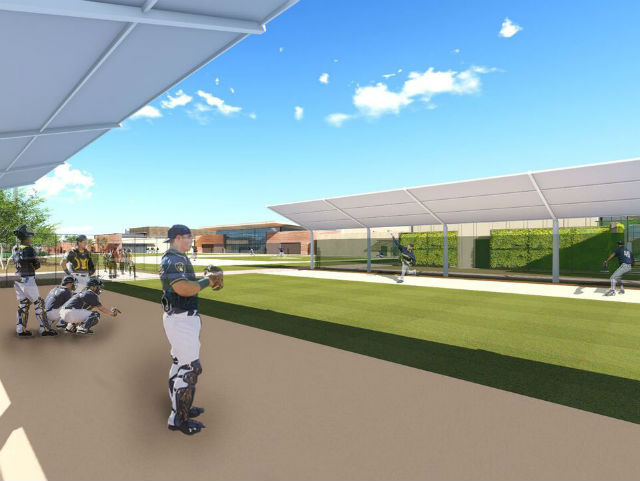 New parking lots
New or refurbished parking lots will be created in three places: A new lot along 53rd Avenue will replace what is currently known as Lot C. This lot – similar in capacity to Lot C - will be constructed primarily on the site that now houses the Minor League building. There will be two additional lots on the east side, closer to 51st Avenue. One of the lots will be new to accommodate Major League players and have capacity for 100 spaces; it will also be covered to protect from foul balls. The third will be a refurbishment of an existing lot just south of the new covered parking.
New landscaping/wayfinding signage
New landscaping and associated irrigation will be installed throughout the complex. The materials will follow an "Oasis" theme with a goal to provide improved aesthetics, help define circulation paths and use areas.
New commissary/visiting clubhouse
A new commissary (for cooking, refrigeration and dry storage) and a new visiting team/umpire clubhouse will be constructed on the third base side, outboard of the existing concourse structures. The new building will have vehicular access from 53rd Avenue to the western side of the commissary building.
Field improvements
The stadium outfield surface as well as the existing Major League practice field will be completely resurfaced with new turf, clay and foul territory/warning tracks.
Press box/suites refurbishments
The press box, GM suites and party suite will be refurbished with new windows, paint (press box interior and exterior) and other finishes. There will be direct access from the press box to the new second floor Baseball Operations offices in the new clubhouse building.
New scoreboard
A new scoreboard will be built and located in left field, replacing the current structure.
Born in Milwaukee but a product of Shorewood High School (go 'Hounds!) and Northwestern University (go 'Cats!), Jimmy never knew the schoolboy bliss of cheering for a winning football, basketball or baseball team. So he ditched being a fan in order to cover sports professionally - occasionally objectively, always passionately. He's lived in Chicago, New York and Dallas, but now resides again in his beloved Brew City and is an ardent attacker of the notorious Milwaukee Inferiority Complex.
After interning at print publications like Birds and Blooms (official motto: "America's #1 backyard birding and gardening magazine!"), Sports Illustrated (unofficial motto: "Subscribe and save up to 90% off the cover price!") and The Dallas Morning News (a newspaper!), Jimmy worked for web outlets like CBSSports.com, where he was a Packers beat reporter, and FOX Sports Wisconsin, where he managed digital content. He's a proponent and frequent user of em dashes, parenthetical asides, descriptive appositives and, really, anything that makes his sentences longer and more needlessly complex.
Jimmy appreciates references to late '90s Brewers and Bucks players and is the curator of the unofficial John Jaha Hall of Fame. He also enjoys running, biking and soccer, but isn't too annoying about them. He writes about sports - both mainstream and unconventional - and non-sports, including history, music, food, art and even golf (just kidding!), and welcomes reader suggestions for off-the-beaten-path story ideas.