For the second year in a row, members of the Milwaukee Brewers organization teamed up with actual Miller brewers to learn the science of beer and create their own unique beverage.
On Sunday, at the Miller Brewing Company headquarters, the two new beers – the Mic Drop Lager, made by Fox Sports Wisconsin broadcasters Bill Schroeder and Matt Lepay, and the High Heat Pilsner, created by pitchers Josh Hader and Taylor Williams – were unveiled and tasted during a tapping event with players, front office staff, members of the media and Miller officials.
Miller Brewing Company General Manager Jim Kantner made an opening address, saying the two longtime partners wanted to "step it up" this year, after Eric Thames, Corey Knebel and Oliver Drake created the Bearded Brewer IPA in 2017.
Kanter added that the four participating Brewers "learned a lot," especially about sessioning. While neither beer is available to the general public, fans can try them by purchasing The Brew-Off ticket package for the game on Friday, July 20 at Miller Park, where they can vote for the their favorite brew.
In addition to earning the title of brewmaster, the winner this year will receive "a coveted trophy," said Kanter, which seemed to perk up Hader's ears.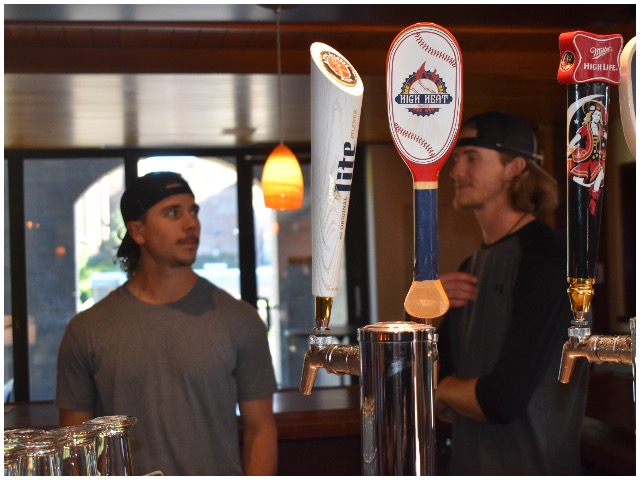 "It turns out that baseball players, former players and announcers are extremely competitive," Kanter said.
Manager of Beverage Technology and Innovation Troy Rysewyk, who oversaw the production of both beers, discussed the process and characteristics of each brew.
The Mic Drop is a "smooth and easy-drinking dark golden lager that is well-balanced with a sweet maltiness, lightly toasted character, subtle hops and a beautiful color." It's 6 percent ABV, brewed with Moravian and Goldpils malts and hoped with Loral and Experimental hops.
The High Heat Pilsner is a dry-hopped Imperial Light Lager, crisp and brewed with the same techniques used to make Miller Lite, but with a twist. At 7 percent ABV, it features Lemondrop hops and is dry-hopped with Loral hops that give it "a subtle citrus aroma, complemented by the malty and biscuit flavor from the malts used."
Thames, Knebel and other beer-inclined Brewers players joined their teammates for the tasting event.
Fans who purchase the package for the July 20 game will receive a 12-ounce pour of each beer, a special Brewers mug and a ticket for that night's game against the Los Angeles Dodgers at Miller Park. For more information or to purchase the ticket package, click here.
Born in Milwaukee but a product of Shorewood High School (go 'Hounds!) and Northwestern University (go 'Cats!), Jimmy never knew the schoolboy bliss of cheering for a winning football, basketball or baseball team. So he ditched being a fan in order to cover sports professionally - occasionally objectively, always passionately. He's lived in Chicago, New York and Dallas, but now resides again in his beloved Brew City and is an ardent attacker of the notorious Milwaukee Inferiority Complex.
After interning at print publications like Birds and Blooms (official motto: "America's #1 backyard birding and gardening magazine!"), Sports Illustrated (unofficial motto: "Subscribe and save up to 90% off the cover price!") and The Dallas Morning News (a newspaper!), Jimmy worked for web outlets like CBSSports.com, where he was a Packers beat reporter, and FOX Sports Wisconsin, where he managed digital content. He's a proponent and frequent user of em dashes, parenthetical asides, descriptive appositives and, really, anything that makes his sentences longer and more needlessly complex.
Jimmy appreciates references to late '90s Brewers and Bucks players and is the curator of the unofficial John Jaha Hall of Fame. He also enjoys running, biking and soccer, but isn't too annoying about them. He writes about sports - both mainstream and unconventional - and non-sports, including history, music, food, art and even golf (just kidding!), and welcomes reader suggestions for off-the-beaten-path story ideas.