Before their big weekend series at home against the Nationals, the Brewers were in action early at American Family Field with an announcement: The team will add a new Northwestern Mutual sponsorship patch to its jerseys.
The new first-ever sponsor patch, found on the player's predominant arm sleeve on all five of Milwaukee's uniforms, is a part of Northwestern Mutual's new multi-year partnership with the Brewers, making the company the team's official financial planning partner.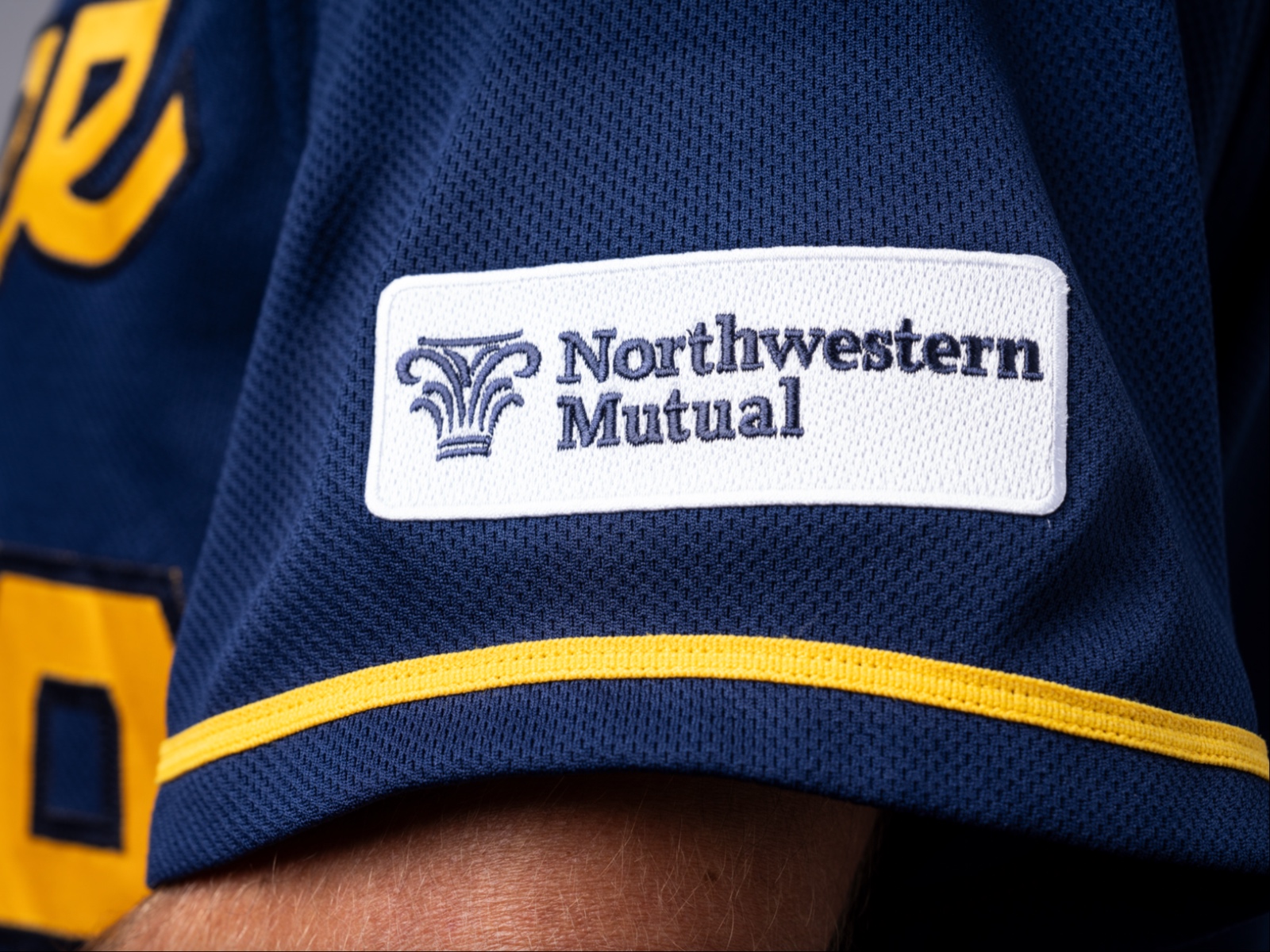 "When we started this journey of looking at jersey patch partners, we wanted an iconic brand associated with our brand. We wanted a hometown organization that cares about the community. We wanted somebody best in class in their industry, somebody that cared well for their employees ... and Northwestern Mutual checked all the boxes," said Brewers president of business operations Rick Schlesinger, at Friday's reveal at the ballpark.
Major League Baseball began allowing sponsorship patches on on-field jerseys this season.
Found on the bottom of a player's predominantly camera-facing arm sleeve on all five jerseys, the Brewers' Northwestern Mutual patch is a thin rectangular logo with the financial company's logo and name in navy blue and white. The colors are swapped on the patch depending on the color of the jersey; for instance, the patch is mainly navy blue with white font on the white pinstriped uniforms whereas it's primarily white with blue font on the blue alternates.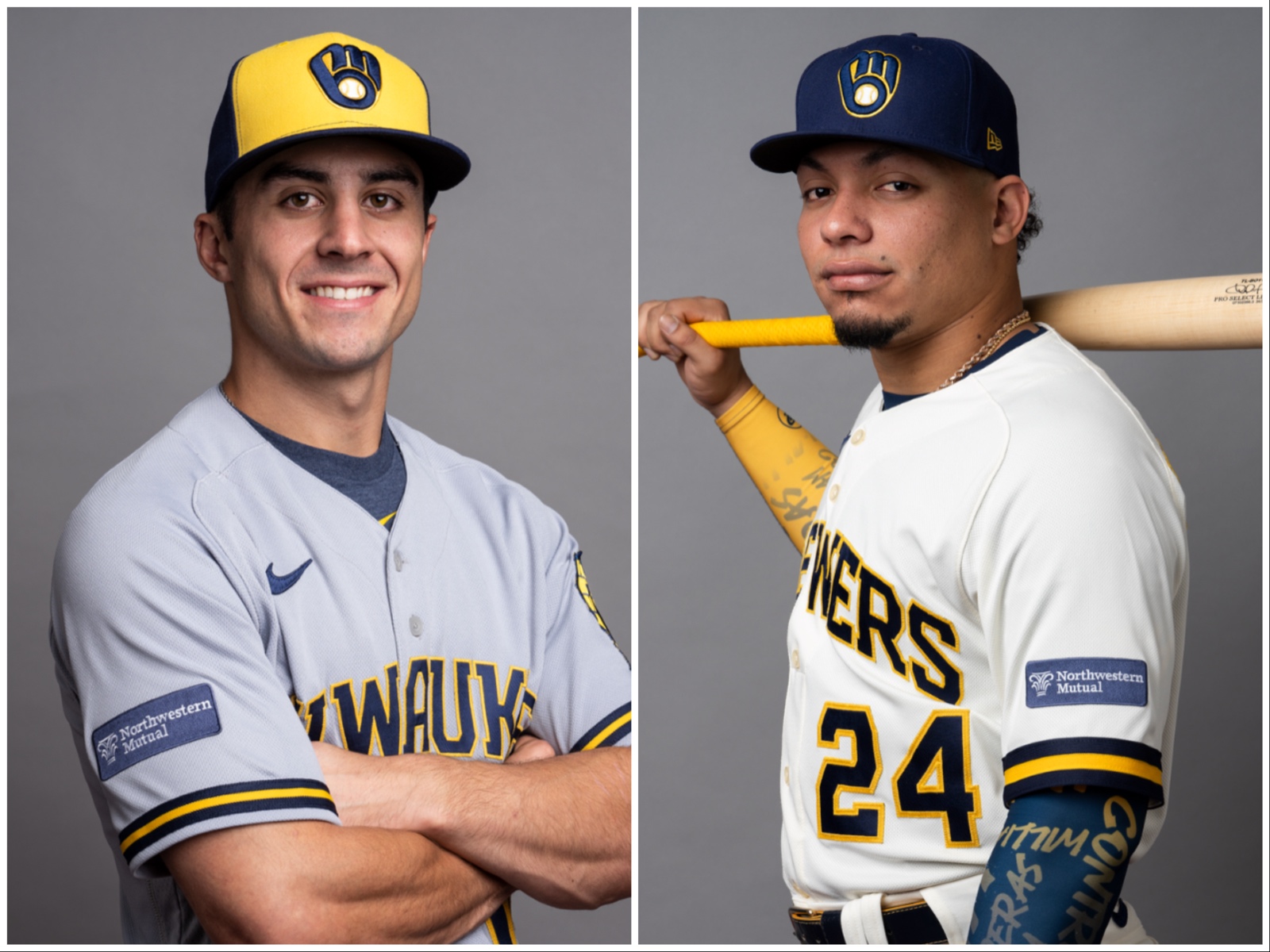 The uniform sponsor patch will make its on-field debut tonight at American Family Field when the Brewers take on the Washington Nationals.
"This is more than just paying to put a patch on a jersey. We are going to partner with the Brewers in so many ways," said John Schlifske, Northwestern Mutual chairman, president and CEO, at Friday's event. "We're the official financial planning sponsor, and we're all-in on philanthropy – and the opportunity for our two organizations to partner around those two things, which are near and dear to my heart, is really important."
A part of that philanthropic focus will be additional focus and support toward Alex's Lemonade Stand Foundation, a non-profit organization that funds research, raises awareness and aids families dealing with childhood cancer. In 2024, the team and Northwestern Mutual will work together on a season-long in-game charitable donation up to $25,000, as well as donate $1 of every ticket sold to a to-be-decided Brewers home series during September, which is Childhood Cancer Awareness Month.
As for this current season, the two organizations have joined to push the Lemon Top Challenge at this weekend's games at American Family Field. To participate, fans in attendance can locate an Alex's stand, balance a lemon on their head, take a photo and upload the pic to social media using the #LemonTopChallenge hashtag as well as tagging Northwestern Mutual and Alex's Lemonade Stand Foundation. For every image posted, Northwestern Mutual will donate $10 to the non-profit, up to $500,000. Those not attending this weekend's games can still participate at home or wherever they may be, through the end of the month.
"For the past several years, the (Northwestern Mutual) Foundation has worked alongside the Brewers to help build awareness about childhood cancer and the effects it has on individuals undergoing treatment, survivors and their families," said Steve Radke, president of the Northwestern Mutual Foundation. "Through our newly expanded partnership, we're going to build on that momentum, and we're going to help raise even more funds to end childhood cancer."
For more information, visit the Brewers website – and for more information on Alex's Lemonade Stand Foundation, click here.
As for the team wearing these newly sponsored uniforms, the Brewers take the field tonight against the Nationals with a 4.5-game lead in the NL Central over the Chicago Cubs with just 16 games left on the regular season schedule. For more updates and info about the Brew Crew's postseason push, stay tuned to OnMilwaukee.
As much as it is a gigantic cliché to say that one has always had a passion for film, Matt Mueller has always had a passion for film. Whether it was bringing in the latest movie reviews for his first grade show-and-tell or writing film reviews for the St. Norbert College Times as a high school student, Matt is way too obsessed with movies for his own good.
When he's not writing about the latest blockbuster or talking much too glowingly about "Piranha 3D," Matt can probably be found watching literally any sport (minus cricket) or working at - get this - a local movie theater. Or watching a movie. Yeah, he's probably watching a movie.