Brewers Opening Day might as well be an official holiday in Milwaukee. While the fans among us who remember shivering at County Stadium are being replaced by ones who never knew life without a retractable roof, today is still a big deal here.
Sitting in the press box, as I've sat almost every year since about 1999, I'm watching the fans start to roll in. Up here, it's like the first day of school: seeing reporters and Brewers staff you haven't seen since fall. Even though cheering and clapping are strictly prohibited in the press box, it's hard not to be giddy.
Apparently, that extends to the front office, too. I watched principal owner Mark Attanasio and general manager David Stearns conduct their press conferences this morning, and it definitely felt different than last year.
Last year at this time, I was struck by how Attanasio seemed resigned from day one to own a team squarely in the middle of rebuilding mode. Though the team turned out quite good, his attitude was measured and modest. Even a little sullen, as I recall.
Not so much this morning, though. Both Attanasio and Stearns were visibly in a good mood after watching the now-competing Crew jump out to a 3-0 start.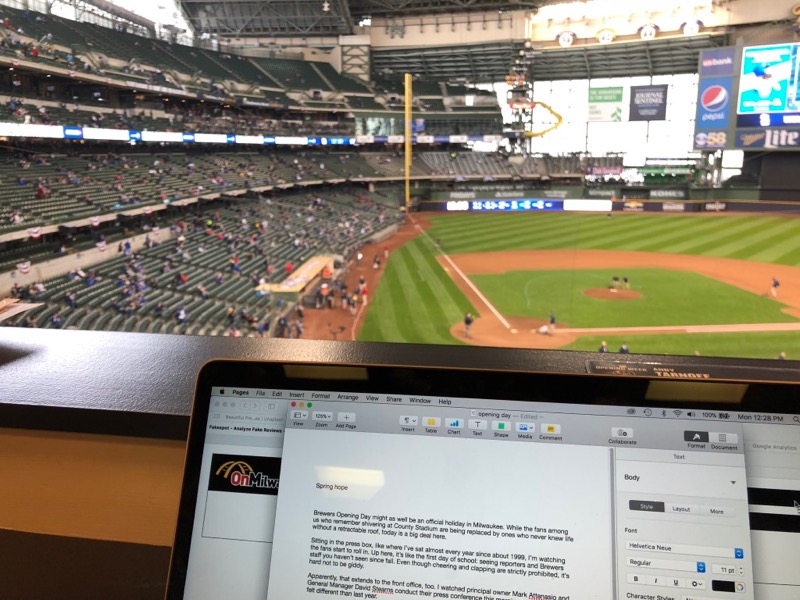 I noticed how they refused to make excuses as a small-market team, and how they were prepared to spend money to win. "We punch above our weight," said Attansio, and he put an interestingly small amount of stock on recouping the costs of his offseason acquisitions. "We're always prepared to lose money."
Attanasio pointed out that season-ticket sales are up 20 percent from last year, and he budgeted to sell about 2.7 million tickets. But, "We don't worry about those kind of numbers," he said.
More notably, when asked if he's willing to spend more money to acquire players at the trade deadline, Attanasio said that he is, but he and Stearns are more concerned about the idea of letting go of their prospects. "We have a very, very strong farm team."
So, think about that for a minute. A team that was supposed to be rebuilding, not contending, and is in the smallest market in baseball, is talking about winning not just in 2018, but for years to come. That's pretty incredible.
Similarly, Stearns brushed off concerns that he has too many outfielders. The team doesn't have an outfield problem, he said, "we have outfield depth."
And clearly, the fans assembling here feel the same kind of spring hope. There's a palpable feeling that this will be a fun year,
"David and the group has assembled an exciting team," Attanasio said with a big smile.
It's pretty early, but for a team with the best spring training record in the National League, he may just be right.
Andy is the president, publisher and founder of OnMilwaukee. He returned to Milwaukee in 1996 after living on the East Coast for nine years, where he wrote for The Dallas Morning News Washington Bureau and worked in the White House Office of Communications. He was also Associate Editor of The GW Hatchet, his college newspaper at The George Washington University.
Before launching OnMilwaukee.com in 1998 at age 23, he worked in public relations for two Milwaukee firms, most of the time daydreaming about starting his own publication.
Hobbies include running when he finds the time, fixing the rust on his '75 MGB, mowing the lawn at his cottage in the Northwoods, and making an annual pilgrimage to Phoenix for Brewers Spring Training.