Let's be honest: 414 Day is a made-up holiday, but more power to Milwaukeeans looking for a reason to celebrate. Technically, the Brewers' Opening Day doesn't get its own Hallmark card, either.
But it should.
When you combine 414 Day and Opening Day, Milwaukee has a party on its hands. And, for the first time in what seems like forever, fans of both The Brew Crew and Brew City have ample reason to celebrate on a Thursday in April.
That sentiment extends to the Brewers' front office.
"It feels like normal," said the reflective Brewers principal owner Mark Attanasio, who knocked on wood when he mentioned that he avoided getting Covid so far. He's thankful for that, but more importantly, he said he's happy the work stoppage is over.
"It was such a scramble in a truncated period of time," he said in his pre-game news conference. "We've tried to keep as many players as we can. We have a really great group of guys in the clubhouse."
Attanasio noted that his team is especially connected to its fans, starting with how Corbin Burnes picked up the tab last night at the party at Leff's Lucky Town.
It's stuff like this makes Attanasio still feel like a little kid on Opening Day – and he gets choked up when he thinks of his late father, Joe, singing the National Anthem each season. He said Joe took him to his first opening day in New York when he was 8: "The more you can get kids to a ballpark, they become lifetime fans."
On the topic of his new Brewers squad, Attanasio said, "It's so nice to see so many young players doing so well. I like that we won some close games."
And he said he wants to keep both David Stearns and Craig Counsell in the fold. "It really starts with the two of them. The owner sets a tone, but the best thing I've done in 18 years is hire them, and then sit back and be a fan."
He said the team talks a lot about taking the next step, which has been elusive despite several postseason appearances in the last few years. On his farm system: "We don't get as much hype as other teams … I hope to never go through a rebuild here. At the trade deadline, we'll be looking carefully. We definitely have flexibility this year."
For example, Attanasio said Andrew McCutchen wasn't in the budget, but he signed him, anyway. And he does need Christian Yelich to return to his MVP form. "We need (Yelich) to perform. I don't think he needs to be the best player in baseball, but he's off to the a good start. A lot of this has been health-driven, but he'll never make excuses."
Attanasio said beyond the product on the field, he's working on keeping American Family Field remain a viable stadium for years to come. He spoke to new ballpark enhancements, and he wants to ensure the Brewers are in a good home for the next 20 or 30 years. With American Family as a sponsor, for example, "It's good to know we have a partner who's committed to the community like I am."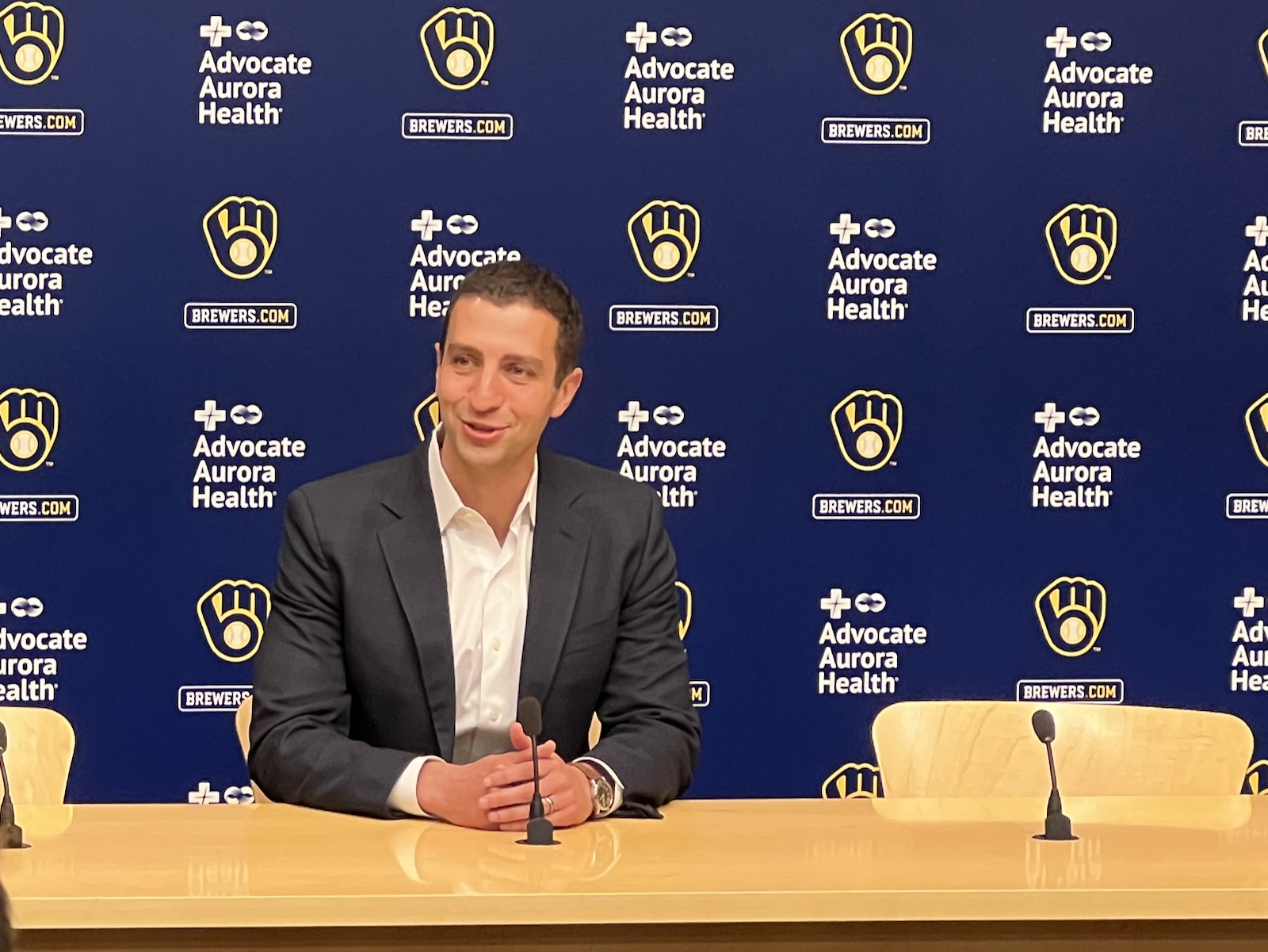 Brewers' President of Baseball Operations David Stearns appeared equally optimistic, but also reserved, about the team's chances. For anyone who worried that the Crew kicked off the season with 1-3 start, today they will now see a squad that's back to even.
"We're mostly healthy," said Stearns. "I try to never draw conclusions after the first week of the season. You give your team at least two months to show you who you are. Trust your offseason assessments. We're trying not to reach conclusions, make any judgements. This team is put together for a reason."
He said the lockout changed some things, but at least the playing field was level for all 30 teams. "The biggest challenge is that we couldn't talk to our players," he said.
And for me, this year's Opening Day feels special, too. Between Covid and assorted conflicts, I haven't sat at my spot in the press box for a "game one" since 2019. Every Opening Day feels like a homecoming of sorts; you see people you haven't seen since fall – it's just that this offseason lasted some three years.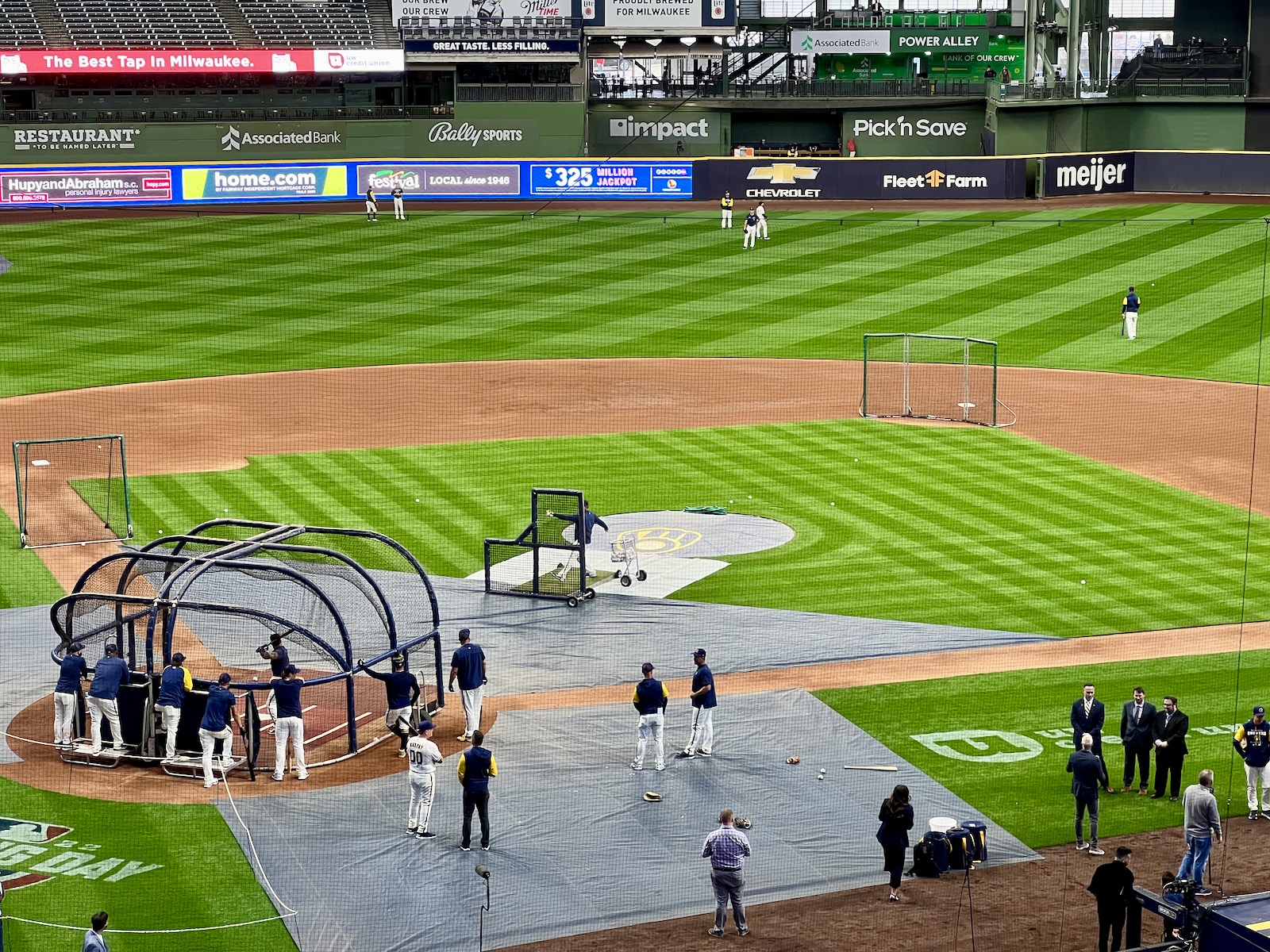 But I've been to enough of them up here, including at old County Stadium, that I can glean some things. For example, I remember the Opening Day in 2016 when Attanasio had a noticeable vibe that indicated he didn't expect big things (they finished 73-89), and a very optimistic one in 2018 when they went all the way to the NLCS. To me, this press conference felt somewhere in between.
So, now, as the stadium starts to fill up for the 4:14 p.m. start, we'll see how the finally maskless Opening Day crowd responds to Milwaukee's two unofficial holidays. It'll be a party, for sure. And if the Brewers send fans home with a win, Milwaukee Day will be an even happier one.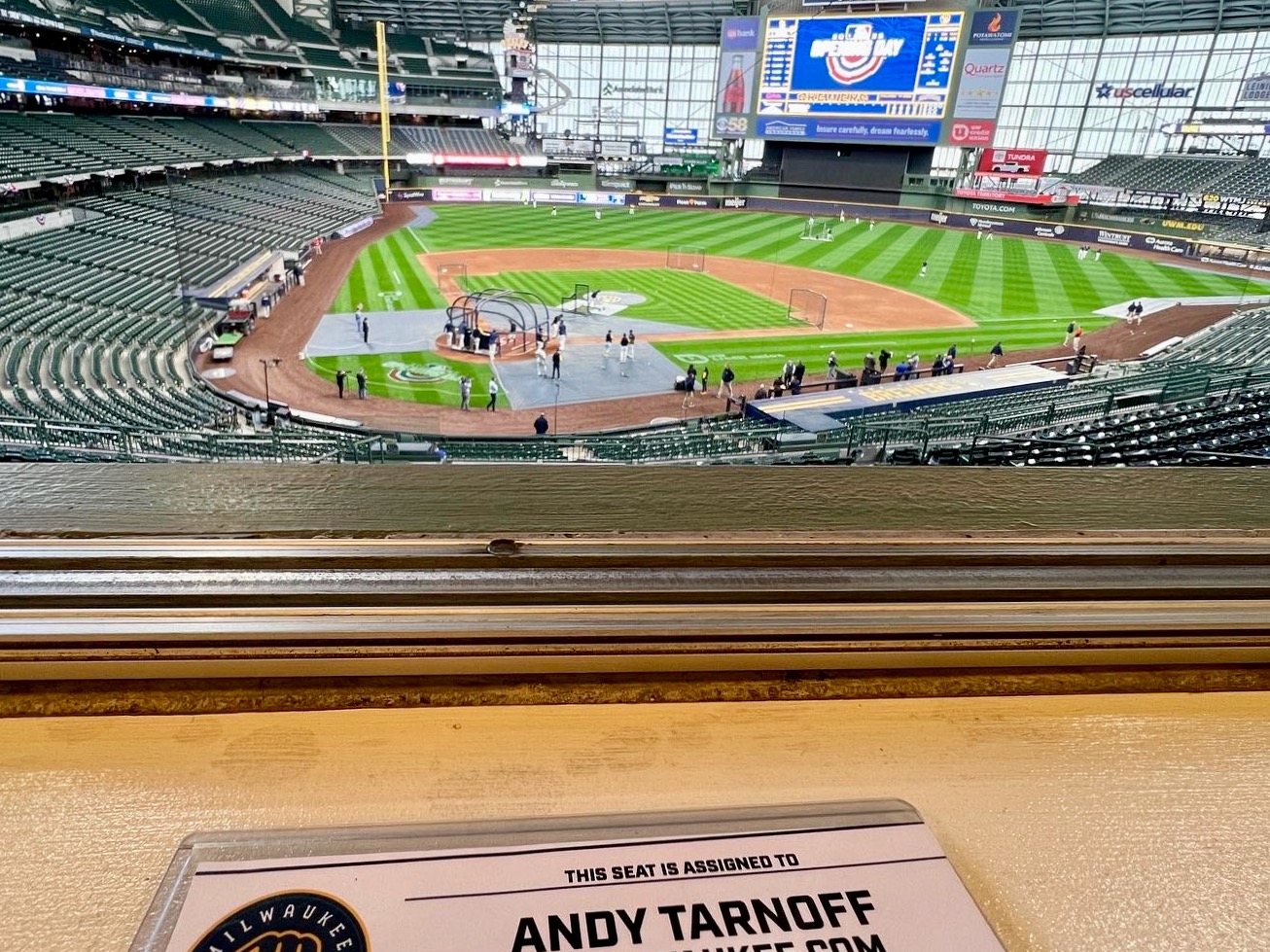 Andy is the president, publisher and founder of OnMilwaukee. He returned to Milwaukee in 1996 after living on the East Coast for nine years, where he wrote for The Dallas Morning News Washington Bureau and worked in the White House Office of Communications. He was also Associate Editor of The GW Hatchet, his college newspaper at The George Washington University.
Before launching OnMilwaukee.com in 1998 at age 23, he worked in public relations for two Milwaukee firms, most of the time daydreaming about starting his own publication.
Hobbies include running when he finds the time, fixing the rust on his '75 MGB, mowing the lawn at his cottage in the Northwoods, and making an annual pilgrimage to Phoenix for Brewers Spring Training.