Eight Brewers prospects did what the 2018 Milwaukee Brewers failed to do, albeit on a smaller scale: They won a championship – the Arizona Fall League championship. On Saturday, Nov. 17, the Peoria Javelinas came from behind to beat the Salt River Rafters, 3-2, in 10 innings.
The general euphoria created by the 2018 Brewers filtered down through the minor league system, as everyone in Arizona was talking about "pride in organization."
Earlier in the afternoon, Milwaukee's No. 1 prospect, Keston Hiura, was named the Joe Black Award winner as the MVP of the six-week league. Hiura is the first Brewers player to be named MVP in the 17-year history of the award.
Historically, 60 percent of the players have gone on to play in the Major Leagues at some point in their careers. While several of the current Brewers are AZL alumni, they've used their wealth of young prospects to make necessary trades and have involved AZL alums. Most recently, the organization traded Isan Diaz (2016), Monte Harrison (2017-18), Jordan Yamamoto (2018) and Lewis Brinson (2015) to the Marlins for 2018 NL MVP Christian Yelich (2012).
The Brewers contingent was joined by players and coaches from the Padres, Mariners, Braves and Rays on the Peoria squad. The team was led by manager Daren Brown of the Mariners, pitching coaches Pete Zamora of the Padres and Texeira of the Braves, hitting coaches Joe Szekely of the Rays and Doug Banks of the Padres.
This year, there were 17 MLB.com top 100 prospects participating, up from only 11 in 2017. Only two Javelinas made the list: Hiura (#26) and Christian Pache (#55) of the Braves.
Last year's contingent definitely had a Big 12 flavor, whereas the 2018 version was ACC dominant with two Brewers and a couple Peoria teammates having Carolina ties. Relief pitcher Jon Olczak is from Winston-Salem but comes via North Carolina State where he played with big leaguers Trey Turner and Carlos Rodon. In three seasons with the Wolfpack, he was 3-1 with three saves, a 3.19 ERA and 73 strikeouts in 73 innings coming out of the pen. He was selected by the Brewers in the 21st round of the 2015 draft and moved quickly until he was injured and missed time in 2017.
The 25-year old right-handed pitcher is coming off an excellent 2018 season where he spent all but two games at AA Biloxi. In 42 appearances, he was 10-3 with a 1.39 ERA and 83 strikeouts in 58 innings. Since turning pro, his strikeout rate has jumped to 10.75/9IP.
"I like striking people out, but in order to strike someone out, you have to get two strikes first. I like to get early contact and quick outs, but when I get two strikes, I want to put them away," he said.
Peoria pitching coach Pete Zamora said, "Jon's got a great overhand breaking ball and most people throw their breaking stuff off their fastball, but he's going to throw it to set up his high fastball. It's a very impressive pitch for a guy that doesn't necessarily throw 'reliever-hard.' He's got a weapon that hitters are going to have to pay attention to."
Olczak was almost perfect in AZL play, posting a 1-0 record and 1.50 ERA in 10 appearances over 12 innings. He pitched a clean inning of relief in the championship game.
Left-handed reliever Daniel Brown still has some Mt. Vernon, Texas in him as he still pulls for that football team down there. But otherwise, the Mississippi State graduate is all Brewer.
Taken in the seventh round of the 2016 draft, Brown has continued what he started at Tyler Junior College. While he was 10-1 with a 1.75 ERA at the juco, he adapted quickly to the pen with the Bulldogs and now Milwaukee. After a brief stop in Arizona after being drafted, he spent all of 2017 in Appleton with the Timber Rattlers. In 37 appearances, he was 6-3 with six saves and a 3.00 ERA. This past season, he was promoted to High-A Carolina where he was 7-4 with two saves and a 4.20 ERA. In his short professional career, the 23-year old has struck out 140 batters in 140 2/3 innings without aid of a blazing fastball.
"Initially, I'm not thinking strikeout, but if I can get him in the count where I can work the slider, that's good," he said.
Javelina catcher Austin Allen can offer a different perspective. "Brownie is a good man, a lefty out of the pen for us. He's got a good fastball that jumps out of his hand, and he's able to throw his slider for strikes and punchouts," he said.
A recent trait among young Brewers pitchers is their ability to pound the strike zone – and this group was no different. Brown was 1-0 with one save in nine AZL appearances covering 12 innings, but the numbers don't speak to his early dominance. In his first six appearances (8.2 innings), he only allowed two hits and struck out 13.
Peoria manager Daren Brown heaped on praise saying, "Brownie, yes, he's been damn-near perfect. I can count on him to get it done."
As is often the case, he hit a couple of bumps in the road, but his 17 strikeouts were fourth among AZL relievers, and his overall performance was one of the reasons Peoria cruised to a league-best 21-8 record.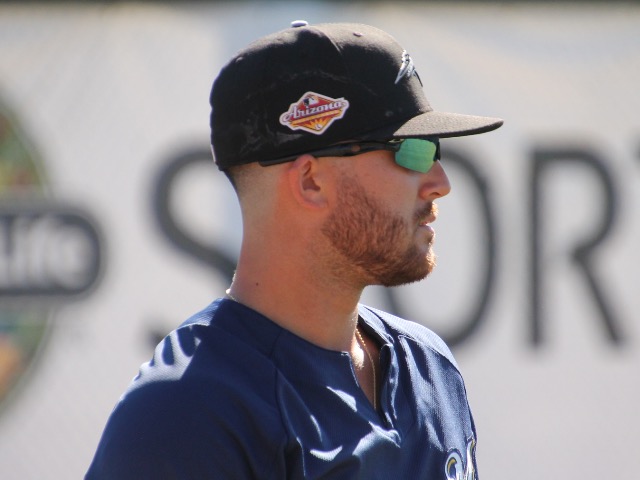 Bubba Derby's path to the AZL was a little different from his current teammates, but that route has only strengthened him. As a fan, he has had to adapt as well. Growing up in Arcadia, he was a Dodger fan but switched to the Angels after a bad experience. He's also had to deal with the Rams issue.
The Oakland Athletics selected the right-handed pitcher in the 6th round of the 2015 draft from San Diego State. In three seasons with the Aztecs, he was the team's closer (as a freshman) and moved to the rotation for the next two years. He compiled a 20-11 record and posted a 3.28 ERA, making 33 starts and 25 relief appearances. He struck out 275 and issued 87 walks in 243 1/3 innings.
It's probably better to look at his aggregate collegiate numbers because he's spent time in both roles during his brief professional career – and it looks like that's where he's headed.
"He's a versatile guy; he can both start and relieve," Brewers farm director Tom Flanagan said. "Bubba would probably fit in with the way the big league club used guys in the postseason, coming in for multiple innings."
After the draft, Bubba spent the rest of 2015 in Arizona before being sent to Vermont of the New York-Penn League. During the offseason, he came to the Brewers as a piece of the Khris Davis trade and had to deal with that as a 21-year old.
"It took a little time at first because I had only just played briefly in the Oakland system and here I am part of a big trade – something that you don't really expect and know how to deal with," he said.
He struggled a bit in his first experience of full-season ball. He pitched at High-A Brevard County and surrendered a career-high 17 long balls. He was 6-13 with a 5.59 ERA in 132 innings (all but one in starts).
Flash forward to 2018 when he spent all of the season in the Pacific Coast League at AAA Colorado Springs, notorious for being a hitter-friendly environment. To say that he adapted well to the changes and difficulties is an understatement and testimony to his abilities. In 118 innings split between starting and relieving, the "everything tastes better with cheese" guy allowed only nine home runs. Additionally, he spent some time in Colorado in 2017 where he only gave up seven home runs in 63 innings.
Of pitching in Colorado, he said, "You acknowledge that the conditions exist, but you don't worry about it and you know that it does have an effect but you don't let that dictate everything."
Derby was tied for the AZL lead with seven starts and second in the league with 26.1 innings. His 1-1 record and 4.78 ERA reflects the ups and downs of a small sample size. He had three nice starts of four-plus innings where he only allowed a run. His last start, which closed out the regular season, was among his strongest – but more importantly, it came after a rough outing.
Derby appears ready to handle whatever role the Brewers have in mind for him – and given his love for all things cheese, I'm sure he'll adapt to life in Milwaukee.
Very quietly, Miguel Sanchez is making a name for himself within the Brewers organization. The soon-to-be-25-year-old reliever has pitched well despite limited AZL opportunities.
Signed by the Brewers as a free agent in 2016, the right-handed pitcher has already pitched at AA and briefly at AAA Colorado Springs this year. In 84 minor league appearances over 166.2 innings, he has 211 strikeouts and only 59 walks and has posted a 9-12 record and 3.49 ERA.
Flanagan said, "Miguel's taken a quick path. He was a little bit older when he signed out of the Dominican (almost 22), but from the middle of last year to this year, his change and slider have really come along. He's a guy who has earned his way into the fall league. He's emerged this year and has got to be looked at a little closer. His change-up is an equalizer and his slider is in the mix with his fastball, but the change has popped for him."
Peoria catcher Austin Allen agreed with the assessment. "Sanchez has a good fastball and a plus change-up which I think is his bread and butter. It just falls off the table and guys, when they are hitting, are like, 'What is that?' So that's a big compliment to him when other hitters are asking what that pitch is," he said.
He was initially hampered by some hand issues and got a later start in the AZL. He was 1-0 with a 3.60 ERA in 10 innings pitched.
Catcher Mario Feliciano made a cameo appearance with the Javelinas and left early due to nagging injuries. The 19-year old Puerto Rico native was signed by the Brewers in the 2nd round of the 2016 draft out of the Carlos Beltran Baseball Academy. In parts of three minor league seasons, he has batted .244 with seven home runs and 66 RBI in 179 games and 679 at-bats. He's shown some pop but also has struck out 153 times.
Flanagan said, "We thought we'd get him some more at-bats and because he's so young, he's got a ways to go but his bat is electric and he can catch and throw and the talent is there."
Feliciano only played in two AZL games going 1-4 with two runs and a run batted in.
At 22, outfielder Trent Grisham has already experienced the highs and lows of professional baseball and was the perfect candidate for a stint in the AZL.
The Fort Worth native was selected by the Brewers in the 1st round of the 2015 draft out of Richland High School. He passed on the chance to play at Texas Tech but followed a few buddies that played there. Like Daniel Brown, he's a Cowboys fan but otherwise has adapted to the Wisconsin way – especially after playing in Appleton and visiting Milwaukee for Brewers On-Deck.
"I started off swinging really well my first year (Arizona and Pioneer Leagues) and I kind of went through some struggles these last 2-2 ½ years, so I'm trying to get back and figure out what made me who I am," he said.
That first year in the organization, he was named an Organization All-Star by MILB.com and a Baseball America Rookie All-Star. He batted .309 with two homers and 21 RBI in 55 games.
Over the past three seasons, he's has a combined .228 avg with a .354 obp and 17 homers and 100 RBI in 299 games between Low-A Wisconsin and AA Biloxi. However, his 38 steals in 2017 at High-A Carolina were tied for second in the league. In 17 AFL games, Trent batted .150 with one homer and six RBIs, but showed promise towards the end of the season.
"Trent's one of those guys used to playing everyday, and his struggles are not mechanical; its being ready to hit," Javelinas hitting coach Joe Szekely said. "I think with players that don't play everyday, they want to make sure they swing at strikes, so they may sacrifice getting ready early for seeing where the pitch is and all of a sudden you aren't ready to hit. We've been trying to keep him aggressive, and last game, I thought was the perfect game plan. He was down and ready to hit and barreled the balls he swung at."
Wes Wilson has taken advantage of his limited time in Arizona. The jack of all trades corner infielder in Arizona led the Javelinas with a .583 slugging percentage and was second with a .375 average and .455 on base percentage.
Like Olczak, Wilson was born in High Point, North Carolina, but his family moved to Winston-Salem. And while his grandparents went to N.C State, he opted for Clemson.
In 175 games with the Tigers, he hit 14 homers, drove in 94 runs and had a slash of .260/.330/.387. After his junior year was selected by the Brewers in the 17th round of the 2016 draft. While he doesn't dwell on it, he recalls walking in his only at-bat against Olczak in college. The two played ball together in high school and play golf together in the off-season, a perk of living on a golf course.
His first professional stop was Helena of the rookie Pioneer League in 2016. In 62 games, he batted .318 with four homers and 38 RBI. He split each of the past two seasons at two levels. In 2017, he started the season at Wisconsin and was promoted to High-A where his numbers dropped a little. Between both stops, he hit .254 with eight homers and 53 runs batted in. This past year, he returned to High-A Carolina and finished the season at AA Biloxi, again experiencing typical growing pains.
When asked to assess his career to date, he said, "Being taken later in the draft, after the 10th round, I feel like I kind of had to play with a chip on my shoulder, but once I got to the pros, I started to focus on bettering myself on and off the field."
The difference between college and pro ball impacts how one deals with adversity.
"In college, you play and you're off a day or two and then you play in a weekend series. Here you play every day and you get used to that, and if you get in a slump, you learn quickly how to get out of the slump," he continued.
His ability and willingness to play multiple positions has worked in his favor, and he's well aware of the trend towards stockpiling multi-position players in the Major Leagues.
"Wes's big calling card is his versatility, being able to play pretty much anywhere on the field," said Brewers farm director Tom Flanagan. "We've tried him everywhere to some degree in the past except maybe pitcher and catcher. He plays very well wherever you put him. It's not just about the versatility and being a solid guy. He's got the ability and getting those extra at-bats against this competition will put him in a good place."
Mesa Solar Sox outfield prospect Eli White said, "Wes was one of the first guys I met on my recruiting trip to Clemson, and we hit it off right away and became roommates for three years and he remains one of my good friends from college. He's a great guy and Brewer fans can expect him to play the game hard; he does everything well, plays defense, swings the bat well."
In 13 games for the Javelinas, he played first and third was 18 for 48, hit two homers, drove in seven and scored 13 runs.
Second baseman Keston Hiura entered the 2017 draft as the best college hitter, literally. The Valencia, California native had just improved upon seasons in which he hit .330 and .358 at UC-Irvine with a .442 batting average in his junior year.
In his three seasons with the Anteaters, he also hit 22 home runs and drove in 135. Throw in a career .466 on base percentage and .581 slugging percentage and you can see why the Brewers selected him with the ninth overall pick in the 2017 draft.
The 5-foot-10 right-handed hitter came to the AZL as advertised and lived up to the advance billing.
"He missed some time early in the season due to an elbow injury, and we took it slow with him," Flanagan said. "He did fine with it all year, and we looked at it as getting another season where he'd play maybe 23 more games which would simulate that big league season."
His foray into professional ball last year was brief but impactful. In 42 games split between the Arizona League and Appleton, he hit four homers, drove in 33 runs and had a .371/.422/.611 slash line. This past season, he showed a little more power, clubbing 13 home runs and driving in 43 runs in 123 games split between High-A Carolina and AA Biloxi. He produced a slash of .293/.357/.464, impressive for a 21-year-old.
While his strikeouts have risen with his recent power surge, it's not because he's chasing bad pitches. He already appears to be the type of hitter that can dial the power back and raise his average – all the while driving in runs.
In assessing Hiura's approach to hitting, Flanagan said, "I think number one, he knows his swing and when you watch it, it looks a little different but it's very efficient. It's short and he can decide a little bit later and still impact the ball. He attacks pitches and continues to strive at grasping the strike zone. He's definitely special."
In earning the league MVP, the Phoenix resident was among the league leaders in several offensive categories. He led the AZL in hits (31) and RBI (33) was second in at-bats (96), third in runs scored (19), fourth in homers (five, the leaders had six), slugging (.56) and tied for fourth in strikeouts (28).
His consistency was unrivaled as he hit safely in 18 of 23 games, had 11 multi-hit games and knocked nine multi-RBI games including two 5 RBI and one 4 RBI games. He always seemed to produce big time with runners on base. In the championship game, with the Javelinas trailing 2-1, he singled up the middle to tie the game.
Peoria hitting coach Joe Szekely said, "He's just fun to watch. He's the epitome of a professional hitter and watch the way he goes about his work. He has the ability, which you are trying to teach all of them, to make in-bat changes and adjustments that he needs to make."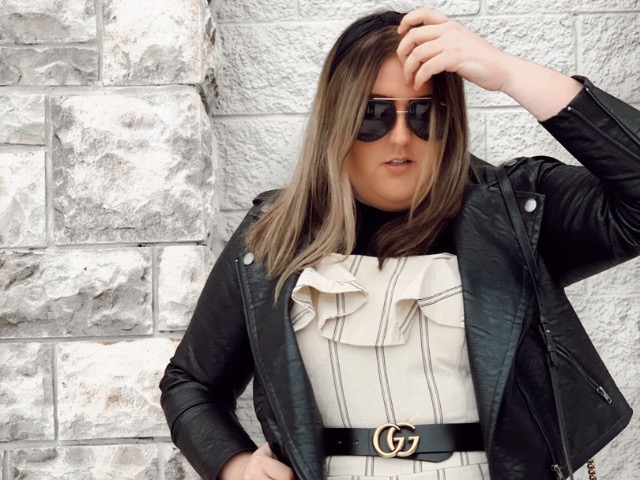 While not officially a part of the Brewers delegation, pitcher Aaron Wilkerson did make a cameo appearance in the AZL with the Mesa Solar Sox.
Sometimes players play for different teams when they arrive late or positions are already stacked. Wilkerson made three appearances for the Sox before playing in the Domincan Republic.
When asked what it would be like to win it all, Hiura replied, "It would be awesome. It's tough when you put together a bunch of guys that really don't know each other and sure team chemistry it's been great. We work together and trust each other, where if we have off-days or different guys come out of the pen, we trust that they'll be able to put up a zero or score runs on that day."
The Javelinas' 3-2, 10th inning victory almost played out perfectly according to the director's wishes.