OnMilwaukee ventured to the Valley of the Sun with The Big 920 (WOKY) to cover a different side of Brewers Spring Training and find the fun, unique angles – on and off the field in Phoenix – that make the bucket-list trip such a memorable experience for Wisconsin fans. Play ball!
PHOENIX – Except for the dazzling sunshine and mid-80s temperatures, the cacti nearby and hazy mountains in the distance, and but for the fact that it's still early March, in the back of a baking parking lot two hours before a Brewers game, Maryvale Park might as well be Miller Park. It is here, in the middle of the Sonoran Desert, amid snowbirds and seamheads, on a resplendent afternoon nearly a month before Opening Day, that you can find a warm and welcome – and exquisitely char-grilled – taste of Milwaukee.
That is, at least the part of Milwaukee people really like: beer, brats and Brewers baseball, all of which travel well for a true Wisconsin tailgate.
Long before Maryvale's lots fill up, before the Brewers even take batting practice, the last row of parking spaces at the far south end of the team's spring training stadium complex – abutting Phoenix's misleadingly bland Grand Canal – are already occupied. Three cars next to each other with Dairy State license plates; a little further on, two fans wearing ball-and-glove-logo hats playing cornhole (bag toss, for the uninitiated); several grills sending deliciously scented smoke into the cloudless sky; so, so many beers; and a familiarly friendly greeting to a curious passerby.
"You a Brewers fan?" a middle-aged man in a light blue team polo asks, as I cheerfully approach the group. "Only Brewers fans are allowed over here."
Jovially, we make introductions, the seven of them revealing a wide-ranging representation of Wisconsin – from Ashland to La Crosse to the southwest corner of the state. All are transplants, except a local named J.J., and most are still working, not sun-seeking retirees.
Well, maybe it was a little about weather for one diehard Brewers fan that eagerly relocated 30 years ago.
"I came down here in 1986, had just graduated college and wanted to get the hell out of the cold," says Terry Wiegel, a native of Shullsburg who worked for an insurance company until 1995, when he started his own agency. He has season tickets for Brewers Spring Training and says, because of that good old Midwestern affability, he meets fellow Wisconsinites all the time through tailgating – in a "trade you a beer for a hot dog" sort of way.
"When people come down, the first thing you say is, 'Where you from?'" he notes. "And everybody will know somebody from somewhere, so there's always a little story going on there – 'Do you know so and so?'"
Wiegel is the ringleader of the tailgate crew, according to Andy, a large, outgoing man whom Wiegel insists is the real ringleader. Originally from La Crosse, Andy, a former automotive executive in Detroit, moved with his family to Phoenix to start a new life. It was an adjustment, and there was a bit of culture shock, he says, but they have some relatives in the area and he and his wife are enjoying this next chapter.
Though I pass on a beer, I gladly accept the offer of grilled chicken, as an incredulous Andy ribs me for putting lettuce and tomatoes on my sandwich ("vegetables at a tailgate?!"). The Pringles and sunscreen are also generously shared.
Despite the belief of some that Maryvale Baseball Park, which was built in 1998, is one of the area's worst – dumpy and outdated in a Cactus League that's seen several new stadiums open in the last decade – this group has, definitively, the opposite opinion.
"The number one thing I find is, with the bells and whistles, comes more restrictions," says Wiegel, who's been coming to Brewers Spring Training games since the club played at Compadre Stadium in suburban Chandler. "They're not going to allow you to tailgate, they want you to support the bars and restaurants in the area, there's a lot of that going on. And here, you can come, hang out, get to meet people like you, and that's half the fun.
"It's spring training baseball; there's a lot of us that are into baseball, and a lot of people who come for the party."
Indeed, Maryvale is unique for allowing people to tailgate. Wiegel says it's a nod by the Brewers to their fans, whom they know love the outdoor party in Milwaukee, and he believes that if the team considered moving to a new stadium, they'd continue to allow the parking-lot grills and beers. "At least we hope so," he says.
Besides tailgating, what is it about Maryvale that Wiegel and friends so enjoy?
"It's simpler, and sometimes simpler is better," he says earnestly. "The grass is green, the beer is cold, the sun is out, they're playing baseball, the park looks beautiful, there's food, there's generally – and maybe this is a negative for the Brewers – but there's usually a smaller crowd, so you're not waiting in lines as long. It's less hassle.
"I've been to enough of the other ballparks, and it's almost work to go to a game. Here, this is fun to go to a game."
The local guy, J.J., agrees that other shiny-new parks don't feel as authentically, old-school baseball – "in a good way," he adds – as Maryvale. He's been a Brewers fan for decades, before Arizona got the Diamondbacks, and has been to Miller Park in Milwaukee multiple times.
Wiegel tries to get back to Milwaukee often, too, he says, about once a year. He and his tailgating son, Miles, a Northern Arizona University graduate who was born here but is a Brew Crew diehard and now works for his dad, try to fit Miller Park into their visits, but "Summerfest is a must every year," Wiegel says.
Maryvale Park, Miller Park, Arizona, Wisconsin, if there's a chance to tailgate, Brewers fans will take it. pic.twitter.com/OsH1EbqOA3 — Jimmy Carlton (@jimmycarlton88) March 9, 2017
The group is baseball knowledgeable and generally like the direction the Brewers are heading. I asked if cheering for them – especially during spring training – was still as fun and fulfilling when the team is rebuilding.
"Oh, absolutely," Wiegel says. "So far, at this point, I like every move (general manager) David Stearns has made. I like the players he's brought in, the trades, I think we're on the right track. We're building young, still keeping a nice core of veterans that's at least leading the way – of course we'll see what happens with Ryan Braun – but, at this point, I like it.
"Even in a total rebuild, you've got seven solid starters on the field, there's a couple of spots up for grabs, and you've got maybe seven starting pitchers to choose from."
A little further down the back row of the now-full parking lot – past the guys tossing bags, which is pretty much the most Miller Park thing anyone can do – are a man and a woman sitting in folding chairs next to a small charcoal kettle grill. An older couple, Tom and Susie have been married for 34 years and attended "maybe half a dozen spring trainings," Tom says. "And we always drive," Susie adds, without even a hint of begrudging in her voice.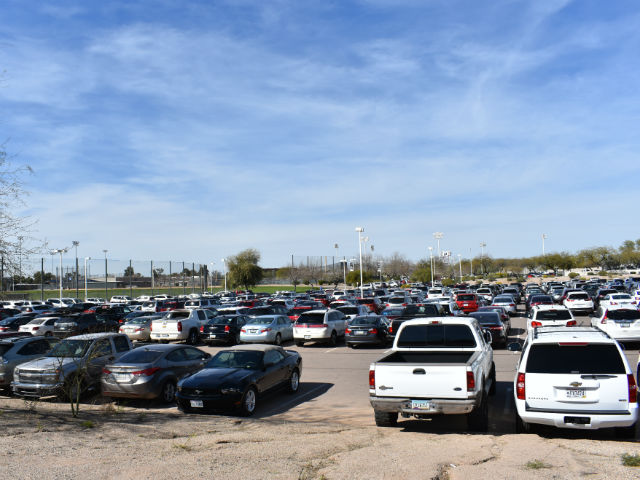 With the game about to start, I head back toward the stadium. Halfway there is a different group of seven that I'd met earlier – all white-haired men wearing hats and sitting in folding chairs. Their names are Floyd, Jim, Bill, Don, Randy, (other) Bill and Harry, and they all hail from either Manawa or Iola, two tiny towns in the small Wisconsin county of Waupaca. That much is evident by the signs hung with colorful clothespins on a line in front of their shaded tailgate, stating those facts. They are an endearingly intimidating bunch – drinking koozied Coors heavies and amused by my attempt to strike up a conversation – that guffaws as much as you'd expect from a group of old guys that hang signs with their names and hometowns on them.
They've been coming to Brewers Spring Training since 2006 or 2007 – no one's quite sure the exact year – and they fly out of Milwaukee. They've got three coolers, mostly filled with beer but also deli sandwiches, they say. One of the Bills proclaims himself the designated driver, proudly holding up his purple Grape Crush soda. All but two are retired; "guess which ones," they tell me, and when I say it must be the two that look the most relaxed and happy, they laugh and say they're all relaxed and happy.
"We're watching Brewers baseball in the sun and it's March," one says. "This is paradise."
As I pass the Waupaca boys on the way back to the park, I yell out, "Go Brewers!"
"Go Brewers," they respond practically in unison, raising their beers in a toast – perhaps as much to the tailgate as to the team – and in no hurry at all, really, to get to the game.
Born in Milwaukee but a product of Shorewood High School (go 'Hounds!) and Northwestern University (go 'Cats!), Jimmy never knew the schoolboy bliss of cheering for a winning football, basketball or baseball team. So he ditched being a fan in order to cover sports professionally - occasionally objectively, always passionately. He's lived in Chicago, New York and Dallas, but now resides again in his beloved Brew City and is an ardent attacker of the notorious Milwaukee Inferiority Complex.
After interning at print publications like Birds and Blooms (official motto: "America's #1 backyard birding and gardening magazine!"), Sports Illustrated (unofficial motto: "Subscribe and save up to 90% off the cover price!") and The Dallas Morning News (a newspaper!), Jimmy worked for web outlets like CBSSports.com, where he was a Packers beat reporter, and FOX Sports Wisconsin, where he managed digital content. He's a proponent and frequent user of em dashes, parenthetical asides, descriptive appositives and, really, anything that makes his sentences longer and more needlessly complex.
Jimmy appreciates references to late '90s Brewers and Bucks players and is the curator of the unofficial John Jaha Hall of Fame. He also enjoys running, biking and soccer, but isn't too annoying about them. He writes about sports - both mainstream and unconventional - and non-sports, including history, music, food, art and even golf (just kidding!), and welcomes reader suggestions for off-the-beaten-path story ideas.