Over 43,000 fans packed Miller Park for an early season showdown between the Milwaukee Brewers and Chicago Cubs on April 11, 2009, and understandably so: The Brewers were fresh off the club's first playoff appearance in 26 years and the Cubs were a 97-win team in 2008.
Ken Macha's squad had undergone a makeover, but the core was all back – Prince Fielder, Ryan Braun, J.J. Hardy, Corey Hart and Rickie Weeks.
Dave Bush took the ball for the Brewers, and he dueled with Carlos Zambrano. It was the fifth game of the season, and it started well enough for the Brewers, who took an early 2-0 lead off Zambrano on the strength of a Fielder home run.
The end result was frustrating however, as Carlos Villanueva took the loss when the Cubs' Alfonso Soriano hit a two-run homer in the top of the ninth inning to put the Cubs up, 6-5. Carlos Marmol then struck out Fielder and Braun with Hart on first to end the game.
A tradition started that day, however, one that lives on in the Miller Park press box.
At some point, in either an eight pitch at-bat in the third inning or a five-pitch at-bat in the fifth, Hardy got under a Zambrano offering and rocketed the ball back up over the safety netting behind home plate and sent the Brewers media relations staff scrambling.
Brewers Media Relations Manager John Steinmiller tells the rest:
"(It) put a pretty solid hole in one of the walls and I happened to be right there with a sharpie, so I wrote on the wall."
So it began.
"We continued the tradition and even asked maintenance not to seal the holes or paint over our markings," Steinmiller said. "It has become quite popular on tours and such, kind of just something fun to do during games and a fun way to look back."
There are nearly 50 marked foul balls on the press box walls. There are some other dents and nicks that have escaped notice (it is a working press box, after all), but most are cataloged in sharpie.
Here are some highlights.
The tri-fecta
Mike Cameron did this in an 8-4 Brewers win in a game in which he homered off Philadelphia's Cliff Lee. A year later, Alcides Escobar made an impression in a 4-3 loss and Casey McGehee left his mark in a 6-5 victory.
Braun's double
Braun has come the closest of any player to hitting the same spot twice, first sending a ball off former Cubs starter (and current teammate) Tom Gorzelanny in a 10-2 Brewers loss in 2009. Less than two years later, in a 7-6, 10-inning loss to Cincinnati, he dotted the same area off Reds starter Sam LeCure.
Personal favorites
I covered the Brewers all of last season, and nary a foul ball had come my way. That has not been the case this season, and the closest call came courtesy of Carlos Gomez on May 3 against Shelby Miller and the Cardinals. This ball landed to my left and hit the phone next to Fox Sports Wisconsin's Andrew Gruman, then kicked back and left this mark. The Brewers lost that game, 6-1.
I was in attendance for this last foul ball, which seemed to defy all laws of physics. Most of these foul ball markings come within the first two rows of the press box as the ball tends to rainbow up off the bat and come down fairly quickly.
But somehow, Texas Rangers shortstop Elvis Andrus managed to foul this ball at such a height, and velocity, to reach the top, back row of the press box, hit the phone on that counter, and carry across the hallway to leave this mark on the back wall. If I wasn't there to see it, I wouldn't have believed it possible.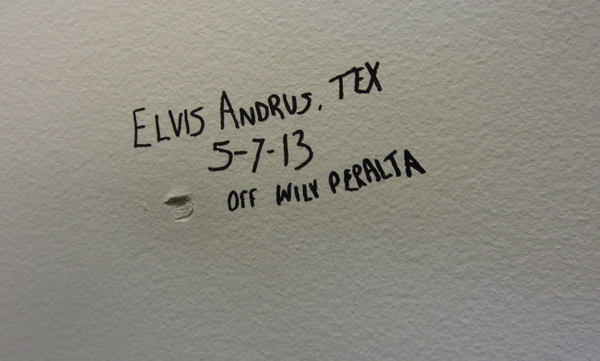 The Brewers won that game 6-3 behind a six-inning effort by Peralta in which he gave up two earned runs, which led me to write this story the next day.
Covering the teams in Milwaukee and Green Bay is a job, and the members of the media take it seriously, but every now and then it's nice to be reminded that it can be fun. This is just a small example of that.
Jim Owczarski is an award-winning sports journalist and comes to Milwaukee by way of the Chicago Sun-Times Media Network.
A three-year Wisconsin resident who has considered Milwaukee a second home for the better part of seven years, he brings to the market experience covering nearly all major and college sports.
To this point in his career, he has been awarded six national Associated Press Sports Editors awards for investigative reporting, feature writing, breaking news and projects. He is also a four-time nominee for the prestigious Peter J. Lisagor Awards for Exemplary Journalism, presented by the Chicago Headline Club, and is a two-time winner for Best Sports Story. He has also won numerous other Illinois Press Association, Illinois Associated Press and Northern Illinois Newspaper Association awards.
Jim's career started in earnest as a North Central College (Naperville, Ill.) senior in 2002 when he received a Richter Fellowship to cover the Chicago White Sox in spring training. He was hired by the Naperville Sun in 2003 and moved on to the Aurora Beacon News in 2007 before joining OnMilwaukee.com.
In that time, he has covered the events, news and personalities that make up the PGA Tour, LPGA Tour, Major League Baseball, the National Football League, the National Hockey League, NCAA football, baseball and men's and women's basketball as well as boxing, mixed martial arts and various U.S. Olympic teams.
Golf aficionados who venture into Illinois have also read Jim in GOLF Chicago Magazine as well as the Chicago District Golfer and Illinois Golfer magazines.