By now, surely, if you have internet access and enjoy things that are good, you have seen the various clips circulating online of Milwaukee Brewers outfield prospect Brett Phillips laughing his incredible, amazing, make-a-crying-baby-smile laugh.
But because it's great, let's watch it again anyway.
Ready? Prepare your face for glee.
Here it is.
Ladies and gentlemen, @Brett_Phillips8 - the greatest laugh in franchise history. pic.twitter.com/GpvgzrcTx4 — Kevin Holden (@321cuekevin) February 26, 2016
Terrific.
Now we've been high on Phillips, who was acquired last year from the Astros in the Carlos Gomez trade, since he was the belle of the ball at Brewers On Deck last month, winning over fans and media with his charisma and humor.
Thankfully, Phillips' teammates have recognized how important his laugh is to the internet and human happiness, in general, and have made a sort of spring-training game out of trying to get him to bust up.
Phillips' glorious guffaw, which starts as a shaking, silent and wide-faced gasp and builds to a full-body, hee-hawing climax of hilarity, reached its apex of national attention after this delightful video was published showing reliever Will Smith baiting the 22-year-old by reading him some corny mom jokes.
Anyway, it's unlikely Phillips makes Milwaukee's Opening Day roster out of spring training this season. He's the second-ranked prospect in the organization, but the Brewers, at the beginning of their ballyhooed rebuild, are in no rush to start the service clock on a high-upside player they can develop in the minors.
But since none of us ever want to stop gazing in wonderment at Phillips' awe-inspiring laugh, here are 24 more terrible Brewers jokes to keep his good times going.
1. What's the difference between Matt Garza and an amateur bowler?
The bowler might throw a strike.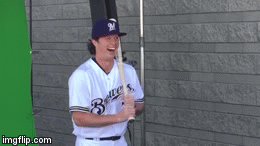 2. Why did Ryan Braun's restaurant close?
It was using artificial sweetener.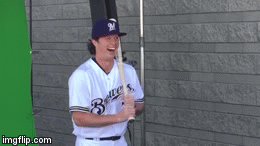 3. What happened when Craig Counsell and David Stearns walked into a bar?
They got kicked out for being underage.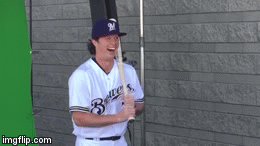 4. What do you call the Brewers' infield?
No, seriously. Who are those guys?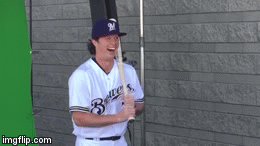 5. Did you hear, one of your teammates is named Damien Magnifico?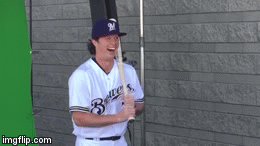 6. Why did Prince Fielder like playing in Milwaukee?
Because he was considered skinny.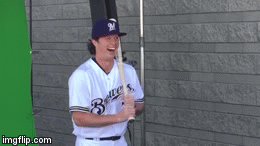 7. So, Wily Peralta and Jimmy Nelson sit down at a buffet table...
The table collapses.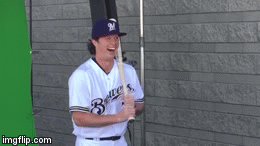 8. "Soup pitched great."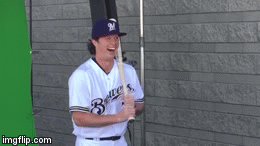 9. What's Tyler Cravy's favorite breakfast?
Biscuits and Cravy.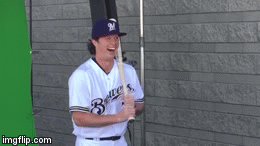 10. Why did Zach Davies have to miss his start?
His mom said he couldn't play until he finished his homework.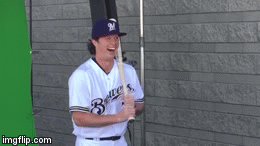 11. Did you hear about the Brewers' situation at first base?
Yeah, it's gotten so bad they're signing old Minnesota Vikings wide receivers.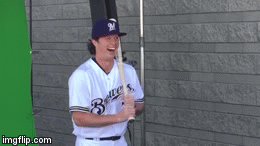 12. Aaron Hill?
More like, Aaron Over-the-Hill!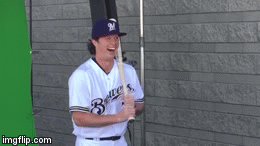 13. Why can't Corey Hart drive a car in the dark?
Because he wears his sunglasses at night.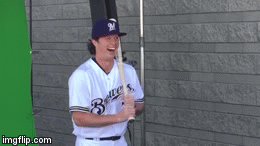 14. Why did Jonathan Lucroy cross the road?
To get to another team.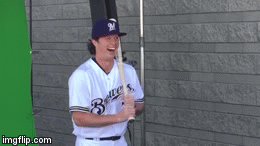 15. What is Hank the Ballpark Pup's favorite food at Miller Park?
A hot DOG.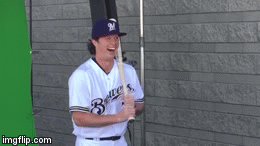 16. Why did the Brewers bring Taylor Jungmann to the bowling alley?
Because they needed a pitcher to carry the beer.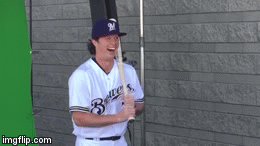 17. What do umpires and Hank the Dog have in common?
They always clean their plates.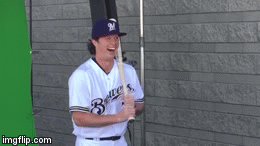 18. What is it called when you cheat, but in the classiest, most respectful and hardest-working way possible?
The Cardinal Way.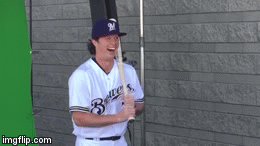 19. Why did Billy Hamilton go to jail?
Stealing.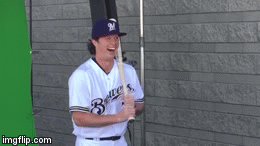 20. What do you call Milwaukee when everyone leaves the city?
Pittsburgh.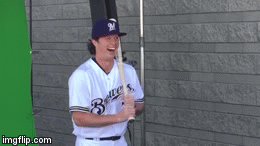 21. Did you hear about the Chicago Cubs?
Yeah, they think they're going to win a World Series this century!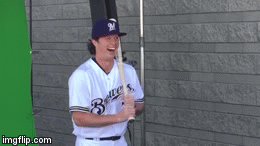 22. You know, Bob Uecker was named the Minor League Player of the Year in 1962.
Unfortunately, it was his second season in the majors. (Credit Uecker for that one.)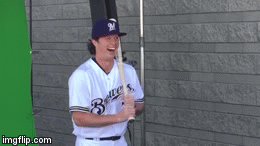 23. Why did Bernie Brewer start drinking heavily again?
Because they were going to play Roll Out the Barrel "one more time."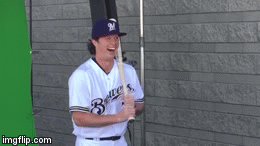 24. Do you think the Brewers will win 70 games this season?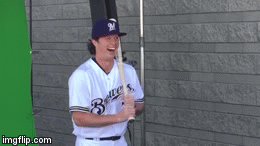 Got a horrible joke that you think Brett Phillips would love to laugh at? Leave it in the comments!
Born in Milwaukee but a product of Shorewood High School (go 'Hounds!) and Northwestern University (go 'Cats!), Jimmy never knew the schoolboy bliss of cheering for a winning football, basketball or baseball team. So he ditched being a fan in order to cover sports professionally - occasionally objectively, always passionately. He's lived in Chicago, New York and Dallas, but now resides again in his beloved Brew City and is an ardent attacker of the notorious Milwaukee Inferiority Complex.
After interning at print publications like Birds and Blooms (official motto: "America's #1 backyard birding and gardening magazine!"), Sports Illustrated (unofficial motto: "Subscribe and save up to 90% off the cover price!") and The Dallas Morning News (a newspaper!), Jimmy worked for web outlets like CBSSports.com, where he was a Packers beat reporter, and FOX Sports Wisconsin, where he managed digital content. He's a proponent and frequent user of em dashes, parenthetical asides, descriptive appositives and, really, anything that makes his sentences longer and more needlessly complex.
Jimmy appreciates references to late '90s Brewers and Bucks players and is the curator of the unofficial John Jaha Hall of Fame. He also enjoys running, biking and soccer, but isn't too annoying about them. He writes about sports - both mainstream and unconventional - and non-sports, including history, music, food, art and even golf (just kidding!), and welcomes reader suggestions for off-the-beaten-path story ideas.