Every day across Major League Baseball, pictures are painted of the physical ailments players have to work through to get on the field. Body parts are taped to hold firm, combinations of heat and ice are applied to prevent – or alleviate – pain.
There are strains, sprains, tears and impingements. There is inflammation and "flare ups" and discomfort.
Yet for physically toll exacted on a baseball player, the mental tax is much, much higher.
"Whoever invented 162 games in baseball, (it) was just some kind of cruel joke," Milwaukee Brewers reliever Burke Badenhop said. "It's a lot, man. It's really tough."
When the 2013 schedule was released, the Brewers were slated to play 162 games in 183 days.
Included in those 21 scheduled off days was the All-Star break in July, which will require travel and another game for at least player on the squad.
The team would face stretches where they played 10 and 13 straight games twice apiece, 19 straight games once and 20 straight games on two other occasions.
Keeping the brain together is perhaps the toughest task of all.
"It's baseball," said Brewers manager Ron Roenicke, who played eight years in the big leagues. "It's a very tough game. Not just physically because we play every day, but the mental side. When you're going out there and you're having oh-fers, and it just keeps happening over and over, mentally it gets to you."
Some of the Brewers give you an inside look as to what it's like to go through that kind of grind.
The travel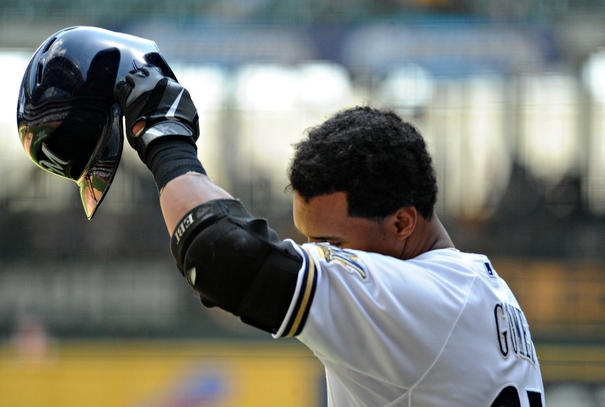 Of the Brewers scheduled 21 off-days, players found themselves in a different city than the one they were in the before the off-day 14 times. The team was also slated to play back-to-back calendar days in different cities 24 times. They're professional athletes, but that gets difficult.
Jean Segura: The toughest road trip was when we played in extra innings against Minnesota (on May 28) and we go up there. We got in at like 4:30 in the morning. After that we played a night game in Minnesota and we go to Philadelphia (May 31) and we get to Philadelphia at like 5-something. That's tough.
Davey Nelson, FoxSports Wisconsin analyst and former Brewers coach who played 10 years in the major leagues from 1968-77: Not only does that add into it, but here's the other part of it – the fact that now, it's totally different when you're on the road like that and get in at that hour in the morning. Now your whole routine is disrupted. Your sleep routine. The routine you have in that daily basis is disrupted. That takes a mental toll on you. Physically and mentally. Now you've just got to make an adjustment Now you go out to the ballpark and guys will say, man, the mind can play tricks on you. It says uh-oh, I'm feeling tired. And you may be tired, but you've got to remember toot hat nobody is going to feel sorry for you. Guys have a way of picking it up and you'll see it. Sometimes a team, I've seen it with the Brewers, how travel got to them. They're on a losing streak anyway and so they get a little sluggish, they don't have that energy. All that is, is the mental part of it, the mental strain. Yeah, you might be a little beat up physically but it's the mental strain and that energy is not there.
Badenhop: It's a job unlike any other. I don't think the average person probably doesn't see that. Or watching on TV, they don't really think that the team got in and three o'clock this morning or how you'd feel. I always talk to my buddies and I'm like you go to your job – and they have important jobs and stuff like that – but imagine if it really mattered how you physically felt, like if you're tired that day or you didn't sleep good the night before or something, you could probably get through your day pretty good.
The position players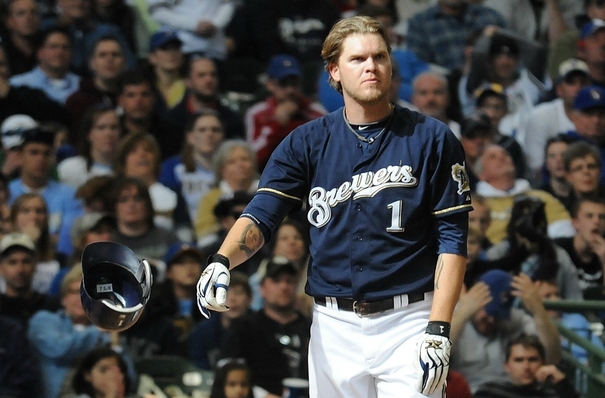 Striking a moving, spinning sphere with a round object is one of the hardest accomplishments in all of athletics. And it only gets harder once you're in the major leagues.
Segura: Baseball is going to be the same, you know? But here, you've got so many scouting reports, you've got people who recognize you better, you've got some videotape. You've got everything here, so it's tough. But your approach is always going to be the same It's tough when you get to a city at 4:30 in the morning, you go to sleep at like 5 in the morning and we've got play the next day, it's tough. It's tough to be in that position but it's not the same for everybody.
Nelson: There's a comfort zone in playing every day. There's a comfort zone in knowing you're not going to lose your timing One of the biggest things with guys is when they platoon is its normally a left handed hitter and a right handed hitter that are going to platoon. You're going to see more right handers than you are going to see left handers, so the guy batting left-handed is going to see a lot more playing time. So now, the other guy as to say to himself, OK, boy, I've got to just work harder in the cages and try to stay sharp. Then, there's the pressure and the mental strain of going up –when you do get that opportunity to play – to produce. If you say, man, I'm 0for-4, and I don't get any hits, it starts to wear on you.
The pitching
This isn't to say that starting pitching is difficult – but there is time between starts to rest , both body and mind. For relievers, it's a different story. They need to be ready to go nearly every game.
Alfredo Figaro: I don't feel tired. Sometimes I feel tired if I don't get into a game for along (while). It's just all mental. You know you have to be in the game and when you're in the game, just do your job. It doesn't matter how you feel.
Badenhop: It's such a mental grind. It's so tough. I was a starter for so long (in the minors) and then you have to bring it to the park once every five days and be locked in. I'm not saying that it's easier, but now you literally have got to be locked in. You know you've got about 10 days where you know you're not going to pitch but you're locked in 150, 152 games, it's pretty nerve wracking. I think that's why I tend to be a little bit more animated on the mound. It's because I find that regardless of how I'm feeling physically or what I've got that day, if I bring it mentally, usually it end to have success. Even if I do not have success I can be OK with my failures because I knew that I brought it mentally and was focused on what I was doing. I think that's absolutely the hardest part.
Making it work
Having a long major league career is probably a greater testament to mental fortitude than physical ability. A lot of players never reach the majors – or don't stay very long – not because the talent wasn't there, but because they couldn't manage the mental side. Even for young players, there is little security in "development" – success is the bottom line.
Nelson: They don't' have that mental edge. There's that mental strain. It's such a fine line. That's why when you see guys that are supposedly can't miss and they don't make it, and you say why? It's not because of their ability. It's right there mentally and can't handle the mental pressure.
Segura: This level is a lot of money on the line, so everybody wants to win, everybody wants to go the playoffs, everybody wants to win a championship. On a major league team, it's all about winning – win games – it doesn't matter how good you are, how bad you are, it's all about winning games. If you don't win games, the team is going to change. If you don't win games, you know people are going to get fed up. A lot of criticism is going to come because they want to be good and they want this club gone, you know?
Roenicke: The good ones, they're better at battling and they come out of it quicker. They're more talented a lot of times, but mentally there's guys that are just so much stronger. Whether it's cockiness, confidence, whichever one it is, they come out of things quicker.
Jim Owczarski is an award-winning sports journalist and comes to Milwaukee by way of the Chicago Sun-Times Media Network.
A three-year Wisconsin resident who has considered Milwaukee a second home for the better part of seven years, he brings to the market experience covering nearly all major and college sports.
To this point in his career, he has been awarded six national Associated Press Sports Editors awards for investigative reporting, feature writing, breaking news and projects. He is also a four-time nominee for the prestigious Peter J. Lisagor Awards for Exemplary Journalism, presented by the Chicago Headline Club, and is a two-time winner for Best Sports Story. He has also won numerous other Illinois Press Association, Illinois Associated Press and Northern Illinois Newspaper Association awards.
Jim's career started in earnest as a North Central College (Naperville, Ill.) senior in 2002 when he received a Richter Fellowship to cover the Chicago White Sox in spring training. He was hired by the Naperville Sun in 2003 and moved on to the Aurora Beacon News in 2007 before joining OnMilwaukee.com.
In that time, he has covered the events, news and personalities that make up the PGA Tour, LPGA Tour, Major League Baseball, the National Football League, the National Hockey League, NCAA football, baseball and men's and women's basketball as well as boxing, mixed martial arts and various U.S. Olympic teams.
Golf aficionados who venture into Illinois have also read Jim in GOLF Chicago Magazine as well as the Chicago District Golfer and Illinois Golfer magazines.