Three years before I was a dad, I was just a son on Father's Day. But one annual tradition connected me to my dad and my daughter to me. It's called British Car Field Day, and like it has for 41 years, it takes place Sunday in Sussex.
But my history with this event stretches back much farther than my first-ever visit in 2005. It actually goes back before I was even born in 1974.
A not-so-short backstory: In the early '70s, my then – and usually now – very cool dad, Larry, had a penchant for British sports cars. As a reporter for the Milwaukee Sentinel, he would buy one and drive it year 'round – including through the harsh Milwaukee winters. He'd take improbable skiing roadtrips in a '72 Triumph TR-6 or a '69 Austin-Healey Sprite. He'd drive it to and from interviews with colorful Milwaukee personalities, and then, like all British cars of that era, it would rust out and fall apart – that is, if the finicky Lucas electrical system (the Prince of Darkness!) didn't crap out first. Then he'd buy another one. Between those cars and his motorcycles, that was my dad in a nutshell, until raising my sister and me put an end to his love affair with two-seat convertibles from across the pond.
In fact, the only British sports car I remember him owning was a mustard yellow 1973 Jensen Healey. When our family of four would cram into it, my little sister and I would fold ourselves into the space where the top would go, and there weren't seatbelts, much less seats, back there. Ah, the '70s.
By the time my dad junked it in 1983, it was so rusted out that you could see the road beneath the holes in the floorboard. Even at age 9, I was annoyed that he didn't keep it for me to someday drive. Sadly, that argument went nowhere.
Well, in the year 2000, my parents were living in Baltimore, and 26-year-old Andy had just purchased a Honda CRV for some reason I'll never understand. I immediately had buyer's remorse, but drove it to the East Coast to visit them that spring, cursing myself the whole way for owning a soccer mom car not befitting a poor, single entrepreneur just starting OnMilwaukee.
At the dinner table one night, I asked my dad what kind of car he drove at my age. He couldn't remember if it was the Triumph or the Sprite or the Healey or the Saab Sonnet (not British, but still cool). On that long drive home that I knew I was not living my best life. I was CRV-deep in my quarter-life crisis.
Long story short: I spent the next few weeks on the porto-internet researching classic British sports cars and learned that they were in fact very, very cheap. On July 25, 2000, I picked up a burgundy red 1975 MGB convertible from a kindly couple in Tosa for $3,200. Even back then, childless and renting a cheap East Side apartment without a garage to store a car that shouldn't sit in the rain, I could swing that adorable antique for cash. I never once regretted it.
Cars are just cars. They're just things. But my MG is the best thing I've ever bought, and I drive it as much as I can during the summer. It's a little rusty and dented, but it brings me joy every time I cruise down Lake Drive. It brings me less joy on the highway, dwarfed by semi trucks swerving around my tiny 95 HP, four-speed roadster.
Flash forward to 2005, when my parents moved back to Wisconsin after almost 20 years on the East Coast. I learned about British Car Field Day, a Father's Day event which has taken place every year since the early '80s (except when it was canceled in 2020 due to the apocalypse).
So we went. You'd be surprised how many of these cars are still on the road in Wisconsin. Hundreds show up, rain or shine.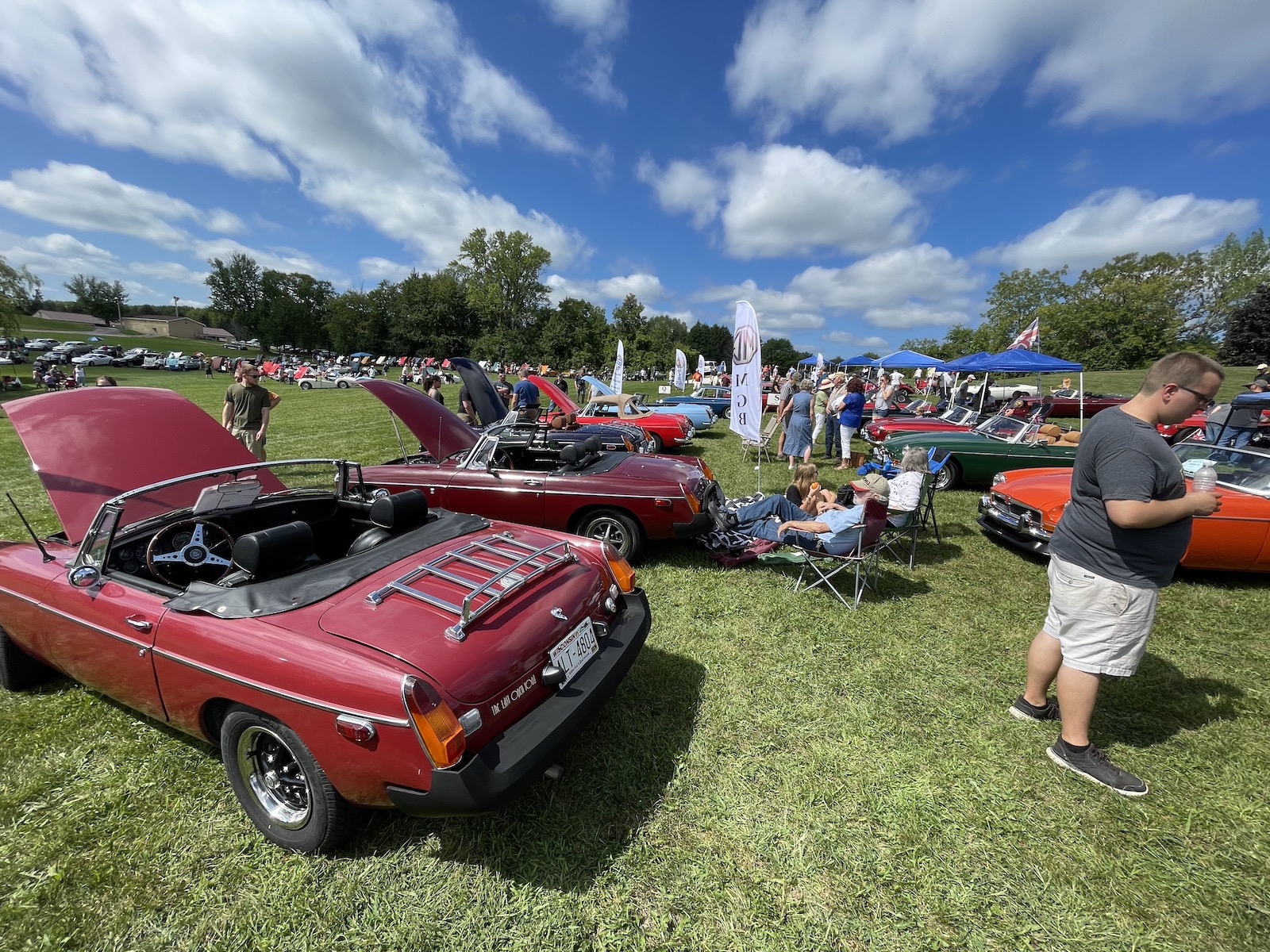 It's a wonderful, family-friendly car show at Sussex Village Park, W244N6125 Weaver Dr. Tickets for people who bring their classic – or new – British car or motorcycle cost about $15 on the day of the show. If you're just there to take in the sights, it's a few bucks. They have so many raffle prizes that you're almost guaranteed to win something cool, and the Boy Scouts grill up brats and burgers for lunch. I don't consider myself a car guy. I changed my oil once on the MG and realized that things like adjusting dual carburetors and replacing fuel pumps are better left to the pros.
I go for other reasons.
In 2005, I was one of the youngest attendees. Most of the people with old British cars are, well, old. You'll see marques you may not even know existed, like TVR and Sunbeam, as well as the rarest of rare Lotuses and Rolls-Royce and Jaguars. And you'll see a ton of MGs of all models, stock and heavily modified.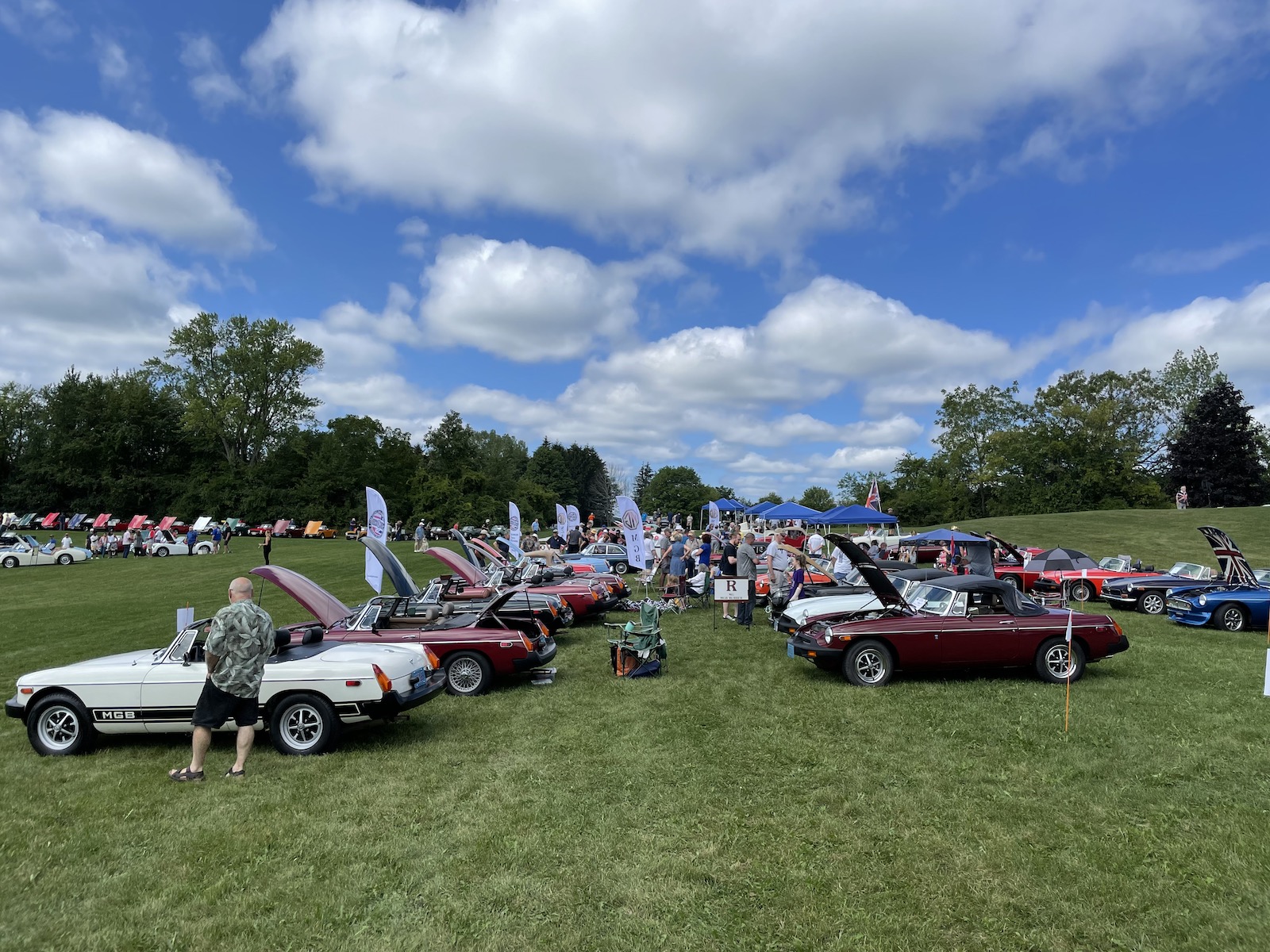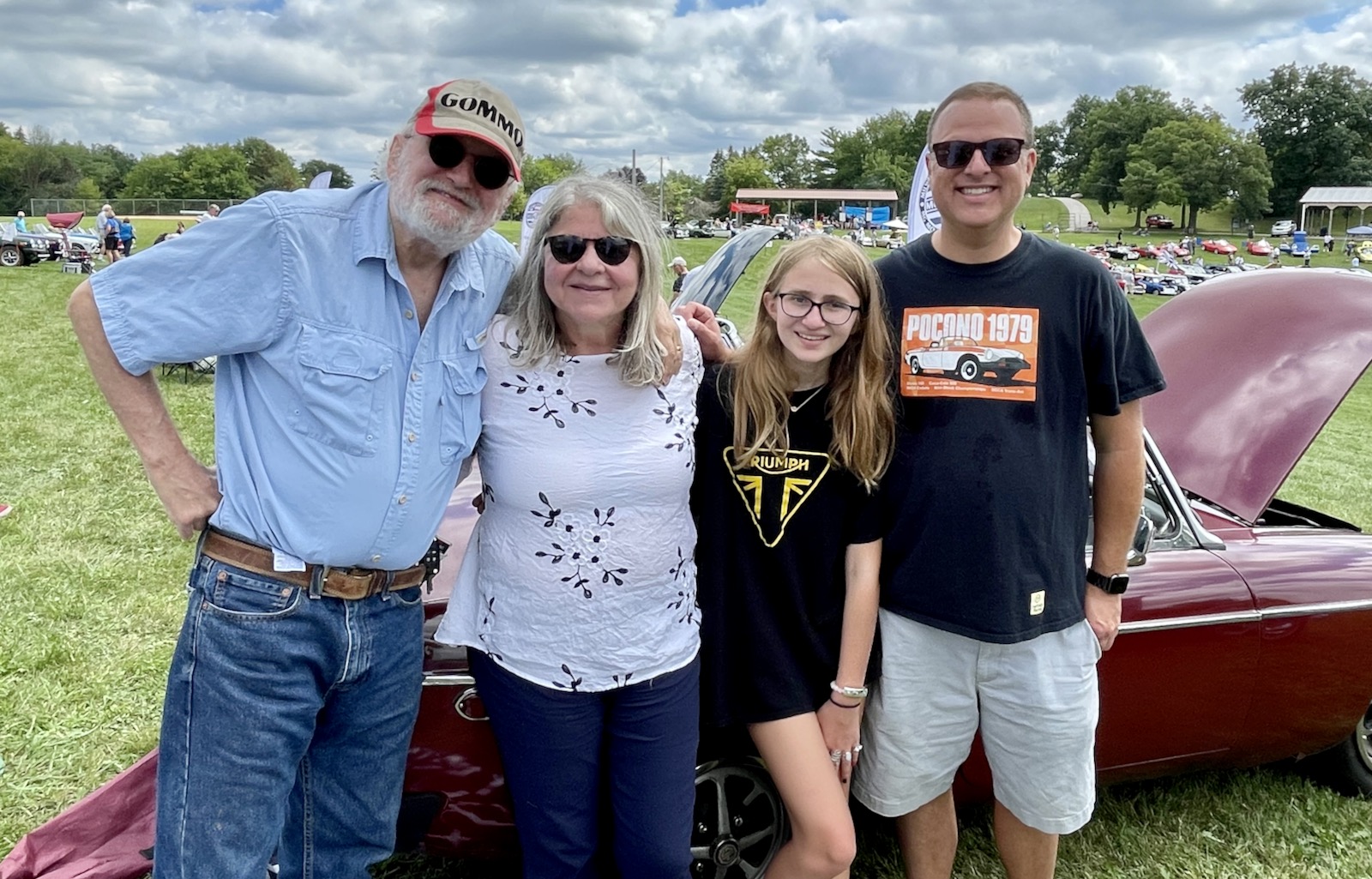 People are exceedingly friendly and willing to tell their stories and offer tips on how to make the most out of these classic cars. Some are inevitably for sale, often for a song. In fact, inspired by our father-son bonding moments, my dad rekindled his love for old British cars and eventually bought a 1951 MG-TD, which eventually he put up a for sales sign at the show a few years later.
As for the old guys, well, I'm starting to blend in with that crowd. Like the Boomers wandering around sharing stories, I now do that, too, always taking a few laps around the big park with my dad … and now my daughter, too.
In fact, in 2009, we brought my daughter to her first Father's Day at British Car Field Day, and save for one or two that we couldn't swing, we've been to every one since. We'll be there this Sunday on a picnic blanket and camping chairs behind my MGB (which, understandably, never wins any awards). Come and say hi.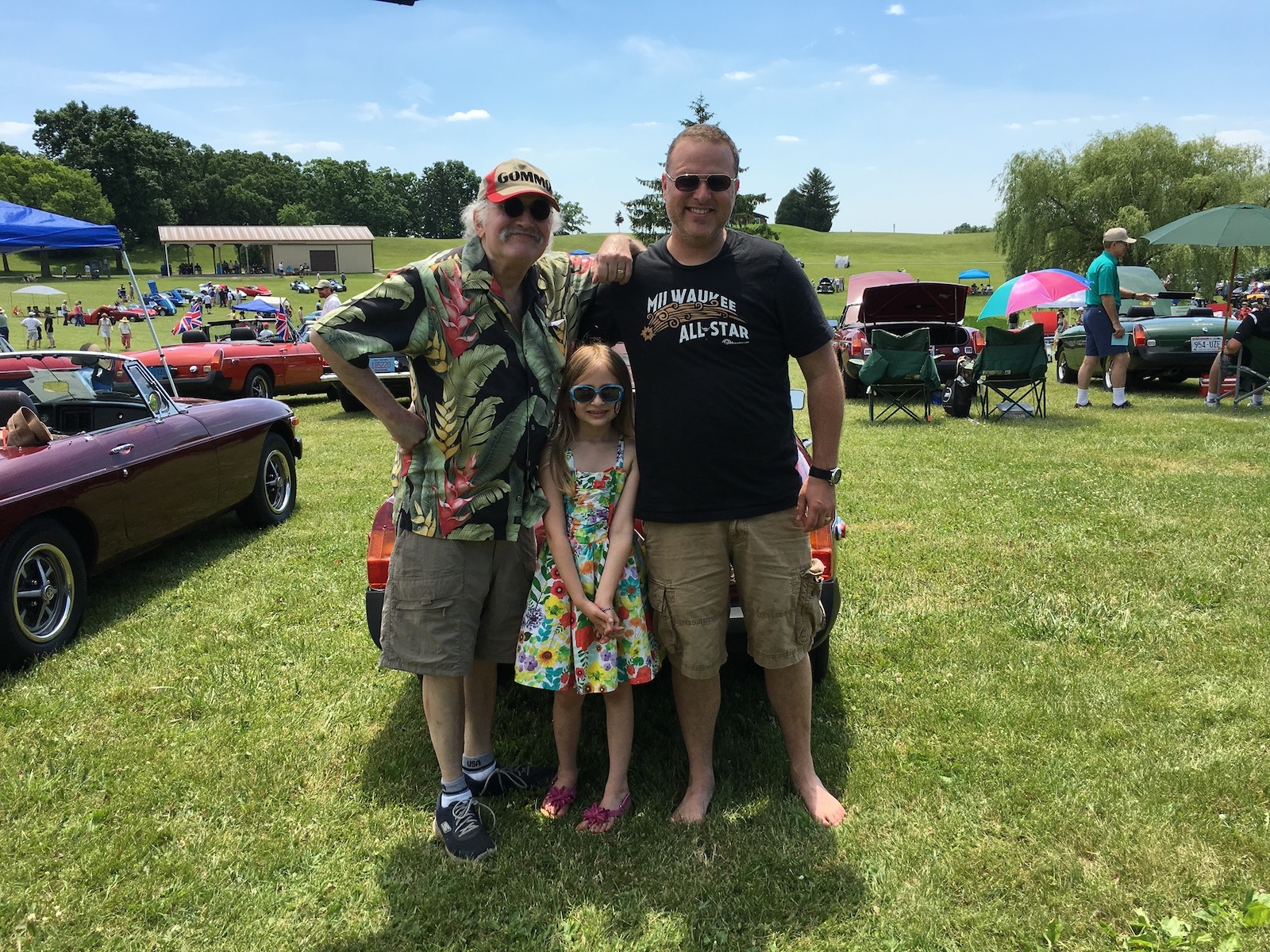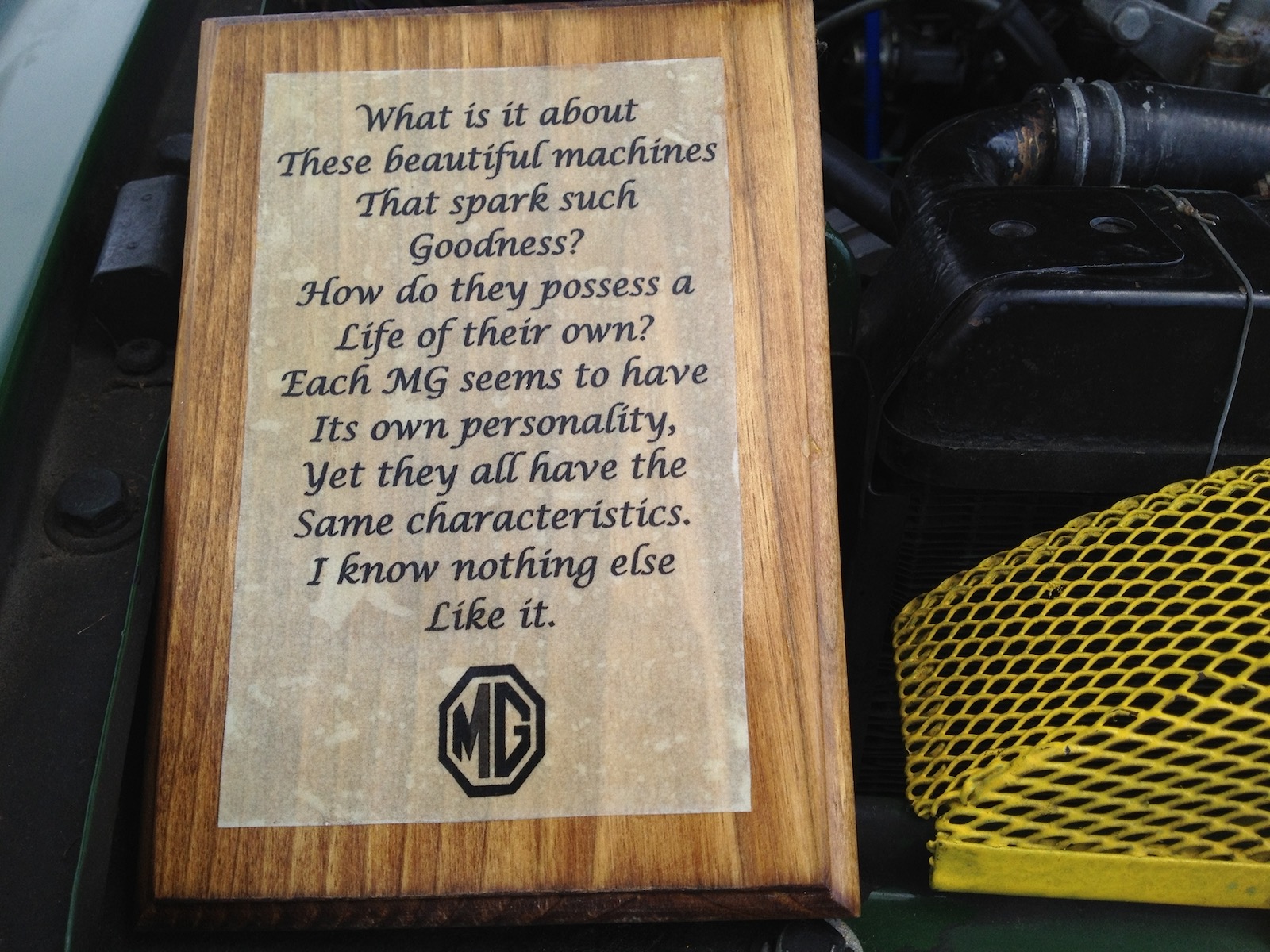 In other words, it's not really about the cars. It's about a connection that spans generations, manifested in a bunch of both pristine and rusty, impractical, usually defunct brands, and the chance to nerd out with your dad and/or children.
If there's a better way to celebrate Father's Day in my family, I've yet to experience it.
British Car Field Day in Sussex is this Sunday from 9 a.m. to 3 p.m. Online sales are closed, but you can purchase them at the entrance of the park. Proceeds benefit Children's Hospital and Boy Scoot Troop 95.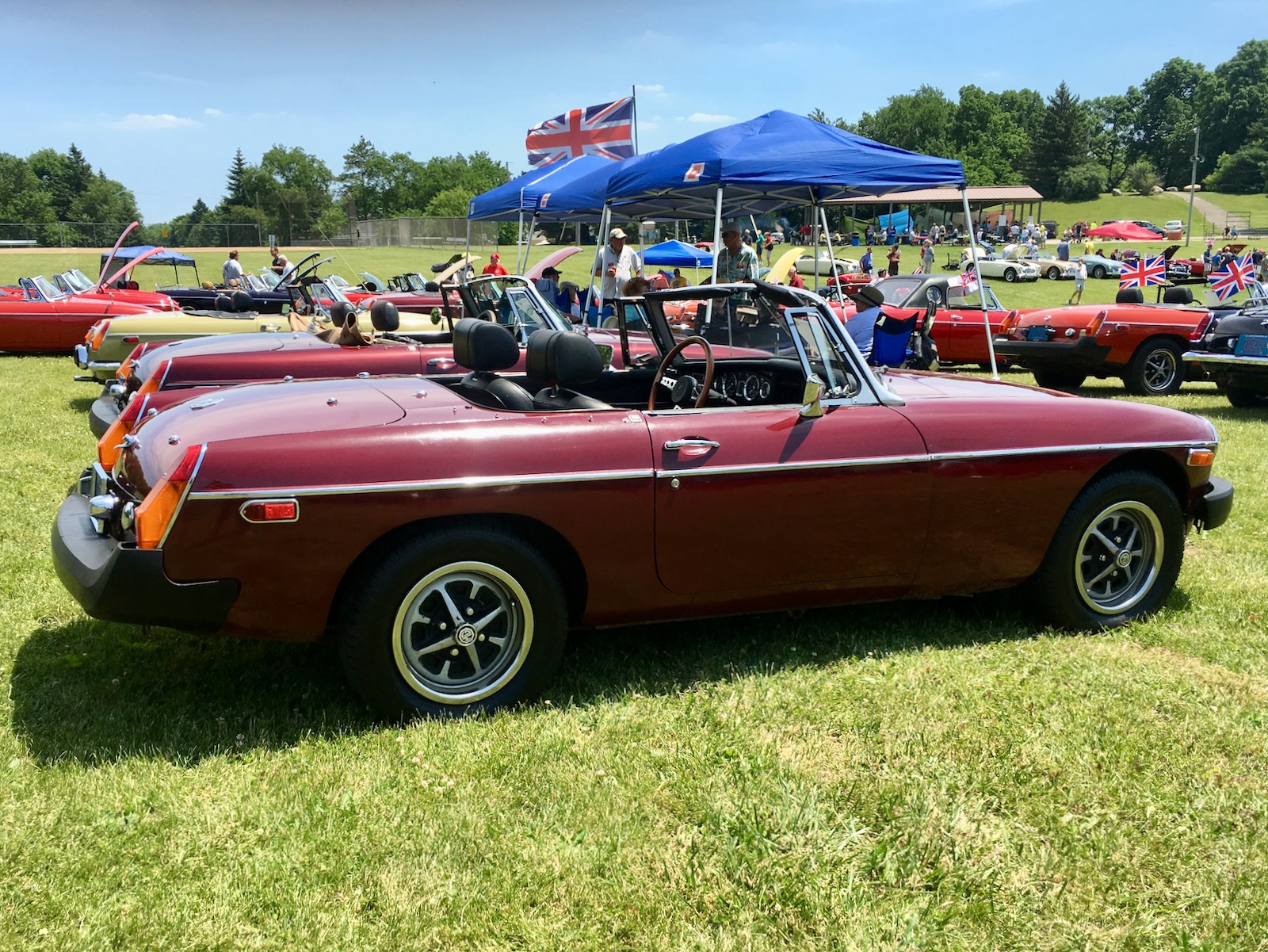 Andy is the president, publisher and founder of OnMilwaukee. He returned to Milwaukee in 1996 after living on the East Coast for nine years, where he wrote for The Dallas Morning News Washington Bureau and worked in the White House Office of Communications. He was also Associate Editor of The GW Hatchet, his college newspaper at The George Washington University.
Before launching OnMilwaukee.com in 1998 at age 23, he worked in public relations for two Milwaukee firms, most of the time daydreaming about starting his own publication.
Hobbies include running when he finds the time, fixing the rust on his '75 MGB, mowing the lawn at his cottage in the Northwoods, and making an annual pilgrimage to Phoenix for Brewers Spring Training.