Table top games like Warhammer 40K by Games Workshop and Fantasy Flight's X-Wing are two popular choices among gamers who enjoy pushing around finely painted miniatures, but Milwaukee-based Breaker Press Games has begun to carve his own niche into field with their standalone game, Broken Contract. And today, Monday, Jan. 13, they are launching a Kickstarter to fund the production of new in-game figures: four breaker children and a hard luck dog with a prosthetic limb.
Broken Contract is a dystopian table top game that basically pits militarized mine overseers (The Black Squadron) against their oppressed, genetically-modified workers (The Breakers). If you like intellectual property like "Blade Runner," "Mad Max," or "Judge Dredd," you will probably see the appeal.
Nick Baran offered some insight into this, perhaps, strange entry into the war gaming world. "Broken Contract's theme is worker insurrection in a dystopian future, which can feel really dark and heavy, but this is offset by infusing a heavy dose of action movie adventure tropes; in this case it is the 'streetwise kids,' like Short Round in 'Indiana Jones and the Temple of Doom,' or kids in 'The Goonies' or 'Stranger Things.'
"The Children of FerrumSky miniature set brings models for four rugged kids and a dog into Broken Contract. In the game, they aren't as effective as their adult counterparts, but they can squeeze into places where adults cannot, giving them their own unique place in the tight confines of the FerrumSky mines, where the action takes place."
Table top-style games are a sort of hybrid between board games and roleplaying games (RPG). Players curate teams of elaborately painted miniatures and pit them against each other in skirmishes staged in imaginatively created landscapes. Indeed, a big part of playing the game is preparing everything beforehand: painting models, building environments and carving landscapes.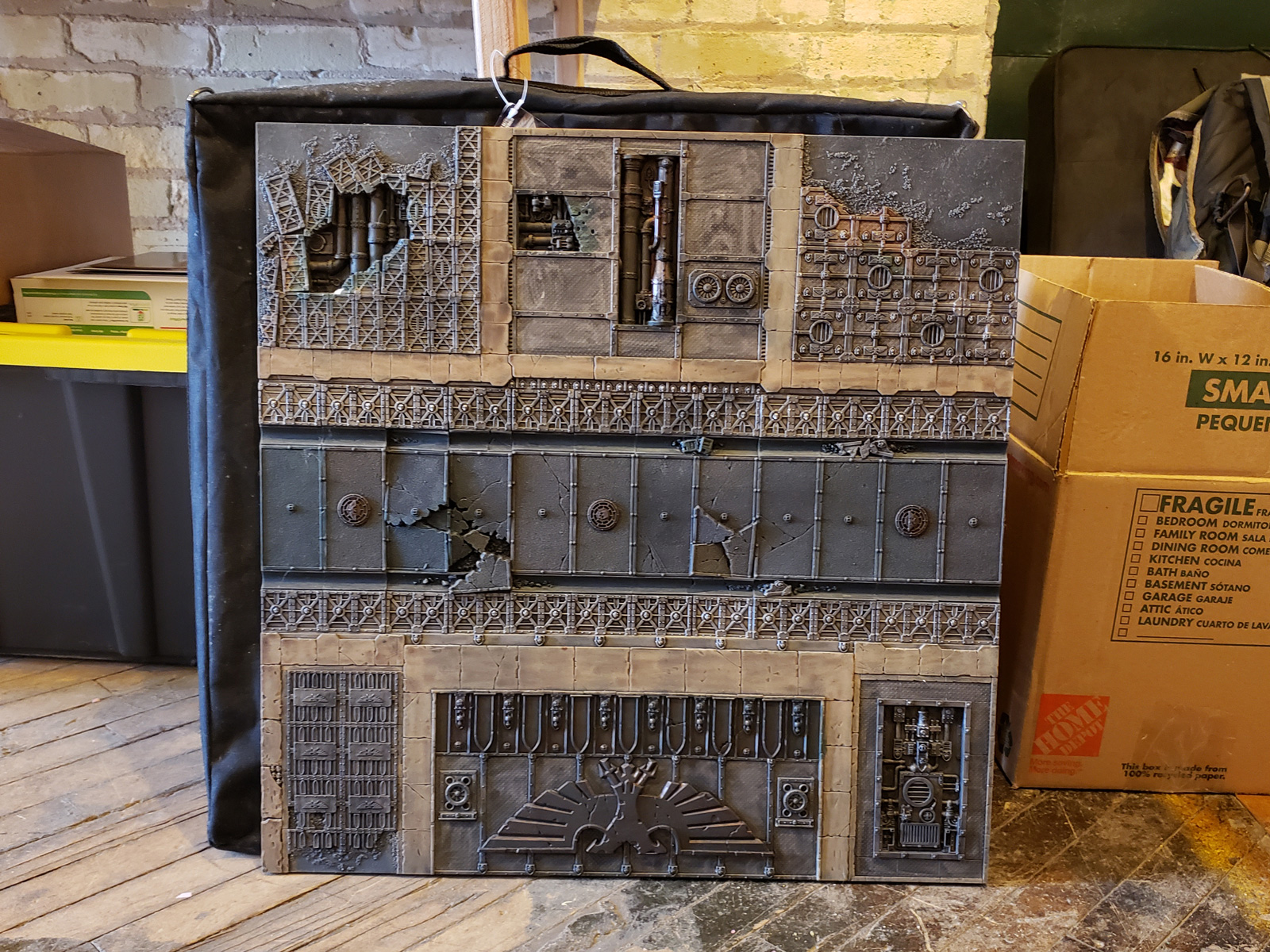 Because these scenarios are free form, there are no spaces or hexes in which to move your figures; instead movement and attack range is based on ruler measurements, which is meant to be a more realistic reenactment.
It's not a total free-for-all, though; creativity flourishes under constraints. So the game comes with a basic set of rules and is followed by mini scenario books to assist in world-building and provide hours of aggregated entertainment. As players win battles, their characters retain that legacy and begin to level up and become more powerful. Their dice rolls are then modified to reflect that.
"In the world of miniature gaming, kids are rare, and they are even rarer in modern and sci-fi settings. My primary goal is to get some cool and fairly unique 28-32mm miniatures out in the world, and I would be happy to see these models used by RPG players who run games like Firefly or Starfinder, or by other miniature gamers who play games like Last Days, Reality's Edge, or Rogue Stars.
"But I hope they also draw additional interest to Broken Contract, because we're definitely offering something a little outside the norm."
If the Kickstarter is successful, Baran plans to continue to print and publish with production companies based within the United States, and even more locally, within the Midwest.
"We pride ourselves in having made a game with a strong subtext about worker's rights, that is also manufactured in the US. The models will be manufactured at Valiant Enterprises in Madison, Wisconsin, and any cards or booklets added through the Kickstarter Stretch Goals will be printed at The Game Crafter in Madison or at DigiCopy right here in Milwaukee."
The Kickstarter launches Monday, January 13 and will only be available for 21 days. You can place your support here.
Jason McDowell grew up in central Iowa and moved to Milwaukee in 2000 to attend the Milwaukee Institute of Art and Design.
In 2006 he began working with OnMilwaukee as an advertising designer, but has since taken on a variety of rolls as the Creative Director, tackling all kinds of design problems, from digital to print, advertising to branding, icons to programming.
In 2016 he picked up the 414 Digital Star of the Year award.
Most other times he can be found racing bicycles, playing board games, or petting dogs.