You and I both know that Bryant's Cocktail Lounge, 1579 S. 9th St., is anything but hidden. In fact, for edging closer to a century, the place has been a South Side stalwart, slinging handcrafted cocktails to mood-enhancing music and lighting.
Since July 2008, John Dye – whose bar portfolio now also includes The Jazz Estate on the East Side and At Random in Bay View – has been tending to the tradition.
(PHOTOS: Dan Bishop)
When he took over from previous owner Debbie Malmberg – whose father Carl had run the place for a few decades until his death – Dye vowed to leave it alone ... mostly.
"We've kept it as close to authentic as possible," Dye told OnMilwaukee back then. "We're trying to revive what it was like in the '70s when it first opened (in its current form)."
And 12 years later, he still feels the same way.
The booths and tables are still there, the paneling is still there. The lighting is the same. The drinks are as delicious as ever. It's still called Bryant's.
But age is doing its work hammering away at this 19th century tavern building – on the inside and out – so Dye is constantly working to fix and upgrade the place without anyone really noticing.
"It's kind of beautiful the way it is," he tells me as we stand in the main lounge during a tour of the place. "We are starting to do some updating, but we know we have to do it slowly and carefully."
That's because ever since the namesake owner, Bryant Sharp, took over in 1936, Bryant's has been beloved just as it is.
Before Bryant, there was a lot of life in this building.
The Bryant's building dates to around 1890, at the very least, and perhaps even a bit earlier.
The earliest owner of the property that I could find was Oscar Steinhoff and his wife Johanna, who purchased a chunk of contiguous lots there in 1874 and set about selling at least some of them. In 1880 some when to Carl Limbrecht, while in 1882, others – including the site of the future Bryant's – to George Dantzmann, who worked as a porter and lived on Scott Street, though by 1884, he was living on what appears to be the lot just north of the cocktail lounge.
Interestingly an 1892 update of an 1888 insurance map notes that the building on the site, which looks to be the current structure, was a bakery, though no such business could be found at that address in city directories between 1887 and 1894.
By 1897, one Adam Tump – who had previously run a saloon on Plankinton Avenue (then East Water Street) – had purchased the site, which suggests he moved his tavern business to the building, though within a couple of years it was back in Dantzmann's hands, which could be a sign that Tump defaulted on a land contract sale.
By 1902, Dantzmann sold the building to the Fred Miller Brewing Co., which immediately spent $800 to underpin the building with a brick foundation and add a small addition.
It then leased the place to Joseph Lang for a year, before he made way for saloonkeeper Anton Bialk, who also spent just a year behind the bar before leaving to take on a saloon on Jones Island.
Herman Hoerres ran the place from 1905 until 1908, followed by Mathias (Mathew) Mahnke for two years, following by Rudoph Weber from 1911 until 1915.
Miller leased the place to H. F. Stiemke in 1915 and two years later it noted that the value of the business was $3,631.35 and that rent was 10 percent of that amount. In 1917, Stiemke had $544 in sales.
That same year, Miller transferred the property to the Oriental Investment Co., one of a number of property companies owned by the Miller family, which was active in real estate. In fact, it was the brewing family's real estate holdings that helped it survive the 13 years of Prohibition, which killed many a brewery.
The company leased the place to former Mitchell Street cigar maker and liquor dealer Daniel Manning for a soft drinks parlor from 1920 until 1922 and in 1923, Bruno Damling rented it.
Later in 1923, with the United States dry for three years already, Oriental sold the building to Herman Zastrow on a land contract and he and his wife Blanche would own and operate the place – first as a soft drinks parlor and then, after Repeal, as a tavern – until 1937.
Herman Zastrow died in 1934 and Blanche rented the saloon to Mrs. Lottie Wiza (nee Janowiak), who, with her husband Martin, also ran a tavern at 1720 W. Lincoln Ave. from the 1930s into the '40s.
As I mentioned earlier, Bryant Sharp arrived in 1936 and rented from Zastrow until he bought it in 1940.
Bryant outside on 9th Street, circa 1940s (above), and the 9th Street side today (below).
Sharp, who of course made the place into what it is today, both visually and aesthetically, appears to have changed his surname, for reasons unknown. His obituary noted that his parents' surname was Stremke, and another source named his son as Conrad Stremp.
What we do know about Bryant, other than that he was passionate about cocktails, is that is what equally passionate about music and stereo equipment. Even today, Dye looks pleased as punch when he shows off the vintage system that remains in use today.
So well-known was Sharp's audiophilia that it even made the papers.
In 1953, the Sentinel's Edward P. Haline wrote:
"A saloon equipped with high fidelity reproduction can hardly afford to deal with these penny antics (long haired jitterbugs) it must have the best and the best in hi-fi is usually symphonic music, and choral, too. There already is one such tavern in this town, Bryants, run by a genial music lover of broad tastes, Bryant Sharp, once a ship's bartender on transatlantic steamers, now devoting himself to the cultivation of hi-fi gemuetlichkeit. Bryant has a wide selection of long playing records, about $1,000 worth, he estimates, and he is the program maker, judicious, discreet and persuasive. If a customer complains a Bach fugue is crawling up his back, and that's the way it sometimes feels in the acoustically treated bar room, Bryant agreeable switches to something like "South Pacific" or a Strauss waltz. Bryant himself just says he likes all music, and he is particularly disposed to the big, climactic stuff which only high fidelity can capture in all its overpowering effects. Then he drops the napette de bar to grab an imaginary baton for the dramatic passage. Occasionally Bryant does have to turn it down because some lady customers, a little sensitive to sounds other than their own voices, do not want to much competition."
According to a history on the Bryant's web site, "little is known about" Sharp – who Dye suggests was a neatnik and extremely particular about the details of most everything – "People who knew him described him as quiet and serious, with a talent and passion for mixology. He is credited for inventing the Pink Squirrel, Blue Tail Fly, and the Banshee, all three of which became quite popular back in the day. He also was known for putting together unique flavors, which he sold to cordial companies."
In 1940, Sharp spent $850 to remodel the tavern, including new wood siding outside, rebuilt the stairs to the second floor, which was transformed from an apartment into another lounge space (plus an office) and to relocate the bathrooms on the main floor. He sank another $1,500 into reinforcing the basement, putting on a new roof and some "general exterior reconditioning," according to a permit filed with the city.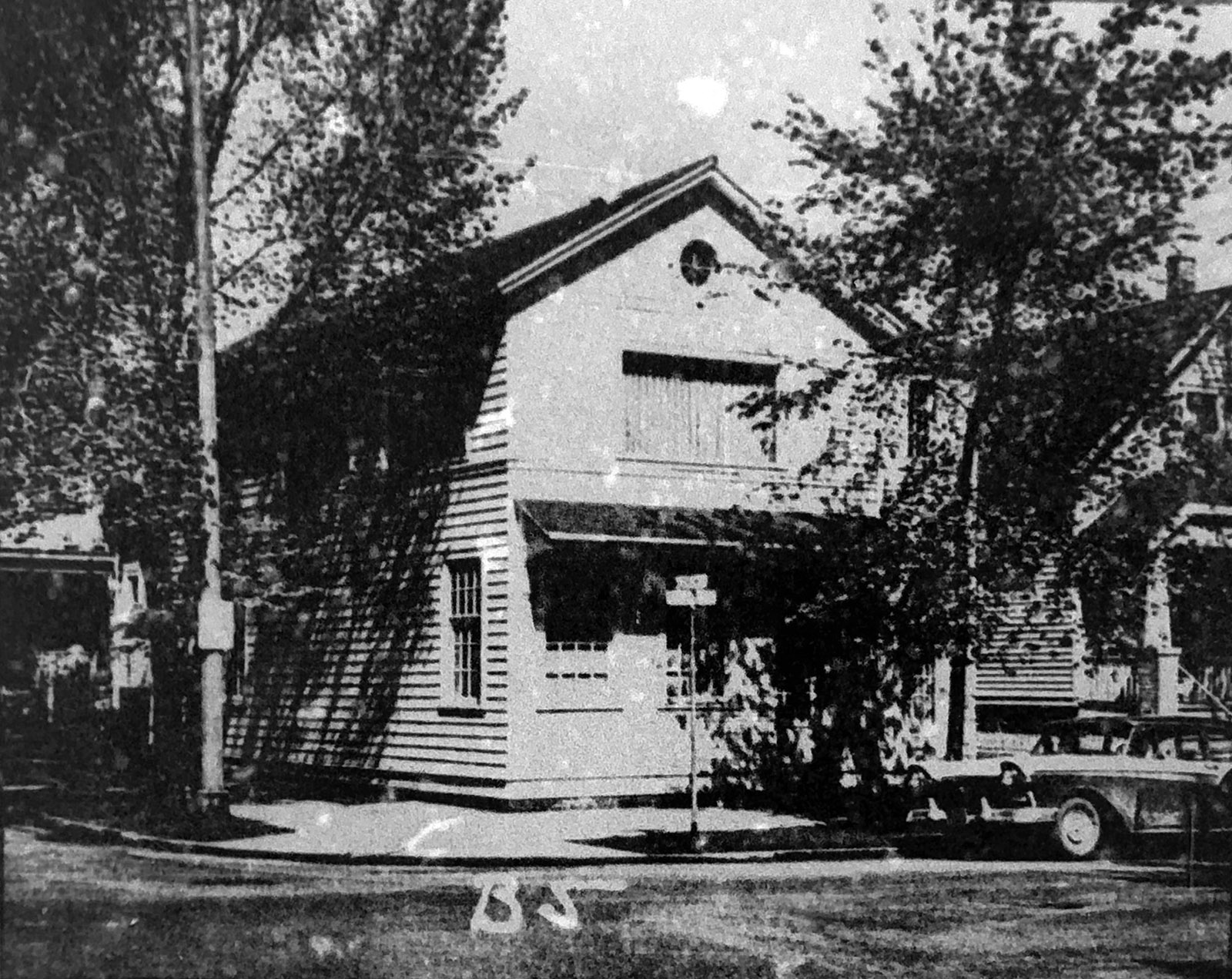 The facade in 1957. (PHOTO: City of Milwaukee)
Seventeen years later, he made the main lounge larger by enclosing a porch on the west side of the building.
Two years later, in October 1959, the 61-year-old Sharp died and his wife Edna ran the bar for a few years before selling to longtime employee Carl Malmberg, who everyone called Pat (pictured below).
Pat rechristened the upstairs space (pictured below in 1965) the Velvet Lounge in 1968, but just three years later, on St. Patrick's Day, fire tore through the Bryant's, destroying everything except the shell of the building.
"While many bar owners would look at such devastation with hopelessness and move on, Pat responded to the fire with determination to rebuild Bryant's better than it was before," notes that Bryant's history. "He had the bar rebuilt using only the finest material and craftsmanship. He rebuilt the registers and replaced the Mcintosh stereo with a new model, but this time he had them plated in gold. He spared no expense, wanting Bryant's to be the finest cocktail lounge in the city.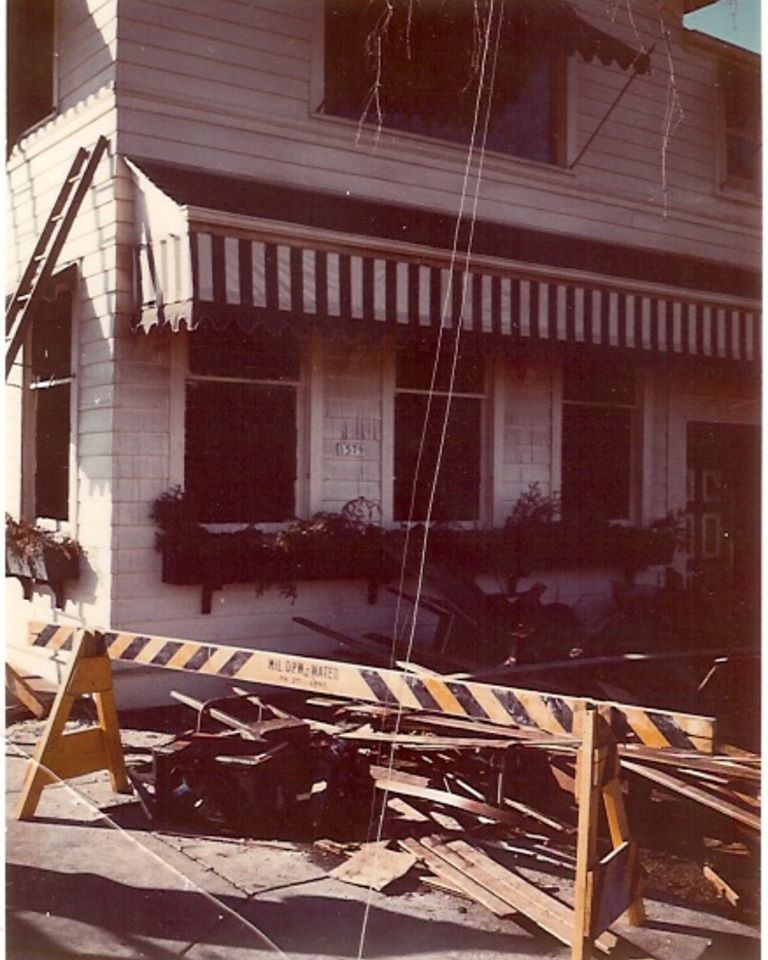 "When Bryant's re-opened, it was just that, the finest cocktail lounge Milwaukee had seen. Most days there were people waiting to be let in as soon as the lounge opened. On the weekends, it wasn't uncommon to have people lined up around the block, waiting to come to Bryant's. We believe time has shown that Pat succeeded in his mission. The bar is still pristine."
December 1971, remodeled after the fire.
Pristine it is. And the attention to detail in the cocktails, in maintaining the space and preserving its identity, history and atmosphere would certainly be approved and appreciated by its founding namesake, the ever-so-particular Bryant Sharp.
Radio commercials
During the 1960s, a couple series of Bryant's radio advertisements earned industry awards for their humor and creativity. Here are a few of them ...
Upstairs
No Food
Ice Cubes
Bartender
Born in Brooklyn, N.Y., where he lived until he was 17, Bobby received his BA-Mass Communications from UWM in 1989 and has lived in Walker's Point, Bay View, Enderis Park, South Milwaukee and on the East Side.
He has published three non-fiction books in Italy – including one about an event in Milwaukee history, which was published in the U.S. in autumn 2010. Four more books, all about Milwaukee, have been published by The History Press.
With his most recent band, The Yell Leaders, Bobby released four LPs and had a songs featured in episodes of TV's "Party of Five" and "Dawson's Creek," and films in Japan, South America and the U.S. The Yell Leaders were named the best unsigned band in their region by VH-1 as part of its Rock Across America 1998 Tour. Most recently, the band contributed tracks to a UK vinyl/CD tribute to the Redskins and collaborated on a track with Italian novelist Enrico Remmert.
He's produced three installments of the "OMCD" series of local music compilations for OnMilwaukee.com and in 2007 produced a CD of Italian music and poetry.
In 2005, he was awarded the City of Asti's (Italy) Journalism Prize for his work focusing on that area. He has also won awards from the Milwaukee Press Club.
He can be heard weekly on 88Nine Radio Milwaukee talking about his "Urban Spelunking" series of stories.