There are few Wisconsin holiday traditions more classic than the enjoyment of a Tom & Jerry, eggnog's sexy, spicy, warming cousin.
And in recent years, there have been few places better to enjoy one (or two) than at Bryant's Cocktail Lounge, 1579 S. 9th St., which has made it a holiday tradition to transform their second floor Velvet Lounge into a cozy holiday respite: the Tom & Jerry Room.
Unfortunately, cozy quarters don't bode well during a global pandemic. So, Bryant's owner John Dye was prepared to shelve the tradition until next year… that is until he had a fortuitous conversation with Zocalo Food Park owners Jesus Gonzalez and Sean Phelan, resulting in a plan to host a Bryant's Tom & Jerry pop-up at the food park, 636 S. 6th St. in Walker's Point.

New traditions for a crazy year
The socially-distanced holiday celebration, which kicks off on Nov. 25, will feature seasonally-inspired, award-winning cocktails in an atmosphere that is designed to keep both guests and staff safe and spirited.
During the pop-up, guests will be able to reserve private heated 8x8 greenhouses, which seat up to six, along with distanced small-group seating in the festive Zócalo Tavern.
Cocktail offerings will include the pop-up's namesake: the Bryant's version of the Tom & Jerry – which tastes a bit like boozy spiced custard – employs both brandy and rum, along with a batter containing eggs, vanilla, powdered sugar, butter and the classic spices: nutmeg, cloves and allspice.
But there will also be Bryant's holiday punch, along with a number of Bryant's classics, a few new creations by Bryant's and Jazz Estate beverage expert Jeff Kinder (including a brown butter banana daiquiri), and Zocalo favorites like the paloma and margarita.
Those drinks can be paired with delicious eats from resident food trucks including Mazorca Tacos, Anytime Arepa, Modern Maki, and Ruby's
Bagels, as as well as special guest truck appearances on weekends.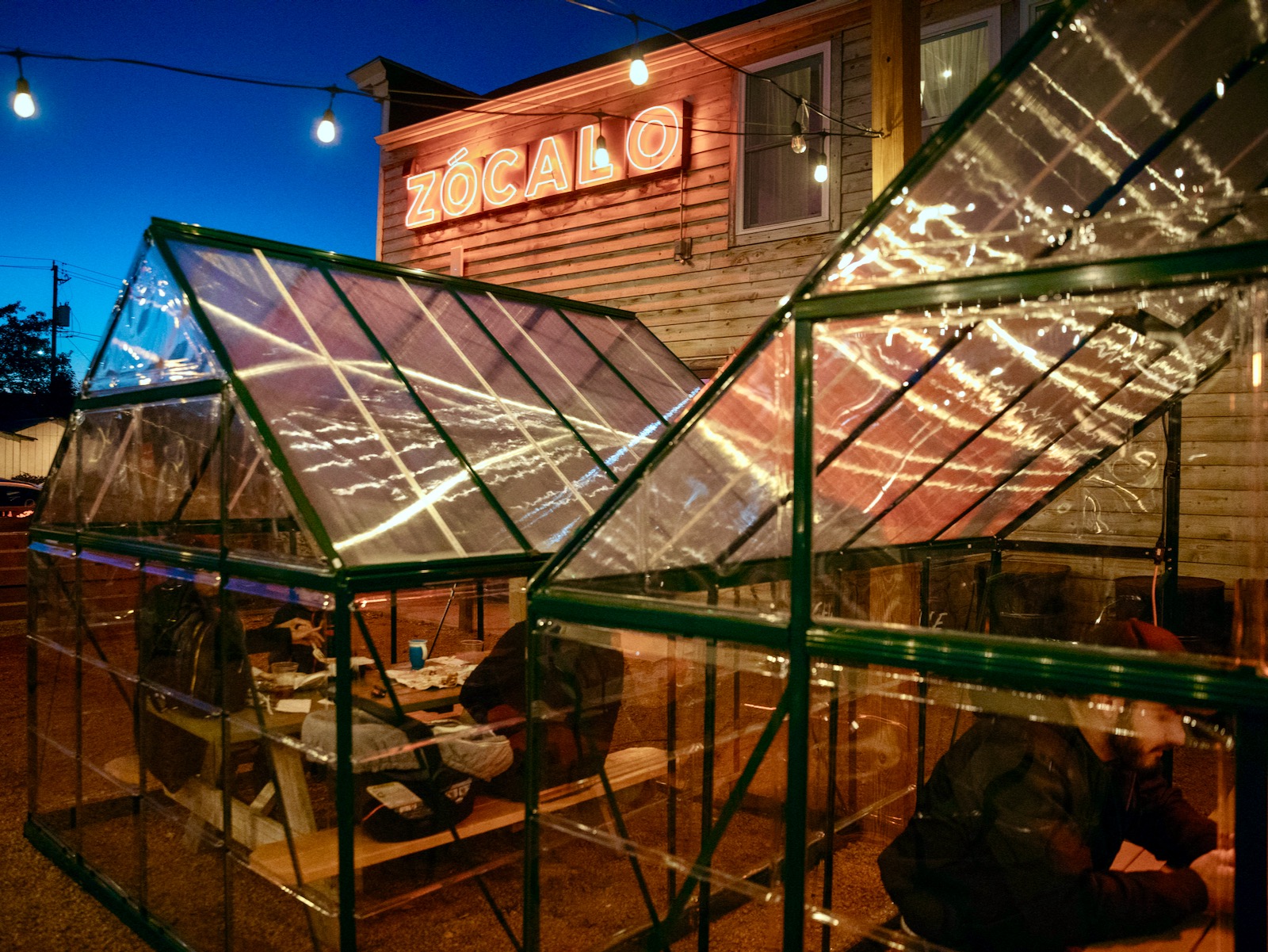 Reservations and safety protocols
Reservations for greenhouses are currently available at ZocaloMKE.com (with available dates starting Nov. 25), along with special pre-order packages that can be staged in your greenhouse prior to arrival. Reservations are limited to 90 minutes, with the following reservation fees: Thursday, Friday and Saturday ($20 or $30 for peak times); Tuesday and Wednesday ($10 or $15 for peak times); Sunday ($20) and Monday ($1)
There will be a 15 min break between reservations so that greenhouses can be sanitized.
Greenhouse sanitation procedures are just part of the picture for the pop-up festivities, which will strictly comply with the Milwaukee Health Department's most up-to-date guidelines, as well as known best practices, to ensure safety. Points of contact will be minimized through physical spacing of guests, rigorous sanitation protocols, and touchless payment through CashDrop. Masks are required for all guests, except while eating and drinking.
Hours for the pop-up will be Monday through Thursday from 4 to 11 p.m., Friday from 4 to midnight, Saturday from noon to midnight and Sunday from noon to 11 p.m.
Special holiday hours will include Nov. 25 from noon to midnight; Thanksgiving Day from 4 to 11 p.m., Dec. 23 from noon to midnight; Christmas Eve from noon to midnight and Christmas Day from noon to midnight.
Lori Fredrich (Lo) is an eater, writer, wonderer, bon vivante, traveler, cook, gardener and girlwonder. Born and raised in the Milwaukee area, she has tried to leave many times, but seems to be drawn to this quirky city that smells of beer and alewives.
Some might say that she is a little obsessed with food. Lo would say she is A LOT obsessed with food. After all, she has been cooking, eating and enjoying food for decades and has no plans to retire anytime soon.
Lo's recipes and writing have been featured in a variety of publications including GO: Airtran Inflight Magazine, Cheese Connoisseur, Cooking Light, Edible Milwaukee, Milwaukee Magazine and the Milwaukee Journal Sentinel, as well as on the blog Go Bold with Butter, the web site Wisconsin Cheese Talk, and in the quarterly online magazine Grate. Pair. Share.