The NBA champion Milwaukee Bucks today revealed the full regular season schedule for their upcoming title-defending 2021-2022 run.
The team had previously announced two of the most high-profile games on the defending champs' slate: the season-opener – the first game of the entire NBA season as well as the Bucks' banner-raising and ring ceremony – hosted at Fiserv Forum against the Brooklyn Nets on Tuesday, Oct. 19 at 6:30 p.m. as well as a spotlight Christmas Day game at home against the Boston Celtics at 1:30 p.m.
Now, here's the rest of the 2021-22 Bucks regular season schedule: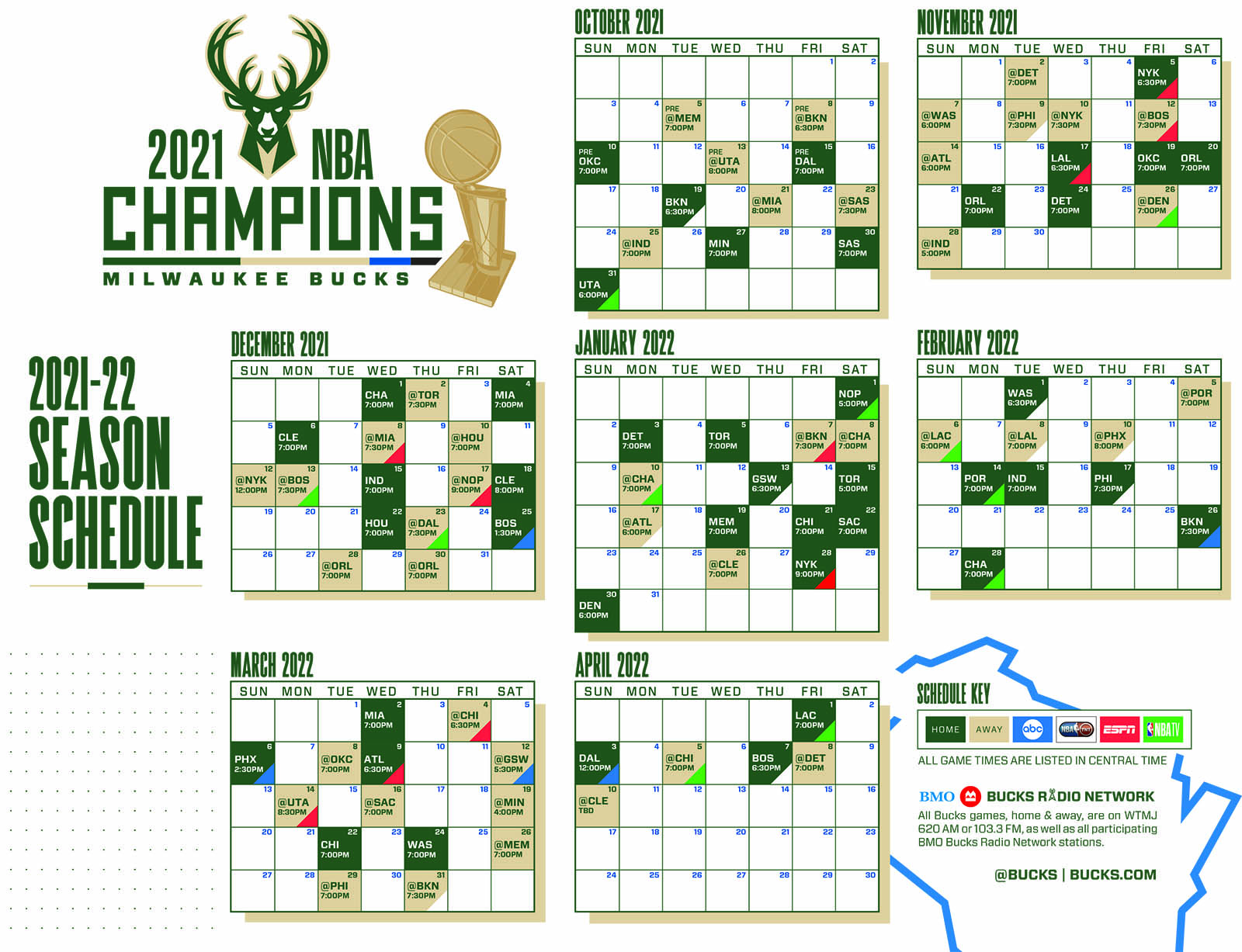 Here are some highlights of the schedule, as provided by the Bucks:
An NBA Finals rematch against the Phoenix Suns on Thursday, Feb. 10 in Phoenix (9 p.m. CT, TNT) and on Sunday, March 6 at Fiserv Forum (2:30 p.m. CT, ABC)
A New Year's Day home game against the New Orleans Pelicans at 5 p.m. CT
A Martin Luther King Jr. Day matchup on TNT against the Hawks in Atlanta at 5 p.m. CT
Another visit from the Brooklyn Nets to Fiserv Forum on Saturday, Feb. 26 that will air on ABC (7:30 p.m. CT)
A matchup at Fiserv Forum against LeBron James and the Los Angeles Lakers on Wednesday, Nov. 17 (6:30 p.m. CT, ESPN)
A nationally televised home game against the Golden State Warriors on Thursday, Jan. 13 (6:30 p.m. CT, TNT)
A season-long five-game road trip from Nov. 7-14 followed by a season-long five-game homestand from Nov. 17-24. The Bucks will also play six consecutive games at home in February, with three straight home games prior to the All-Star break before opening up the second half of the season with three consecutive home games
18 weekend home games at Fiserv Forum (Friday, Saturday or Sunday)
14 back-to-backs
Bucks regular season tickets will go on sale at the team's website at a date to be announced, while full-season ticket memberships are available now. As for the team's preseason slate, tickets will go on sale starting at 10 a.m. on Friday, Sept. 10.
For more Bucks updates, stay tuned to OnMilwaukee – and one more time: The Milwaukee Bucks are the current NBA champions.
As much as it is a gigantic cliché to say that one has always had a passion for film, Matt Mueller has always had a passion for film. Whether it was bringing in the latest movie reviews for his first grade show-and-tell or writing film reviews for the St. Norbert College Times as a high school student, Matt is way too obsessed with movies for his own good.
When he's not writing about the latest blockbuster or talking much too glowingly about "Piranha 3D," Matt can probably be found watching literally any sport (minus cricket) or working at - get this - a local movie theater. Or watching a movie. Yeah, he's probably watching a movie.