The Bucks gave their crowd lots to cheer about in Tuesday night's statement-making win over the Cavaliers. In terms of actual basketball, it was probably Milwaukee's best game at the BMO Harris Bradley Center – for my money, last year's victory over the then-undefeated Warriors was a more exciting atmosphere – and there were thousands of fans loyally rocking the home team colors.
Besides the usual ubiquitous array of Giannis Antetokounmpo and Jabari Parker wear, I spotted two different Ray Allen jerseys (one white, one purple), a Michael Redd uniform (he was in the building for the game) and some John Henson and Matthew Dellavedova selections.
There were also plenty of people in Cleveland garb, who may or may not have made the trek all the way from our Rust Belt cousin in Northwest Ohio to root for LeBron James and the defending NBA champions. Well, the Bucks in-arena operations crew, and their increasingly awesome mascot Bango, made sure those folks got the attention they deserved.
The Bucks' Bandwagon Fan Cam made another appearance Tuesday – it got national buzz in Milwaukee's Nov. 19 loss to Golden State, with a brutally biting reference to the Warriors blowing a 3-1 Finals lead – and it did not disappoint.
Showing around 10 different fans wearing Cavaliers attire and with a mocking caption for each, the Bandwagon Cam was sports trolling at its fantastic finest. Probably the winner was one that displayed a young guy in a James uniform with the line, "Was here for the Warriors game in a Curry jersey." Runner-up was, "Burned a LeBron jersey in 2010 … bought a new one in 2014." And I'm also pretty happy with the simple, "Doesn't know what a Cavalier is."
Support whatever team you want to, shame or no shame; sports are supposed to be fun. But everyone has to admit this was hilarious.
"We'd love to take credit for the idea, but it's a concept that other teams have also used," the Bucks said in a statement. "We have a really creative game ops team that took the concept and flawlessly executed it."
So Milwaukee isn't the first NBA franchise to do the Bandwagon Cam – the Wizards, Kings, Suns and Knicks, at least, have brought it out previously – but they might do it the best. More, please!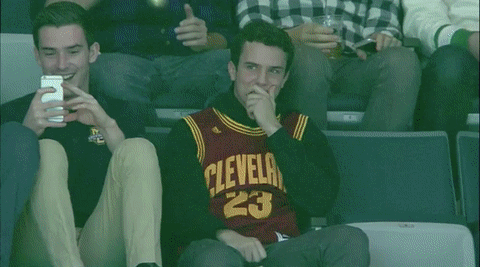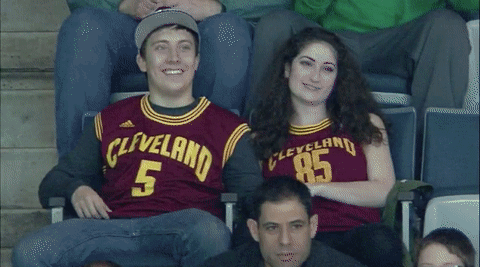 But the question is, what should Milwaukee do when Chicago, with its traveling band of decidedly un-bandwagony Bulls fans, comes to town and invades the Bradley Center on Dec. 15?
Born in Milwaukee but a product of Shorewood High School (go 'Hounds!) and Northwestern University (go 'Cats!), Jimmy never knew the schoolboy bliss of cheering for a winning football, basketball or baseball team. So he ditched being a fan in order to cover sports professionally - occasionally objectively, always passionately. He's lived in Chicago, New York and Dallas, but now resides again in his beloved Brew City and is an ardent attacker of the notorious Milwaukee Inferiority Complex.
After interning at print publications like Birds and Blooms (official motto: "America's #1 backyard birding and gardening magazine!"), Sports Illustrated (unofficial motto: "Subscribe and save up to 90% off the cover price!") and The Dallas Morning News (a newspaper!), Jimmy worked for web outlets like CBSSports.com, where he was a Packers beat reporter, and FOX Sports Wisconsin, where he managed digital content. He's a proponent and frequent user of em dashes, parenthetical asides, descriptive appositives and, really, anything that makes his sentences longer and more needlessly complex.
Jimmy appreciates references to late '90s Brewers and Bucks players and is the curator of the unofficial John Jaha Hall of Fame. He also enjoys running, biking and soccer, but isn't too annoying about them. He writes about sports - both mainstream and unconventional - and non-sports, including history, music, food, art and even golf (just kidding!), and welcomes reader suggestions for off-the-beaten-path story ideas.