Well, that could've gone better.
Giannis and the Milwaukee Bucks looked awfully rusty in their return to the court, getting pounded at home by the Boston Celtics in Game 1 of the Eastern Conference semifinals, 112-90. The Greek Freak looked extremely normal, held to 22 points on 7-21 shooting – and it looked far worse than that – while the rest of the Bucks struggled to make much of a dent in the Celtics' defense or star-studded offense.
But while the box score was pretty ugly, the scene at Fiserv Forum Sunday afternoon wasn't as Bucks fans filed into the arena, the entertainment block and the surrounding bars to cheer on their squad. Here are 13 sweet images, both of the highs and lows, of a not-particularly-sweet opening game of the Bucks-Celtics playoffs rematch.
1. Looking good
It's #FearTheDeer SZN 🦌 pic.twitter.com/FXfUau2QIP — In Six (@BucksInSix) April 28, 2019
Tim Frazier may mostly play during garbage time, but this look is anything but trash.
2. Shirts on shirts on shirts
We ready.

Are you ready?#FearTheDeer pic.twitter.com/8HE5140aSI — Milwaukee Bucks (@Bucks) April 28, 2019
Green or white: Which way would the Bucks go with the giveaway T-shirt for Game 1? Let's go with both, as Fiserv Forum decorated the seats with giveaways of both shades for a pinwheel effect.
3. Beer garden in bloom
Confirmed: Sunshine in Milwaukee

Bucks beer garden plaza is rocking pic.twitter.com/1Q9xY7qtbj — Paul Henning (@brewcitypaul) April 28, 2019
If you had told me that it was 30 degrees and snowing the day before Sunday's big game, well, I actually probably would've believed you because that's life in Wisconsin. But it was perfect outside for fans gathering to watch the Bucks' first game in the Eastern Conference semifinals since 2001. Inside ... well, things got a little less perfect in there.
4. Milwaukee, in a shot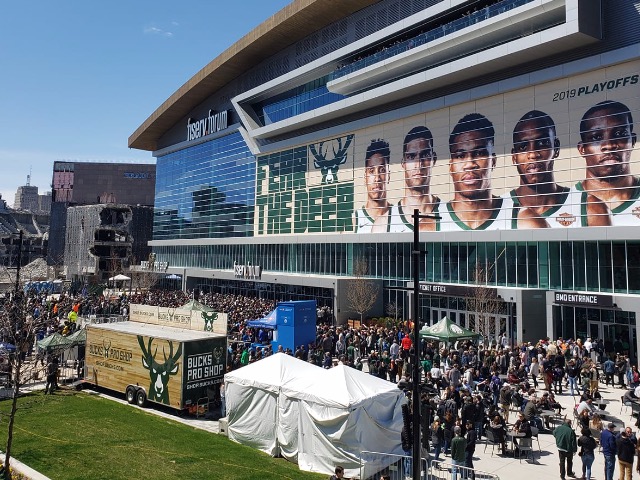 (PHOTO: Gene Mueller)
Milwaukee gathered around the past and the present. Quite the scene.
5. A party in the plaza
Bucks fans showed up in droves for the team's second-round debut, and while they didn't leave with a win, with the help of Punch Bowl Social, Drink Wisconsinbly, Good City Brewing, the Bucks beer garden space and the rest of Old World Third Street, they at least likely left entertained.
6. Taking the next step toward the Finals
Unfortunately, it was the Bucks that got walked over during Game 1.
7. Sunnier times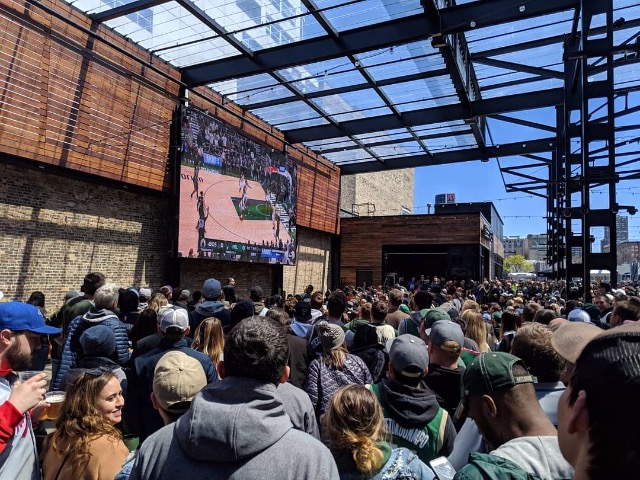 (PHOTO: Allen Halas)
The beer garden drew quite the crowd – and thankfully a sunny, blue sky was amongst those in attendance.
8. Light it up, light it up
A crowded Fiserv Forum had plenty to light up about, at least in the first half, when the Bucks roared back from 15 down to go into the halftime break only trailing two. Unfortunately, Milwaukee only had so many 15-point comebacks up its sleeve during Game 1.
9. Al Horford
The Celtics center absolutely shut down Giannis, which led to absolutely shutting down the entire Bucks team. Somehow, the Bucks did not see "stop Giannis with Al Horford" as part of the Celtics' game plan. Hopefully they prepare for that in Game 2.
10. Just ... Al Horford
Al Horford met Giannis at the rim TWICE 😤 pic.twitter.com/uuR8X9BvTI — SportsCenter (@SportsCenter) April 28, 2019
A block so nice Al Horford had to do it twice. Again, Al Horford – on both sides of the court – is the puzzle the Bucks will need to solve if they want to head to Boston with a tied series.
11. A blast from the past
Michael Redd popped out to the Bucks game. Man had the CANNON (via @bucks) pic.twitter.com/pulqfvLYKf — SLAM (@SLAMonline) April 28, 2019
Too bad he couldn't hop out of the stands and toss in a few threes to help the Bucks.
12. The shot of the game
View this post on Instagram
We could break down the Bucks-Celtics game with statistics and strategy, but really this photo says just about everything you need. Giannis and company got wiped out by Boston. There will be much to improve in the second game.
13. On the bright side
May have taken an L, but the atmosphere was legit and into the game #BucksInSix #FearTheDeer #NBAPlayoffs pic.twitter.com/ZnEtYGoDnr — Nathan Bliek (@Bliek_Nathan) April 28, 2019
The end result may not have been much to cheer about, but Bucks fans certainly had a good time at and around Fiserv Forum on Sunday afternoon. And hopefully they'll have more to cheer about Tuesday night.
14. Sound logic
>>>when the Bucks lose but they need to lose two to Win in Six pic.twitter.com/yPfA40AsrR — Nihilist Bucks (@nihilist_bucks) April 28, 2019
As much as it is a gigantic cliché to say that one has always had a passion for film, Matt Mueller has always had a passion for film. Whether it was bringing in the latest movie reviews for his first grade show-and-tell or writing film reviews for the St. Norbert College Times as a high school student, Matt is way too obsessed with movies for his own good.
When he's not writing about the latest blockbuster or talking much too glowingly about "Piranha 3D," Matt can probably be found watching literally any sport (minus cricket) or working at - get this - a local movie theater. Or watching a movie. Yeah, he's probably watching a movie.